Booking Tickets to Machu Picchu
By Sydney Tong on May 09, 2017. Read time: 2 mins.
The mystical landscapes of Machu Picchu are out of a fairy tale book about adventures in faraway lands. The ancient city rests on top of a mountain high in the clouds surrounded by luscious green forests.
These ruins spark adventure and magic in those explorers lucky enough to witness them. Like any adventure, this one starts with booking a ticket.
Every year, millions of people from all over the globe flock to Peru to experience Machu Picchu. Only 2,500 people a day are allowed to enter the park, which makes purchasing tickets in advance a must. In high-season, May-October, it is necessary to book reservations up to six months in advance, especially to hike Huayna Picchu.
Booking tickets online is the best way to guarantee a spot. A number of agencies sell tickets for an added fee. I am always wary of booking from third-party companies and recommend travelers book straight from the source. It is worth the patience to book straight from the park's official website because it updates in real time, so visitors are always aware of the number of tickets left for their day. Visit the official Machu Picchu website here.
The website isn't as streamlined as I would like and purchasing the tickets involves several steps, and like I mentioned earlier some diligence. First, book a reservation for the park, under the "Reservation" tab. From here, visitors can book spots to Machu Picchu, Museo Manuel Chavez Ballon, Huayna Picchu, and Machu Picchu Mountain. Once guests have chosen their activities and dates, they will receive a booking code.
Upon receipt of the booking code, visitors have three hours to pay for the reservation. Write down the booking code, and on the same website go to the "Payment" tab. Type in the booking code and pay for the tickets. They only accept Visa, so have your card ready.
Once the payment goes through, tickets are made available for download. To do this, go to the "Check-in" tab on the same website and type in your booking code. Tickets aren't sent through email so immediately print the tickets or save them to print later. Sometimes it takes a minute for the process to go through so be patient while the system processes your payment.
You are ready to go, my friend. Arrive at the entrance gate to Machu Picchu with your printed tickets and passport in hand for a seamless entry.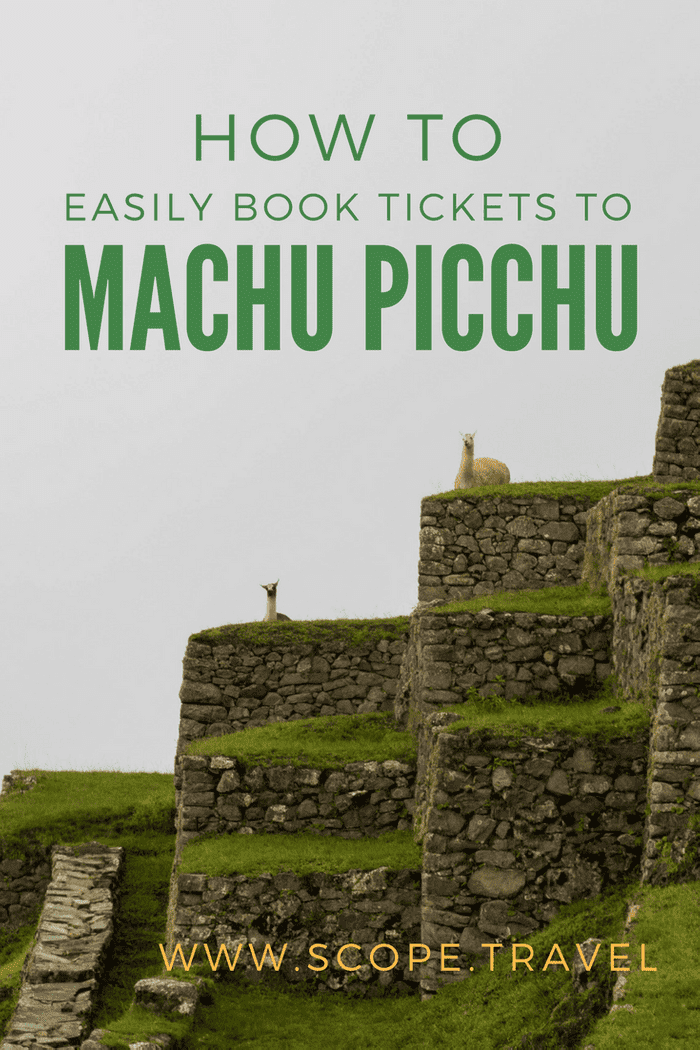 If this article Pin It!
Join our weekly adventures
Gain access to our exclusive travel tips and more!
Expect exotic destinations, big adventures, flavorful food and unforgettable stories from our travels.