Fun Things to Do in Boracay
By Sydney Tong on June 08, 2017. Read time: 6 mins.
Boracay is undeniably beautiful. The white sandy beaches and world famous kite surfing are what have made this small island in the Philippines famous worldwide. The allure of this island attracts people from every corner of the globe.
This busy tropical island holds a special place in our heart. Gabe lived here before we met and was excited to show me what makes Boracay exceptional. This island is 3.985 square miles and packed with adventure.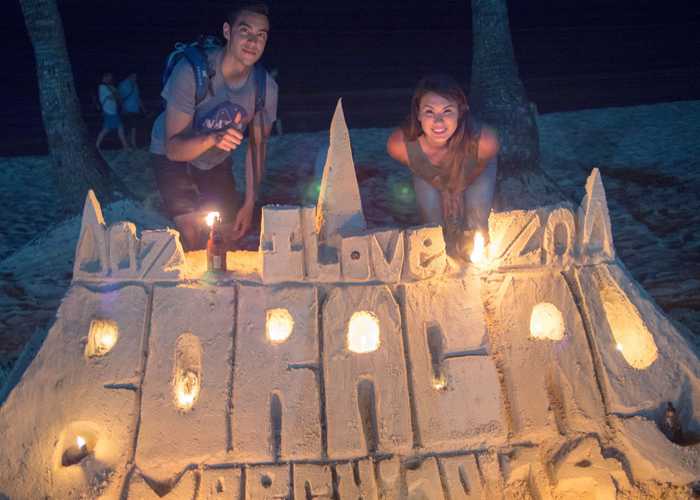 Local kids make sandcastles for tips.
Kite & wind surfing
The east side of Boracay has unique conditions for wind sports. Kite and windsurfers come from all over the world to experience these perfect waves. Looking out from the east side of the island you will see dozens of kites dancing on the horizon. Many hotels on the island cater to kite/windsurfers, and there are plenty of gear shops to rent from. There are even schools that teach courses for beginners. If your trip revolves around the wind sports, then you will likely want to book near Bulabog Beach.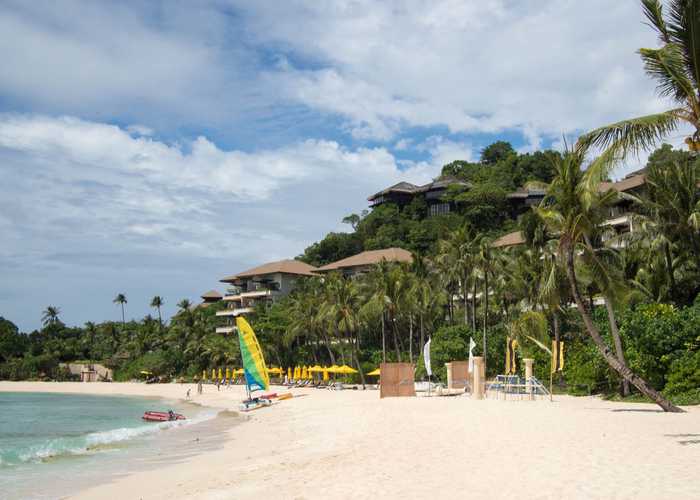 Perfect Beach Day.
Party
If you like to party and enjoy a good time, then Boracay is the perfect island getaway for you. The island is full of good vibes and people wanting to enjoy their time away from the office and everyday responsibilities. Like I said before, Boracay is a small island and getting home after a night out is easy. Gabe and I are not "party people, " and we enjoyed going out and meeting new people. Live music is everywhere we went! We loved that.
Station two is the party station, don't find accommodations here if you want peaceful evenings.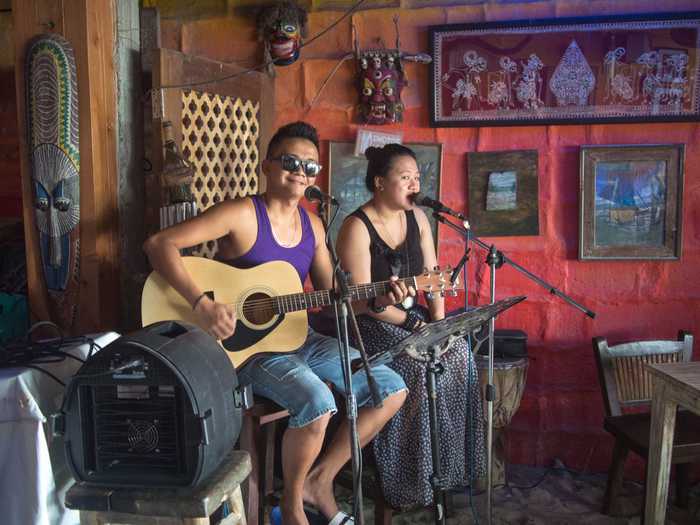 Gabe's friends were performing.
Eat balut
Throw back a few beers and try the infamous Filipino delicacy, balut. It does not have to be in that order, but I preferred it that way. Balut is a partially developed duck or chicken embryo that is kept in its egg and boiled. To eat, peel back and slurp straight from the shell.
Our friend Nash helped us with "proper balut eating technique." I went into this experience with an open mind. Y'all know that I have eaten some crazy food in my life. I always try to be respectful when eating cuisine from new countries. But gaddam, balut is a gnarly food. I like the flavor of balut; it is like extra flavorful chicken broth. The texture is what threw me for a loop. I think it is worth a try. Gabe caught a photo of my face after my first bite, I was not impressed.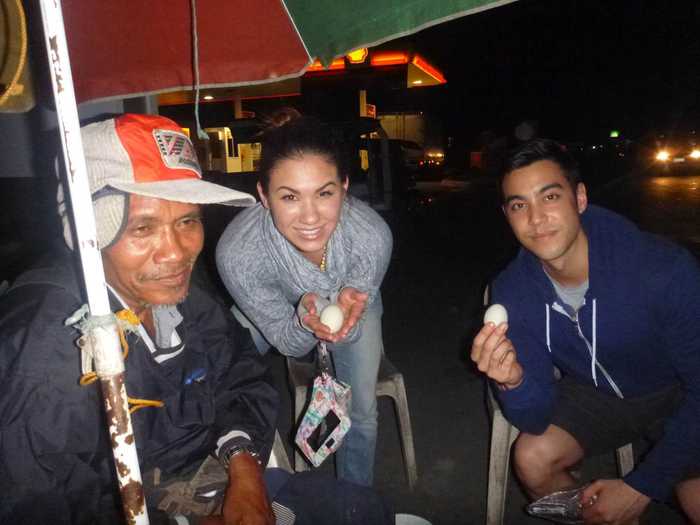 We bought the balut from a man on the corner.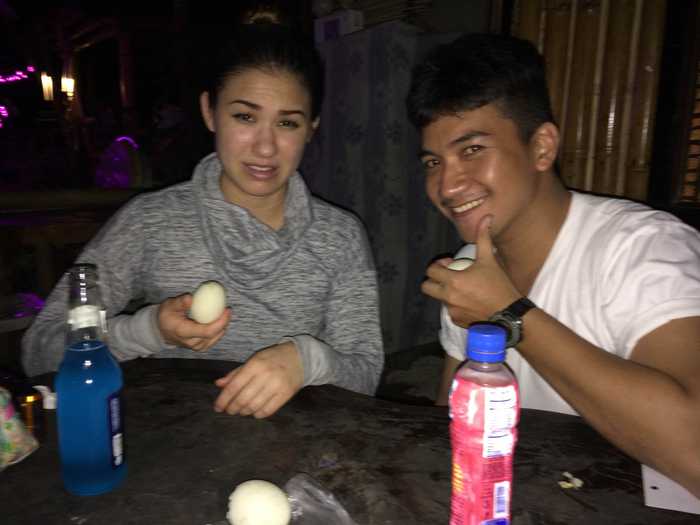 I was not amused with this "adventure"
Ride bikes to Puka Beach
We rode bikes to Puka Beach for a day on white sand beaches away from the crowds. We rented our bikes from a small shop near D-Mall.
It is hot and humid in the Philippines so bring a ton of water. Roads in this country are no place for a bike, and we did not realize how busy the roads were until we were riding. Only attempt to do this if you are feeling especially adventurous. The trip was tiring, and the bikes we rented weren't very sturdy, but it was a fun day.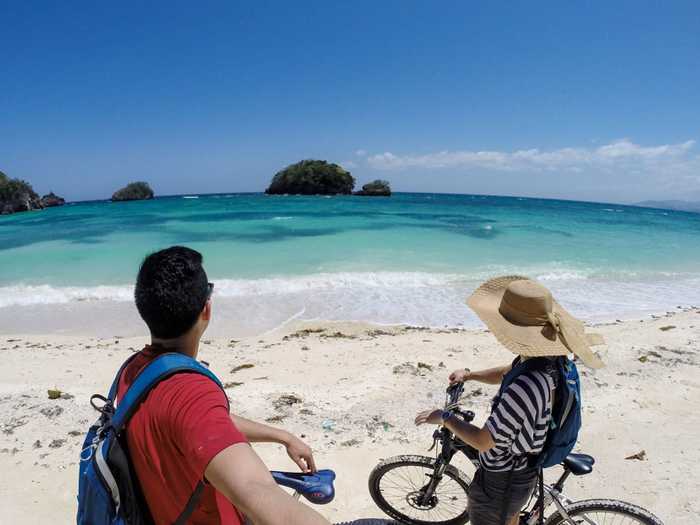 The view was worth it!
Spider House Resort
The Spider House is my favorite spot to hang out on the island. It is a perfect place to relax, enjoy lunch, grab a drink, work on your tan and enjoy a great view of the turquoise waters. It is a bamboo house built on the side of the mountain and guests can jump from their table directly into the ocean.
It is called the Spider House because massive spiders hang out in the rafters. The spiders may be a bit unnerving at first, but they keep to themselves and aren't hanging out in the lounge chairs or anything. The best part is that there aren't any mosquitoes, which I appreciate more than anything.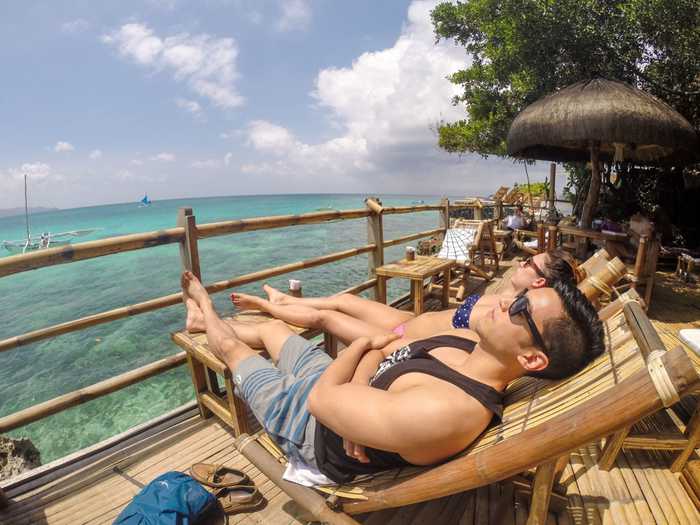 Fruit smoothies and tans at the Spider House
Sailboat rides
Boracay has the best sunsets in the world. Take a sunset sailboat cruise around the island for an unforgettable experience. It is so beautiful that even the most cynical can appreciate the beauty. Prices are negotiable, and some restaurants and spas include a sailboat ride in some of their packages.
Always look out for your safety when hiring a boat from the vendors on the beach. They have limited liability and rarely have anyone to report to if things were to go wrong.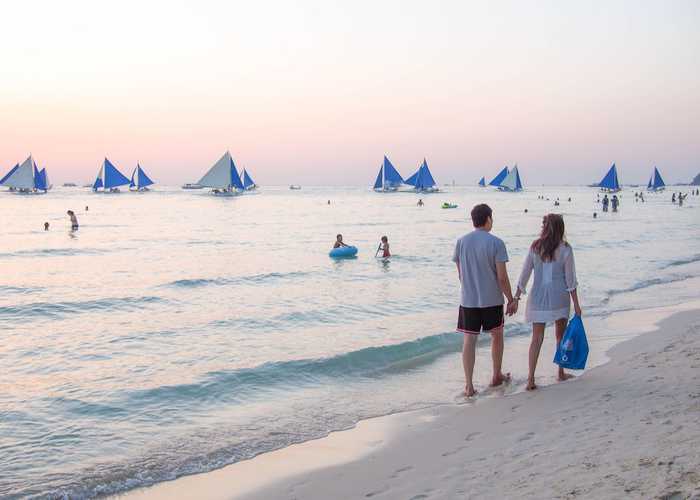 I don't know who these people are but they looked cute.
Mt. Luho lookout point
Mt. Luho is the highest point on the island and has spectacular panoramic views. Reach the mountain by hiring a tricycle. The 10-minute ride from D-Mall costs 150 pesos each way. It costs 120 pesos per person to climb to the top of the lookout point. On the way, you will pass through a makeshift zoo where exotic animals are kept in rusty cages. We felt that the zoo was a sad sight to see.
The view is especially beautiful during sunset. Head there 30 minutes before the sun sets to catch a great view with light.
Not many things come for free on Boracay, everything is relatively inexpensive.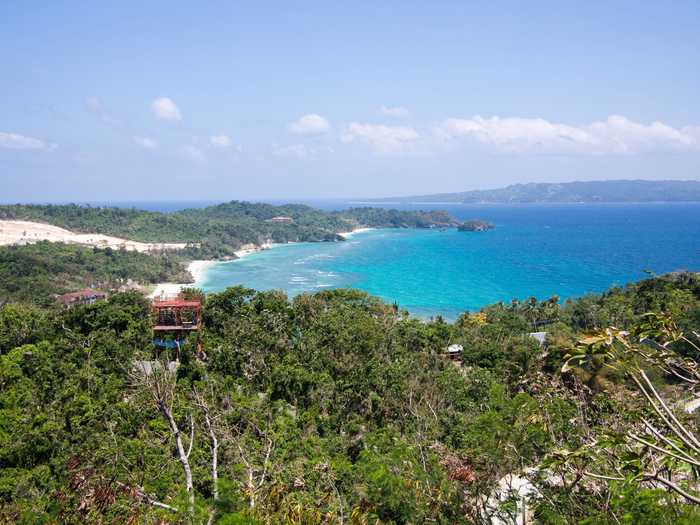 Beautiful views of the island.
Markets
I always include markets in my itinerary when I visit a new place. They are undoubtedly my favorite place to get a feel for the local culture.
If you like local markets, then head over to the wet market in station 2. If you have a kitchen in your place, then this market is a good place to buy produce and meats. Wash and clean well before eating.
D'Talipapa Market is the market to go to if you want to purchase fresh seafood and giant lobsters. Visitors can purchase fish or shellfish and bring it to any of the surrounding restaurants to prepare. Prices are a little more expensive, and the quality of fish is better compared to the other market.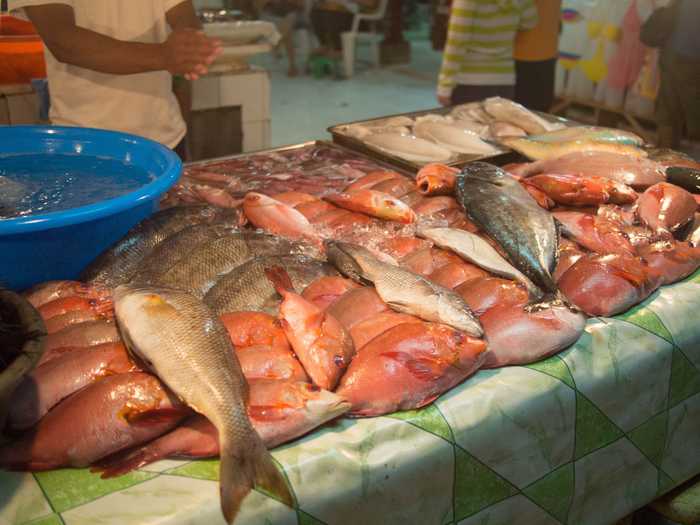 Freshly caught red snapper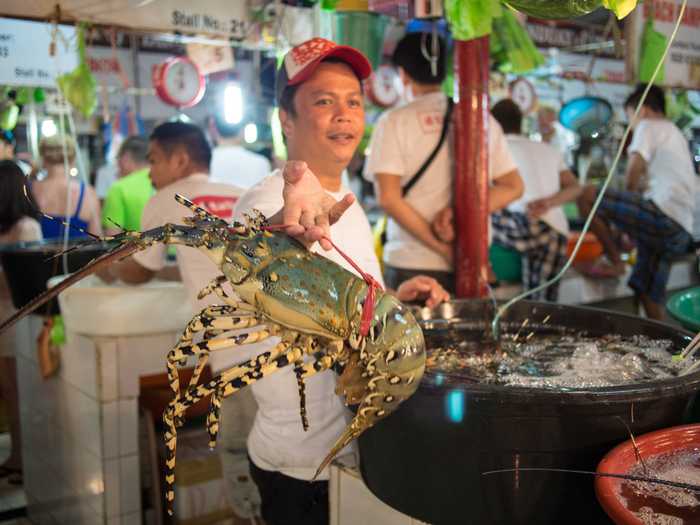 Huge lobster for sale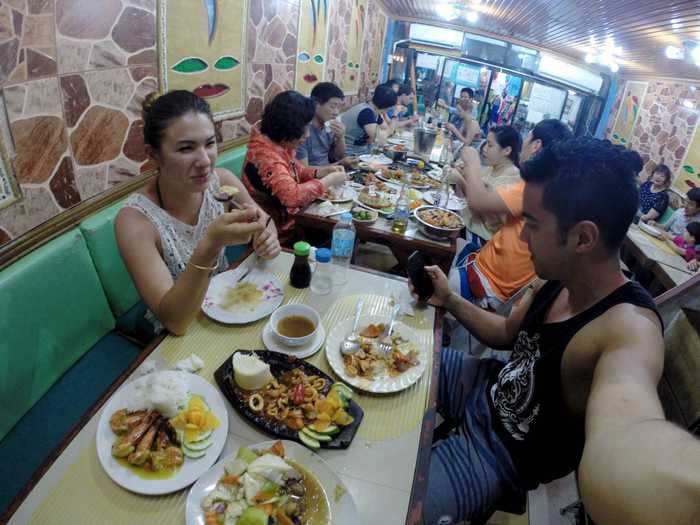 Bring your seafood here to have them cooked.
Jonah's fruit shakes
It is sweltering in the Philippines, and a fruit shake from Jonah's Shake Shack is the best way to cool down. I am a huge fan of the banana and avocado shake. They also serve my favorite Filipino breakfast, "longsilog." Longasilog has Filipino style garlic rice with a fried egg and "longanisa" or sweet pork sausage. We only ever went to Jonah's when we were overheated, thirsty and too tired to take good pictures! Sorry!
Beaches
The beaches in Boracay are beautiful, and each one has something different to offer. If you want to party then head to the beaches in Station 2 on the west side of the island. Quieter beaches like Punta Bunga Beach, Puka Shell Beach or Ilig Iligan Beach are more secluded and less crowded.
If visiting pristine beaches is the top of your priorities list then you will want to avoid going during seaweed season. Seaweed season in Boracay is typically from March-May, peaking in April. It varies from year to year, and it is best to check the conditions in February.
Seaweed season typically falls between March and May.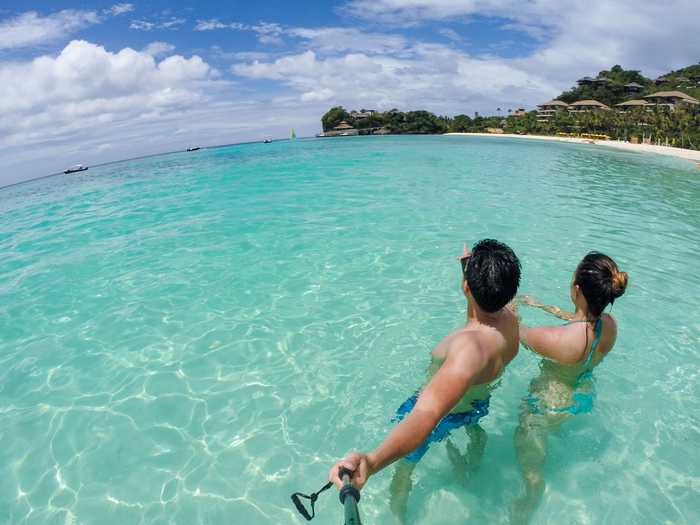 Punta Bunga Beach.
Spas and relaxation
Spas are relatively cheap in Southeast Asia, and visitors should get a massage every day of their trip. Cheap massages in the U.S. are $70 an hour while a massage on the beach in Boracay will run you about$10.
Higher end hotels offer dinner, sailboat cruise, champagne, dessert and massage packages for as little as $250 per couple.
Ariel's point
Ariel's Point is an area that offers cliff jumping, kayaking, snorkeling, and great areas to sit back and relax. It looks like a great place for adventure seekers. If you end up going here let me know how it is. We did not go because it was out of our budget. It costs about US $50 to take you out there. I believe it includes all you can drink.
Other interesting things
Boracay Butterfly Garden- See thousands of colorful butterflies during this short trip.
Bat Cave- Hire a small speedboat to reach this cave. A guide is recommended because it can be dangerous and it is closed a majority of the time.
Fire Dancers- Fire dancers pop up in the evening with spectacular shows and talents.
Snorkeling and Diving- If Boracay is your only stop in the Philippines then I recommend going diving here. If you are planning to visit other islands famous for snorkeling, then I recommend skipping the snorkeling in Boracay.
Mangrove Nursery- Local people and the government are trying to preserve the mangrove trees and surrounding area.-
The Hobbit House- A hobbit themed restaurant with great drinks, lunch and little people as servers.
Tourism is the primary money maker for Boracay and officials pay particular attention towards making tourists feel safe. For more safety tips specific to the Philippines, read our article on specific safety precautions. Read "Safety Trips when  Traveling in the Philippines"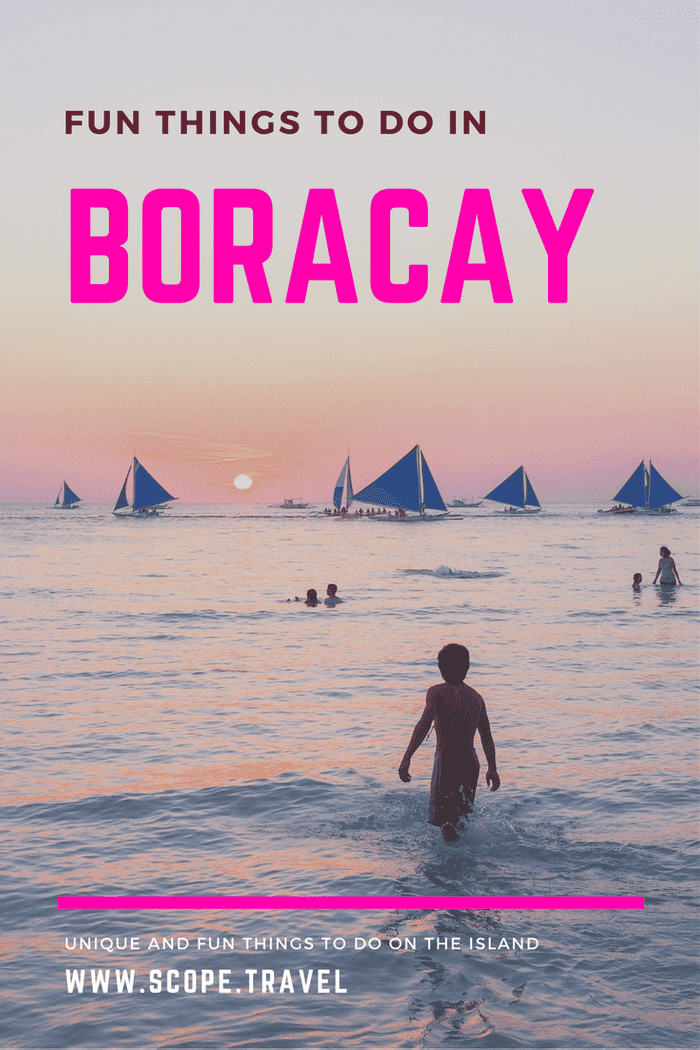 If you like it, Pin It!
Join our weekly adventures
Gain access to our exclusive travel tips and more!
Expect exotic destinations, big adventures, flavorful food and unforgettable stories from our travels.