Hiking Cerro Pochoco
By Sydney Tong on May 05, 2017. Read time: 2 mins.
After exploring the busy streets of Santiago, I was dying to get outside and do some hiking. Lucky for us, Cerro Pochoco is accessible from the city. We headed out to see what this mammoth of a mountain was all about.
Hiking Cerro Pochoco is possible year round and each season is a unique experience. Summers on the mountain are hot and dusty. Winter mountains are strikingly beautiful with snow dusted on the peaks. After soaking in all the winter's snow, the mountains are their greenest in the spring. Hiking in the fall gave us perfect weather with the right amount of sun and heat.
Hikers looking for the spectacular panoramic views should avoid heavy smog days.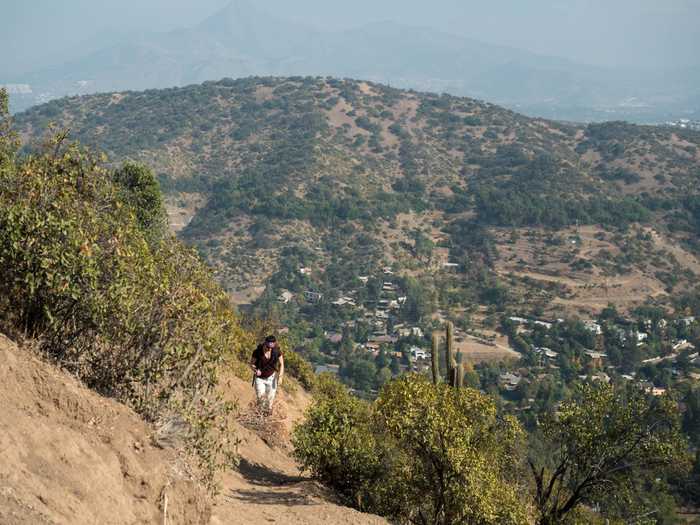 Narrow and steep trails
You can reach Cerro Pochoco by car or public transportation. Depending on where you are staying, take the bus and/or metro to Plaza San Enrique. For most people, this will be bus C01 ($700 CLP). From the Plaza, hikers can take a taxi ($1,825-$2,350 CLP) or a collectivo ($1,200 CLP).
Due to time constraints, we took an Uber from Las Condes to the trailhead for $5,329 CLP. For a group of 2+ people, this is a convenient and economical option. It drastically cuts down on travel time, from an hour to 30-minutes.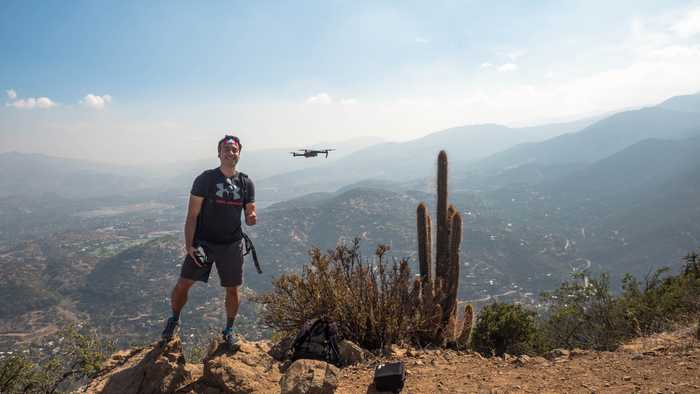 Gabe flying his drone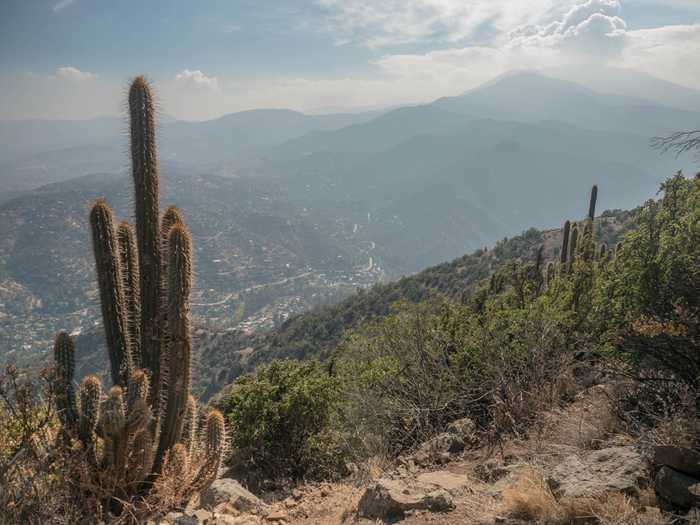 cactus and pollution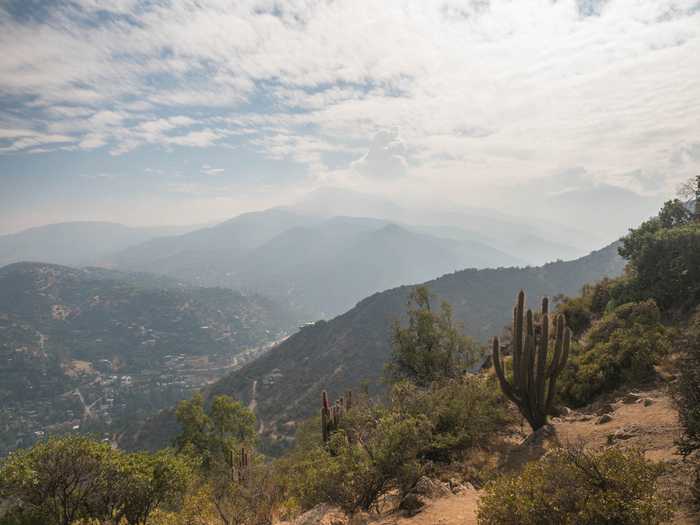 Desierto
The hike is a series of smaller interconnecting paths which all lead to the same main trail. The trail is divided into three parts, passing two large flat resting areas before reaching the summit. The total trip is 4.82 km. Most people take 1.5-2 hours to reach the top.
It is a physically demanding hike, and those who are not in good shape should exercise caution. The trail is steep and consists of loose dirt. It is wise to keep hands free to help catch against any falls. I would advise against bringing young children on the hike.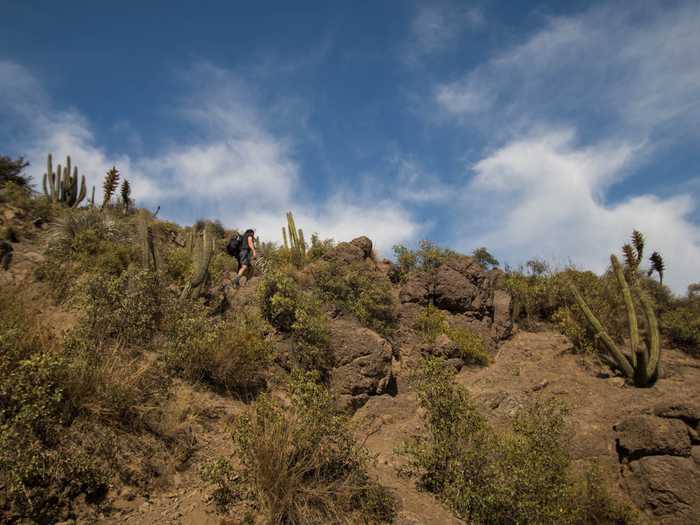 Steep trails
Shoes with good traction are a must and bringing hiking poles is advisable.
From the top, we admired the beautiful views of the neighboring mountains and the city below. We enjoyed seeing Santiago from this angle. It was a great day for us to stretch our legs and get some fresh air. While walking in between giant cacti, we could see condors soaring above us. By the time we reached the top, the distant mountains had begun to look blue.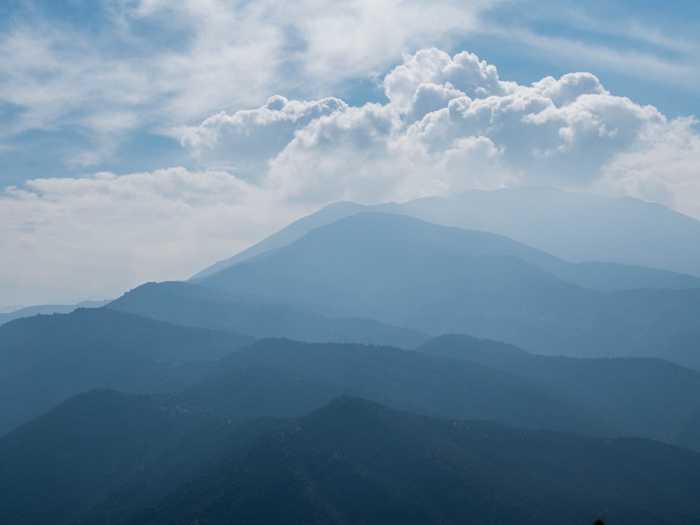 End of the day haze
It is an all day excursion, and we finished the hike exhausted and craving "churrasco" with extra "palta" to reload the calories. Getting an Uber from the parking lot was not an issue, but we had to wait 10 minutes for an Uber to drive up the mountain.
Come prepared and enjoy the hike. Bring good shoes, sunscreen, hiking poles, water, camera, snacks, hat, sunglasses. For a shorter hike, check out Cerro Manqueue. If you want to see our pictures from that hike and are interested in learning about that hike leave a comment below.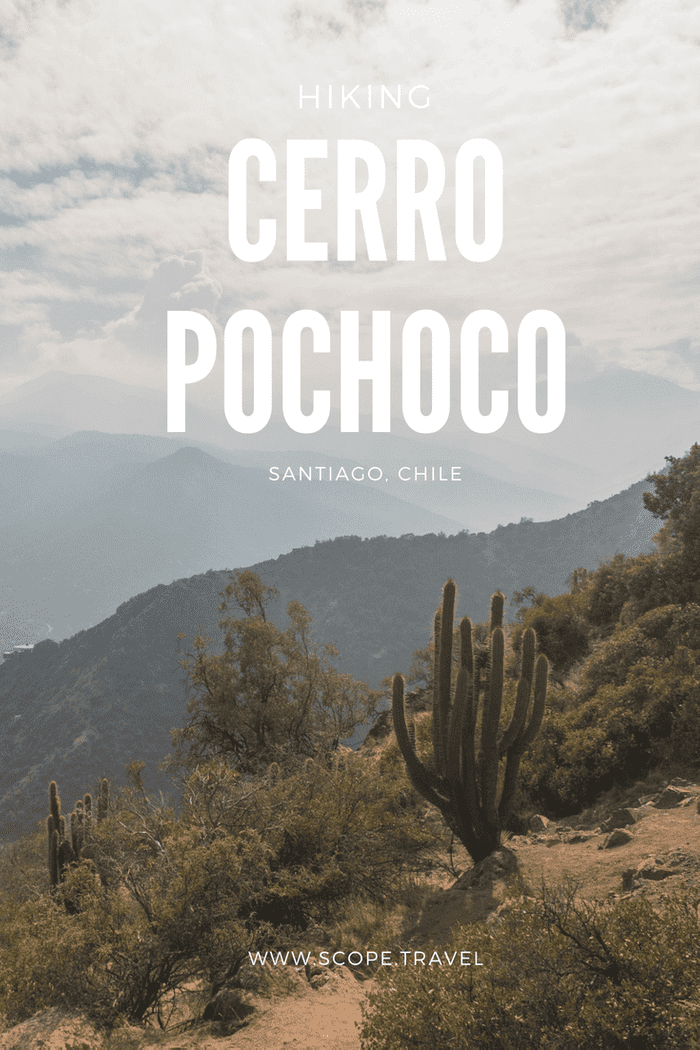 If you like this article, Pin It!
Join our weekly adventures
Gain access to our exclusive travel tips and more!
Expect exotic destinations, big adventures, flavorful food and unforgettable stories from our travels.