Our Top 5 Coffee Shops in Cambodia
By Sydney Tong on September 26, 2016. Read time: 3 mins.
Cambodians know what makes a good cup of coffee and there is at least one coffee shop on every street. These coffee shops are not your run of the mill coffee shop and have put a lot of effort creating the perfect environment for you to enjoy a perfect cup of coffee.
Some coffee shops go the extra mile and create specialty coffee menus that are so unique that you will never find their creations anywhere else. We drank a lot of coffee while in Cambodia, and we never found a bad cup. Here are five of our favorite cafes in Cambodia.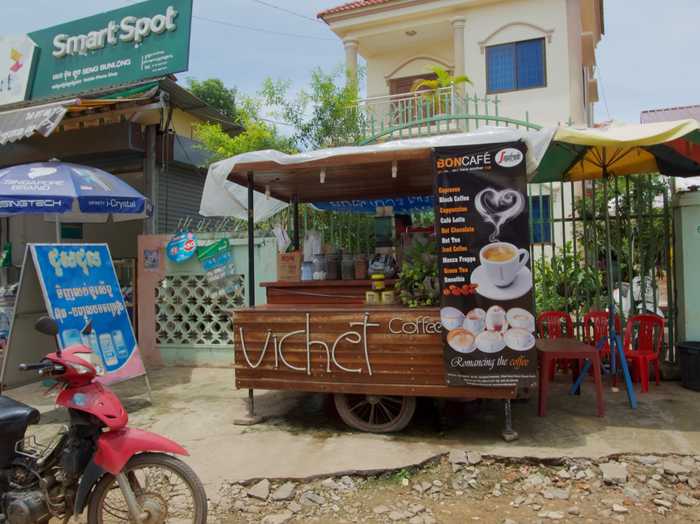 Cambodia Coffee Cart
Nuk cafe
Located in the heart of Phnom Penh is a coffee shop with a unique selection of coffees. The small details in this shop are what makes it a must visit, their logo is on the napkins and cups, and there is hand drawn artwork on the walls. Their menu resembles a newspaper decorated with cute drawings and engaging font. They pride themselves on their homemade ice-cream that is frozen with nitrogen. The first of its kind in Phnom Penh. They have five specialty items on their menu including coffee mixed with their artisanal ice-cream. You do not want to miss this place.
Visit the Nuk Cafe Facebook Page
Happy Beans Cafe
We stumbled across this shop while exploring Siem Reap. All four walls of this shop are glass so you can sip coffee with the comfort of air-con and still see the excitement outside. The amount of light in this coffee shop is refreshing and the garden surrounding it is beautiful. The chairs are unique but not comfortable for long-term lounging or working. Aroma coffee the perfect place to escape from the hot Cambodian sun.
Visit Happy Beans Cafe on Facebook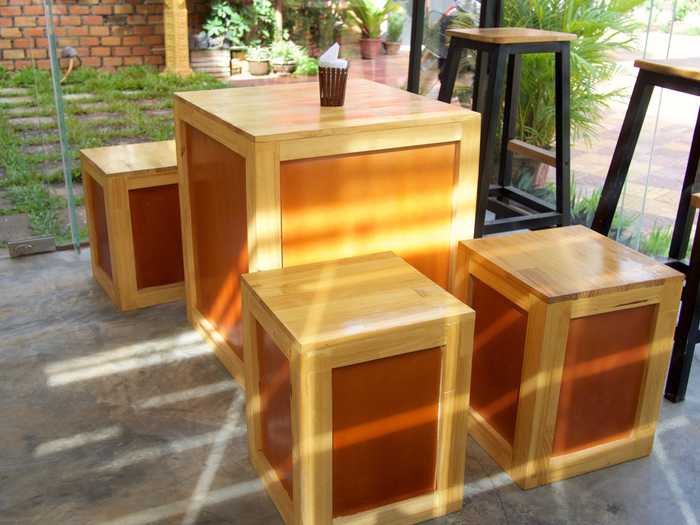 Sitting area at Happy Beans
Temple Coffee & Bakery
Located on Pub Street is a humongous two-story coffee shop. This open-air coffee shop serves food, beer and cocktails but specializes in coffee. We went here several times because it was a comfortable place to hang out, eat, escape from the rain, and relax. They take time in their presentation so expect prices to be higher but worth it. My favorite item on the menu was cubed ice-mocha served with fresh milk. Take that pumpkin-spice latte!
Visit Temple Coffee on Facebook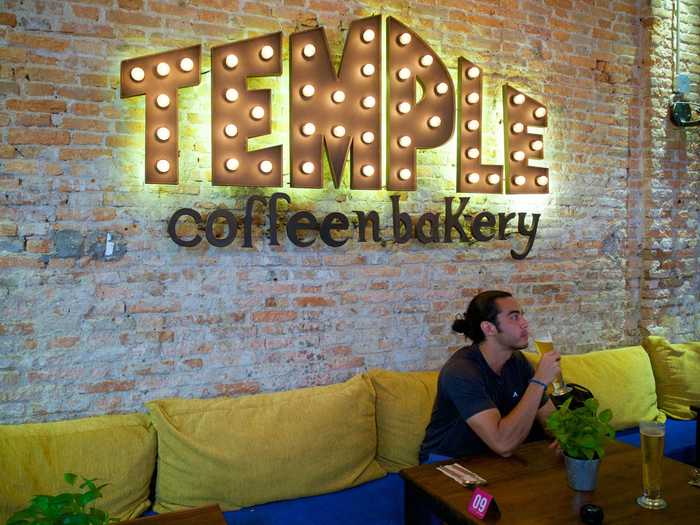 Gabe enjoying a coffee at the biggest coffee shop in Siem Reap
The missing socks laundry cafe
We were greeted by Mun who runs the first laundry cafe in Siem Reap. Wash your clothes while you enjoy a cup of coffee and a waffle. We were so impressed with the concept that we wrote a whole article on it. The prices to do laundry are similar with other laundry services but require only a fraction of the time. Expect to pay $3 to wash your clothes and$1 for every ten minutes your clothes are in the dryer. Breakfast here is tasty and includes a free coffee between the hours of 7-11am.
Visit The Missing Socks Cafe on Facebook here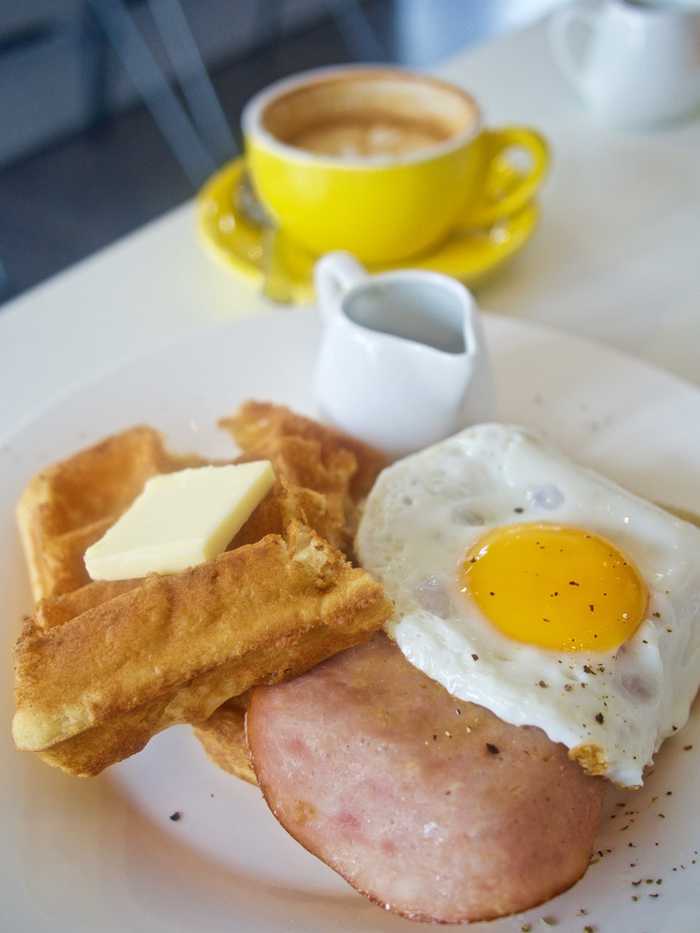 Missing socks laundry cafe breakfast
Cafe Mondulkiri
Located across the street from the Central Market in Phnom Penh is Cafe Mondulkiri. We went to this coffee shop after an exhausting few hours of shopping and felt instant relief. It is a smaller shop populated by locals, and the iced coffee is key after walking around the hot, stuffy markets in Phnom Penh. The staff is friendly and checked on us several times to make sure we were still alive and not dead from heatstroke. They also sell their own brand of coffee!
The point is if you enjoy coffee then you will be on cloud 9. If you are on the go, the coffee carts on the street offer great coffee options. Any restaurant you eat at will have coffee available to drink black, with milk or for an extra treat add sweet and condensed milk.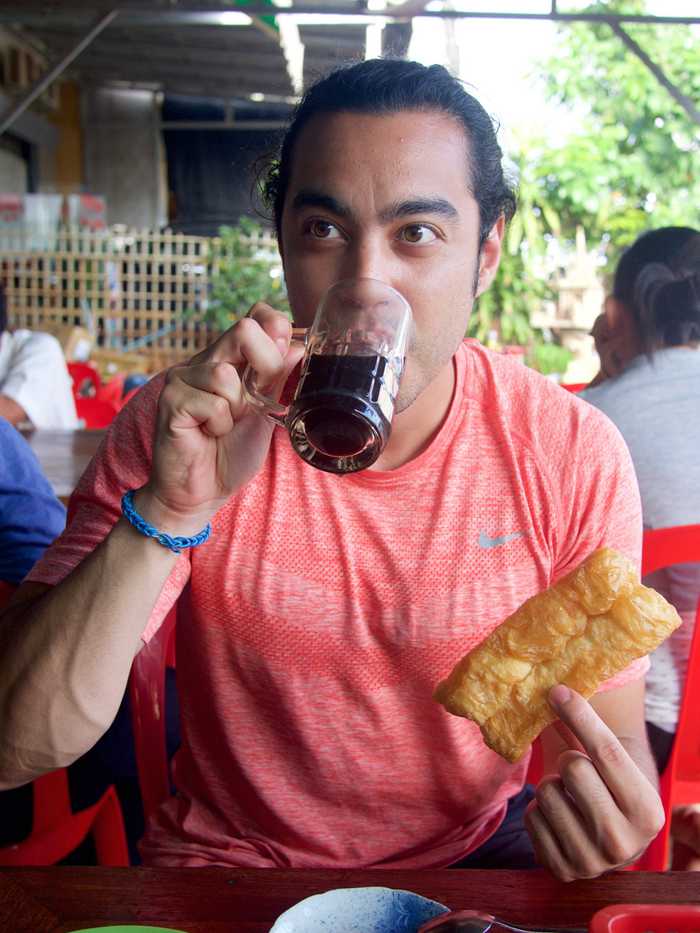 Update: be careful
Counterfeit coffee is a huge problem! Avoid buying coffee from unreputable sources.
Just as knockoff Louis Vuitton bags are a problem in Asia so is counterfeit coffee. We purchased a couple different bags of coffee at the market to bring home with us and were disappointed to find that the coffee tasted nasty/bitter and was low quality. After doing some research we found that most Cambodian coffee that is sold in the markets is made up of ground up corn and soybeans. A lot of flavorings are added to mimic real coffee and to mask the foul taste. We purchased 5 kilos of coffee. Luckily, we didn't waste too much money on this disappointment. The bags were professionally packaged and labeled. We didn't have any problems with knock-off coffees in restaurants and coffee shops, only the bags we purchased to bring back with us.
Join our weekly adventures
Gain access to our exclusive travel tips and more!
Expect exotic destinations, big adventures, flavorful food and unforgettable stories from our travels.