Teaching English in Siem Reap
By Sydney Tong on August 27, 2016. Read time: 3 mins.
On Night Market Street in Siem Reap there is a primary school that hosts English classes for its students from 4:00pm-6:00 pm Monday through Friday.
A full-time English teacher has all the lesson plans organized and prepared, she needs help teaching proper pronunciation and wants to give the students a chance to practice with native English speakers.
You can contact the school ahead of time if you like but all you need to do is show up a few minutes before 4:00 pm. Volunteers are frequent, so when we arrived, the students knew where we needed to go and guided us to the proper room. The students are enthusiastic and excited when people volunteer so make this opportunity an authentic memory.
The first class consisted of mostly younger students around 7-10-year-olds. The teacher was going over vocabulary words that begin with the letter V. The first 20 minutes they sat and copied down everything the teacher had written on the board. The kids were loud and rowdy, and it seemed as if they were not paying attention, but as I walked around the room, I saw that all their work was neatly written.
After the students had written the work, we practiced the pronunciation of the vocabulary as a group. After we had gone over vocabulary a few times, she began singling out students and had them recite the words on their own. They did a great job. To challenge the students even further she began erasing the words off the board and had them come up and spell the words. They did a great job, and as I looked around the room, I could see students who were doing well helping those that were in need of some help.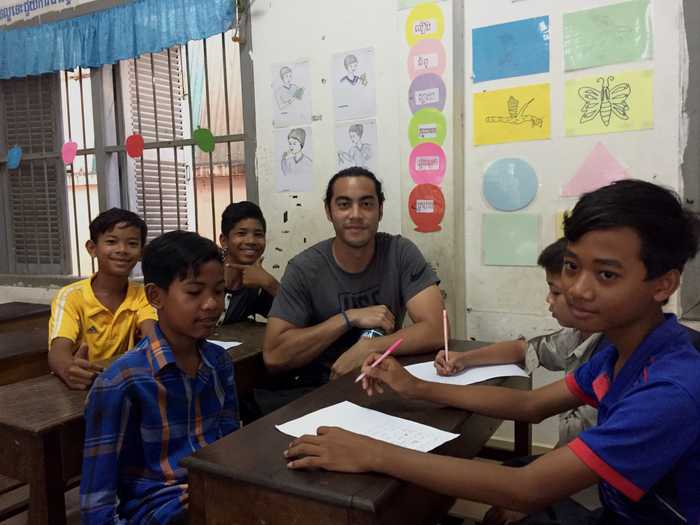 Gabe and his students
The second hour consisted of older students and those that were more advanced in their English skills. The lesson was on future tense, and the teacher split us into smaller groups and gave a worksheet to do together. The students understood the concept quickly, and we flew through the work.
To challenge the students we had them write down sentences using will and won't and practice saying them. They are bright kids and did well thinking of complex and thoughtful sentences on their own. I only helped with some grammar issues and with pronunciation.
I had three students; the two boys had been studying English for 2 and a half years, and the younger girl had been studying for 1 and a half years. The eldest boy wanted to be an English and History teacher because he says it is important that students understand history and speak English. He enjoys football and is talented at writing, and I was impressed with his ability to speak English freely.
The second boy was exceptional at speaking English, his father is a driver for tourists and says that he helps him practice. When I asked him what job he wanted when he got older, he said he wanted to be an English and Chinese tour guide for the Angkor temples. He also explained he has not started Chinese classes yet but will begin them in a few months.
My third student was young, but she was just as bright as the older boys. She said her dad works at the bank and wants her to be a nurse when she gets older.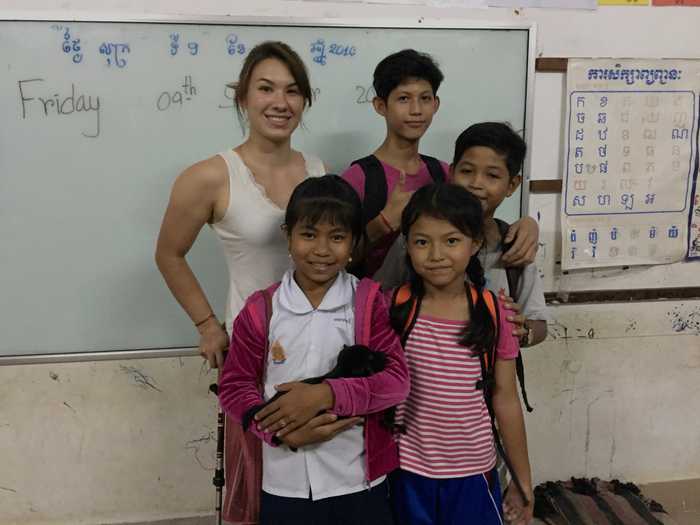 My students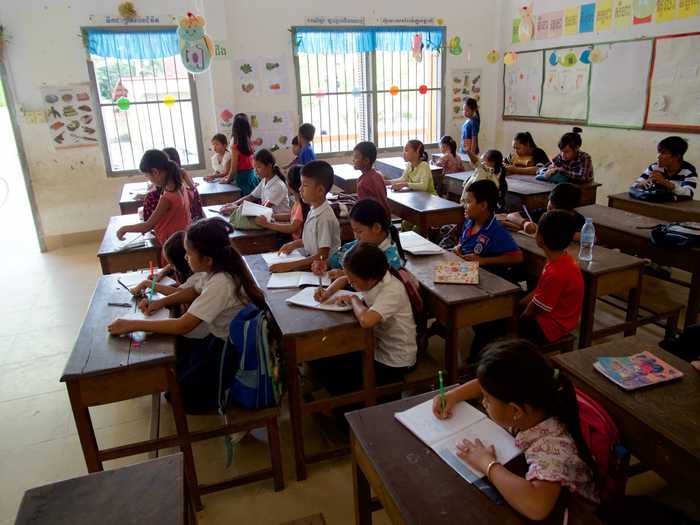 Our brave students volunteering for a project
This way of teaching English is effective. I like that there is a teacher there who can explain the subjects to the students, but then there are native speakers who can help with grammar and pronunciation. I think it is a great program that other schools should adopt.
If you are exploring the Angkor Wat temples in Siem Reap and have two hours to spare, I suggest heading to the Stung Thmey Primary School. The students and staff are welcoming, and the program is organized. It will be a good experience and a new memory.
Use this interactive map to see where the school is located in regards to your hotel/hostel/B&B! Also, keep in mind that addresses in Cambodia are more of a suggestion so this is an approximate location of the school. The school has been rebuilt since Google took pictures of the streets so you will not find it on the map. However, once you are on the street the school is easy to find. Look for the sign advertising English classes.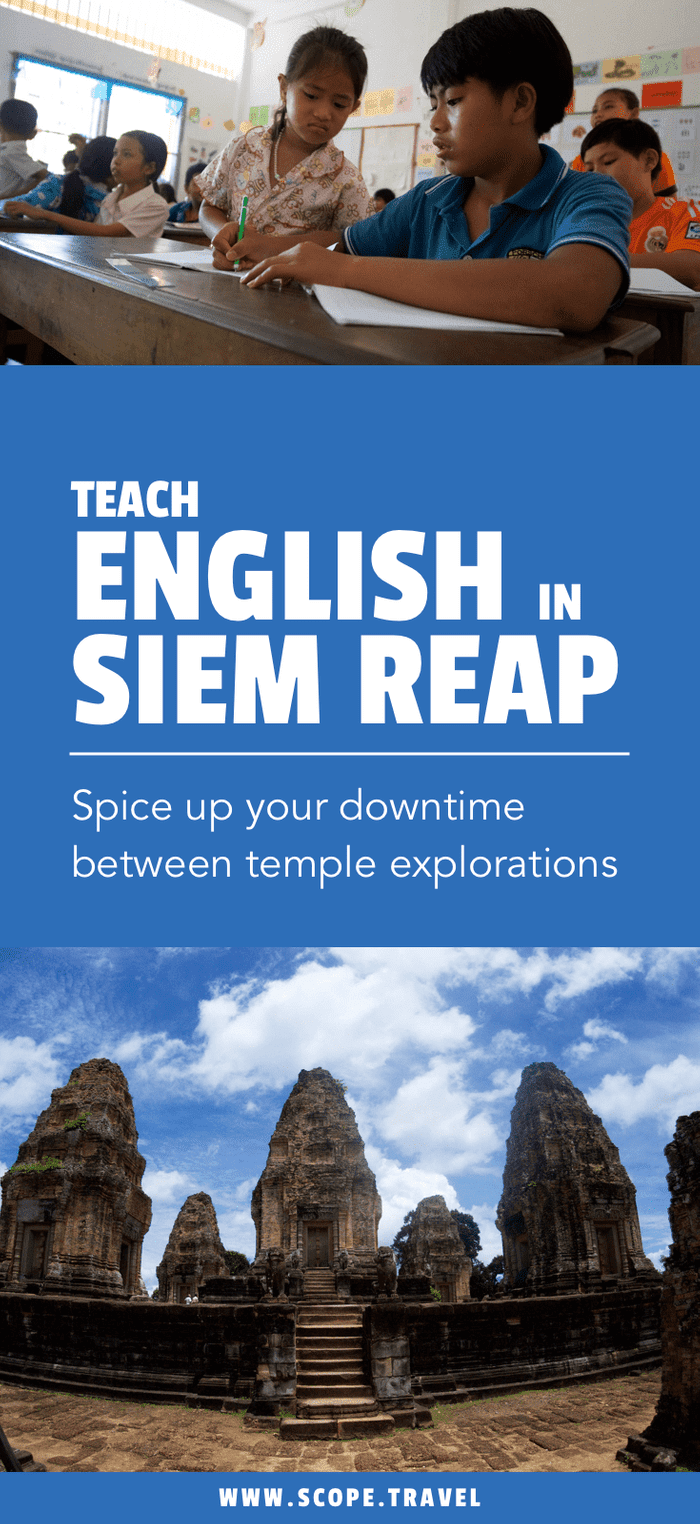 Pin it for later!
Join our weekly adventures
Gain access to our exclusive travel tips and more!
Expect exotic destinations, big adventures, flavorful food and unforgettable stories from our travels.