The ultimate 10 day road trip in Patagonia
By Sydney Tong on September 17, 2017. Read time: 10 mins.
Camping in Patagonia was the most epic adventure I have ever tackled. The region has a human-like temperament and a strong personality that answers to no one. In one day it is possible to experience all of the seasons as she changes her mood frequently without warning. I felt like I was at the complete mercy of Mother Nature as I ventured into the wild world of Patagonia.
Gabe and I had the opportunity to travel to this end of the world while we were attending school in Santiago Chile. Within a week of deciding it was time to go, we were on a plane to Punta Arenas to begin our journey. We were vastly underprepared and only had a few days to do research, buy gear, rent a van and plan it out.
We rented a Wicked Camper Van, which was the best decision because we could go where we wanted when we wanted. Patagonia represents freedom and the thought of being confined to the time schedules of tour groups and buses didn't seem fitting for the trip we had in mind.
Before we knew it, we were cruising in a sweet Suzuki Jimny 4WD with a pop-up tent on top. We had ten days to experience as much of Patagonia as we could. While ten days isn't much time, it was enough to taste a bit of everything.
We made some mistakes on our trip. We stayed too long in some areas and did not have sufficient time in other regions. If we had the chance to make this trip again, we would structure it differently to save precious time and some change. Here is our driving route for ten days, hopefully, it prepares you for your adventure.
If you don't have much time, consider your entire trip in Torres Del Paine OR Los Glaciares National Park.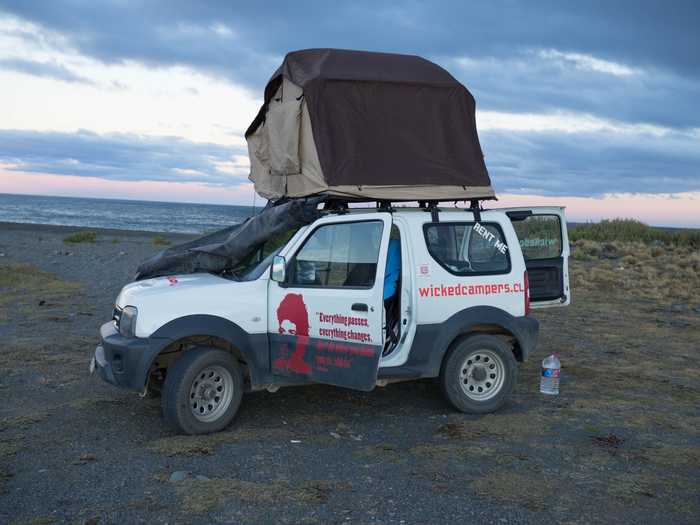 Renting a Wicked Van was the best decision
The itinerary
Day one- Zona Franca, Magdalena Island, Marta Island, Cemeterio de Punta Arenas
Day two- Cerro Dorotea
Day three- Hike the "W", Lake Pehoe
Day four- Hike Lake Pehoe lookout, Lago Grey
Day five- Perito Moreno, The Glaciarium
Day six- La Leona Petrified Forest
Day seven- Hike Mount Fitz Roy, Laguna de los Tres
Day eight- Viedma Glacier
Day nine- Horseback riding in Cerros Frias
Day ten- Mirador Cerro de la Cruz, La Luna
Day one
If your plans include renting a Wicked Van, you will need to get a flight into Punta Arenas. Hopefully, you can book a van with enough notice, so it's available when you land. We spent a lot of quality time in Punta Arenas while we were waiting for our van. Luckily for us, Punta Arenas is a large city with a fair amount of things to do and interesting sites to see.
If you need to pick up gear, food and other last minute supplies then take a cab to Zona Franca. They have some discounted gear but don't expect it to have everything you need. Equipment and gear are expensive in Patagonia and the more remote the area, the more costly it will be.
Bring reusable grocery bags. Otherwise, you will not have anything to carry your newest acquisitions and Unimart won't assist you.
If you don't plan on going to Rio Gallegos in Argentina to camp with penguins, then tours are available from Punta Arenas. The tour takes visitors on a 4-hour tour to Magdalena Island and Marta Island to view a penguin colony. This option is a touristy alternative to Rio Gallegos.
If you have time, I recommend checking out Cementerio de Punta Arenas. This cemetery has elaborate headstones and ornate family mausoleums. This cemetery is rated by CNN as one of the most impressive cemeteries in the world. Do not miss out.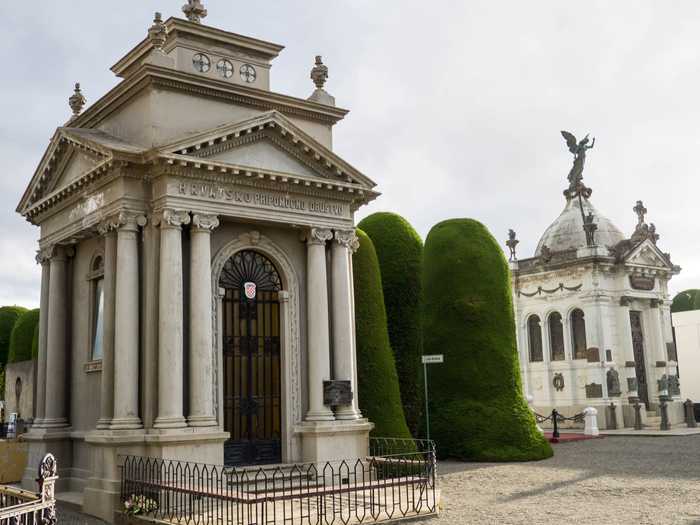 Amazing mausoleums hedges are everywhere in this cemetery.
Day two
Schedule to pick up your Wicked Van as early as possible to drive three hours to Puerto Natales. The location to pick up the van is based out of a hostel. They open at 10 am but are accommodating if you need to pick it up earlier. They used to have a deal, if you show up butt naked, then you get a day free. This offer is no longer valid, but they have a variety of deals to help cut on costs for the backpackers ballin' on a budget. Note, we didn't show up naked.
Once in Puerto Natales stretch your legs at Cerro Dorotea which is a two-hour roundtrip hike. It overlooks the city and the ocean and is a good warm-up hike for the more demanding hikes that will come later in the trip. Local farmers own the land and charge an admission fee for access to this hike.
If you are starting in Punta Arenas and want to explore the east side of Patagonia give yourself more than ten days.
After the hike, grab some lunch at any of the hippy-dippy restaurants and walk around the town. Snap pictures of the ocean and some of the famous landmarks around town. We enjoyed our short stay in this charming city, but we were ready to get into the great outdoors.
The drive from Puerto Natales to Torres Del Paine is a little under an hour. Plan on it taking longer because the views of the 'Torres' as you enter the park are spectacular. You will also pass beautiful lakes, mountains and wild herds of vicuna. We entered the park later in the afternoon and saw the towers with a sunset backdrop. It is truly a remarkable sight to see.
"Camping Torres" campground is at the base of the east side of the "W" and is free. We set up camp in between some trees to protect us from the wind. We ate spaghetti, drank red wine and enjoyed our first night under the stars.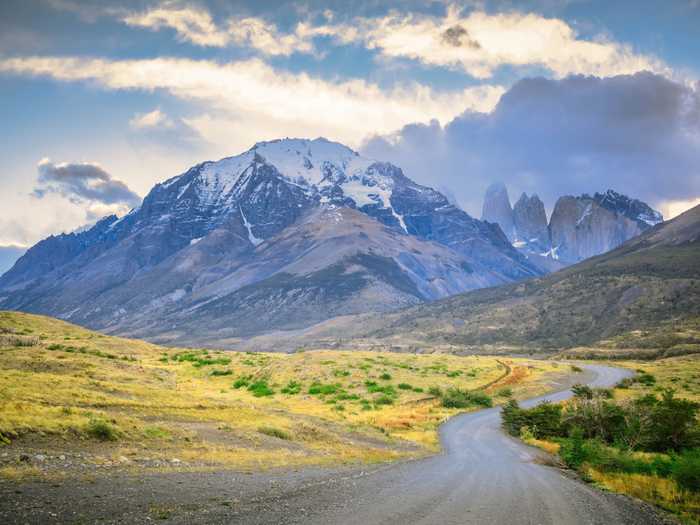 The drives are not bad at all!
Day three
After coffee and breakfast, it is time to hike the first leg of the "W." The "W" is a 5-day hike and the most iconic adventure in Torres Del Paine. The first leg of the eastern start is 3 1/2 hours roundtrip with out-of-this-world views of the valley and the river. The hike is windy, and trekking poles are helpful to keep from being blown over. There is a rest point to eat lunch and relax before turning back.
An alternative hike would be the western leg of the hike to Glacier Grey.
The drive to Lake Pehoe takes about two hours and is a stunning palette of colors. Glacial lakes give off a milky turquoise color, and our pictures from this area don't look real. We saw glacial lakes when we drove into the park, but to see them glittering in the sunlight is a different experience.
Campground Lake Pehoe is right on the lake and is the most beautiful camping spot in the entire park. It costs about 11.000 per person, and it is worth it. Each camping spot has a tall wall to protect tents from the strong winds. I'd recommend reservations if you are traveling in the peak season.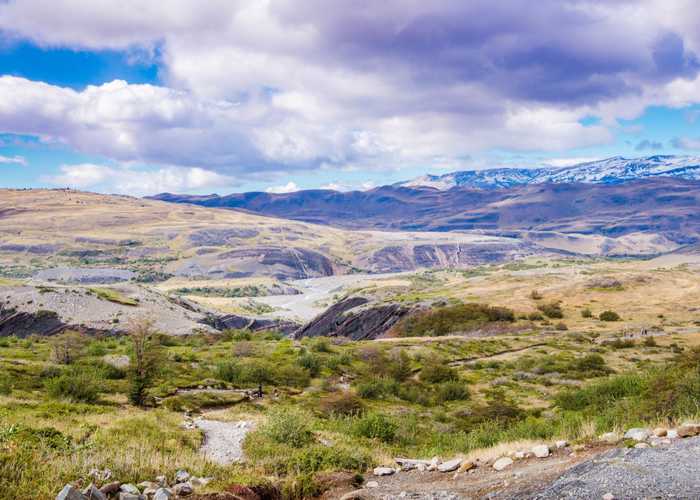 Other worldly views during the first leg of the hike.
Day four
Wake up your body with a 2-hour hike to the Lake Pehoe look out. The winds are incredible, and at some points, we had to hide behind rocks and crawl on the ground because it was too hard to walk. I have never experienced the wind like this before, and it was a memorable adventure.
Drive to Lago Grey to walk along the lake from Guarderia on the southern shore. The dramatic unrefined scenery is the perfect backdrop to enjoy lunch. You'll be able to catch your first glimpse of a Patagonian glacier.
By this time we were coming painfully close to not having enough gas for the two-hour drive back to Puerto Natales. We needed to go back to fill up on gas before our three-hour drive to El Calafate.
Accommodations in El Calafate are plentiful and are posher than what we experienced previously. Choose to camp in Glacier National Park or the city. We opted to camp in El Calafate at El Ovejero campgrounds. It is a full amenities campground. We got to know our neighbors next to us. We just so happened to be wearing matching fleeces and were both renting vans from Wicked Camper.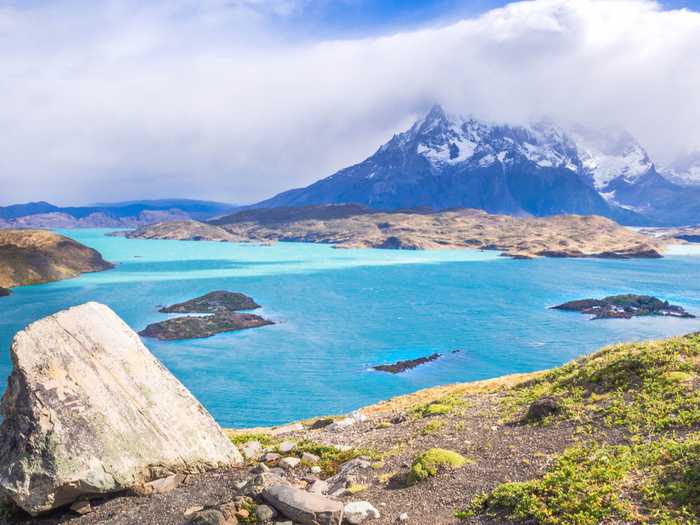 Views of Lake Pehoe from above.
Day five
Day five was an epic day around Perito Moreno, the most popular glacier in Patagonia. Book a kayaking tour around the glacier or admire it from the shore. You will want to set apart a significant portion of your day for this amazing glacier.
The Glaciarium is an in-depth and informative museum on the glaciers, ice and ice fields. The exhibits in the museum are organized, and we learned a ton. The museum also features an ice bar, if you want to bundle up in a cold glacier-like room while you drink cocktails.
If we could make this trip again, we would have camped in the park for both nights. We were noobs and didn't know what to expect.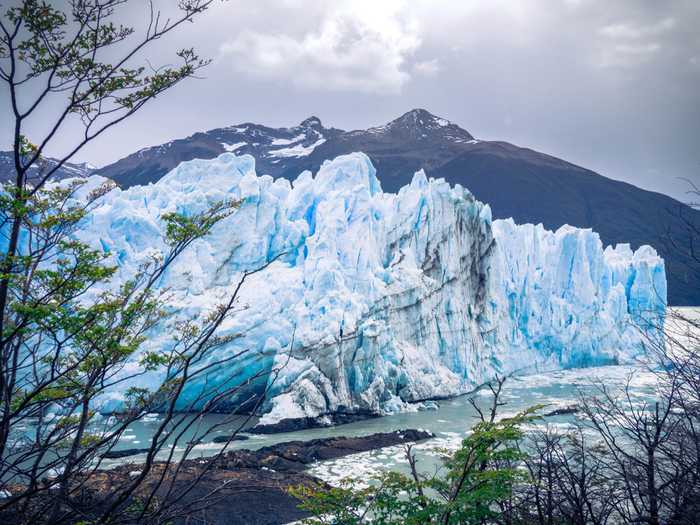 The great glacier, Perito Moreno. The view is from shore.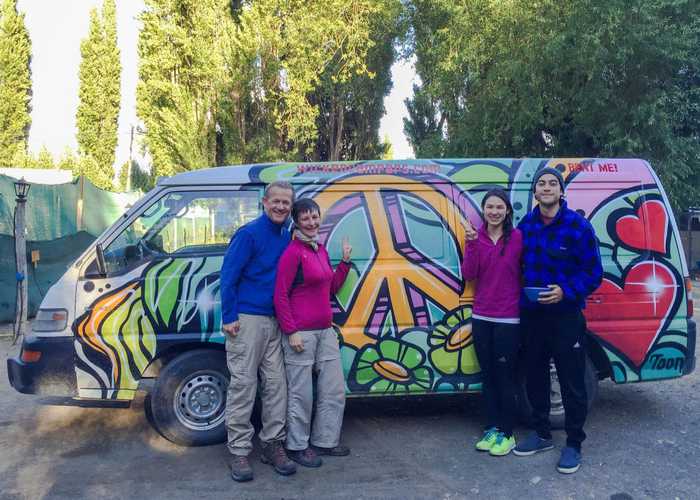 No somos hippies, somos happies!
Day six
On the three-hour drive to El Chalten, make a detour at La Leona Petrified Forest. The desert is a stark contrast between the ice fields and forests seem from previous days. See petrified forests and dinosaur fossils from 70 million years ago. It is on private land so expect an entrance fee. Hire a guide and meet them there for first-hand information on the area.
El Chalten is a small town, and it was my favorite out of all the towns and cities. Not only is it the gateway to Mount Fitz Roy, but it is home to beautiful lakes, hikes, glaciers and spectacular panoramic views. Camping spots are plentiful here; we chose to stay at El Relincho campground which is minimalistic but devastatingly gorgeous.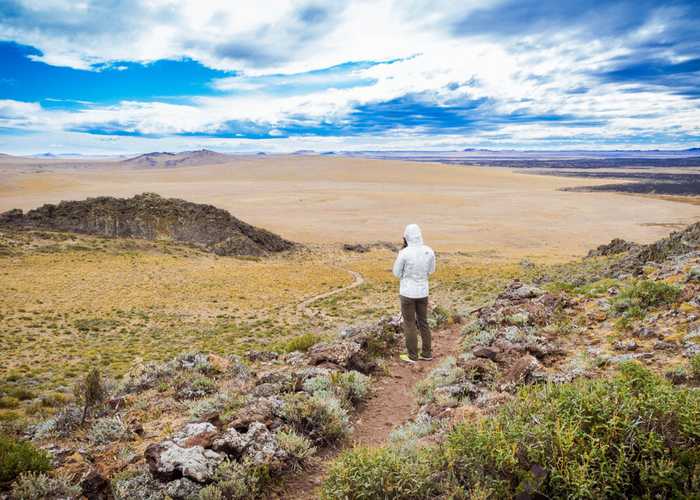 Hiking in Pali Aike National Park.
Day seven
The epic days flow freely in Patagonia. El Chalten has many epic trails worth writing home about. Get a taste of what Mount Fitz Roy is famous for with a day hike version. If you're still craving more glacial lakes, then hike Laguna de Los Tres for a fantastic day. It's incredible how much-understated magnificence is in such a small town.
Many of the stores and restaurants in El Chalten are cash only, and there aren't many places to access the internet. There is a bank in the town, but it always happened to be closed when we tried to get some cash.
Have enough cash on hand to fill up your tank because the only gas station in town is cash only.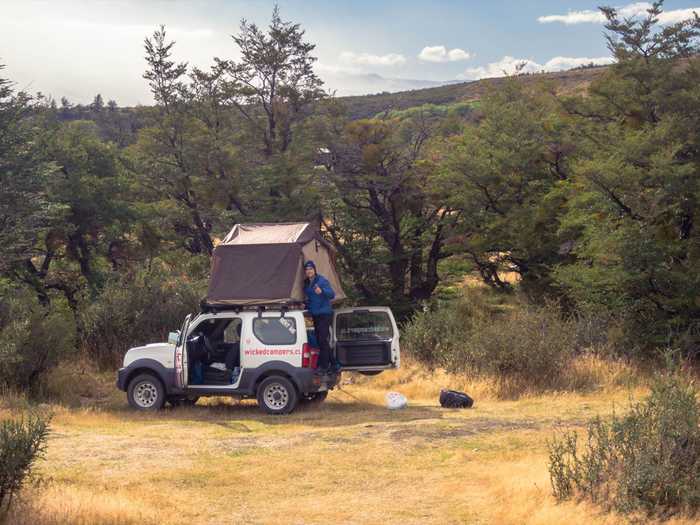 Setting up shop for the night is easy in these vehicles.
Day eight
Hiking and ice climbing the Viedma Glacier were my favorite memories of the trip. This experience engaged all my senses and left me feeling humble and grateful for my day with Mother Nature. It left such a strong impact on me that I wrote an article on our adventure. Use the link here for a good read.
If you cannot climb, book a hiking tour across the glacier. Please do it. You will not regret it.
The journey home has begun, and this is where you can choose between two different routes home. Drive back to Punta Arenas the way you came or drive to Rio Gallegos to see the penguin colony and hike Pali Aike.
We chose to go back to Punta Arenas through Rio Gallegos. We cherish our time spent camping with penguins, and it was an unforgettable experience, but it consisted of a lot of driving, and the end of our trip felt rushed. I wouldn't choose to go through Rio Gallegos again unless we had more time.
The Viedma Glacier climb is an 8-hour excursion. After dinner and the 3-hour drive, expect to arrive in El Calafate in the evening. It was a long and exhausting day, and I felt completely satisfied with my life choices.
Read how to climb the Viedma Glacier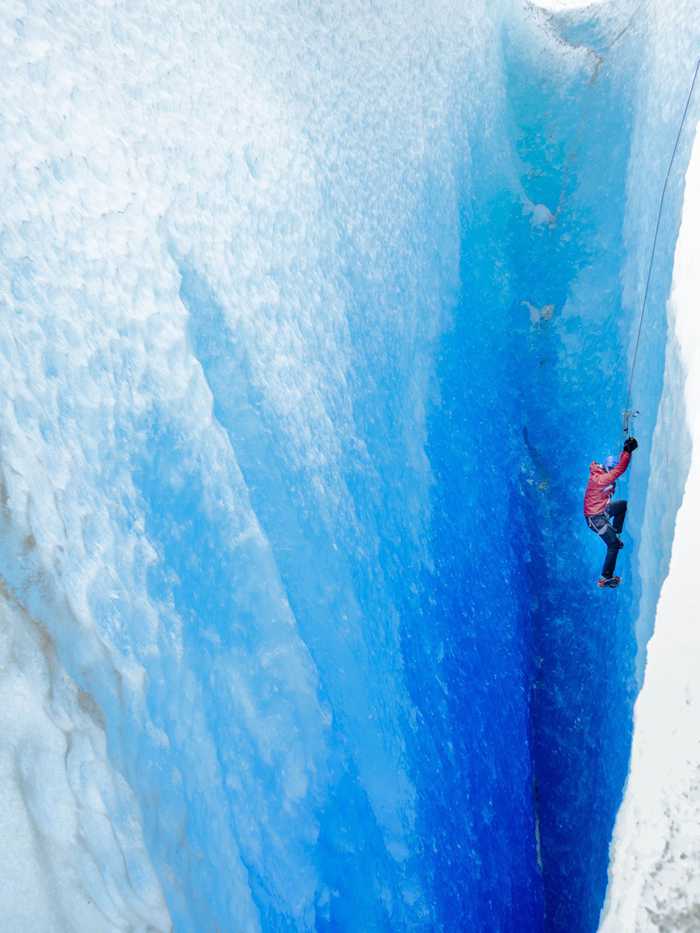 Climbing Glacier Viedma.
Day nine
Wake up in El Calafate and take a horseback riding tour through Cerros Frias. Expect the body to be sore from all the hikes and the climbing. After your peaceful day in El Calafate drive back to Torres Del Paine for one last night under the stars.
Weather in Patagonia can change in an instant. Stay up to date on weather reports and allow flexibility when making plans.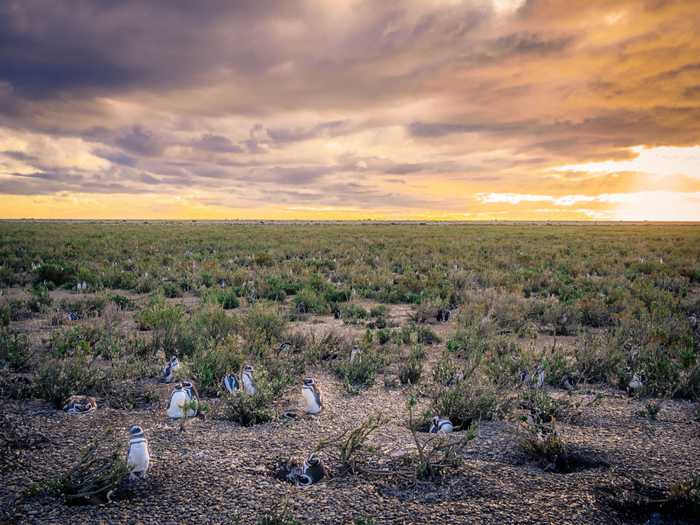 Camping with wild penguins in Rio Gallegos Argentina.
Day ten
Pack up camp and drive the last four-hour stretch to Punta Arenas to return the van. Wicked doesn't require you to return the car with a full tank, but they do expect it to be clean of garbage.
Ask Wicked if you can leave your bags/luggage at their headquarters while you explore Punta Arenas.
Depending on your flight out, there are a bunch of things you can do here. I recommend checking out the view of Punta Arenas from Mirador Cerro De La Cruz and eating dinner at La Luna. It is the best restaurant in Punta Arenas, the food is cooked to perfection, they have an excellent drink list, and the service is top notch with affordable prices. It was the perfect ending to our trip. Cheers! Tips for your camping trip here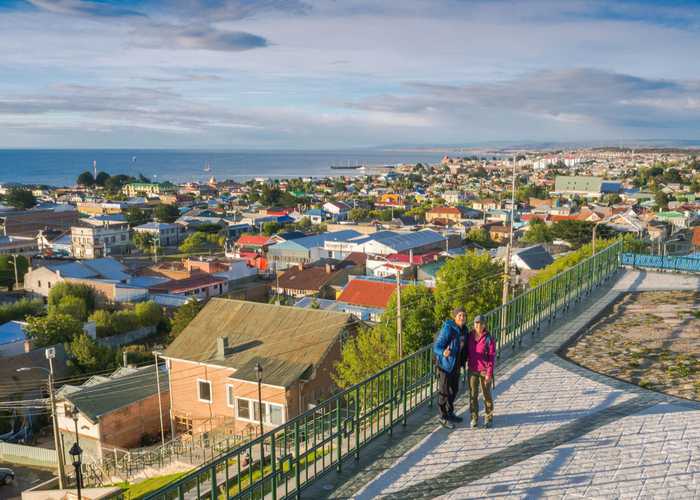 El Mirador in Punta Arenas.
Notes:
If we were to make our trip itinerary again, it would look similar to this. Patagonia is huge, and there is a lot of driving. Cutting down the driving into more digestible sections is highly recommended.
It was the best camping trip we have ever taken, and we saw so much. Patagonia carries a heavier price tag but there are ways around it, and it is one of the only places that we can say is worth the price. We'll have an article up in the future about cutting unnecessary costs in this area.
Wicked has a daily allowance of kilometers. Our driving route, through Rio Gallegos, meant we were charged an extra $150USD for going over our limit.
Don't be afraid to pick up hitchhikers. We picked up a couple from Israel and a vagabond Frenchman. We had a good time learning how to communicate in a variety of different languages.
Be open-minded to new experiences I promise you it will improve your trip a hundred times over.
Do not rush your trip, take your time. You are in Patagonia, the most beautiful place in the world.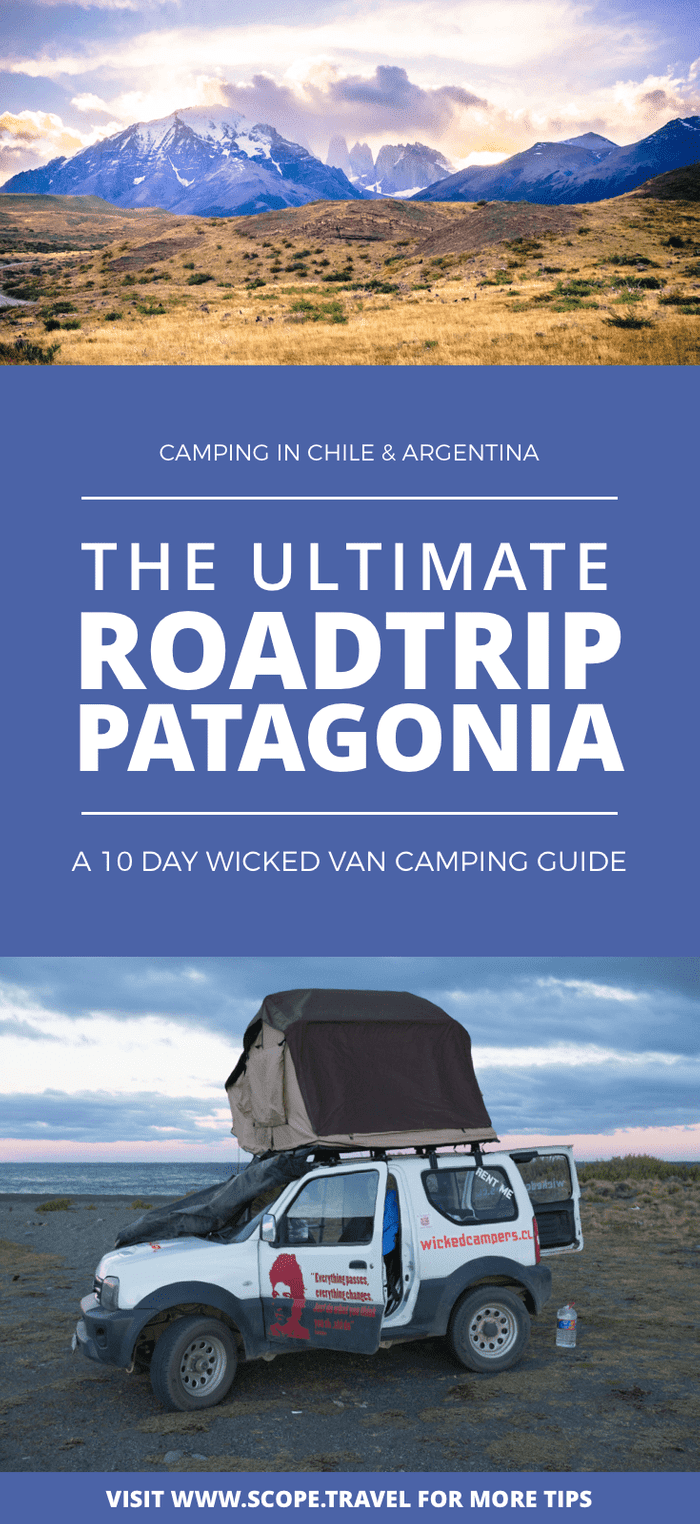 If you like it, Pin it!
Join our weekly adventures
Gain access to our exclusive travel tips and more!
Expect exotic destinations, big adventures, flavorful food and unforgettable stories from our travels.