Tokyo's Cat Cafe
By Sydney Tong on October 16, 2017. Read time: 4 mins.
Tokyo is known for its abundance of themed cafes that are made to attract thousands of curious tourists.
Some cafes are more promiscuous than others, such as the 'maid cafes' in Akihabara. Other cafes cater to technology fans, like the 'robot cafes' in Shinjuku, which feature robotic monsters, dancers, and lasers. However, none of the cafes are as cute and cuddly as MoCHA the Cat Cafe.
Due to long working hours and lack of apartment space, cat cafes are a favorite hang out spot for locals. They are also attractive to cat-loving tourists looking to indulge in Tokyo's unique themed cafe culture.
These cafes have become so mainstream that MoCHA now has eight locations; Ikebukuro West, Ikebukuro East, Shibuya, Harajuku, Akihabara, Takeshita Street, Shinsaibashi, Shinjuku, Aeon Laketown, Osaka, and a new location in Nagoya.
These cafes cost a little more than your average coffee shop but feature healthy and happy cats to accompany you. It is 200 yen (USD 1.80) for every 10 minutes with a 30-minute minimum. All you can drink for 350 yen (USD 3.11) and cat treats are available for 500 yen (USD 4.44).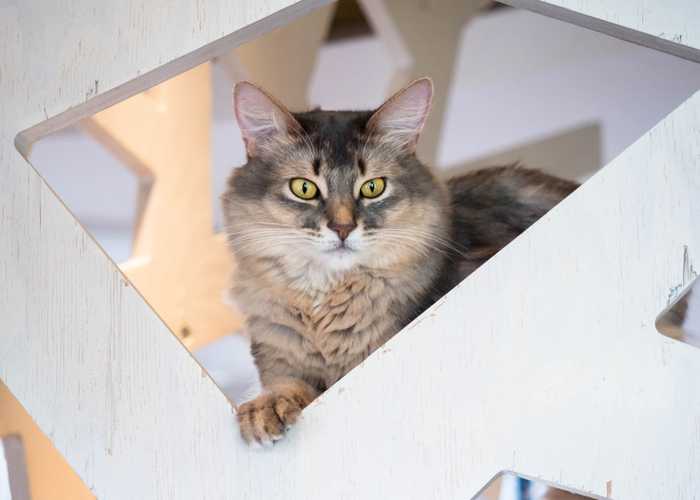 Watchful cats in the cat tree.
All MoCHA locations are open seven days a week from 10:00-22:00. If you're interested in seeing cute fluff balls munch on some cat food, feeding times are at 10:30 and 19:30.
Visiting one of these famed establishments was the top of my list while we were in Japan. Coffee and cats are some of my favorite things and being able to do it while looking at the Tokyo skyline sounded like the perfect spot to relax. It took some convincing to get Gabe to bite into the idea, but I think he was intrigued as to why someone would pay money to hang out with a cat.
MoCHA's cafes are impeccably decorated with comfy couches, throw pillows, decorative cat trees, and swinging basket chairs. They create a relaxing environment where locals and tourists can escape the hustle of the city. Everyone was smiling as cats played with feathers, lounged on the seating or nuzzled up next to guests.
Every cafe has a different theme, suited for capturing the perfect Instagram picture.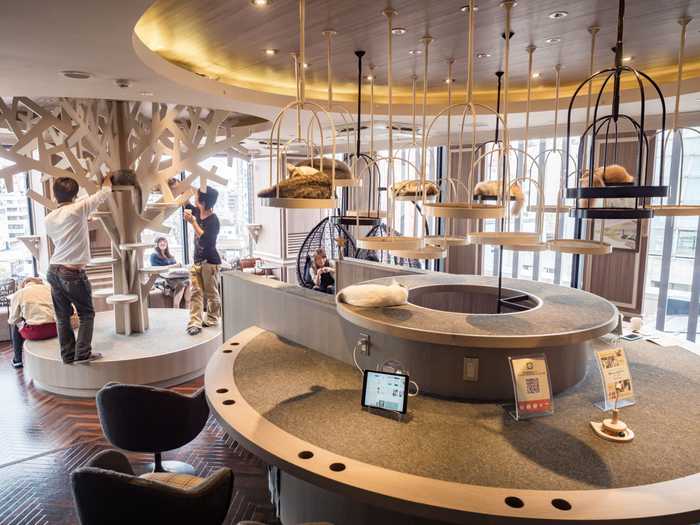 The second floor of the cafe comes complete with study space.
From the busy Shibuya scramble crossing, we walked to MoCHA's multi-floor cafe located on one of the calm side streets. Upon entering, we were greeted by a friendly worker who helped to explain the rules of the house and the prices. She told us we weren't allowed to yell at or chase the cats, which doesn't sound like much fun. But alas, we proceeded with the experience.
You must monitor your time. If you go over your time by one minute, you will be charged for an additional ten minutes.
The all-you-can-drink package allows visitors to pick drinks from infamous Japanese tea and coffee vending machines. The staff was adamant about guests putting a lid on top of all drinks, so the cats don't drink from your cup. I grabbed a cold matcha green tea before I headed up the stairs to hang out with my new fluffy friends.
As soon as I entered, the cutest white munchkin kitty named Keito greeted me. He had the fluffiest white coat, a green and a blue eye and legs that looked too short for his body. He was so calm and used to the concept of random humans giving him pets.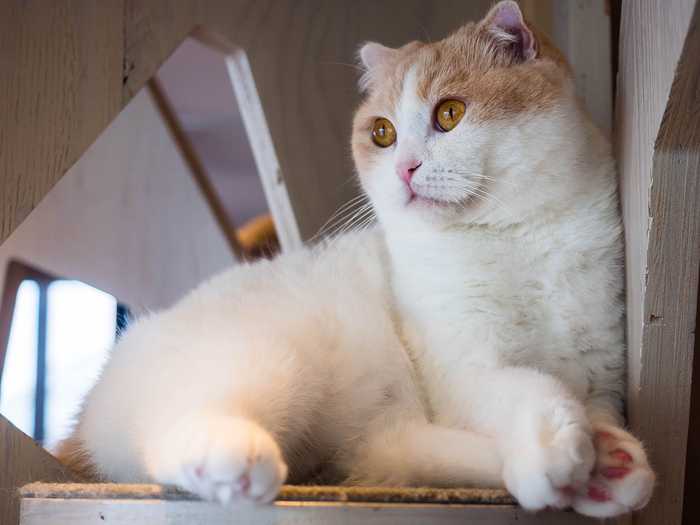 Munchkin cat!
Beautiful cats were lounging around the room. Some were sleeping on platforms that were hanging from the ceiling. A fluffy ragdoll cat was hanging out on a branch of the tree in the middle of the room. A young couple sitting in the corner den area of the room was using a shoelace to play with kittens. This welcoming was the cutest sight I have ever seen.
A worker sitting under the cat tree was brushing the coats and cutting the nails of some of the cats. It was reassuring to see that the cafe takes the health of their cats seriously. These felines live a charmed life.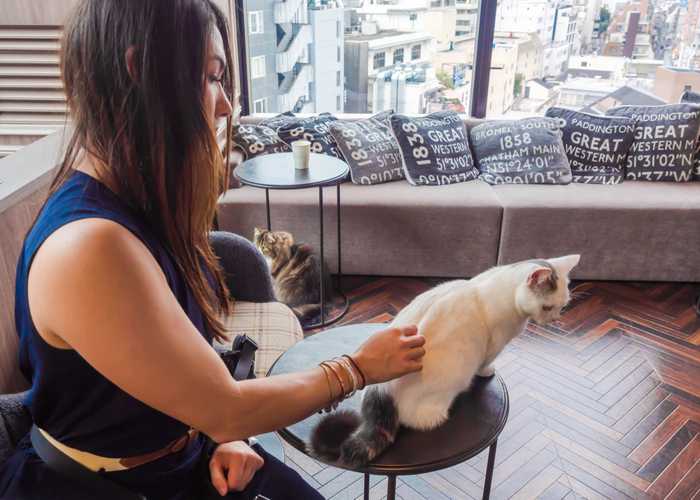 Me trying to pet a cat.
To my everlasting sorrow, these cats did not want to play with me, and I was quickly reminded that cats are assholes. As soon as I would sit near a cat, it would get up and run away from me. I used the available feather dusters to try and coax a beautiful Siamese cat to play with me, but he couldn't be bothered. I could have rolled around in catnip and attached laser pointers to my body and wouldn't be able to charm one of these cats into loving me. It nearly broke my heart; I would not get the love of a strange cat in Tokyo.
With my dreams of the cuddling with cats while gazing at the Tokyo skyline forever crushed we exited the cafe to pay our tab. We paid USD 20 for 40-minutes of rejection, which is affordable compared to the Tinder plus members who pay for unlimited swipes per month and still never manage to match with the hookup of their life.
It was comforting to know that I have the cutest Shih Tzu puppy waiting to cuddle with me at home. Visit them online here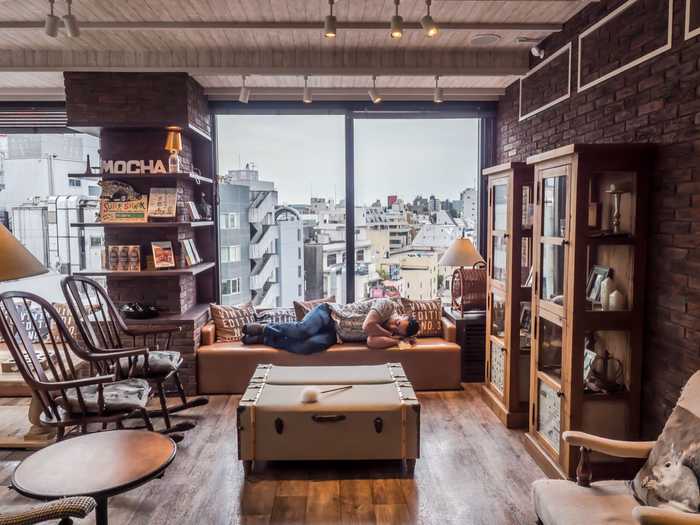 Gabe passed out on the first floor of the cafe.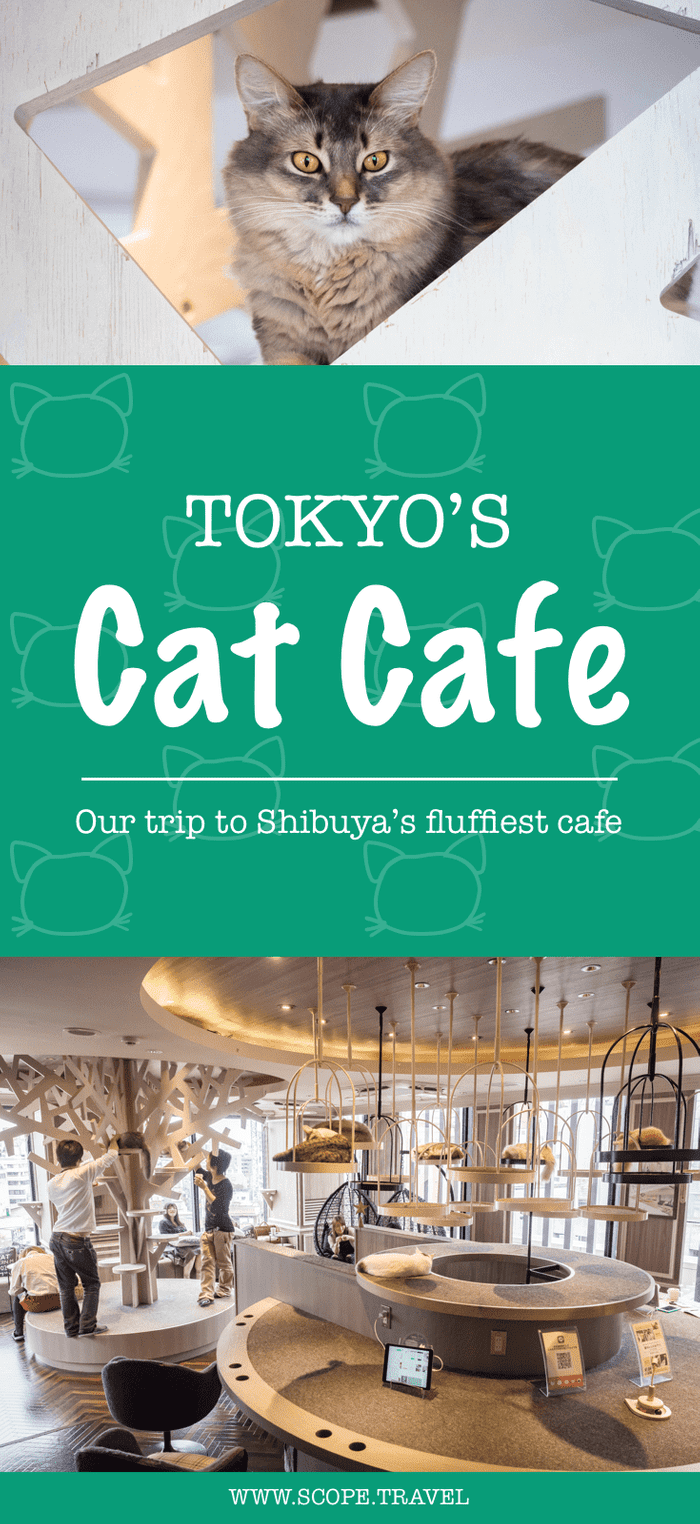 Pin it for later!
Join our weekly adventures
Gain access to our exclusive travel tips and more!
Expect exotic destinations, big adventures, flavorful food and unforgettable stories from our travels.