Using Airbnb in Cuba
By Sydney Tong on February 07, 2017. Read time: 3 mins.
Travelers have two choices when looking at accommodation options in Cuba. They can choose between a high-end government run hotel or cozier family run casa particulares.
Casa particulares are homes that Cuban families rent out to travelers. This fits perfectly with the Airbnb business model. When the travel embargo was loosened for the U.S., they rushed to Cuba to capitalize on the new market. Airbnb makes it easy to book rooms even before setting foot on Cuban soil. However, due to Cuba's strict regulations booking a casa via Airbnb while in the country is much more difficult. Users are still able to access the website but will not be able to make a booking.
If at all possible, I highly recommend booking all your accommodations ahead of time. If you are like me, then you enjoy the freedom of booking where the adventure unfolds. Luckily for us, there are workarounds to Cuba's strict regulations. If you don't want to commit to booking rooms ahead of time, I suggest saving rooms in advance in order to save some time, money and hassle. The internet in Cuba is slow and unreliable and searching for an appropriate room can be frustrating or even impossible. Use this link to learn how to access the internet in Cuba in our "Cuba Explained: Frequently Asked Questions" article. Learn how to access the internet here
Per my research, I learned that accessing the internet would be a problem but the millennial in me could not comprehend the lack of internet access in Cuba. Internet is only readily available in a few large hotels and a select number of public parks. After finding a place to use the internet, the next problem is that the website takes so long to load and it is hard to see pictures of potential rooms. This forces users to book a room only based off of location, price and possibly the reviews.
As I mentioned earlier, the biggest problem is that Airbnb does not allow booking while in Cuba. I booked my first week while still in the U.S. without any problems. Now that I was in Cuba, I did not have enough cash with me to pay for accommodations on top of all my other travel expenses.
I used two different methods to book an Airbnb while I was in Cuba. The first method was to contact someone I trusted back in the U.S. to book a room for me. I sent them the Airbnb link, the dates and my Airbnb account information. Make sure Airbnb has your payment information saved in order to expedite the process. Once they book the room, you will be able to see the property and host information immediately. Write down all the information before your time on your internet card runs out.
The second method I used to book a room was by using a VPN. This is a service that reroutes your internet connection to a country of your choice. I "tunneled" through the U.S. and was able to book my room without any problems. I use Tunnel Bear because their system is very easy to use and understand. It is free up to 500MB of data every month, this is sufficient to book a casa. If you plan to use it you should download it before your trip. Sign up for Tunnel Bear now
I opted to book my accommodations via Airbnb while in Cuba. This gave me the freedom of booking accommodations on the road, staying with a local family and I didn't have to carry heaps of cash with me. There are Airbnb rooms that fit all group sizes and budgets. Our hosts were informative and very helpful and it was always enjoyable talking to them. Out of the two methods mentioned above, the VPN is a great way to stay flexible and book your accommodations on the go. Bug your family outside of Cuba to book a room for you as a last resort.
I hope that this article helps you with your housing accommodations in Cuba. I am extremely happy with Airbnb and this was only a hiccup in the adventure. Get $35 off your first booking on Airbnb with this link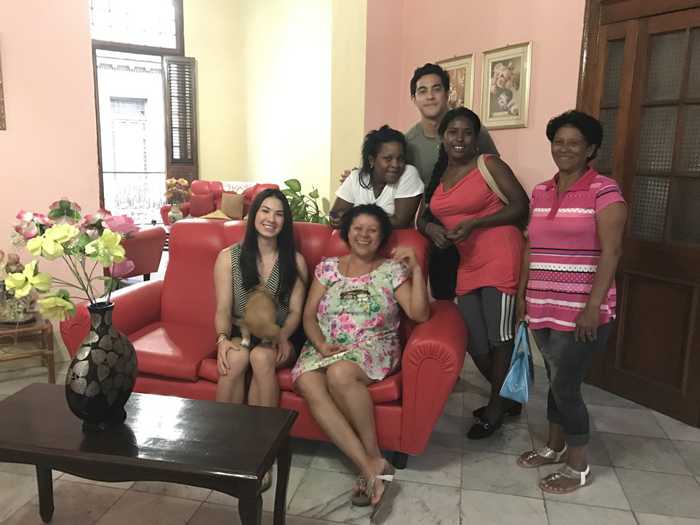 This was our first family in Havana.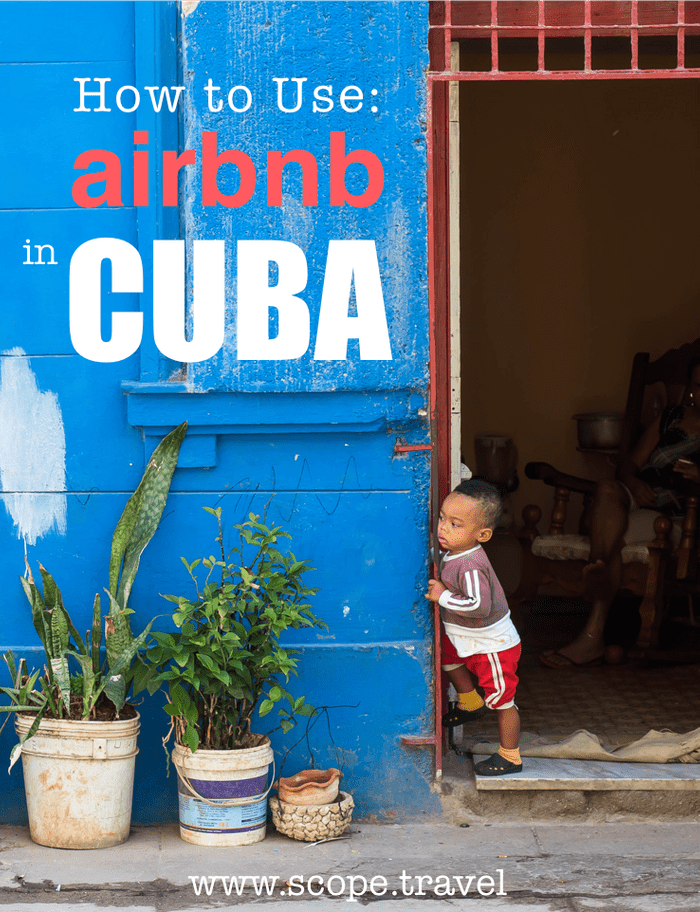 If you like it, Pin it!
Join our weekly adventures
Gain access to our exclusive travel tips and more!
Expect exotic destinations, big adventures, flavorful food and unforgettable stories from our travels.