What to do in Sarajevo
By Sydney Tong on December 21, 2016. Read time: 8 mins.
Sarajevo is one of those cities that we unintentionally fell in love with. The stories of the past roped in our interest and the people's sincerity captured our hearts. The city's charm sucked us in and before we knew it we were completely hooked.
Despite hosting the Winter Olympics in 1984, Sarajevo is still relatively new to the tourism game. The magic of the city is uncovered through the stories, to the travelers willing to listen to them. This relaxed city is easy to enjoy and the effort you put in you will receive back tenfold. Here is a list of things you should not miss when in Sarajevo.
Here is an interactive map of Sarajevo and things to do here. We've included the most popular attractions and the things you should not miss. Copy this map for yourself. If you find anything that you think other people would enjoy let us know so we can add it to the map.
Take a city tour
As Sarajevo is newer to the tourist game there isn't much information about what to do or what to expect. This made the tour our most valuable source of information and we recommend doing it the first day of your trip. The tour is a great introduction to the city and the unique Bosnian culture. This is also a good place to ask any questions you might have of the culture, etiquette, and what to look out for.
There aren't many "attractions" in Sarajevo but the guides are full of stories and experiences. Our guide was knowledgeable of the history of Sarajevo and she had compelling memories of the war. The war was so recent that everyone remembers what life was like and the daily struggles they went through with their family. She told us how she remembers her teacher dodging bullets to get to student's houses so they wouldn't miss an education while their country was at war.
We cannot recommend this tour enough and it will give you a greater appreciation of the country. Contact them ahead of time to ensure you have a spot on the tour. They've released several tours since we were there but we really think this tour company is the best. The guides are educated in either history, fine arts or political science. The tours are given in English but our guide could speak several languages, contact them directly with questions you may have. We've included the meeting point on the map, but double check your tour meeting spot ahead of time.
The tour is tip-based, meaning you can pay what you think the tour is worth. Bosnia's unemployment rate is one of the world's highest at 44.6%. The tour guides are grateful to have a job and they try to go above and beyond to make sure your tour is memorable. Their passion for their city and their country shows in their stories. Sign up for a free walking tour of Sarajevo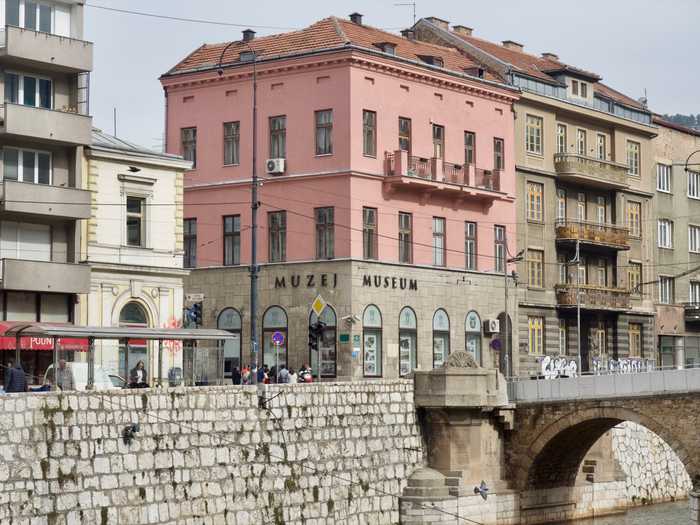 You have to hear the history behind that pink building!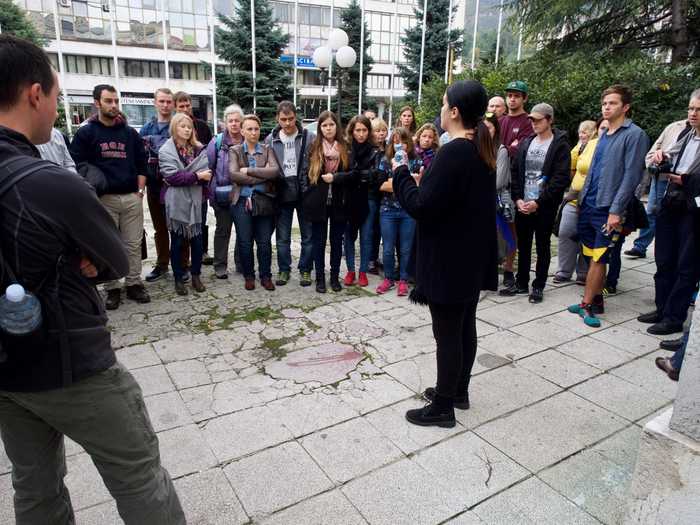 Our tour guide explaining the meaning behind the Sarajevo Rose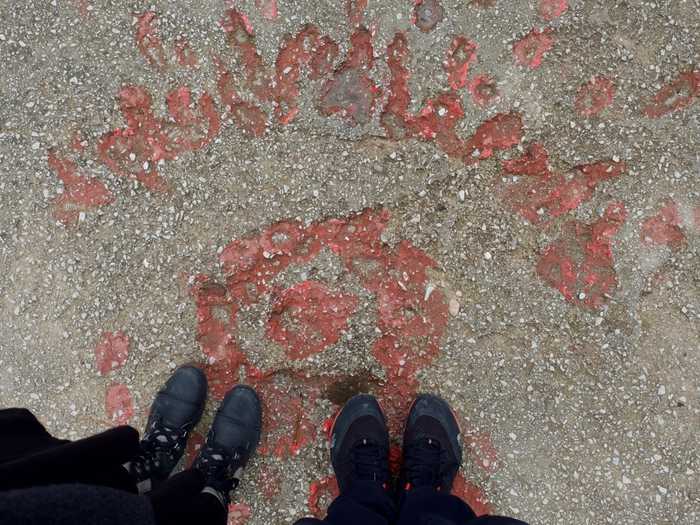 A Sarajevo Rose
Sarajevo tunnel
Learn Sarajevo's best kept secret during the siege. Located several miles away from the city is a tunnel that provided the citizens and soldiers with food, supplies, and weapons. Listen to the audio guide as it guides you through everyday life during the war. This museum makes the past a reality and connects visitors to the history. It costs 10BAM, and is fairly easy to get to via taxi or public transportation. Read more about the Sarajevo Tunnel here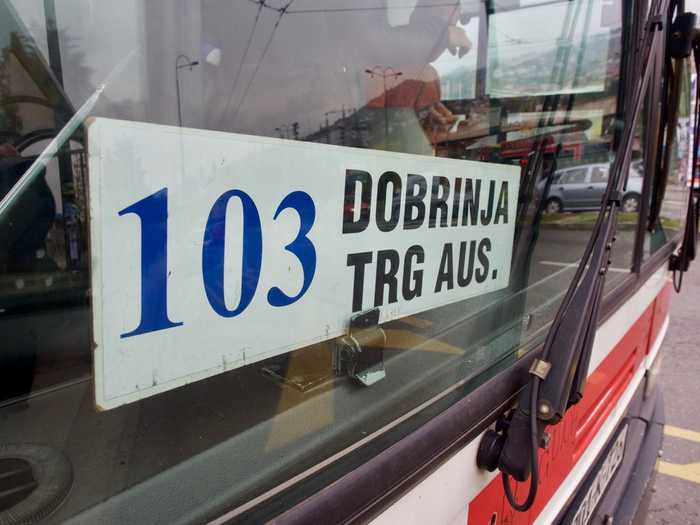 The sign on the bus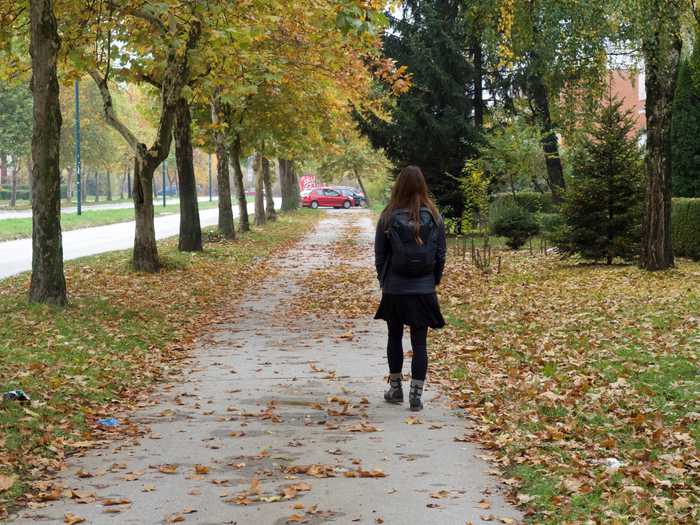 A through the neighborhood to the secret tunnel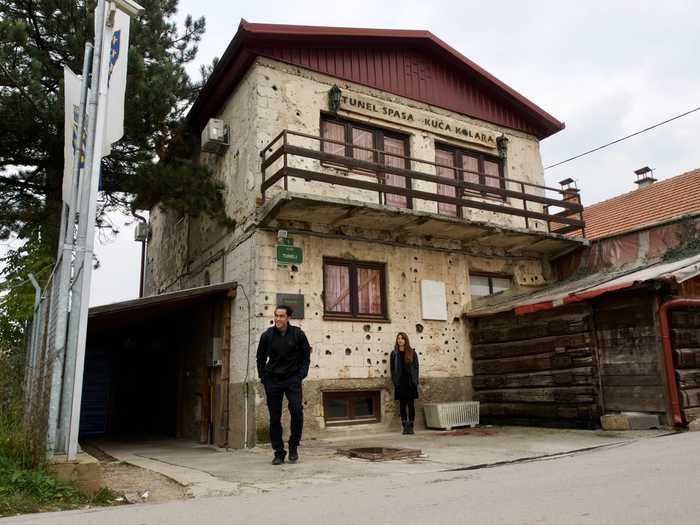 I can't believe a war was fought in this house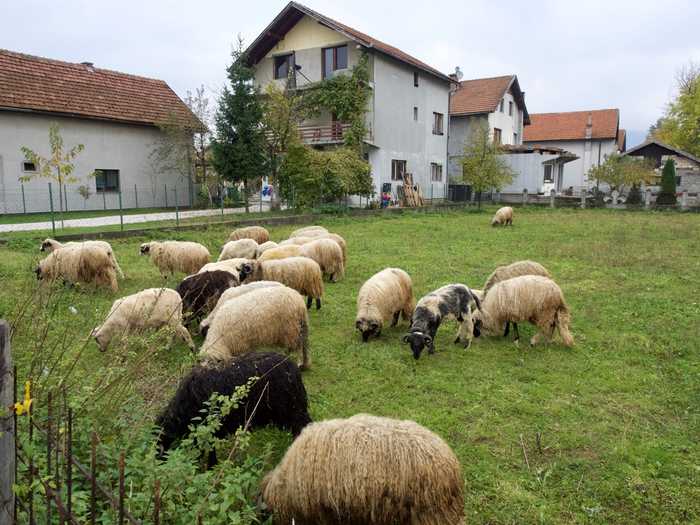 Cute sheeps on the walk to the museum
Visit old town
Step across the threshold that separates the west vs east and get lost in this charming neighborhood. You will be greeted by stone buildings, magnificent churches, savory restaurants, sweet bakeries, and bars. Wander through the streets taking in the old city through all your senses, and let the atmosphere absorb you.
This is a touristy part of town, but the prices are not too inflated, as locals still go here to shop, eat and worship. Many places only accept cash so come prepared. There are several ATMs and currency exchange booths.
We were advised to not give money to the children begging. The money does not go to the children. If you want to help them buy them food.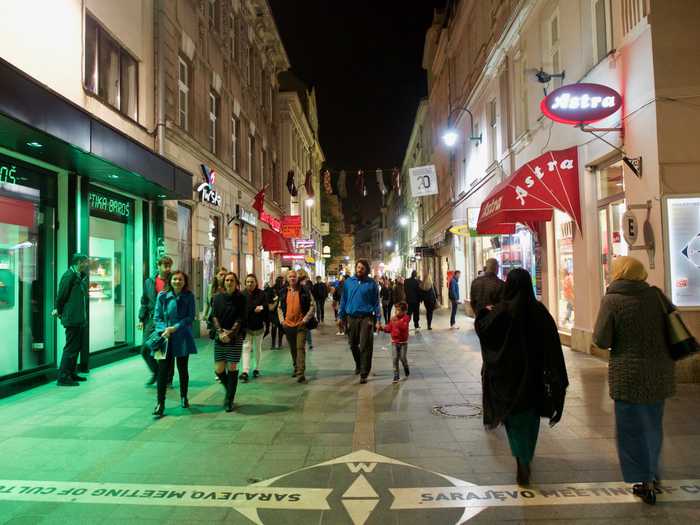 The touristy part of town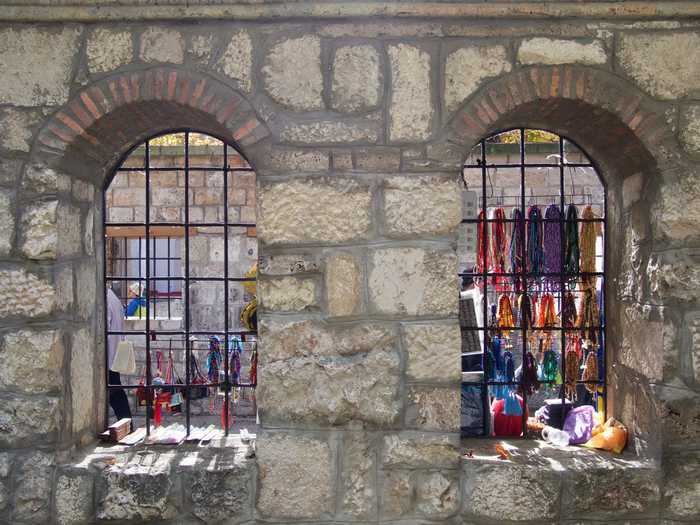 The walls of Sarajevo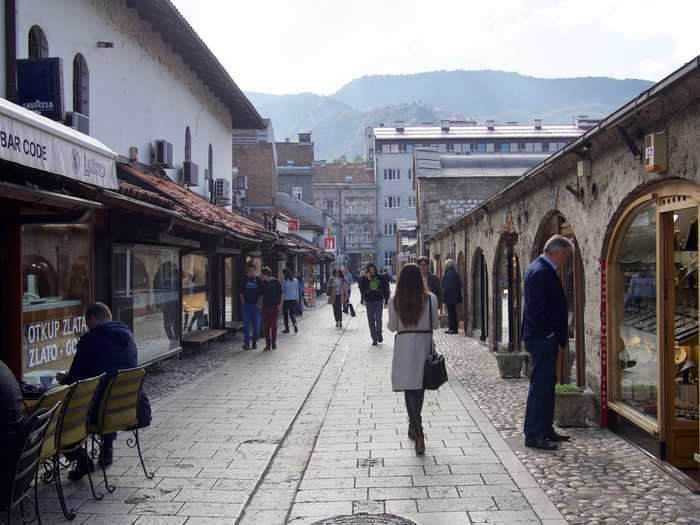 Old town Sarajevo
Shops & markets
If you read our articles regularly you are already aware of our affinity for markets. Bosnia is the perfect place to buy presents for friends and family... or for yourself. High-quality tea sets, silks, and other goods are among some of the items that you will be able to find in Old Town. We wish that we would have bought more souvenirs while we were here. We were low on space in our bags, but we could have just shipped. Hindsight is 20/20.
Souvenirs
Gazi Husrev-begov bezistan (see map) is an area where you can buy knock-off luxury items and souvenirs. We found everything to be decently priced and there is a large variety so you will be sure to find something in this area. The shops outside also have many items that are worth a look.
Tea sets and handicrafts
We recommend Baščaršijska džamija (see map) as the area to look if you want a high-quality, hand-made tea set. Walk your way through the coppersmith's quarters and familiarize yourself between a hand-made set and a stamped one. We met a shop-keeper who took his time to explain the difference between the two. You do not want to pay an authentic price for a generic piece. This area sells a variety of metal products not only tea sets.
Food and wine
If you have access to a kitchen then these markets might interest you. We found that produce here was much fresher and cheaper than those found at the grocery stores.
Pijaca Markale- You can get any fruits and veggies for cheap at this outdoor produce market. Bring small change and your own bag. We found the produce to be very fresh and the people were helpful. There is a small grocery store on the side where you can get wine or other cooking necessities.(see map)
Gradska tržnica- You can find fresh and cured meat here. We found the shopkeepers to be friendly and helpful. They offered us a piece of cured ham. We loved this place. (see map)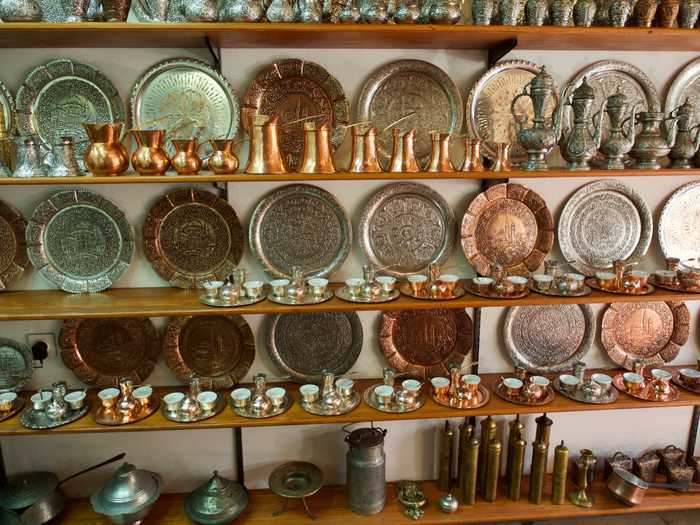 Bosnian coffee and tea sets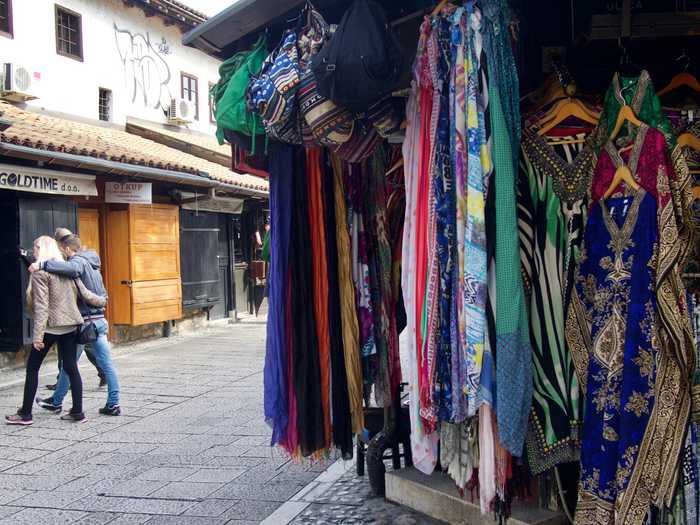 Silk scarves and dresses for sale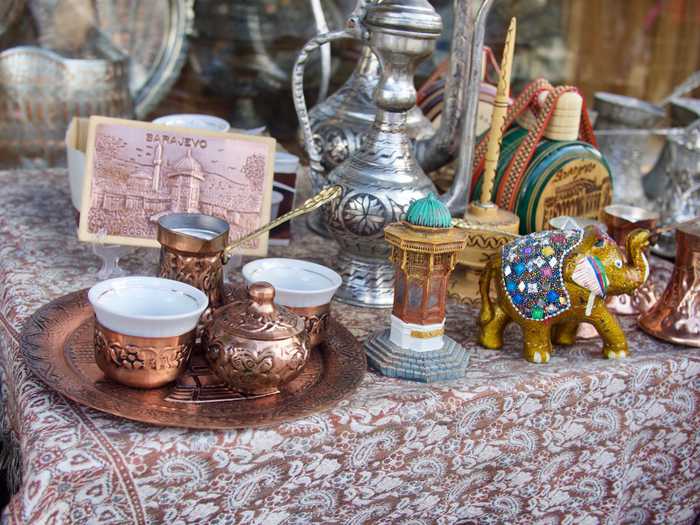 Small souveniers and trinkets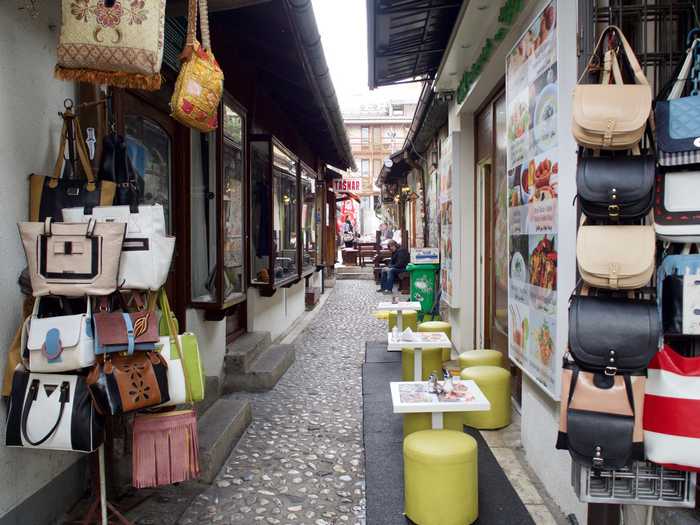 Small shops in the alleyways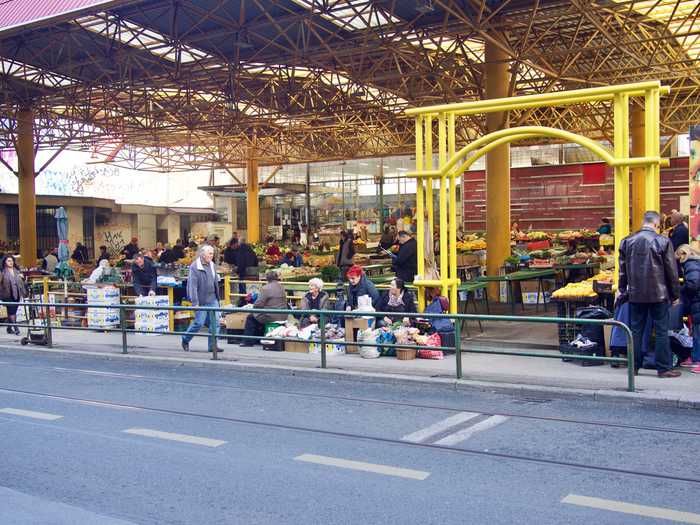 A local market to buy fruits, veggies and meats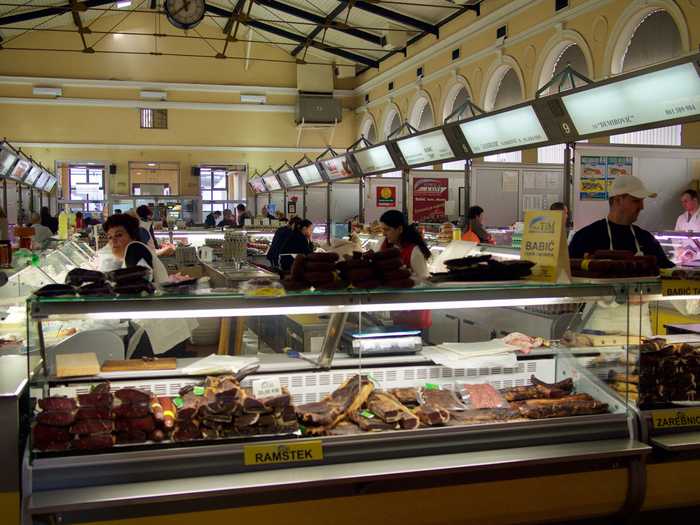 The butchery section in Sarajevo
Feed the pigeons
This is the best cheap thrill in Old Town. For 1BAM a man by the Sebilj (see map) sells bird feed. This was such a cool experience that we did it twice. The birds are super friendly and none of them crapped on me. The birds were scared of small children which is why they all flew off in this gif below!
Play chess
There are giant chess boards located throughout the city. Men congregate to play serious chess games against each other. If you want to challenge anyone you must wait your turn. These guys don't mess around, they are serious when it comes to chess!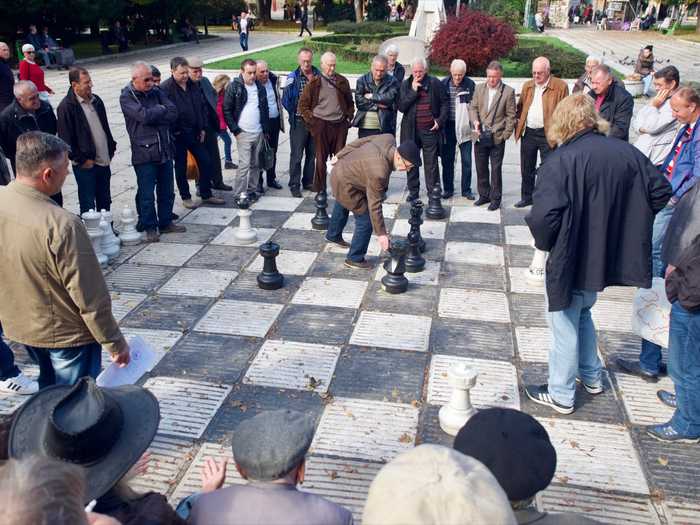 You must wait your turn if you want to play.
Drink bosnian coffee
Coffee is a way of life in Sarajevo and you can find it anywhere. Take your time, as coffee is meant to be enjoyed with family and friends. It is intended to be sipped slowly, if you drink it too quickly you will get a mouth full of grit. Most oftentimes the coffee will be served with a glass of water and a sweet to be enjoyed after. Check out these cafes Kuca Sevdaha and Slasticarna Ramis.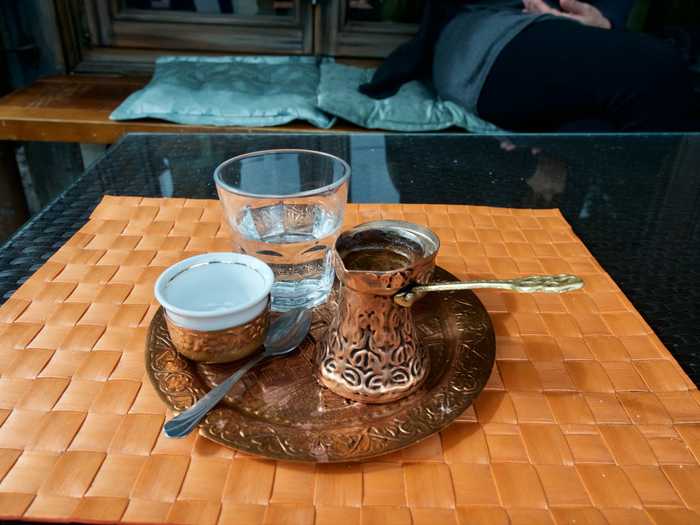 A typical way to drink coffee in Bosnia
Try cevapi
Without a doubt, you will have the opportunity to try Cevapi which is a pita bread filled with small sausages served with diced onions and cheese. Some restaurants serve cevapi with a roasted pepper sauce on the side, this was my favorite way to eat cevapi. Many Bosnian people say that cevapi should be on their flag because they love it so much. It is simple but something about it is completely satisfying.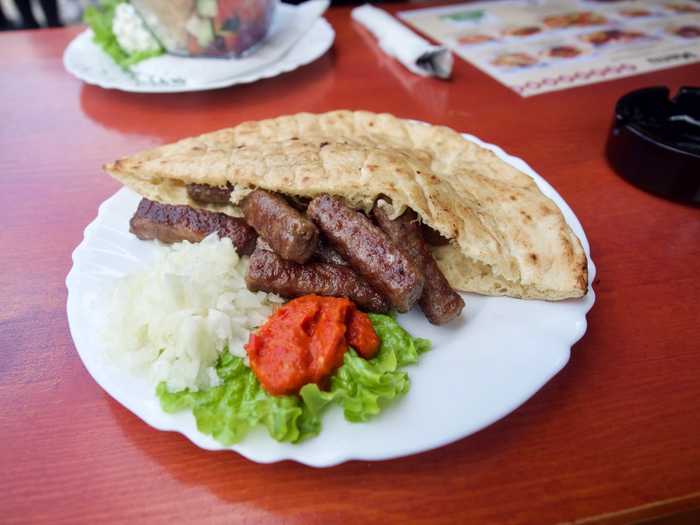 Cevapi with ground up red peppers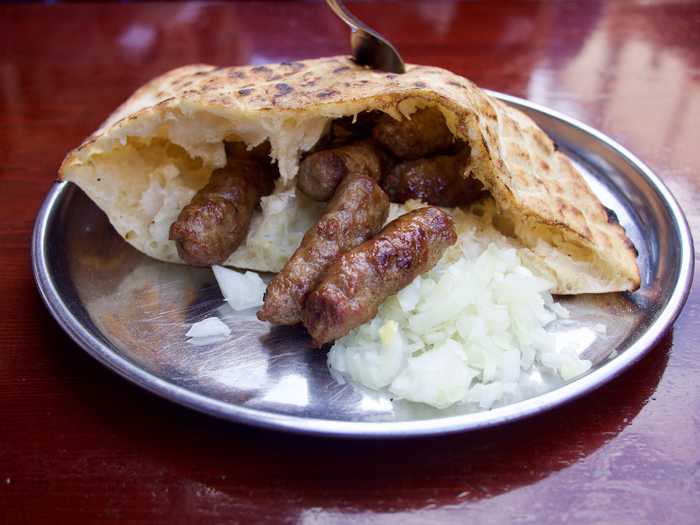 Cevapi with a motherload of onions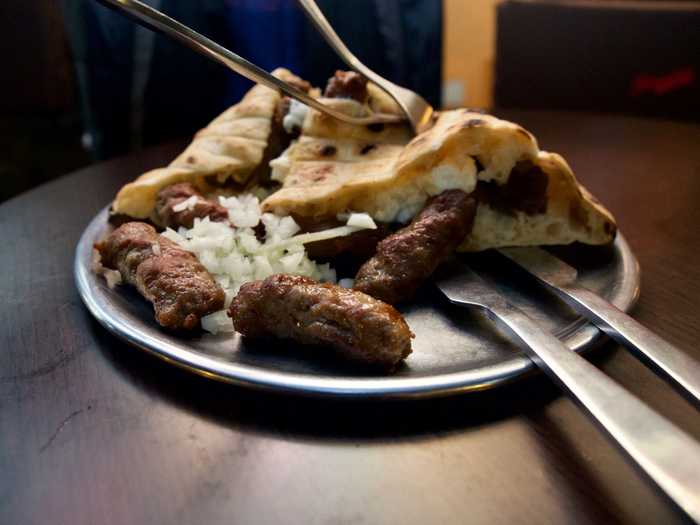 Late night cevapi with cream sauce
Admire all the churches
While walking around Sarajevo you may notice that there isn't a huge synagogue, church or mosque and instead there are hundreds of smaller ones. Churches are important to the community and they had smaller churches built in each neighborhood, to provide everyone with access to a place of worship. We have listed some of our favorites. Some are listed in our map at the top.
Sacred heart Cathedral
Ali Pasha's Mosque
Emperor's Mosque
Gazi Husrev-beg Mosque
Hadžijska Mosque
Ashkenazi Synagogue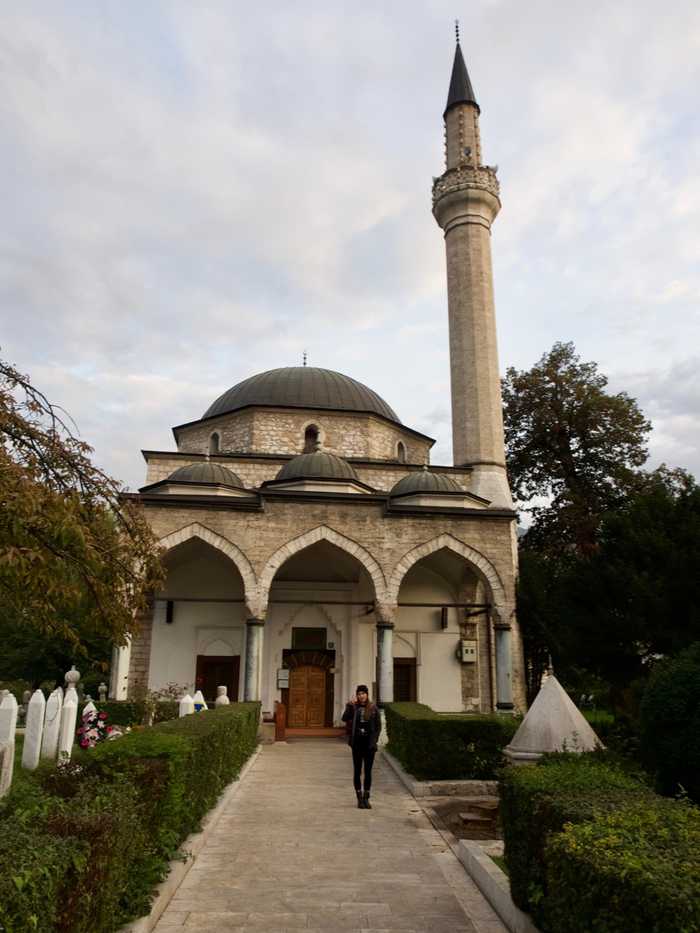 Mosque in Sarajevo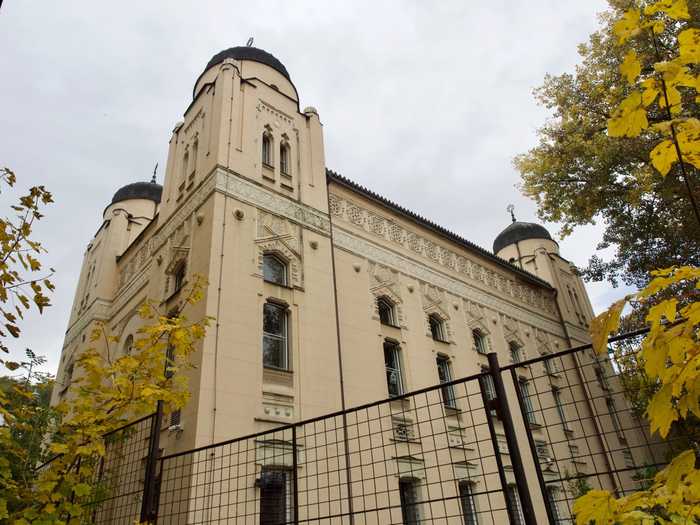 I believe this was a jewish church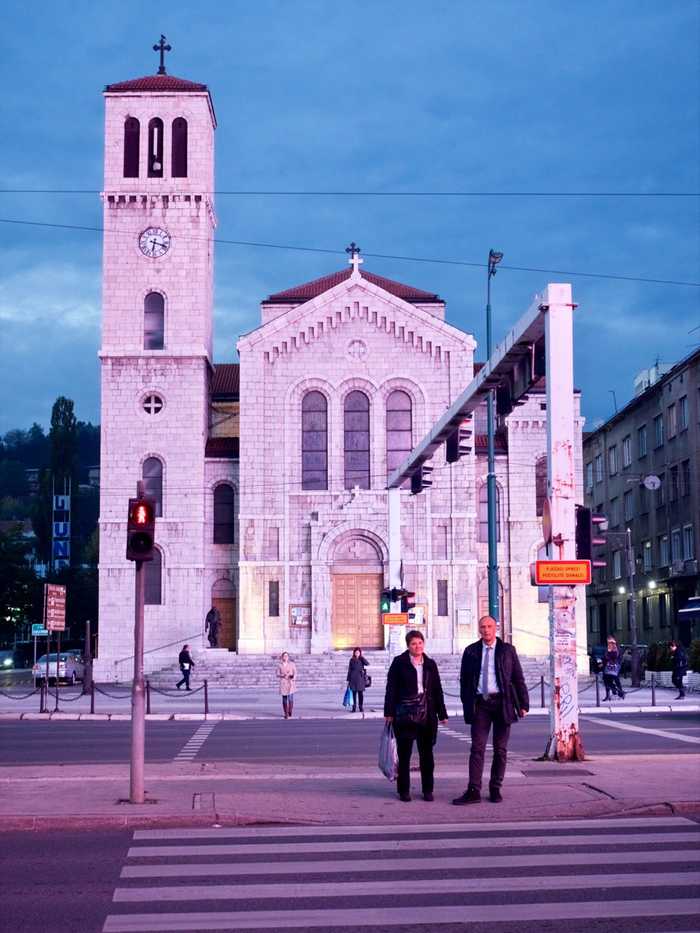 A beautiful church at dusk on the way to dinner
Genocide gallery 07/11/95
This museum offers a detailed look into the genocide in Sarajevo. It is a memorial served to commemorate those lost in the Srebrenica tragedy. It adds another layer of understanding to the Srebrenica tragedy.
It costs 12BAM and an additional 3BAM for the audio tour. The audio tour gives a thorough explanation however, there are shorter videos and sound bites for those who do not purchase the audio tour.
We found this gallery insightful but we were really put off by the people working the front desk. They were very rude which started our tour off poorly. If you are short on time we suggest skipping this gallery.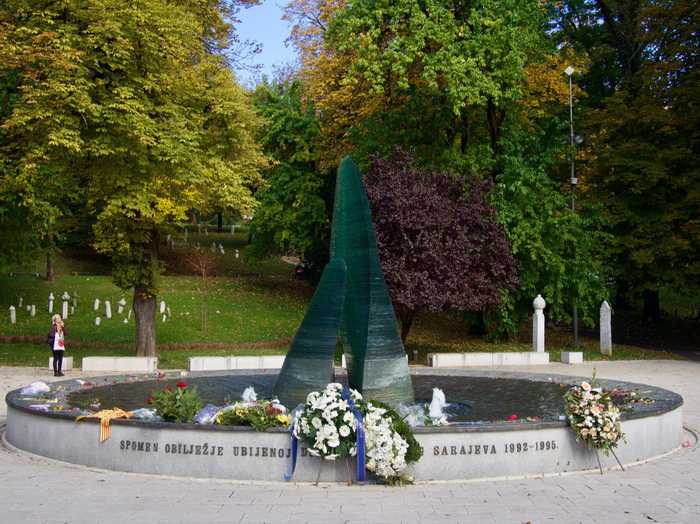 Remnants of those lost during the siege are everywhere.
Take in the city's view
Sarajevo is tucked away in a valley so finding a good view of the city is not hard. Some suggest going to the Yellow Fortress or White Fortress for a fantastic view of the sunset.
We opted to go to the cemetery so we could see all the tombstones and the view. We were not disappointed, although a bit cloudy it was still fantastic. The Yellow Fortress and the cemetery are a 15-minute walk from each other if you feel ambitious and would like to do both.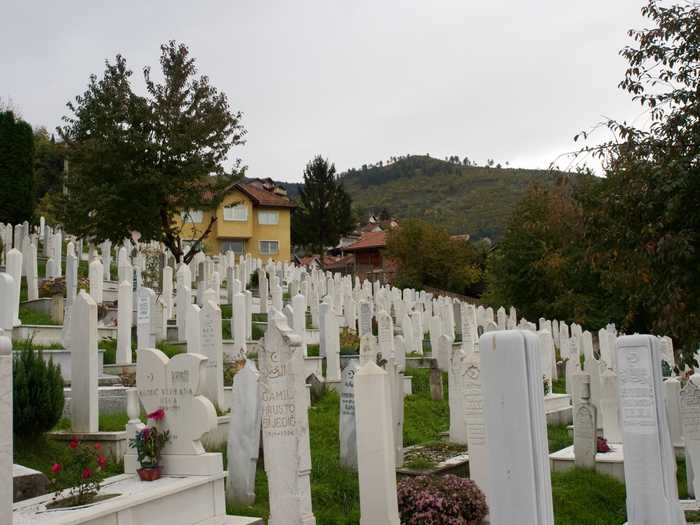 Cemetery in Sarajevo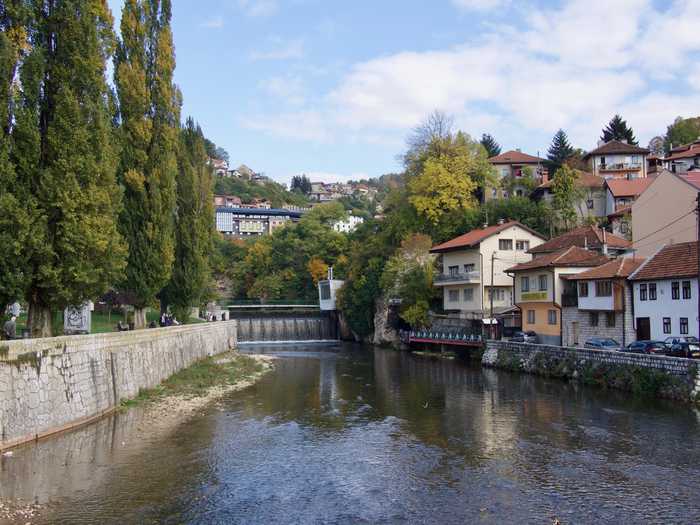 The river that flows through Sarajevo
Live music
The nightlife in Sarajevo is easy-going and there are some cool bars you can go to catch some live music.
Pink Houdini- This is one of the only 24/7 bars in Sarajevo and on Friday and Sundays at 10pm they have live music. It is a funky bar with a cool bar. Drinks are inexpensive and you can smoke a cigarette while listening to live jazz.
Kino Jasna- This bar has live music on Monday and Thursday nights and was recommended to us by a friend. Try some local beer and socialize with travelers and locals.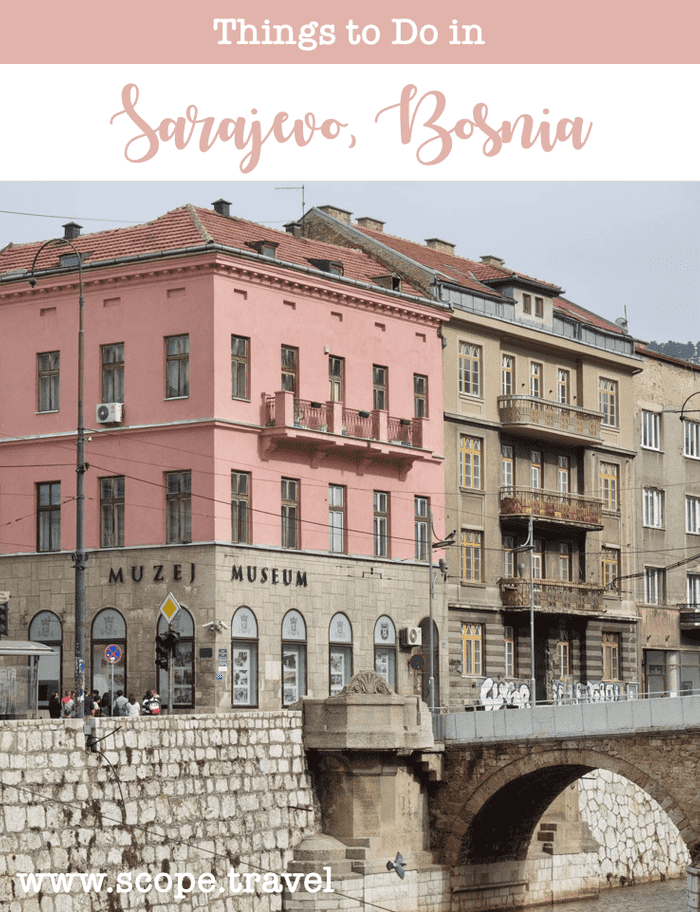 If you like it Pin it!
Join our weekly adventures
Gain access to our exclusive travel tips and more!
Expect exotic destinations, big adventures, flavorful food and unforgettable stories from our travels.