10 Reasons to Visit Vietnam
By Sydney Tong on October 06, 2017. Read time: 8 mins.
During my one week stay, Vietnam had managed to secure itself tightly to my heart. I had fallen deeply in love with the country and its people, and I didn't want my time to end.
Serene boat rides through bamboo forests to the floating market are commonplace in Vietnam. Locals arrive at the market before the sun has risen to prepare their shops to buy and sell fresh produce and fish. Everyday occurrences like the floating market are unknown to the world I was raised in and ultimately make my trip more exciting.
Appreciating and understanding cultures and how other people live is my favorite characteristic of travel. It has brightened my world and widened my perspective on life. For that reason alone, I would recommend traveling to a country outside of your own.
Vietnam currently reigns at the top of my list of favorite countries to visit. The rationale in my case is that I went without knowing what to expect and left with much more than I ever anticipated. I hope I can convince you of why I believe Vietnam to be the best vacation destination.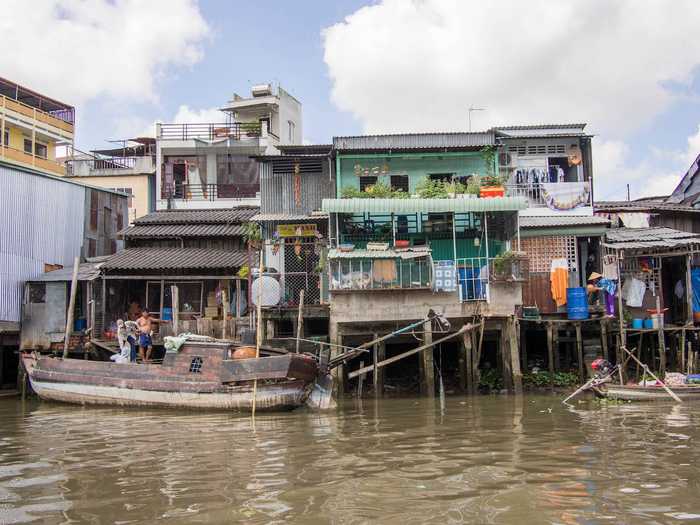 Houses built along the Mekong Delta.
The people
The list of reasons to visit Vietnam is long and sufficiently justified. However, the people are the main reason that Vietnam is so incredible to visit. I found that they are happy to share their culture with visitors who will respect it.
Markets are the lifeline of any community and are an honest peek into the lives of local people. Women at the markets talked with us and helped us pick out food they thought we would enjoy. They joked with us and posed for pictures. Markets are where we first began to appreciate the vibrant life of Vietnam.
Vietnamese people are easy-going and approachable. Our guides were informative and helped teach us the culture and history of Ho Chi Minh City. The staff at our hotel were genuinely friendly and helped us whenever they could.
Every evening we would go for walks around a park near our hotel. One evening some local kids stopped us and taught us how to play a Vietnamese version of hacky-sack. A few nights later Gabe joined a group of people playing soccer in the street.
I went and got my nails done, which never happens by the way, and the women there were asking me questions about my life. We spent a few hours exchanging stories and laughing. Afterwards, they invited me out for drinks and dancing.
Our interactions with Vietnamese people made our adventure memorable and complete. The people make Vietnam exceptional and our favorite country to visit.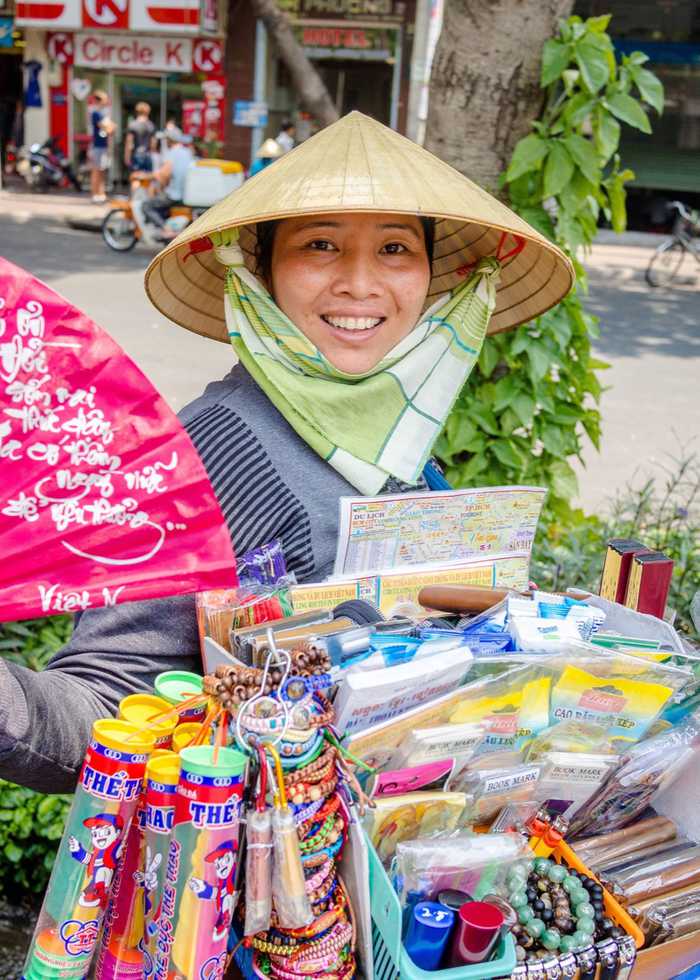 Smiling faces of Saigon.
Food
It isn't a secret that Vietnam has the some of the best food in Asia. What surprised me was how accessible it was. In many foodie capitals of the world you can only find good food at a certain price point, or in an exact neighborhood, or even a specific dish. In Vietnam, there is delicious food in restaurants, cafes, markets, bakeries even the street vendors have tasty food. You cannot lose the food game in Vietnam.
The smells of pho, cilantro, barbequed meats, hot rice, strong coffee, fresh pastries compose the perfume of Vietnam's breezes that tease my appetite. I may have had a bahn mi in my hand the whole trip.
Vietnam was once a colony of France and the fusion created between the two is especially prevalent in the desserts. French style pastries made with flavors only found in Asia creates an experience that rivals ecstasy. The bakeries and coffee shops are everywhere and are loaded with a plethora of sweets.
The country is also known for their 'weasel' coffee. It is exceptionally smooth, flavorful, highly caffeinated and it is also the most expensive coffee on earth with prices reaching $700 per kilogram. It is so valuable that there are many counterfeit 'weasel' coffees sold on the black market.
What makes this coffee so remarkable? Well, it is coffee that includes partially digested coffee cherries eaten and defecated by the Asian palm civet. The weasel's stomach has unique enzymes that improve the flavor profile of the coffee beans. I agree that this style of coffee makes the most delicious coffee I have ever tasted.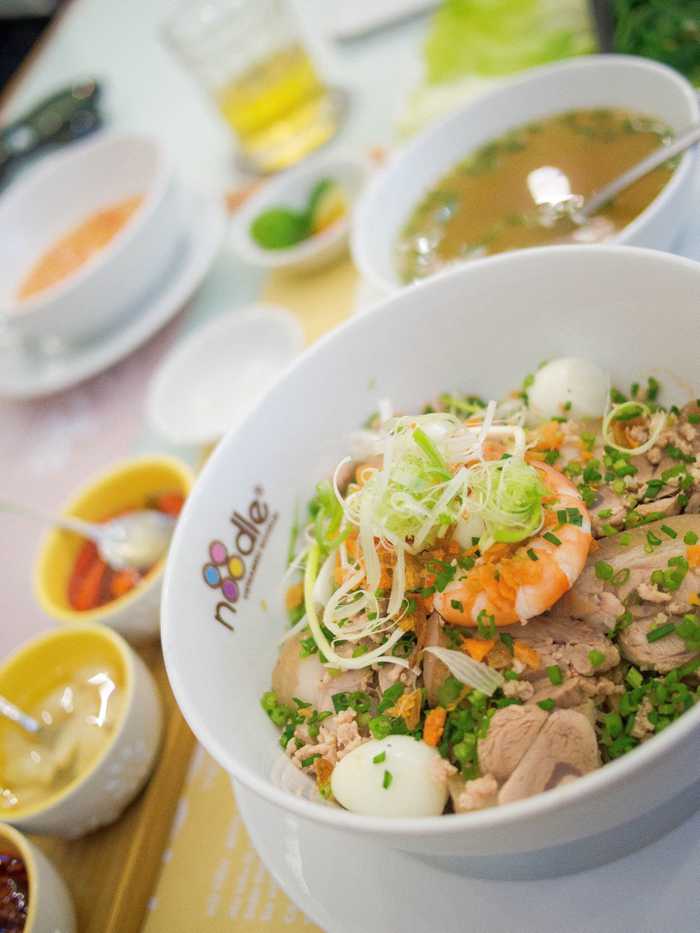 The food in Vietnam is absolutely phenomenal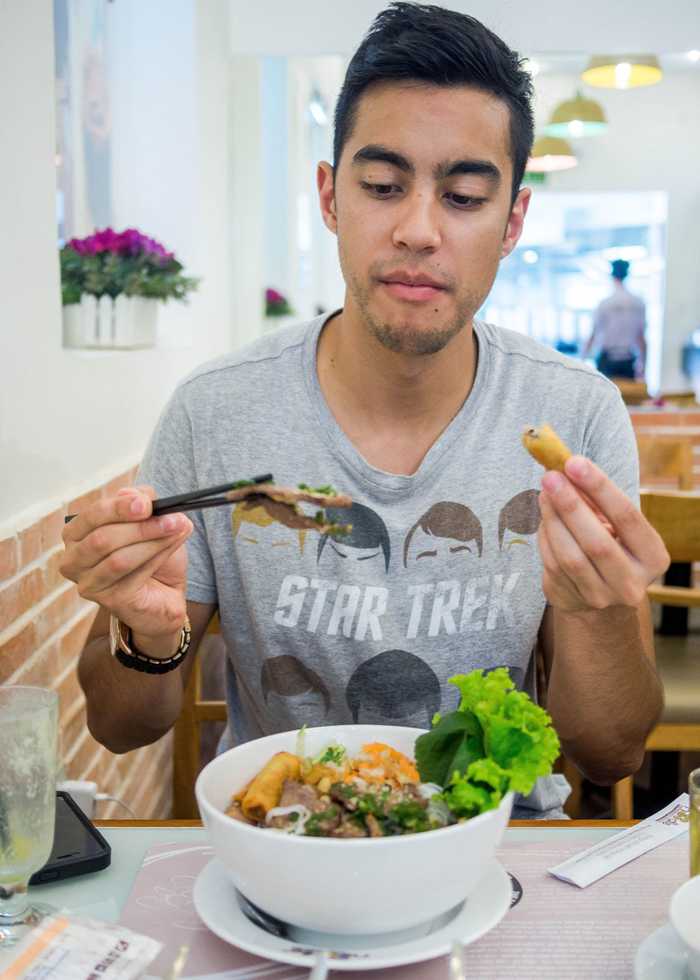 Gabe is about to devour this food.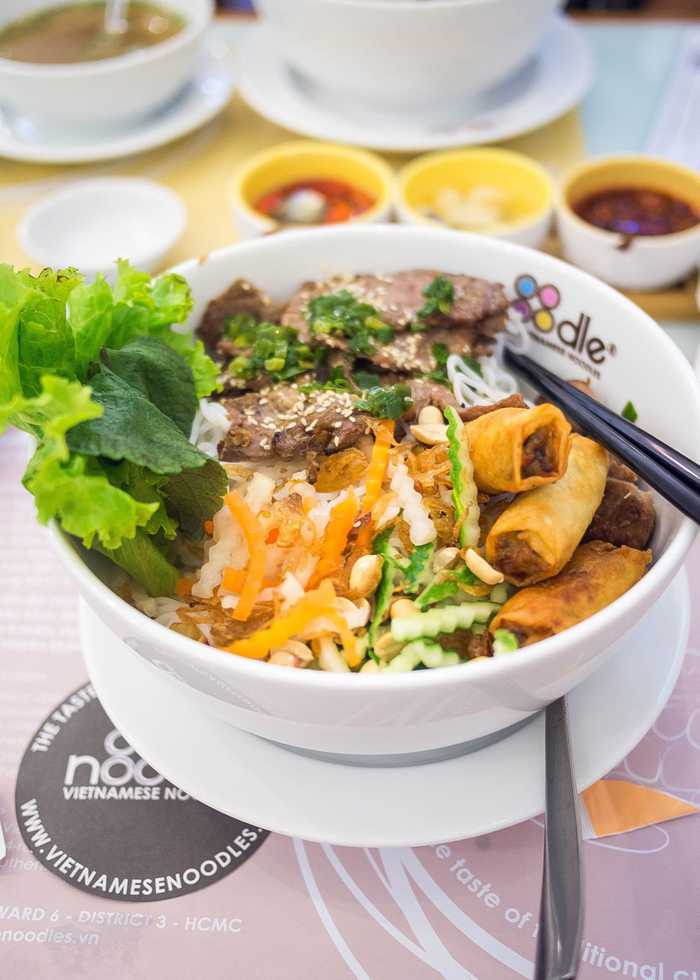 A close up of his dish
Inexpensive
I have yet been to a country as affordable as Vietnam. With a low cost of living, it is a viable travel destination compared to other Asian countries. It is a travel experience that many more people can afford to have and it is perfect for long-term travelers.
Accommodations are plentiful and fit all budgets. Hostels are as low as $2 a day and are decent places to stay. An entire luxury apartment to yourself on Airbnb is around $30 a day. With those prices, you'd think that you would be staying in a dirtbag motel in the bad part of town. Quite the contrary, these places are nice, like really nice.
Food is quite inexpensive. A piping hot bowl of fresh pho costs 20,000 dong which is equal to a little less than $1USD. A bahn mi sandwich is less than 50 cents. You will never have to worry about where to eat while you are here.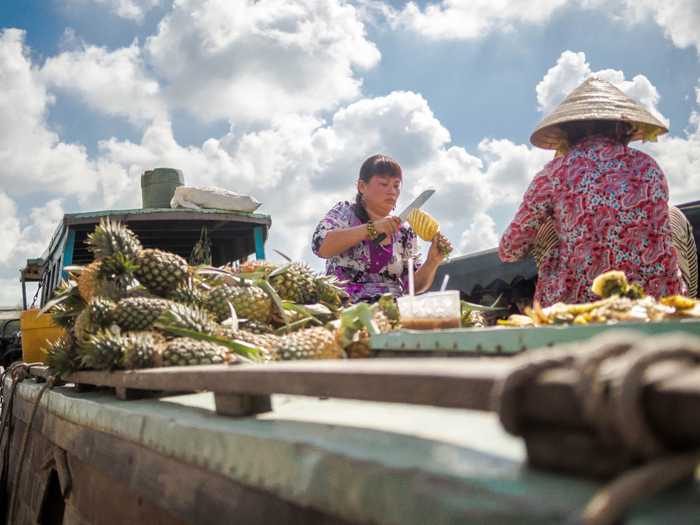 A woman cutting pineapples on the river.
Recent history
Vietnam's recent history is a sobering reality that I never had to endure until my visit. I learned about the Vietnam War from the American perspective in school, and I knew of all the atrocities that had occurred on Vietnamese soil. Seeing the devastation and the aftermath of the war 40 years later was heartbreaking.
American troops sprayed 31,000 square kilometers of Vietnamese forest with "Agent Orange," which is a highly toxic chemical that resulted in significant deforestation that is impossible to recover.
Up to four million people who were exposed to this dangerous chemical and still face severe health issues due to it. The chemical damages genes which result in the deformities among the children of exposed victims. Forty years after the war, thousands of children are born with severe physical and mental deformities.
There are many non-profits and companies that tourists can visit that help to employ and help those affected by Agent Orange. There are several clothing companies on "Beer Street" that dedicate significant portions of their sales to victims. Artisan shops employ disabled people and train them to make beautiful handicrafts.
I wasn't alive during the war but knowing that my country took was a part of the conflict weighed heavily on my conscience. I am not held accountable for the war, but I am responsible for learning from the past. Educating myself with knowledge of the past is the only way I can work to improve our future.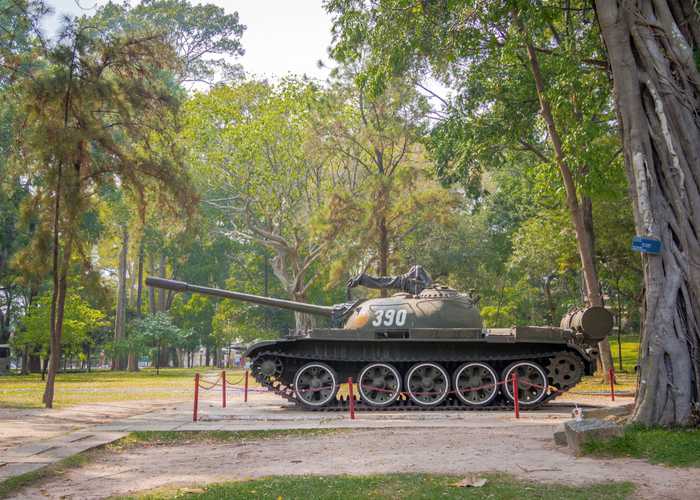 It is not uncommon to see leftover tanks throughout the country.
Lowered visa fee
As of February 2017, Vietnam changed their visa entry requirements for citizens of over 40 countries, including the U.S. Attaining a visa is more accessible and much more affordable. Visas are available for $25 upon arrival. Applying for a visa ahead of time is easy at an Embassy or Consulate of Vietnam. Visit the official requirements for entry into Vietnam
Stunning natural beauty
Mother Nature took her time in Vietnam while curating beautiful scenic backdrops. Vietnam is ranked the 16th country in the world for biodiversity richness. The nation boasts healthy forests, rivers, streams, lagoons and coral reefs.
In the Mekong Delta, we spent the night in a bamboo hut in the river. The sound of the river flowing below us was the perfect symphony to our evening. The forests that surrounded us were vibrant and green, and filled with life.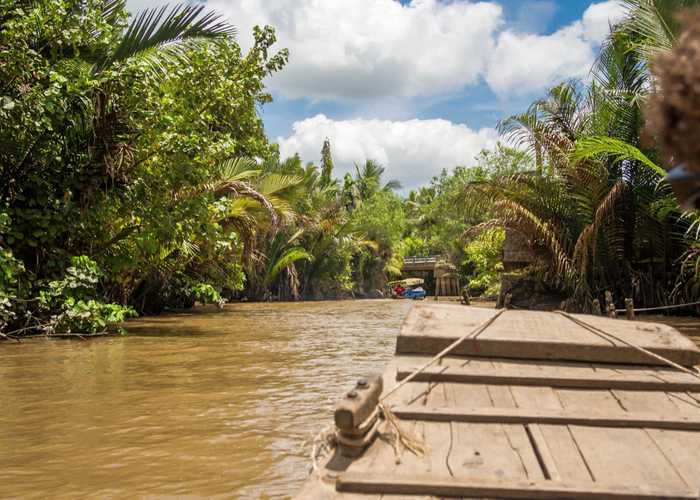 Riding on the Mekong Delta
Markets
Vietnam is where my affinity for local markets began to take off. I love the juxtaposition of a beautiful and smartly dressed woman with neat hair and makeup wearing gloves and hacking at pounds of pork with a meat cleaver. They did not fit my mind's ingrained image of a butcher. The women were amiable and stopped to talk with us.
Other markets in Ho Chi Minh city have popped up in old buildings from the French colonial times. The Ben Thanh Market is one of my favorite and sells anything from household items to spring rolls to knock off Jordan basketball shoes and Coach purses.
The floating market in Can Tho is also a sight to see. We had to go with a tour, so it felt a little touristy, but we got to buy delicious breakfast foods and coffee from neighboring boats.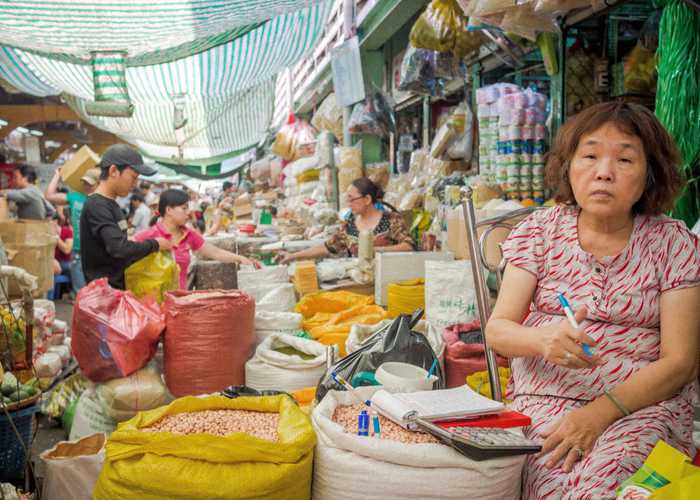 Busy morning markets.
Culture shock
The country is full of 'what the f is happening right now" moments, and I love every surprise. Bizarre situations I would never see walking around the U.S. are a daily occurrence in Vietnam.
One of my favorite games to play in Southeast Asia is to count how many people, animals, and large unconventional objects can fit on a 50cc scooter. Every time I think that I have seen the impossible I witness an unusual configuration on a scooter.
Scooter traffic in Ho Chi Minh City is insane. There are an estimated 7 million scooters and motorbikes in the city, with a population of 8.4 million. The amount of 2 wheeled traffic is mind-blowing. We rented a scooter for a day to see if we had what it takes to live like a local. It was the scariest day of my life, and I thought it was inevitably going to be our last day.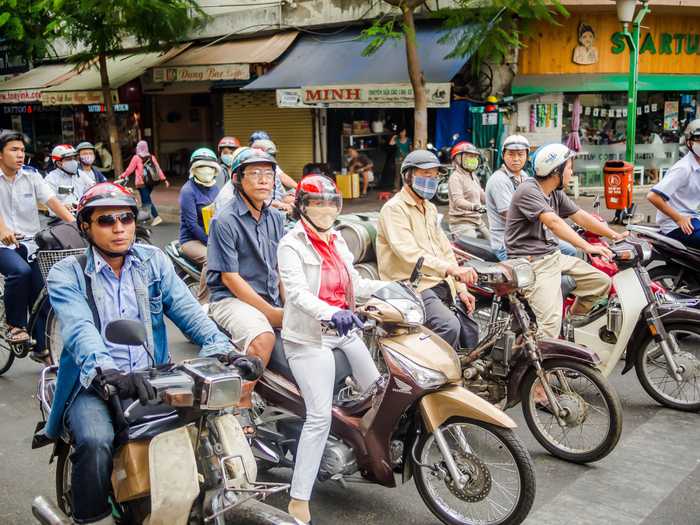 A typical site at a traffic light.
Traveler friendly
While tourism is new to Vietnam, it is surprisingly tourist friendly. It is straightforward to get from place to place via bus, scooter, or taxi. It is also very inexpensive to get to where you need to go.
Fast wifi is widely available for free countrywide, which makes it easy to stay connected and look up information on the go. Enjoy a fresh cup of coffee and surf the web in any of the numerous coffee shops. Having high-speed internet was big for us as we were going with the flow and didn't have set plans while we were in the country.
We didn't know more than a few words in Vietnamese, and we didn't come across too many fluent English speakers, but we always found a way to communicate to each other and get the message across. If you are catching a cab, write down the address of your destination on a piece of paper so when you can't pronounce the name correctly in Vietnamese and your cab driver doesn't speak English you can still get to where you need to go.
Knowing greetings and polite words in the local language goes a long way in the game of travel. 'Cảm ơn' is thank you in Vietnamese.
Off the beaten path
There is so much to discover in Vietnam, and it is the perfect destination for the explorer searching for a unique experience. If you are searching for raw adventure, you will find memories here that you will not find anywhere else.
The cultures and traditions of the past are not lost here. It is a developing country that is embracing the customs of the past. It is not uncommon to see women walking down the street in 'ao dia,' traditional Vietnamese dress while the latest Vietnamese rap song is playing from someone's radio.
This song was a crowd favorite when we were there.
Tourism is still new to the country. For a while, Vietnam required a hefty visa fee which was a hassle to obtain and deterred many travelers from visiting. The nation is not as crowded with tourists compared to neighboring countries. Thailand, Cambodia, and Japan do not require visa fees and are more attractive to travelers.
Vietnam will forever hold a special place in my heart. It is filled to the brim with adventures and good memories waiting for you to discover. From the beautiful landscapes to the hot bowls of food, and to the friendly people you will feel welcome in this incredible country.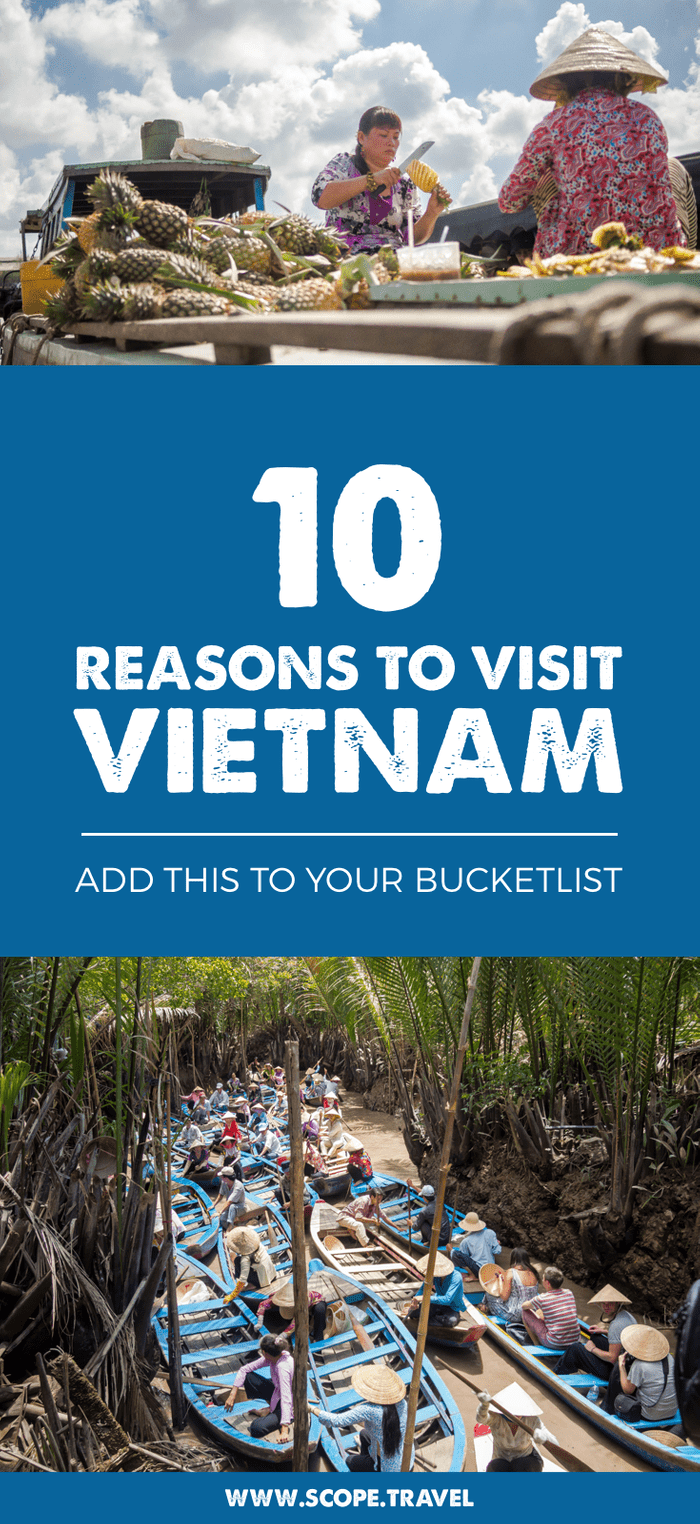 If you like it, Pin It!
Join our weekly adventures
Gain access to our exclusive travel tips and more!
Expect exotic destinations, big adventures, flavorful food and unforgettable stories from our travels.