11 Unique Drinks from Chile
By Sydney Tong on March 01, 2017. Read time: 4 mins.
Out of all the countries, Chile wins the award for the most imaginative variety of drinks. If I learned one thing, it was that it is an absolute travesty to eat a meal without some sort of drink. On top of all the coffee, tea and juices that Chileans love are an assortment of unconventional drinks. Follow us as we guide you through Chile's most popular drinks.
Pisco
Well, we might as well get the most popular liquor off of the shelf right away. Pisco is a brandy made in the wine regions of Peru and Chile. It is made by distilling grape juice into a high-proof spirit. On average, Chileans drink about 3 liters of Pisco a year. Popular drinks made with pisco would be the pisco sour, piscola, el capitán, and el chilcano.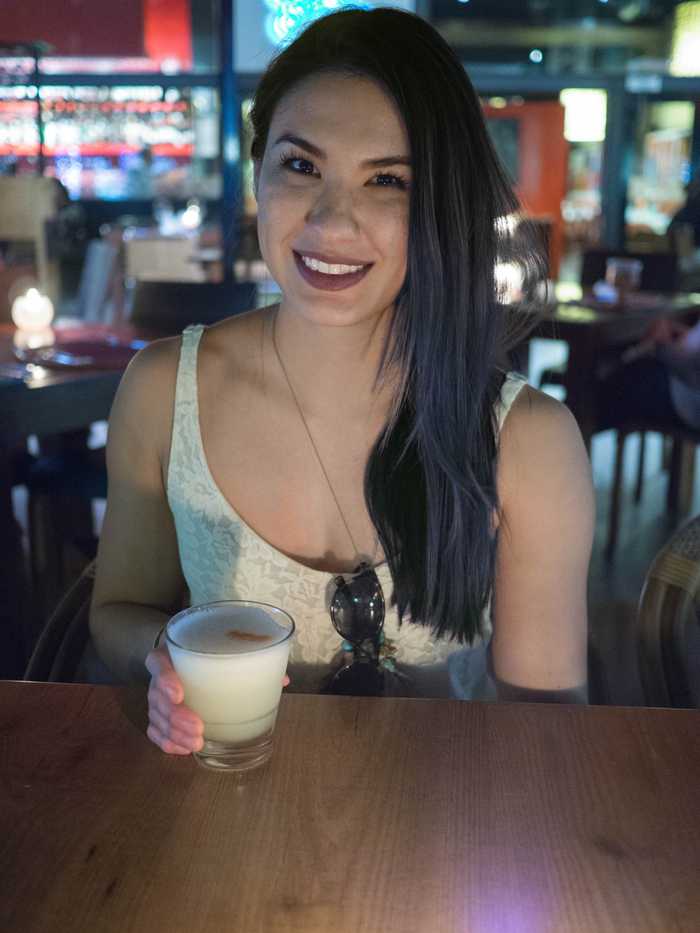 Pisco Sour at Open Box
Maté
Chileans enjoy this popular drink thanks to their Argentine neighbors. Also known as yerba mate, it is a caffeinated tea that is typically served in a hollowed out calabash gourd and sipped through a silver straw. The straw, called a bombilla, serves to filter the tea. The key to this drink is in the preparation. Get a local to show you how to properly prepare mate. It is a social drink and is meant to be enjoyed with friends.
Gabe's grandparents live in Santiago and they showed us how to properly prepare and drink maté. We sat in a circle and told stories, talked about life, and passed around several cups of the tea. The best memories are made with maté.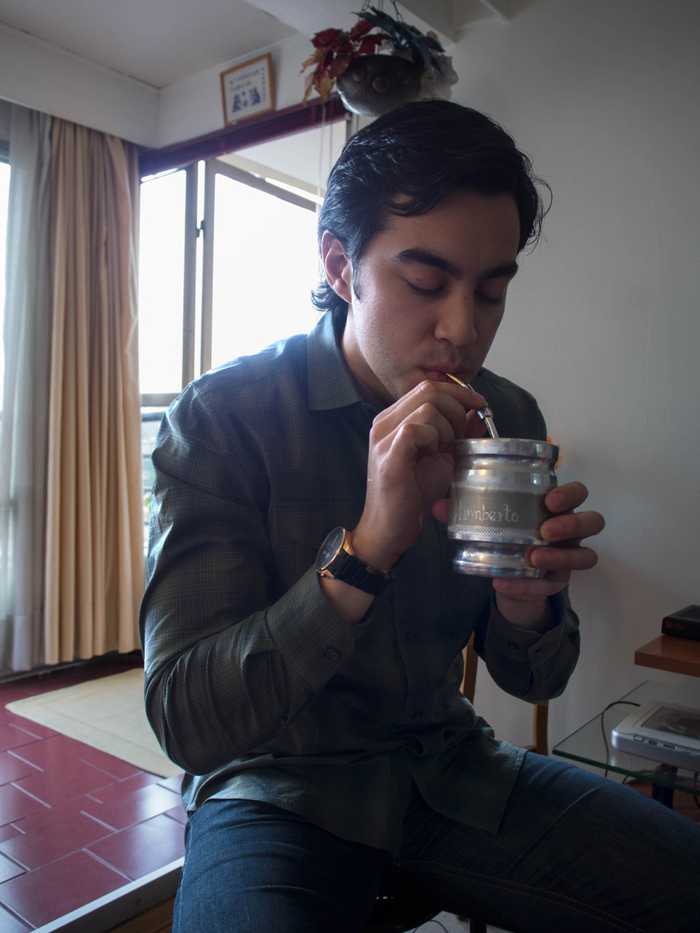 Prepared by Gabe's grandparents
Wine
Typically, when people think of Chile the mind automatically thinks of wine. Chile is known for their Carmeneré style wines but also produces some of the best Cabernet Sauvignon wines that can compete against the top California wines. The high quality of wine and the price per bottle is a dangerous combination and we drank a lot of wine during our trip. Some of our favorite Chilean wineries includes; Concha y Toro, Santa Ema, and La Frontera.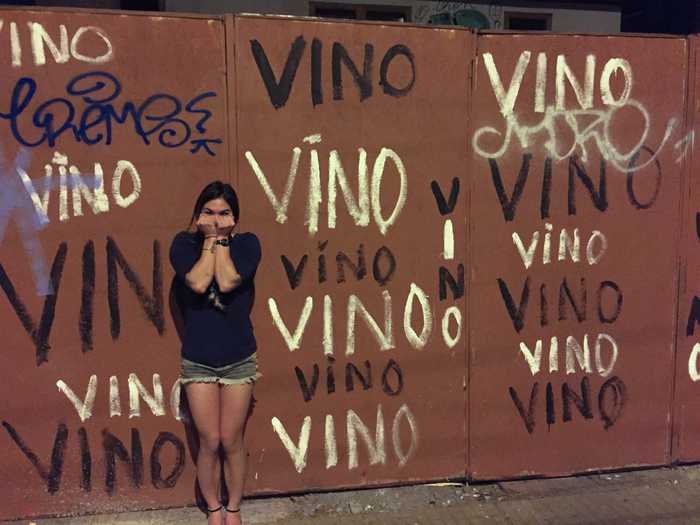 Vino on my mind
Mote con huesillos
I tried this strange drink my first day in the country and I have to admit that while it was weird it was also oddly comforting. The juice is a peach nectar flavored with sugar and cinnamon. In the juice are a few huge chunks of peach and husked wheat. Visitors can find this drink sold from small stands on the street during a hot summer day. There is a phrase, 'mas Chileno que el mote con huesillo', which translates to, more Chilean than mote con huesillos.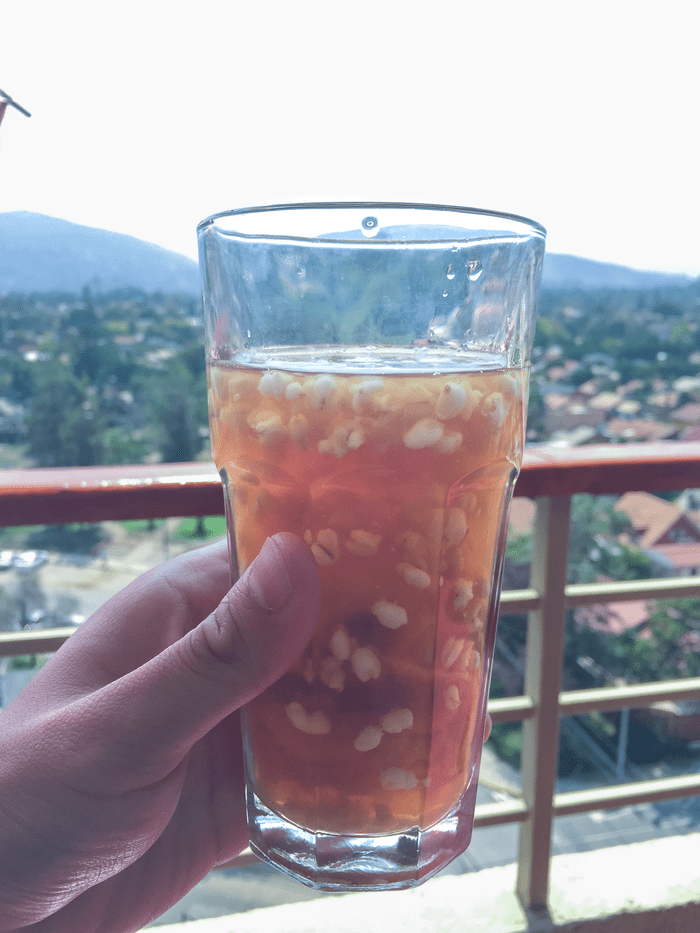 perfect during the summer
Vino pipeño
Vino pipeño is a sweet wine made from young grapes. It undergoes a short fermentation process and is typically inexpensive. It can be drunk solo or in La Piojera's famous terremoto, which is a drink made using pipeño, pineapple ice cream and sometimes pisco. Read where to drink terremoto in Chile.
We purchased pipeño in Valdivia from a small shop. This man makes it and then bottles it in huge 1-gallon bottles. There was no way we could drink that much pipeño in a few days so we asked him if he could transfer it to a smaller bottle.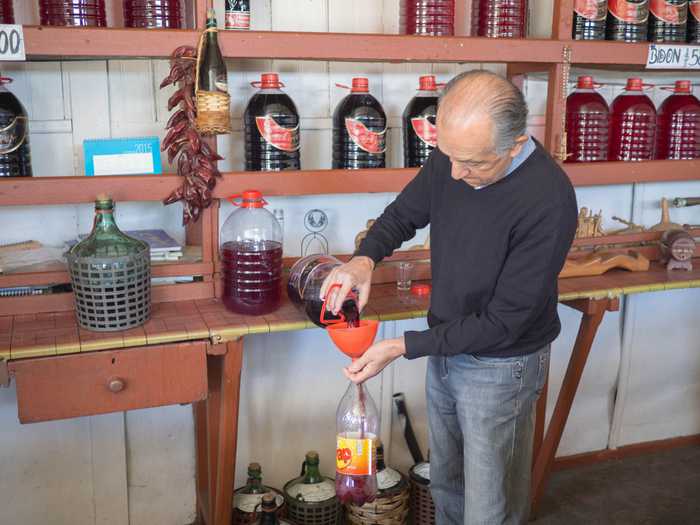 Transferring homemade pipeno to a smaller bottle for us to take with us.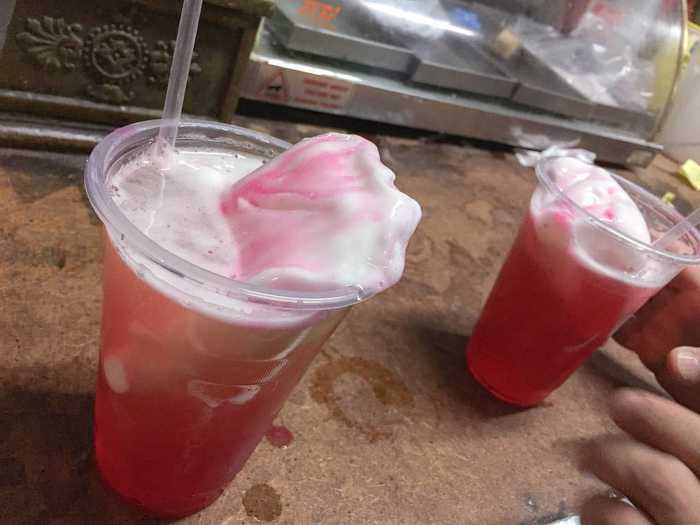 Terremoto is a popular drink in Chile
Chicha
There are two types of Chilean chicha. Chicha de manzanas, which is from southern Chile and chicha de uvas which is produced in central Chile. It is a sweetish drink that is comparable to a cider. Chicha can be found in the supermarkets around Chilean independence day, September 18. Otherwise, look for it in smaller mom and pop shops or stalls.
Both sidra (cider) and chicha are made from apples and Chileans do classify them differently. Chicha is a lower quality and typically made at home. Sidra is carbonated and can be sold in supermarkets year round. We love Sidra from Punucapa the most.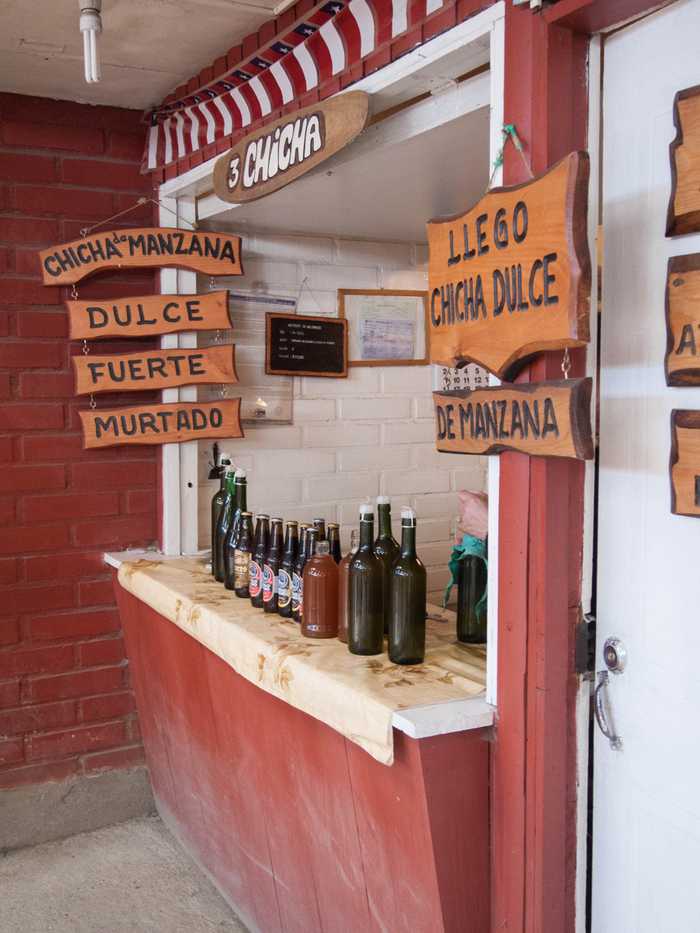 At a small fería in Valdivia.
Bilz y pap
These are the two most popular soft drinks in Chile and are often marketed together. Bilz is the red half of the pair and Pap is the papaya flavored soda.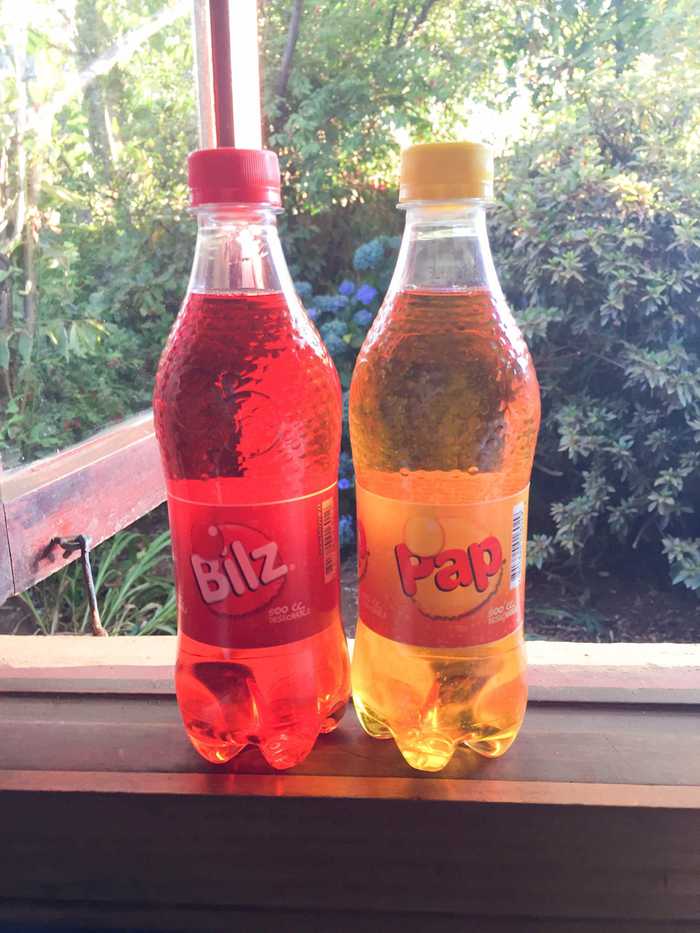 Loads of people mix it with pisco.
Cola de mono
A traditional Chilean Christmas drink that contains aguardiente, milk, sugar, coffee, and cloves. It is served cold because a Chilean Christmas is hot! There is also a non-alcoholic variety. It is fantastic and unfortunately, we forgot to take a picture of it.
Beer
While wine is what most people typically think of when they think of Chile, their beer should not be overlooked. The beer has a strong German influence, so expect a number of carefully made lagers. We absolutely love Austral and that they name their beers after the famous landmarks in Chile. Kunstmann is another big player in the beer industry and we were fortunate enough to go to their cervecería and sample a number of beers.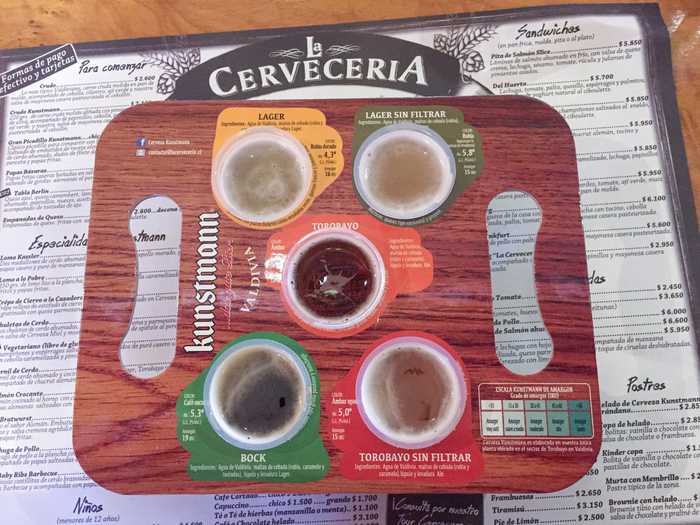 Kunstmann beer sampler
Malta con huevos
When they told me what was in malta con huevos I was hesitant to try it but I was pleasantly surprised. It is made by putting malt beer and an egg in a blender. After it is blended, add some cinnamon and vanilla. It is typically a summer drink and can be made with our without alcohol. Gabe's grandmother prepared this for us, and she absolutely loves it!
Guindado
Guindado, also goes by the names enguindao, or guindao, is fermented sour cherries that are eventually sweetened and bottled. Most people make it at home and it can't be found at the super market. Luckily for us, there are small mom and pop shops that sell it. They usually recycle old bottles so just look for a bottle with red liquid and cherries. We sipped it straight and I think it would be fantastic as a mixer for other cocktails.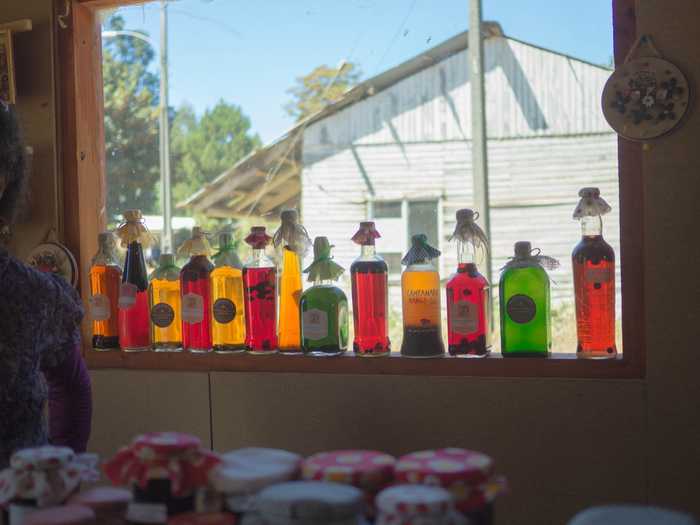 A shop in Punucapa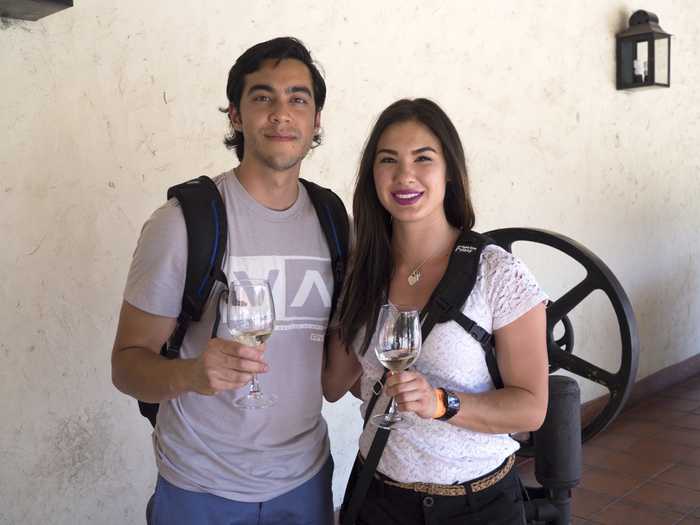 Cheers from us to you! Salud!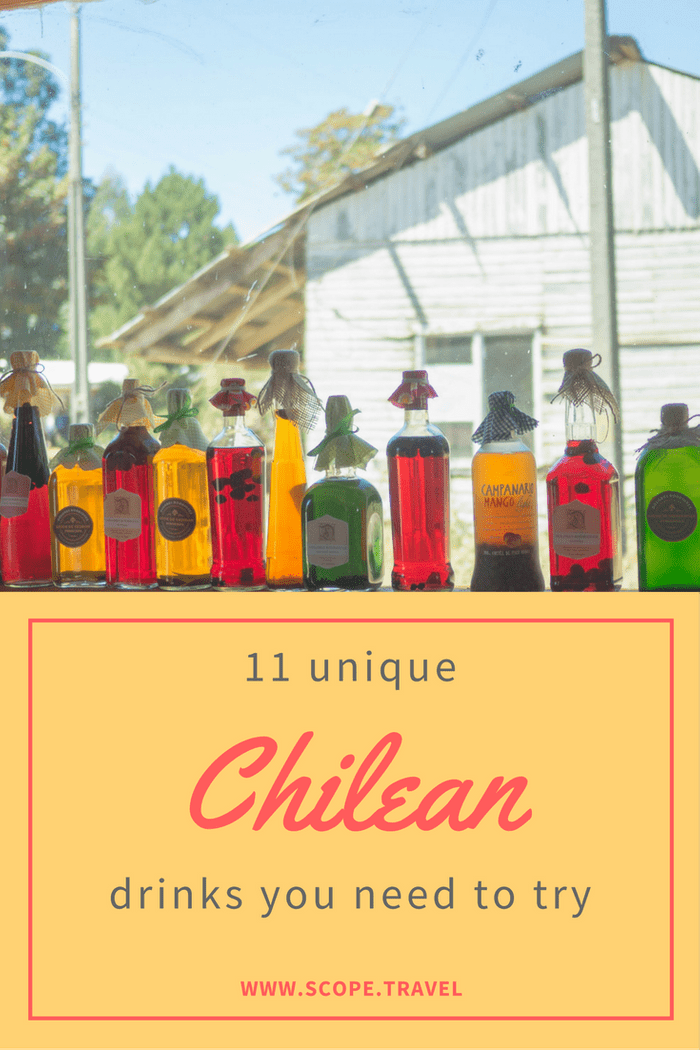 If you like it, Pin it!
Join our weekly adventures
Gain access to our exclusive travel tips and more!
Expect exotic destinations, big adventures, flavorful food and unforgettable stories from our travels.