The Best Ski Resorts in Utah
By Sydney Tong on January 09, 2017. Read time: 18 mins.
Utah is consistently ranked as one of the top destinations for best skiing/boarding experience in the world. The dry powdery goodness is so incredible that the 2002 Winter Olympics were hosted here.
Since then the ski season brings in people from all over the world to enjoy these powdery slopes. This season the snow has been greater than ever and we could not be more excited.
We live in Salt Lake part time and want visitors to see Ski City through our eyes. The Wasatch Mountain range and the "Best Snow on Earth" bring people from all over the world to experience our powder, challenging terrain and our strong ties to the outdoors. We've listed Utah's top resorts to help you decide which mountain will be best for your next ski trip.
I've divided the resorts into areas to make it easier to plan your trip.
There are four resorts located within a 30-minute drive from Salt Lake City. If you are flying in you will want to fly into the Salt Lake City International Airport (SLC). Brighton and Solitude are located in Big Cottonwood Canyon while Alta and Snowbird are located in Little Cottonwood Canyon. These mountains offer challenging vertical terrain topped with some of the freshest powder. If you are an expert or advanced then these canyons are going to offer you the most challenging terrain.
Traffic to get to the resorts in these canyons on the weekends or immediately after a big storm sucks. We live 25 minutes away from Alta and avoid skiing on the weekends because the morning drive can take 2 hours. You can either get to the canyon super early (5-6am) to avoid the morning rush, or ski a half a day (traffic usually clears up around 10-11am). If you wake up really early you might not be allowed access until ski patrol is done with avalanche control. If you don't want to wake up at the butt-crack of dawn then we recommend staying at the resorts. If you are skiing midweek then traffic won't be a concern. See the UTA Ski Bus schedule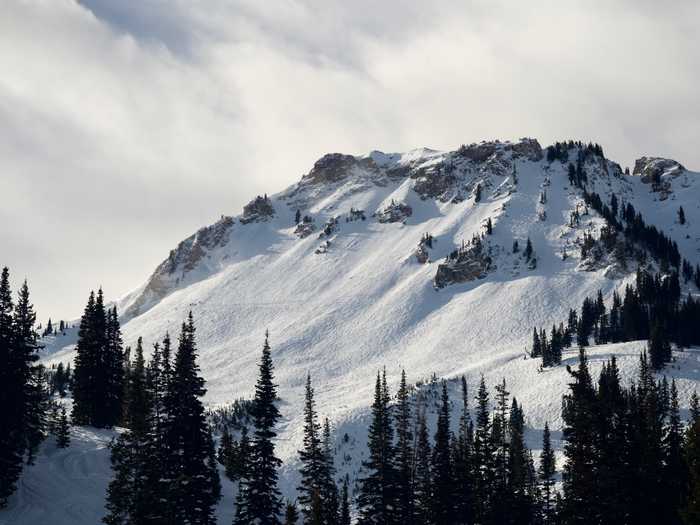 Alta ski resort
The weekend traffic going up the canyons is nasty. The local rush to get the first chair is intense.
Accommodations at the resorts and in the Salt Lake City valley is plentiful. Airbnb provides options to fit all levels of comfort and budgets. If you are looking for a more vibrant nightlife, then staying in SLC and driving to the slopes will be your best bet. The Grand America, Marriott, Hyatt Place will provide excellent service and amenities without the bloated resort price tag. You can also look in neighboring cities; Sandy, Millcreek, Cottonwood Heights for accommodations. Use the link below to get a $35 credit towards your first Airbnb booking.
We recommend visitors getting an AWD or 4x4 vehicle for peace of mind and safety reasons. If you do not feel comfortable driving around the snowy roads of SLC then public transportation is always a great option. The ski buses leave fairly frequently and are conveniently located throughout the valley and at the canyon entrances. It costs $4.50/one-way and transfers are good for several hours.
Snowbird Ski Resort
Little Cottonwood Canyon is home to two world famous resorts. These resorts have terrain suitable for all levels but cater more towards those in the advanced and expert categories. Snowbird is known to have the most challenging and steepest terrain in Utah. It's powder and steep lines consistently put Snowbird in the 5 resorts on the planet. The resort is on private land so their season lasts as long as the snow does. In 2011, the closing day was July 4th! Averaging at about 500 inches of freshly fallen snow per season makes it one of the most sought after resorts for skilled skiers and snowboarders. Download a high-res trail map here
Lodging
Staying here does not come cheap and their luxury accommodations vary to fit all group sizes. There are specials available for guests staying at the resort, think free and discounted lift tickets. Remember if you are staying through the weekend it may be worth it to stay at the resort to avoid the weekend warrior rush for the first chair. It's worth a look. Book your stay at Snowbird here
Pros
This resort caters towards advanced and expert powder hounds while still offering fun terrain for beginners and intermediates. There is a lot of talent at this resort and it doesn't have any of the snobby attitude. It is a 30-minute drive from SLC, but should you choose to take the bus it will drop you off right on the slopes.
Cons
This resort is popular with locals and visitors so it can be crowded on the weekends. Be patient as you may have long wait times. Avoid this by visiting during the weekdays.
Alta Mountain Resort
Alta is the sister resort to Snowbird and is specifically reserved for skiers only. We really like the ski culture at Alta and are constantly amazed by the 80-year-olds who are shredding up the mountain on a daily basis. The 2,200 acres that make up Alta has fun terrain for all levels. The beginner runs are some of the more fun ones that I have seen and they have great deals for those just taking up skiing. Alta is a great family to be a part of. Download Alta's trail map here
Lodging
Wake up and ski! The rustic style lodging keeps it old school. They're simple and come with all the basics a skier might need. Book your stay at Alta here
Pros
We love this eco-conscious resort, they are making more efforts to improve their environmental footprint. They work have to promote sustainability and conservation. They hope that their efforts serve as an example to other ski resorts over the world. Their beginner area is great for people picking up the sport or for parents teaching their kiddos. They have an awesome pass for newer skiers which is half the price of a regular adult lift ticket. It's also nice to mix it up between Snowbird and Alta with the upgraded passes. Alta is built with skiers in mind so the runs are planned out perfectly. Their chili is fantastic!
Cons
This resort is exclusively for skiers. Snowboarders are not allowed which makes it difficult to go with friends riding one stick.
Solitude Mountain Resort
Brighton and Solitude are tucked away in Big Cottonwood Canyon located 30-minutes away from Salt Lake City. They are sister resorts connected by the SolBight Lift. Spend your morning at one resort then hop on the lift and shred the afternoon away at the other. There are enough trails at either resort to keep anyone busy for weeks. With a combined total of 2,250 acres and each averaging over 500 inches of snow a season is why these mountains remain a local favorite.
Solitude is the first resort you will hit as you drive up Big Cottonwood Canyon. It doesn't get much hype and we don't know whether it is intentional or unintentional. The mountain gets a ton of snow and it is pure bliss to ski on this peaceful mountain. This quiet resort is perfect for families seeking a ton of powder and few crowds. Deer Valley purchased Solitude in 2015 and has dumped a ton of money into developing and improving the resort. Solitude now boasts newly updated lifts, runs, and guest services. With the help and experience from Deer Valley, Solitude will continue to be a fantastic family friendly resort. They also have some pretty impressive nordic skiing courses if you are into that sort of thing. Download your high-res trail map here
Lodging
The village at Solitude is really homey and beautiful. Condos are located a few meters from the lift. It is a great place to stay and enjoy the fresh powder without sharing with other mountain goers. We found the staff to be particularly friendly and helpful and the accommodations to be comfortable and inviting. Book your stay at Solitude here
Pros
This resort is a secret so if you like skiing without sharing any of the freshly dumped powder then this is the resort for you. It has very affordable and flexible pricing. The inviting friendly atmosphere is great for families and people wanting to relax and enjoy mother nature. Now that Deer Valley owns this mountain we can expect great things from Solitude in the upcoming seasons.
Cons
It is a smaller resort in terms of acreage, but there is a lot going on. The nightlife is tame, which can be a pro or con depending on what you want.
Brighton
It's great park setup, local attitude and it being one of the first resorts to allow snowboarders makes Brighton a favorite amongst boarders. It is the oldest resort in Utah and one of the oldest in the US. The lift tickets are more affordable compared to its high profile neighbors and the snow is just as great. This resort is great for people who care only about the snow and don't mind driving 20 minutes up the canyon before catching their first chair. Download your high-res trail map here
Lodging
This resort remains a local favorite because it is close by and there isn't much regarding lodging accommodations. There are some dorms and small, no frill rooms available if you want the convenience of hopping out of bed and onto the slopes. The nearby Solitude resort has more comfortable accommodations and is only a few miles away. You can drive between the resorts or you can catch the tram that goes between the two. Sale Lake City is really close and you may be more comfortable staying at an Airbnb or hotel. Ski busses run up the canyons pretty frequently. Book your stay at Brighton. Stay at Airbnb, book through this link and get a $35 credit get a $35 credit.
Pros
This resort has an awesome park layout at affordable prices. It has a relaxed laid back style where locals and visitors can enjoy the amazing powder together. With Solitude nearby there are plenty of trails to keep everyone satisfied. Generally, this resort remains uncrowded and we like it that way.
Cons
Brighton is really light in terms of lodging accommodations and is a no frills resort. The lodging reminds me of my summer camp I went to in 4th grade. The night life is really quiet and there isn't much to do other than ski. In comparison to other resorts, it is small but there is a lot of action packed in every foot.
Sundance Mountain Resort is an hour south of Salt Lake City and 30-minutes north of Provo. You can fly into the Provo Airport (PVU) or the SLC International Airport (SLC) when looking to vacation at Sundance.
Sundance Mountain Resort
South of the Cottonwood canyons, sprawled out over 5,000 acres is Sundance Mountain Resort. This family-friendly resort has skiing for every ability with 40% advanced trails, 40% intermediate trails, and 20% beginner trails. Sundance is known for their great food, impressive terrain, and their dedication to being family friendly resort. This resort doesn't experience the long wait lines that seem to haunt its northern neighbors. There is some pretty decent nordic skiing for those who like that kind of thing.
Sundance has 15 kms of finely groomed nordic skiing available. Snowshoers will be happy to know that there are tons of trails for them to cruise on. For even more thrills there are zip tours available. Download your own high-res trail map
Lodging
The accommodations here are nice, like high-end resort nice. They also offer discounted and free lift tickets to those staying at the resort. Their promotions are pretty good and are worth a look. If you don't want to stay at the resort there are plenty of options in Provo, Lehi, Orem, and SLC. Stay at Sundance here
Pros
This is the most family friendly resort in Utah and wth it's decent lift prices families can afford to ski here. The locations between two of Utah's biggest cities boosts the number of available accommodations. it is also less crowded compared to other resorts.
Cons
This mountain gets less powder than the neighboring mountains. The terrain isn't as vertical as the resorts found in Little Cottonwood Canyon.
Park City is a ski vacationers paradise. The amount of things to do on and off the mountain are limitless. There are so many great restaurants, bars, and shopping. People from all over the world flock to Park City to enjoy the fresh air and the easy-going vibe. If you're wanting all the amenities and frills then you'll want your vacation to be in Park City. Its label as a vacation destinations ensures that visitors are never short on activities, tours and things to do.v

Little Cottonwood Canyon
Park City Mountain Resort
Park City Mountain Resort connected with then neighboring Canyons Resort in 2015 and the result is one behemoth of a resort. This new megalodon resort with over 7,300 acres of terrain, over 300 trails and 41 lifts. It has excellent terrain for intermediate and advanced skiers and has some great bunny slopes for beginners.
PCMR is luxury both on and off the slopes wth some of the best 5-star resorts overlooking the beautiful Wasatch Mountains. This resort has the best nightlife and off the slope activities out of all the resorts with little competition. Main Street in Park City has some amazing bars and restaurants if you don't believe me go to the top of Main Street and have a whiskey tasting at High West Distillery.
When you've had your fill of the Rendezvous Rye walk off the buzz while shopping at some of the best boutique shops in Utah. If you are looking for powder in the day and party in the evening then PCMR is where you need to be. Download your high-res trail map
Lodging
Staying in Park City is a little more pricey in general and with the number of world class hotels scattered throughout the mountains it can get even more pricey. Staying right on the resort can set you back at least several hundred dollars a night. Pamper yourself, you earned it. If you want to save some dough then stay a few miles away from the resort. There is free parking and the snow plows in PC are always keeping the roads clear and safe. Book your luxury ski trip here
If you find yourself at PCMR during the Sundance Film Festival then keep an eye out for their free concerts.
Pros
There is something for everyone at PCMR. The slopes are more than enough to keep satisfied during the day. There is so much off the slope activity that you will never be bored. Relax in luxury with family and friends.
Cons
PCMR is expensive, like $17 + top for a Smirnoff martini expensive. Luckily, they have a resort license so you can expect free pour, not those pesky liquor counters you will see at restaurants and bars throughout Utah. It is awesome staying in Park City and you definitely get what you pay for. If you are an expert then we recommend heading to Snowbird if you're after more of a challenge. Due to it's popularity we find PCMR to be very crowded, especially during holidays and the Sundance Film Festival. They have an inexpensive season pass so local traffic plus visitor traffic equals longer lift lines. In the height of ski season it is not uncommon for the resort to completely sell out of tickets.
Deer Valley Resort
Deer Valley is another skiers only resort and caters to those after the upscale and private experience. This is the most expensive and exclusive resort in Utah with 2,2026 acres of powder covered mountains. The mountain has varying levels of terrain for skiers but is a bit light on the expert level. Catch a tram to PCMR to catch more vertical feet. While this is the ritziest resort the snobby attitude is missing. People go here to relax, unwind and to ski!
Deer Valley limits the number of tickets sold each day to ensure that it's guests get the best skiing experience. During the height of the season, they typically run out of tickets. Make sure you don't miss out on Utah's true powder and buy your tickets ahead of time. Download your high-res trail map here
Lodging
The accommodations at Deer Valley are top of the line incredible. Their lodges are great for families and they pay particular attention to all the small details. They are known for their fantastic customer service. You will feel like royalty when you stay here. When employees are happy to be at work you know you are staying at the right place. Start your experience at Deer Valley
Pros
If you seek privacy on the slopes then Deer Valley will give you the exclusivity that you crave. They have really good terrain for intermediate skiers and they are a short ride away from PCMR. The limited number of tickets sold per day keep the slopes relatively clear.
Cons
Deer Valley is quiet at night but it is easily remedied with a short Uber ride to PCMR or Main Street. Everything is a bit more expensive here, but the lift tickets are competitively priced. Stay elsewhere to save some dough. Expert skiers will find more challenges in Little Cottonwood Canyon.
Powder Mountain Resort
Powder Mountain and Snowbasin are located in the Wasatch Mountains about an hour away from Salt Lake City. Plan on staying in Eden, Ogden or on the mountain if you want to catch the most powder Utah has to offer. The nightlife in this area if relatively calm but these resorts were built to satisfy the cravings of the powder hungry. These resorts remain uncrowded, free from the Park City tourists and the Salt Lake City Ski bums.
Fly into the Salt Lake City International Airport (SLC) or the Ogden-Hinckley Airport (OGD). The resort is a 45-minute drive from SLC and 25 minutes from OGD. UTA (Utah Transit Authority) started running a ski bus from Layton. Check out their bus schedule. See the new Ski Bus schedule from Layton
If your primary focus is to get a face full of powder then this is the mountain where you will stuff your face. This is a huge resort with 8,464 acres of the fresh stuff. It is a no frills resort that is perfect for people looking for a lot of snow, vertical feet and a ton of trails. They get an average of 500 inches of fresh snow a year compared to the Park City resorts that can only muster up a measly 360 inches a year. IT is a local secret and they plan on keeping it that way. It is an easy hour and 15-minute drive from the SLC airport. Stay on the mountain in Eden or Ogden.
They limit the number of tickets to 2,000 tickets a day. Multi-day tickets must be used consecutively. Download your high-res trail map here
Lodging
The accommodations are very 90s chic and aren't too expensive. They are a zero frills kind of resort. You may find yourself more comfortable staying in the city at an Airbnb or hotel. Stay at Powder Mountain here
Pros
The ski passes are pretty cheap and offer a lot of access to tons of powder. It is a locals resort so you won't be overcrowded with out-of-towners. The park is huge, there are a lot of spots to explore! They offer a variety of tours and lessons. Check out their website if any of the following interest you; backcountry experience, inbounded guided tours, sunset expeditions, and powder expeditions. They offer lessons that are geared towards locals, which is always an added bonus to me.
Cons
Their lift system is out-dated and the accommodations are thin. The mountain isn't as steep compared with its Little Cottonwood counterparts. There isn't much to do outside of skiing.
Snowbasin
This mountain gets around 400 inches of snow a year. It is an older resort but with a lot of money and effort it has been revived to its former glory days. The popularity of the resort is due to the several events of the 2002 Olympic games being held here. The result is some pretty fantastic lodges. The terrain at Snowbasin is very steep and caters to advanced and expert mountain goers. It is a really nice resort without the price tag and crowds found in Park City. They have inexpensive season passes if purchased before September. Download your high-res trail map here.
Lodging
There isn't anywhere to stay on the mountain so look for somewhere to stay in Ogden or Eden. There is the option to stay at Powder Mountain. We highly recommend staying at an Airbnb for added comfort. There are plenty of options in the Eden and Ogden area right off the mountain. The Airbnb homes are nice and even a little cheaper than staying at Powder Mountain. If you prefer hotels then Snowberry Inn B&B, Powder Ridge Village Resort, and the Hilton Garden Inn are all great options for your ski trip.
Pros
Snowbasin is a great mountain topped with a lot of the fluffy stuff. The terrain is excellent for advanced-expert mountain goers. Their day lodges are beautiful and a great place to hang out in-between runs.
Cons
There isn't any on-site lodging.
I remember visiting Brian Head when I was young and I remember it being so much fun. Brian Head is a sleepy charming city located outside of Cedar City. The locals are incredibly friendly and welcoming. The outdoors are beautiful and the pace of life is perfect for relaxing getaway.
Brianhead
Located 3 1/2 hours away from the Salt Lake City resorts is Brian Head. It is one of Utah's smaller resorts and claims 71 runs. The atmosphere at this resort is very relaxed and pretty inexpensive. The levels or terrain are pretty even across beginner, intermediate and advanced levels. The mountain is not as steep as the Salt Lake City resorts but it boasts the highest base elevation. Enjoy your time with family and friends while you ski through uncrowded powder.
You cannot beat this lift prices! Their pricing remains unaffected from the 2002 Winter Olympics. They are very affordable and offer some pretty great terrain. Holiday prices are a little more. January 14-16, February 18-20. Print your high-res trail map here
Lodging
For about $100 a night you can stay in their charming rooms right on the slopes. After reading all the prices on the other resorts, Brian Head is a welcomed change. You can get to this resort through the Cedar City Regional Airport. You can also fly into SLC or LAS and make the 3-4 hour drive.Book your ski trip at Brian Head
Pros
It isn't as ritzy compared to the other resorts but it is homey and pretty inexpensive. Lift tickets are super affordable and there are hardly any crowds even though it is the only resort for hours. It is known to be pretty relaxed and family friendly.
Cons
If you are a big mountain skier then you might not find many challenging routes here. There isn't really much to do in Cedar City outside of snowshoeing, tubing and skiing. You are several hours away from other resorts if you wanted to experience many different mountains. The nightlife is non-existent but when you are amongst such beautiful scenery why not sit back and enjoy the peace.
Cherry peak resort
Bordering the Utah and Idaho border is Utah's newest resort. It is about a 2-hour drive from the Salt Lake City International Airport. This baby opened up in 2015 and while they are making a name for themselves their ski passes come cheap. This mountain doesn't have the most challenging routes but if you want to visit Utah's newest development then this would be the time to do it. We will be visiting later this season and will be able to give better insight into what this resort is all about.
They are still making a name for themselves so tickets come cheap! Print out a high-res trail map here
Lodging
There isn't any on-site lodging. There is a small variety of homes available on Airbnb. They all look pretty promising. You will want to stay in Logan. Book on Airbnb
Pros
This park caters to intermediate mountain goers. It is inexpensive and uncrowded. Be one of the first to ski at Cherry Peak, then when you're 80 years old you can say, "I remember skiing at Cherry Peak when it first opened 62 years ago". Cool, right?!
Cons
Not an established resort and is still very small. Accommodations are thin.
No matter where you decide to ski it will be a great trip! If you haven't figured it out by now Utah has some great snow and some fantastic mountains. There are resorts for everyone and we think that you'll enjoy yourself no matter what route you decide to take.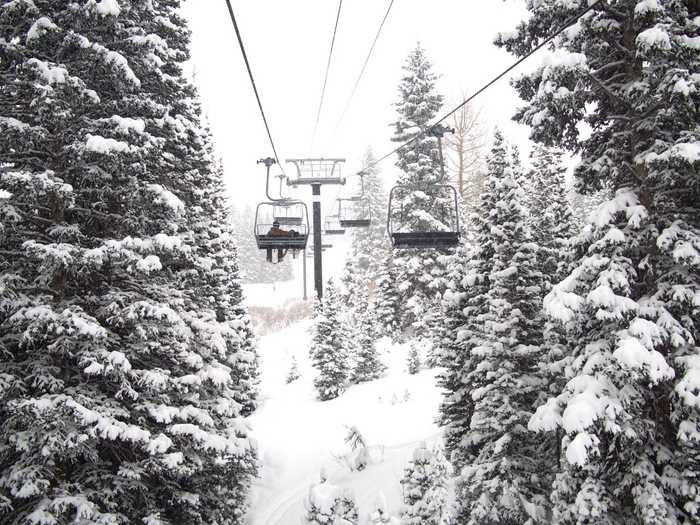 Snow days are the best days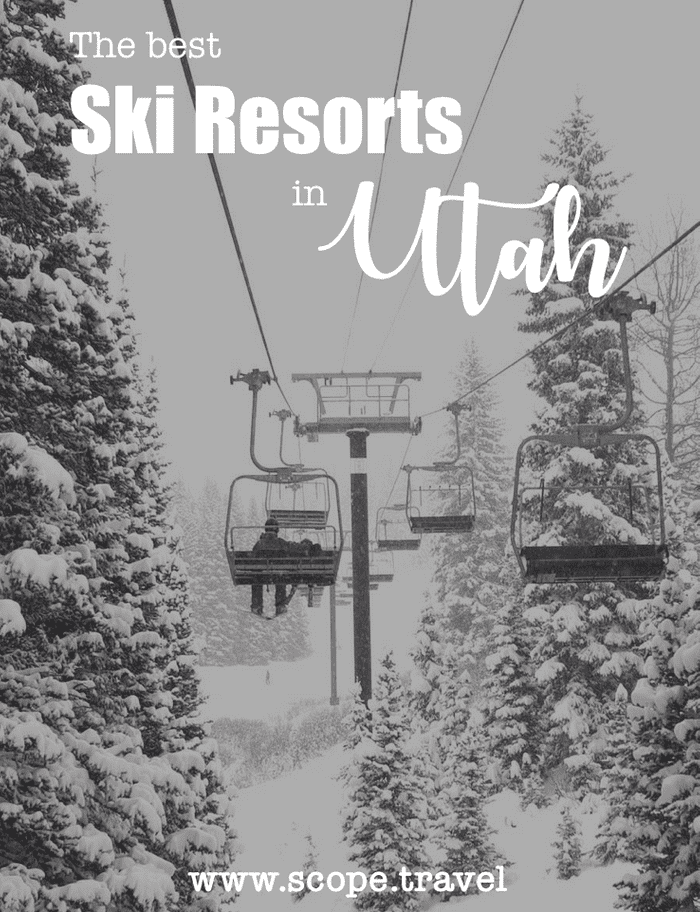 If you like it, pin it.
Join our weekly adventures
Gain access to our exclusive travel tips and more!
Expect exotic destinations, big adventures, flavorful food and unforgettable stories from our travels.