Choeung Ek "the Killing Fields" and Tuol Sleng "S21"
By Sydney Tong on September 23, 2016. Read time: 4 mins.
The genocide in Cambodia was carried out by the Khmer Rouge between 1975-1979. Scholars estimate that while Cambodia was under the rule of the Khmer Rouge's leader, Pol Pot, between 2-3 million people were brutally murdered. This amount of people equates to roughly 25% of the population of the whole country of Cambodia.
The genocide was so recent that anyone over the age of 40 was alive and has memories of the devastation that was forced on them and their families. Pol Pot's reign was unbelievably brutal, and no one was safe as he executed the educated, religious, the wealthy, those who wore glasses and those who had soft hands.
If his soldiers were to misstep or upset him, he would also have them executed. Families were separated, and many people did not know what happened to their friends or family members when they disappeared.
Anyone visiting Phnom Penh should dedicate a day or two to visit Choeung Ek, "The Killing Fields," and Tuol Sleng, "S21" or the Genocide Museum. The Khmer Rouge was insistent on documenting everything which left behind evidence of the atrocities committed during those four years.
Visiting these two sites can be broken up into two days. However, we decided to do it in one day, and it was a great learning experience for the both of us. There are organized tours that you can take but because both sites offer audio tours we recommend hiring a tuk-tuk to take you to these two locations. You can hire a tuk-tuk driver for $15-$25. Dedicate 5-6 hours if you plan to visit both of these sites in one day. It should be plenty of time to explore both sites and have lunch.
Choeung ek - "the killing fields"
This memorial can get quite crowded, so we recommend arriving a few minutes before it opens, this will help beat the heat and the crowds. They are open from 7:30 am-5:30 pm and admission is $6/person. Admission includes an audio tour which you can play at your pace and will guide through the grounds. The audio includes important dates, facts, and stories from people who witnessed the atrocities first-hand.
You can walk through the grounds fairly quickly, but I recommend taking your time listening to all of the stories and giving respect to those who have passed. The whole tour is emotional and deeply moving and is something everyone should visit.
When you walk up stones leading you towards the first audio stop, you will see and beautiful white stupa with a curved roof decorated with gold and intricate trim. Inside the stupa are shelves filled with the skulls of those murdered at Choeung Ek.
This camp was the last stop for the eight-thousand people estimated to have been bludgeoned to death and buried in a mass grave. Cambodians were taken Choeung Ek to and executed after writing a false confession at Tuol Sleng, otherwise known as S21.
No one was spared, a popular phrase amongst the Khmer Rouge was, "To keep you is no benefit. To destroy you is no loss". Men, women, children and infants were all bludgeoned to death with common everyday objects as bullets were valuable.
As you walk around the park, you will walk amongst mass graves that have sunk below the surrounding soil. Pieces of fabric and bone fragments work their way to the surface. Do not touch these or collect them. Staff regularly collects these pieces and handles them appropriately.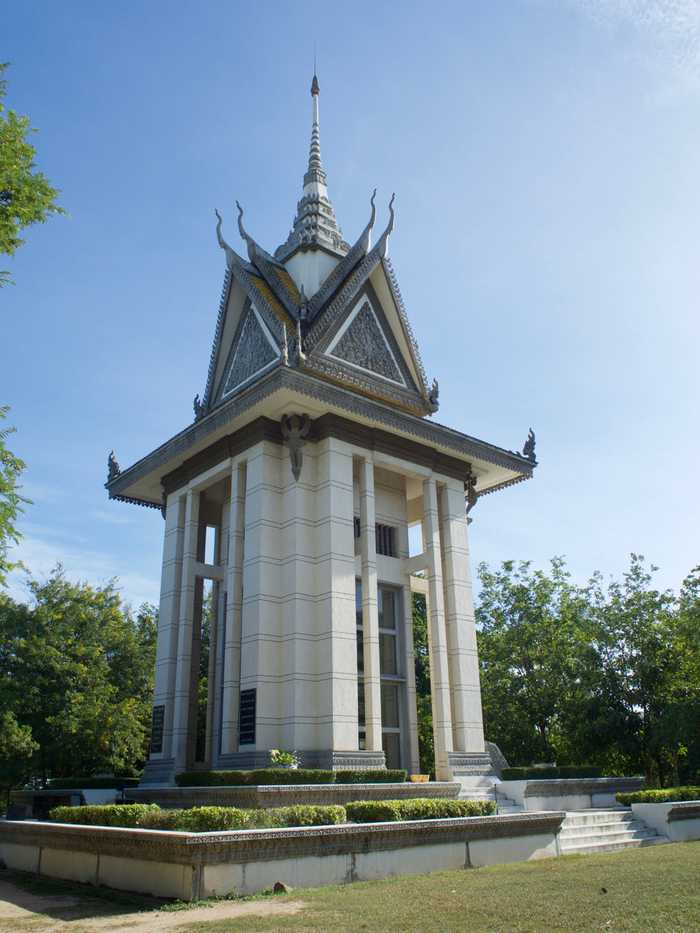 The white stupa which carries the bones of those who died on this land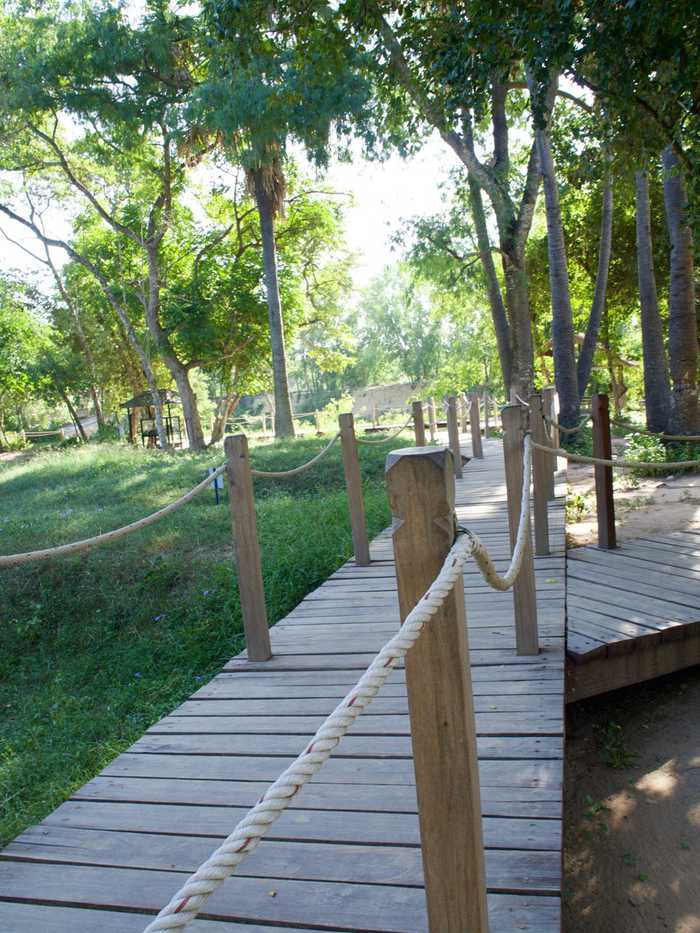 The walkway that weaves its way over the mass graves
Tuol sleng, "s21"
The genocide museum, also known as S21 is similarly set up as an audio tour. Anticipate spending between 2-2.5 hours here, there are more audio chapters, and the descriptions and history are more in-depth than Choeung Ek.
It is open from 7:00am-5:30pm. It costs $3 to enter and walk around the grounds, but for $6 you get an audio tour that will guide you through the museum and explain all the rooms and artifacts. As there aren't many descriptions written the audio tour is the only way to get explanations of what you will see. There are many benches to sit down on so you can rest while listening to audio.
There is a convenience care outside of the museum where you can buy water and a fresh fruit smoothie. You might want to do this before entering the school because it will get hot.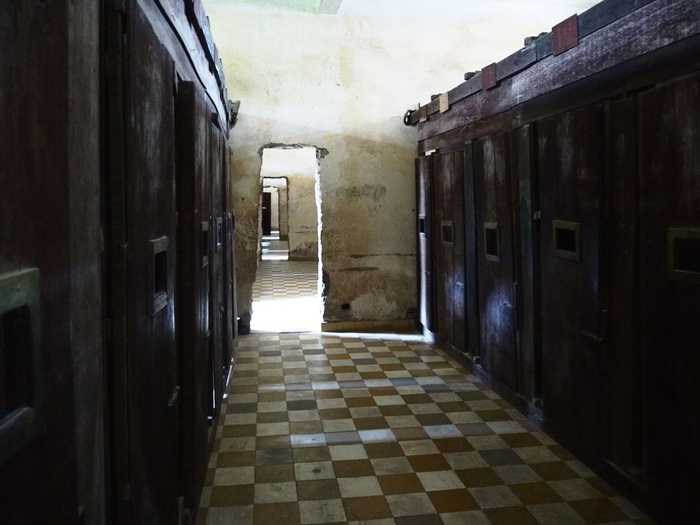 These makeshift prison cells were set up in what were once classrooms
S21 was once a place of learning and growth when the Khmer Rouge came into power they converted the school into a prison used to torture victims into writing false confessions.
Out of the thousands of people who entered this facility, only seven survived. The interrogators were instructed to keep the victims alive during the interrogations. If the victim happened to die before writing a false confession, then the interrogator would be punished or killed. The brutality explained throughout the tour is so cruel it is unbelievable that a human could do such things to another human.
The tour guides you through interrogation rooms, prison cells, and rooms filled with thousands of photos of the victims. The pictures are uncensored and are difficult to see. They are detailed and graphic but paint a picture of the harsh reality millions of people lived.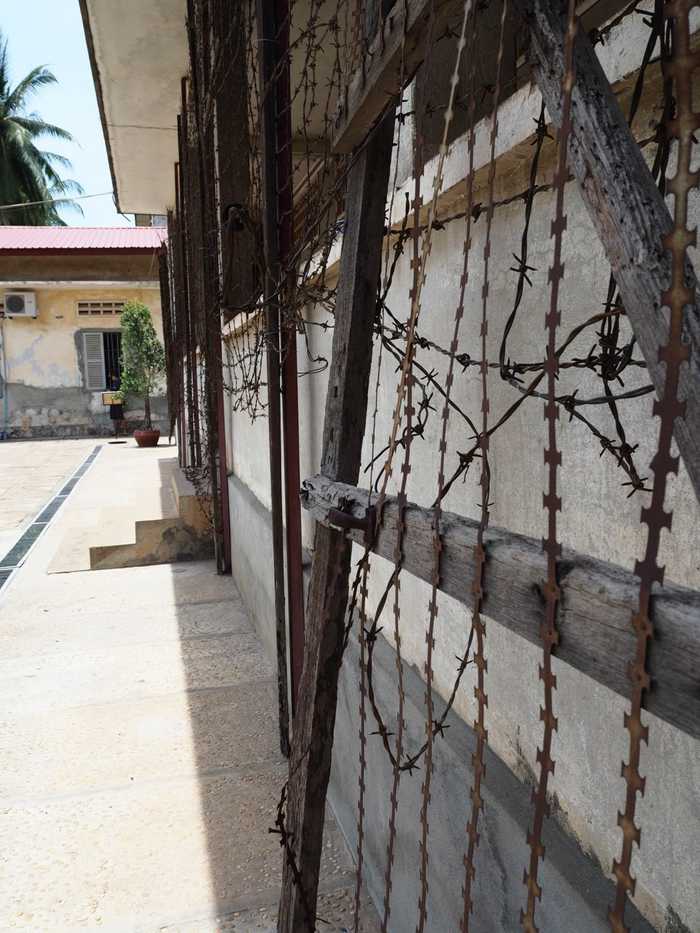 Barbed wire lined the openings of the school to deter escapes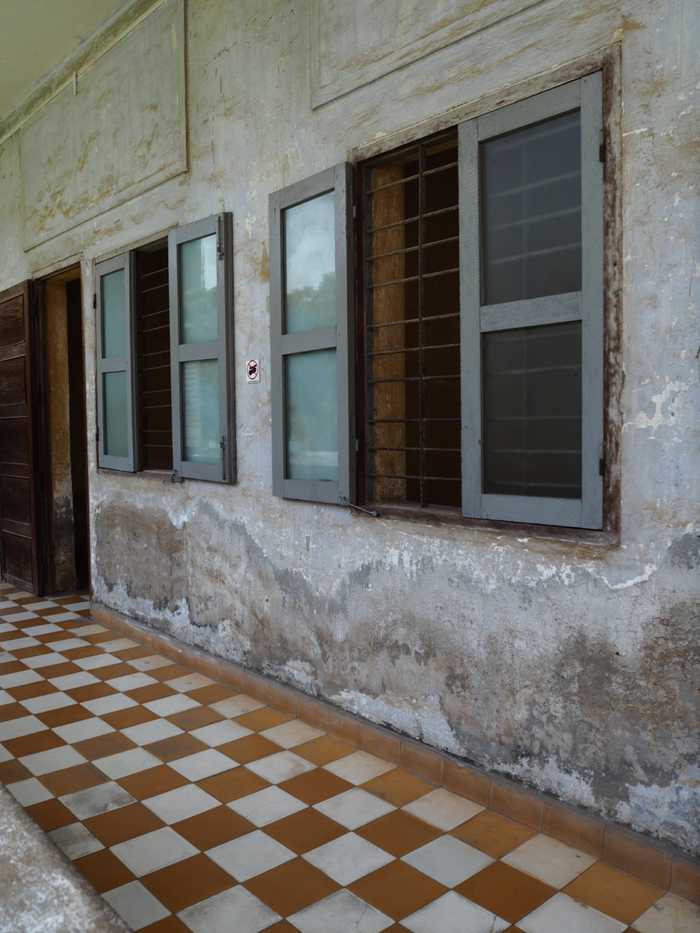 What was once a place of learning is now a a museum dedicated to remember those who have passed
It has been four decades, and the Khmer people are recovering from the genocide and are brave for withstanding a harrowing time. If you would like to learn more about the genocide, the Khmer Rouge and Pol Pot I recommend doing some research beforehand. It is important that people be made aware of what happened in Cambodia.
There is a wealth of information online, on blogs, in popular journals and magazines. There are documentaries and even a movie concerning what happened. If you enjoy reading, I recommend the book, "First They Killed My Father" written by Loung Ung. It is a young girl's perspective on what happened to her and her family during the genocide. I also recommend the movie "The Killing Fields" which came out in 1984. Although it is the Hollywood version, I find it to be toned down from the museums. The actor, Haing S. Ngor and the man he portrays in the movie, Dith Pran, both have incredible stories if you should so choose to learn more.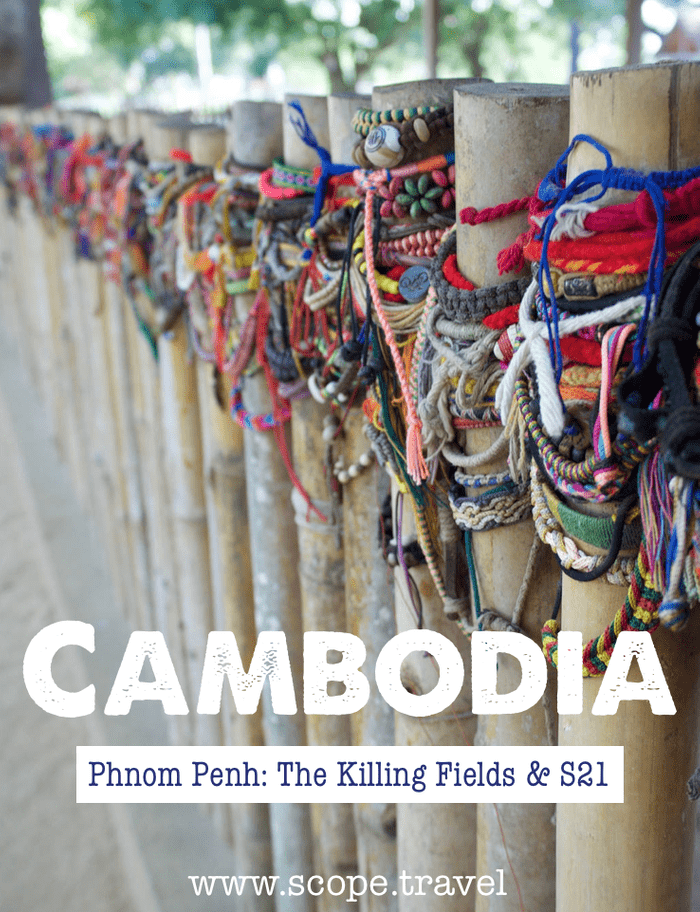 If you like it, then Pin it!
Join our weekly adventures
Gain access to our exclusive travel tips and more!
Expect exotic destinations, big adventures, flavorful food and unforgettable stories from our travels.