Getting a custom-made suit in Thailand
By Sydney Tong on June 29, 2017. Read time: 3 mins.
You've heard that you can get a custom-made suit in Bangkok for cheap and you're planning to get several made to bring back home. It sounds too good to be true and depending on where you get your suit made it could be.
There is a lot of room for tourists to get taken for a ride. If you are serious about getting some suits made while you are visiting Bangkok, I have a few suggestions, so you don't waste your money and leave disappointed.
Do your research when deciding on which tailor to hire. Take your time finding a shop, remember that you don't have to settle for the first tailor you speak with. Read their reviews, get quotes, feel the fabric at each shop, compare turnaround times, and get someone who speaks the same language as you.
Depending on where you go the process could take several days so be sure to schedule an appropriate amount of time to get your suits fitted. We decided to go to Overseas Tailor for our suits, and the process took about four days.
The process of a tailored suit
The first day the tailor took all the necessary measurements. Most tailors will keep the measurements on file in case you want more suits made after you leave. Our tailor, Chris, also went through the different fabric options with us. We got to choose the lining, piping and the fabric for the suit. He also helped us pick the most flattering suit fits for both of our body types. Bring in a picture of the style of suit you want, but if you don't then, they should have style books that you can browse through. Then they help you pick out different shirt styles, ties, and buttons.
The second day there will be pieces of the suit loosely put together. When you arrive for the fitting, they will make sure that the pattern is sized correctly. This fitting takes a significantly shorter amount of time.
The third fitting the suit begins to take shape and will be mostly pieced together. During this fitting, the tailor decides if any more adjustments are needed.
The final fitting, the suit should be finished, and they can make any last and necessary changes. After this fitting, if no more adjustments are needed then you can take the suit with you or have them ship it to you. Our tailor said we should expect it in 3-4 weeks.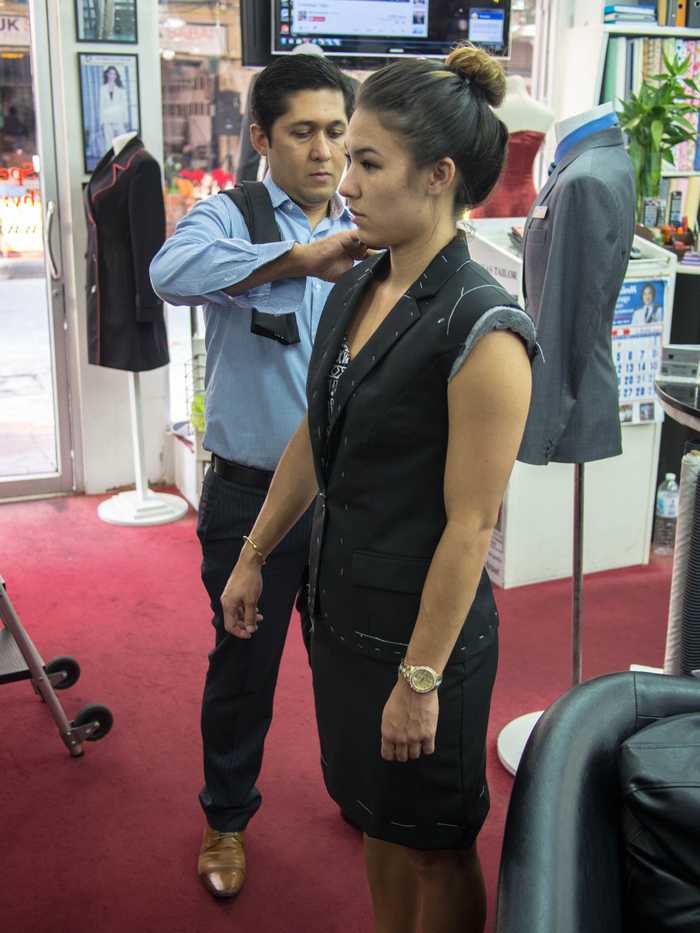 The first fitting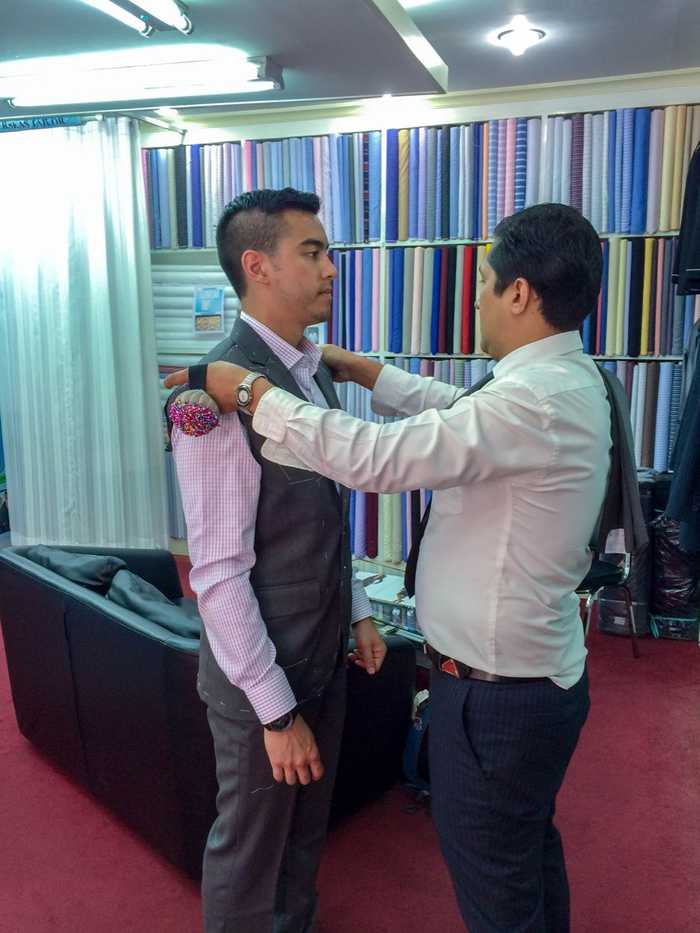 The first fitting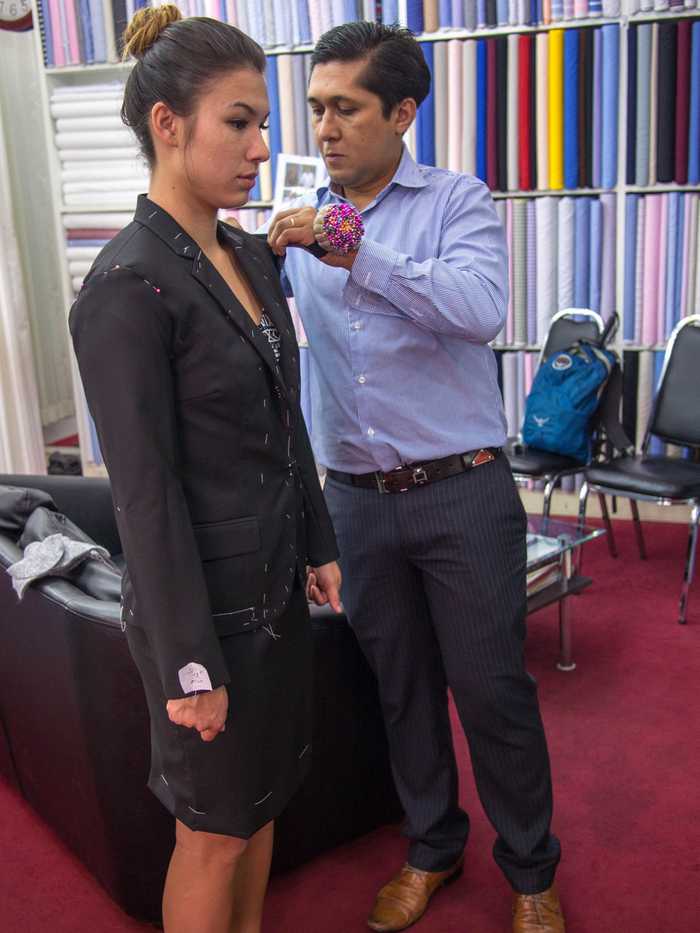 The third fitting
Our tailor at Overseas Tailor was very patient and professional. We had never gotten a suit tailor-made before, and he walked us through the process. We never felt like we were being taken advantage of.
We paid for premium wool fabric, the quality of our suits is nice, and the fit is good. I got a suit jacket and skirt for $250 USD, and Gabe got slacks, a jacket, a shirt and a tie for$350 USD. The price can be lower if guests choose a lower quality of the fabric.
If we were to compare our $350 USD suit to a custom top-notch$2000 USD suit then obviously the more expensive suit would win. A bespoke suit (hand sewn) can take weeks to make with a countless number of fittings. If we were to compare our suits to similarly priced suits off-the-rack, then ours would fit way better. We both have unique body types, and it is hard to find suits that fit properly.
It was a fun experience, and we learned a lot about getting a custom suit made. We learned about different fabrics, fits, and styles. We still wear our suits from time to time.
Helpful hints
We aren't connoisseurs but we learned some things during our experience of getting custom-made suits. We hope this helps you make an informed decision.
If you want a custom-made suit, then you need at least 4-5 days and need to attend fittings.
Do your research on tailors before you go.
Don't pay for your suit before it is finished being made. Offer to put a down payment if the tailor insists on payment before beginning.
If the price is too good to be true, then it is
If you feel uncomfortable with your tailor, then leave. You don't owe them anything.
Work with them if you can speak the same language or can communicate efficiently.
Ask to bring a swatch of the original fabric home with you so you can be sure that the fabrics are the same. Don't be a victim of the bait and switch method.
Educate yourself before you go so you know what questions to ask and what you want in a suit before you even enter the shop.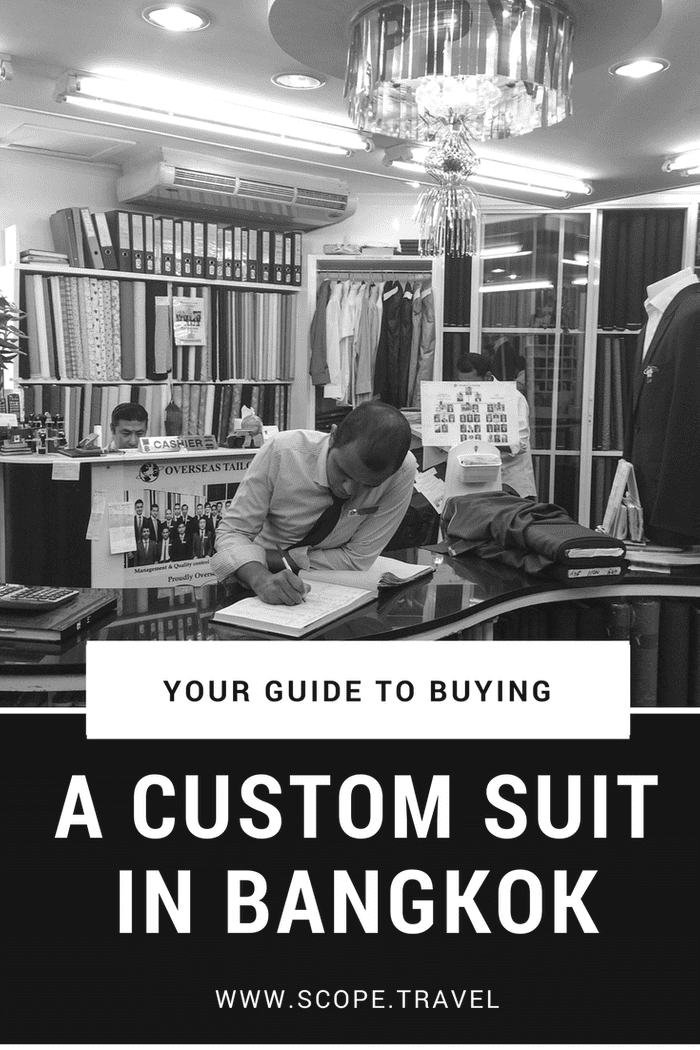 If you like it, Pin it!
Join our weekly adventures
Gain access to our exclusive travel tips and more!
Expect exotic destinations, big adventures, flavorful food and unforgettable stories from our travels.