Escuela Bellavista Spanish School
By Sydney Tong on January 03, 2017. Read time: 4 mins.
On our quest to improve our Spanish we took 5 weeks of intensive language courses in Santiago, Chile. We improved our language skills, explored the city and made tons of lasting friendships.
Chileans speak as if they are racing against lightening. Their pace is so rapid making the gaps between the words evaporate. As if their speed wasn't difficult enough, they are also known to use a lot of slang unknown to other Spanish speaking countries. We figured if we could understand Chilean Spanish then we would be able to understand any Spanish.
Gabe and I have been trying to learn Spanish for years, we've both taken courses during high school and college. While we understood the basics we never practiced enough to become anywhere close to fluent. The next logical step in our goal towards fluency was to completely immerse ourselves in the language. We decided to take the plunge and challenge ourselves. We flew to Santiago Chile to soak in the adventure, the outdoors, the culture and the language.
Initially, we were interested in several different schools in Santiago. We took price, curriculum, schedule, and location into consideration when deciding which schools would be the best fit for us. We narrowed it down to two different schools. The first school seemed to fit our needs, but it wasn't as organized as we would have liked. They also had us take a written test to gauge our level. The second school, Escuela Bellavista, instantly felt like it would be a good fit. Lavender, who works at the front desk, was so helpful in explaining the curriculum, pricing and schedule to us. One of the professors, Catalina, conversed with us in Spanish as our placement test and was immediately able to place us in the appropriate classes. Visit Escuela Bellavista's Website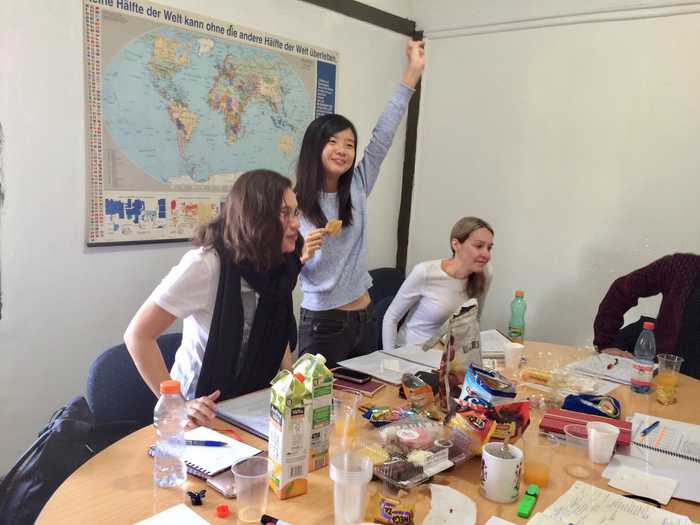 Celebrating the last day of our class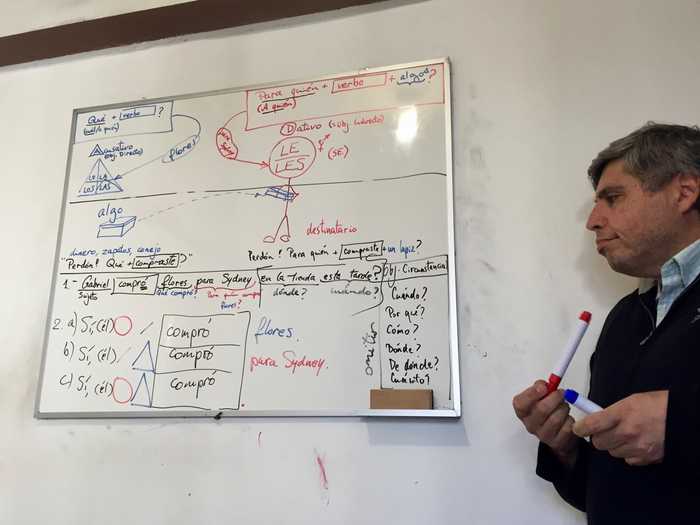 One of our teachers Yuri
We chose Escuela Bellavista because they focus on conversational Spanish and we felt like they would challenge us. The atmosphere of the school was inviting, organized, and spacious. We liked that private tutoring could be scheduled around our work and our other classes. The pricing is also a bit cheaper compared to other schools, they also didn't have an enrollment fee that some other schools have (usually $75-$100).
Escuela Bellavista is a great language learning school that caters to students who are interested in improving their conversational Spanish. They have classes that teach all levels from basic to advanced. The professors and staff are very professional and passionate about what they do. Experienced teachers can tailor classes to fit students needs and take the time to explain theories and rules. The pricing for the lessons is fair and is competitive with neighboring schools.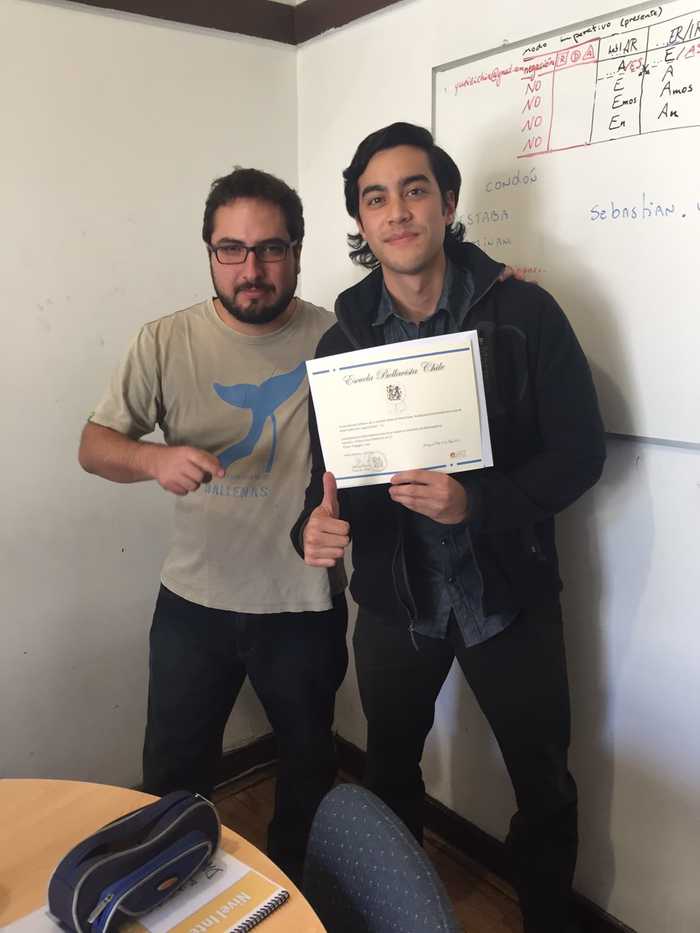 Gabe receiving his certification of completion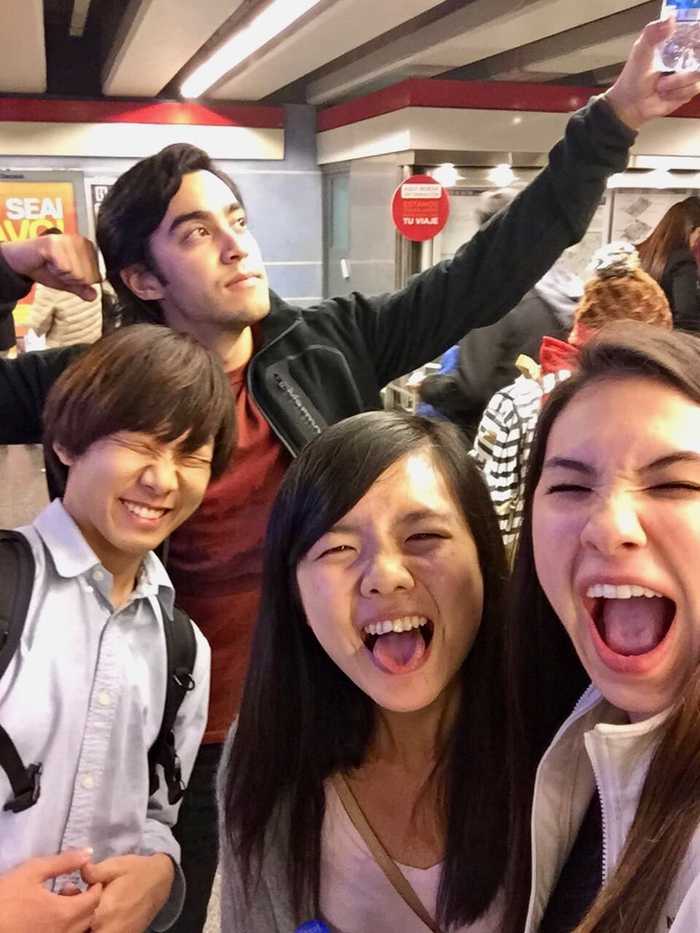 Celebrating a friday after classes
Group classes
Group classes begin every Monday and are divided by skill level. Classes are 1 1/2 hours long, twice a day, typically taught by two different teachers. Students receive a new specialized workbook at the start of every week covering all of the content. Teachers focus on the principals and grammar so students can understand in depth why rules apply. This was valuable to me and my speaking became more fluid and natural.
These teachers are tough and lead pretty complicated discussions involving culture, politics, lifestyle, and beliefs. At one point my class had people from England, India, Germany, Hong Kong, Japan, South Korea, Brazil and Switzerland all talking about our own country's politics in Spanish. None of us are native speakers but we were able to hold more complex conversations with one another.
Homework was occasionally assigned but it wasn't ever lengthy or overly time consuming. Teachers encouraged students to go out in Santiago and interact with locals and practice.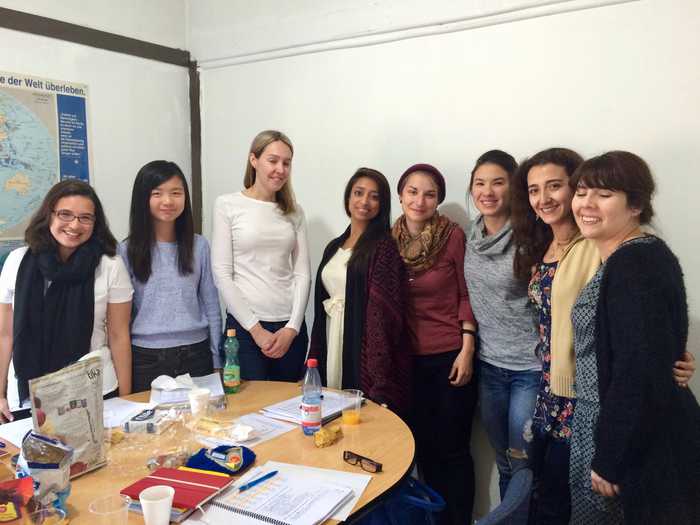 My class with our Professors on the end.
Private classes
Private classes helped our language skills excel. Our tutors were really tough and pinpointed the areas that we struggled in until we were experts in them. These classes are good for those who want to focus on intense learning or for those who can't commit to the 3-hour a day group classes. We had our lessons every morning before the group classes started. Private lessons can be scheduled to fit your timeline.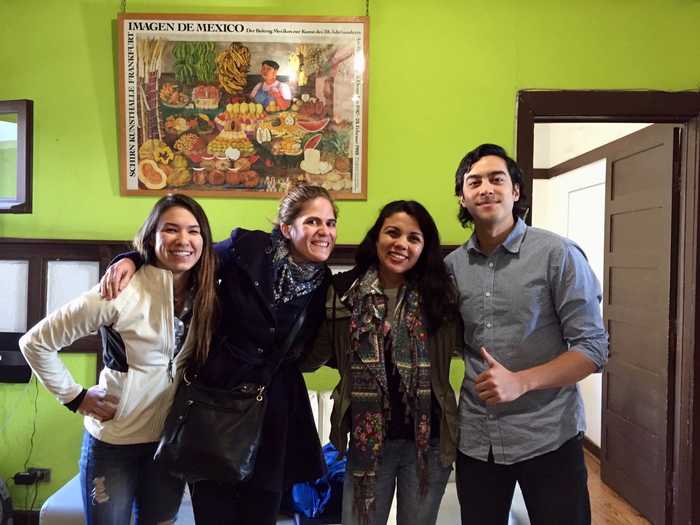 We also hired private tutors
Where to live
Escuela Bellavista can set you up in a nice place. You can choose to stay in a homestay or in a hostel. We had classmates who were doing both and everyone had nice things to say. Our friends who stayed in the homestay mentioned that their hosts cooked some food for them and taught them about Chilean culture. Our friends who were staying in the hostel always had a plethora of friends and were always having a good time. Well, we all had a great time but the hostel-goers definitely had the most social experience.
Activities
The school organizes a variety of activities, day trips and weekend trips for students. These aren't mandatory, some are free and others have a fee. During the week we watched movies, visited vineyards, made ceviche and pisco sour. Small day trips on the weekend included trips outside of Santiago for hiking or to the coast. Longer weekend trips are available and can be arranged through the school. The school is never short on things to do or places to go.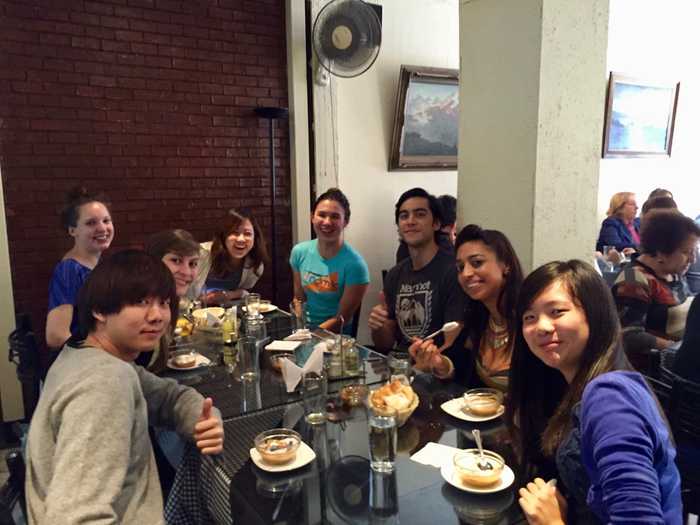 Getting lunch with other students from school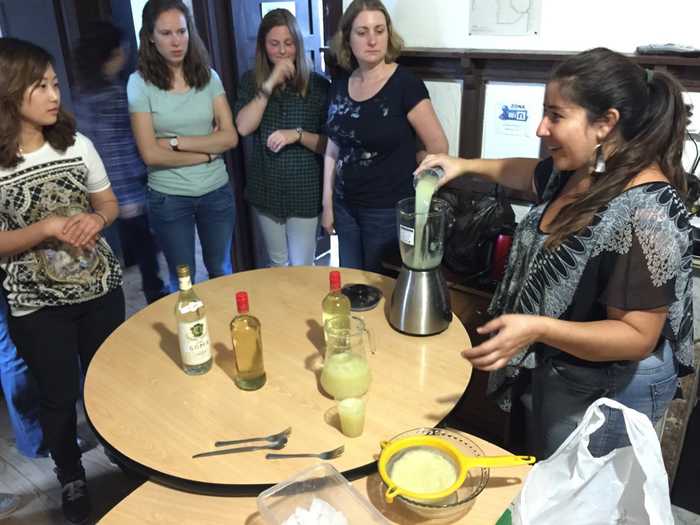 Making ceviche and pisco sour after school
Our experience
We took 5 weeks of classes and we highly recommend Escuela Bellavista for students wishing to improve their conversational Spanish. The courses were challenging and the teachers are committed to helping students improve. The teachers are all friends and have a good relationship with one another which contributes to the friendly and comfortable atmosphere.
We made some great friends through this program and our speaking and grammar skills improved significantly. Our Chilean family was impressed that we were able to speak freely and openly about complicated topics. When we had a better grasp on the language we were able to better understand the culture.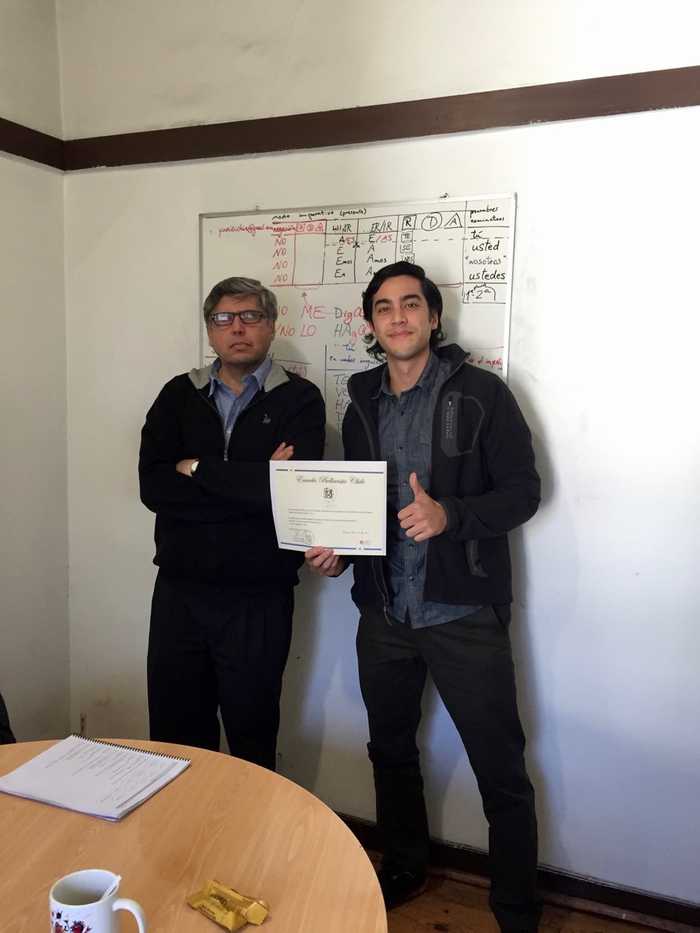 Gabe receiving his certificate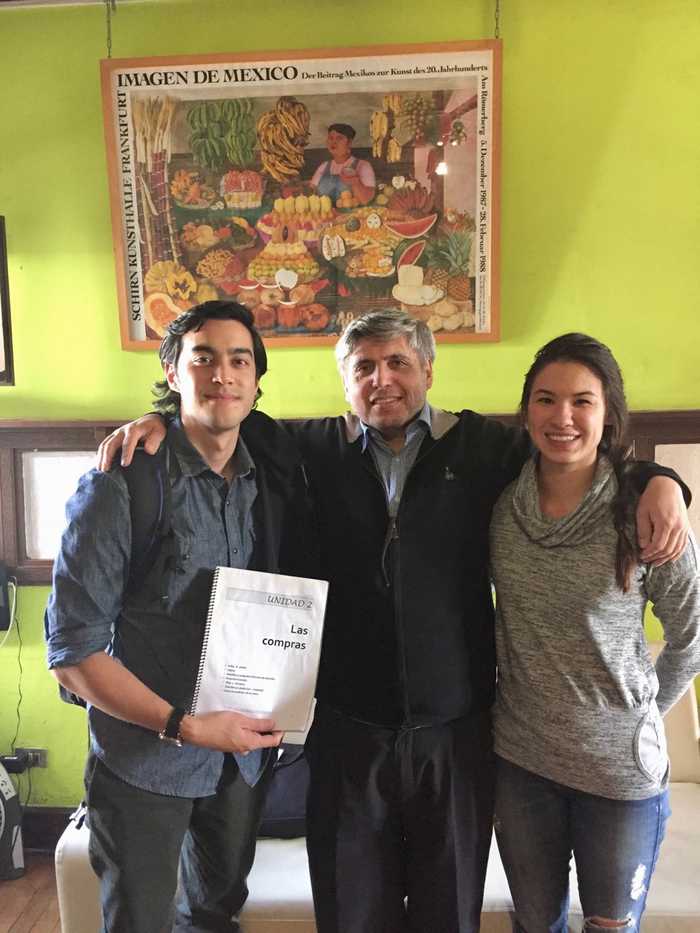 It was bittersweet to finish the course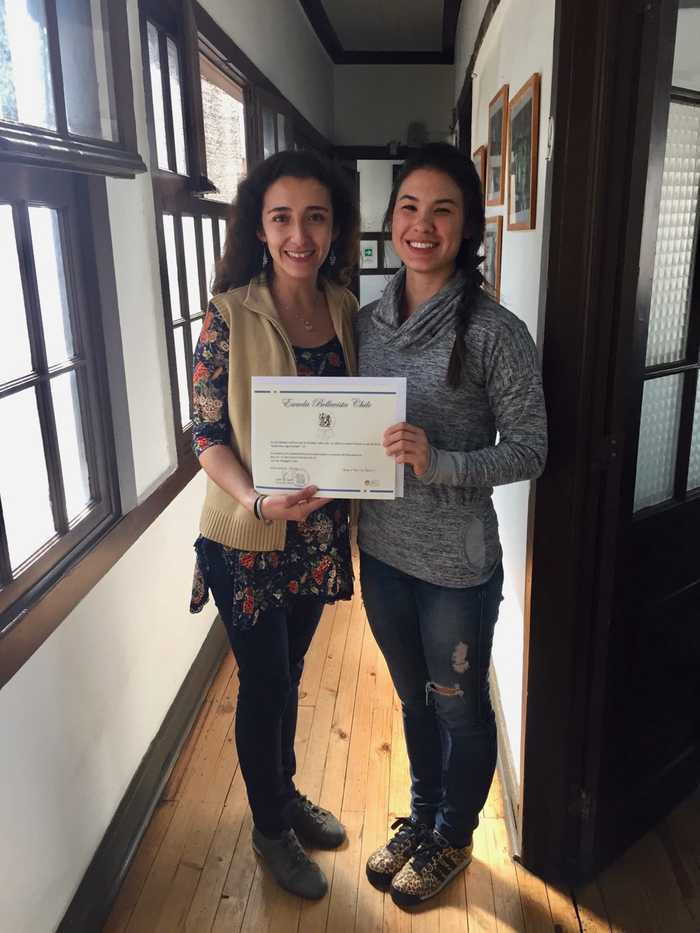 Me receiving my certificate
Use this handy map to see the locations of the schools in regards to your hostel/hostel/Airbnb. Public transportation is very reliable and cheap in Santiago!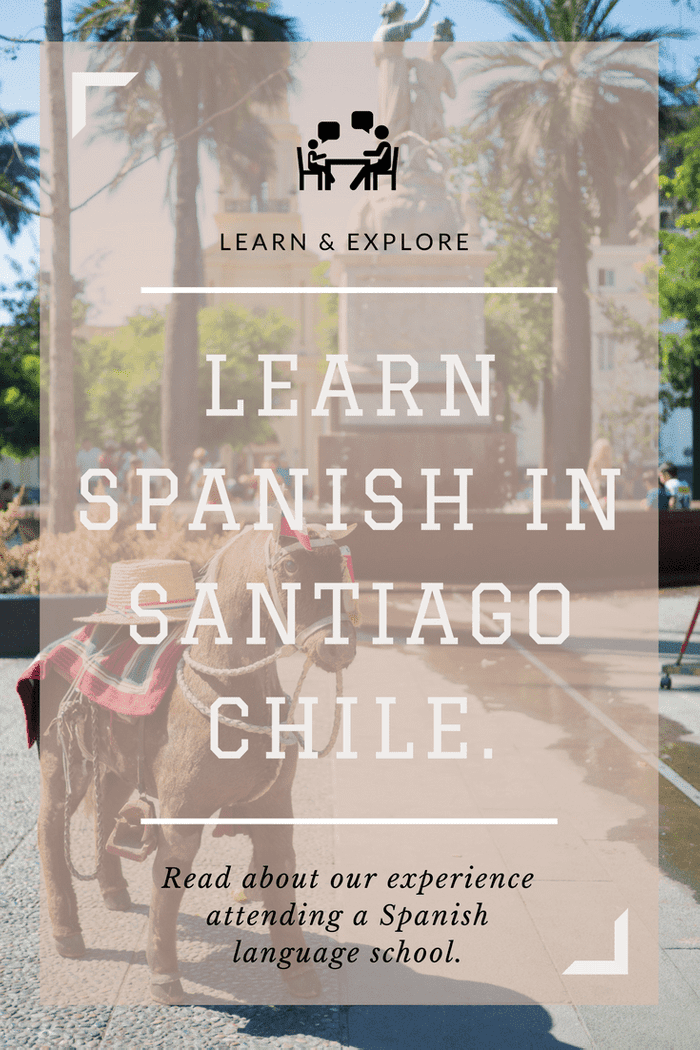 Pin us!
Join our weekly adventures
Gain access to our exclusive travel tips and more!
Expect exotic destinations, big adventures, flavorful food and unforgettable stories from our travels.