Ice Climbing the Viedma Glacier in Patagonia
By Sydney Tong on January 15, 2017. Read time: 7 mins.
Using all my strength, I thrust my ice pick into the dense, glossy wall. Some of the ice chipped off and fell into my mouth. It tasted slightly sweet, which I wasn't expecting.
At this point, all of my senses are involved at this moment. The cold air coming off the glacier smells fresh, and I can hear the rivers around me carving out new paths in the ice. The Viedma Glacier commands my attention as I pull myself out of the bottomless crevasse and feel the warm sun hit my face.
We wanted to take on the challenge of ice climbing the Viedma Glacier in the small Patagonia village. Second, to the Brüggen Glacier, the Viedma Glacier stands tall among the others in the park.
El Chalten is also home to Monte Fitz Roy which is one of the most technical climbs in the world. El Chalten is extraordinarily remote and about a 3-hour drive from the more commercialized, El Calafate. The 360 degrees of mountains that surround the village rise so tall that they pierce the sky. This small village offers authenticity to those who make it this far north in Patagonia.
The prices of accommodations and food are low and remain immune to price gouging. Everything must be paid in cash as wi-fi and credit cards are scarce. There is a small bank at the entrance to the village, but it's hours are subject to change. If you need to fill up there is a small gas station near the entrance to the village, and they only accept cash.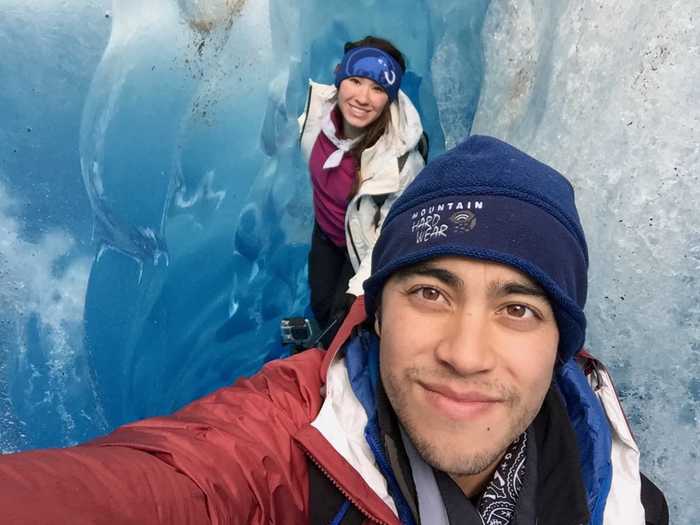 Hiking inbetween glacial crevasses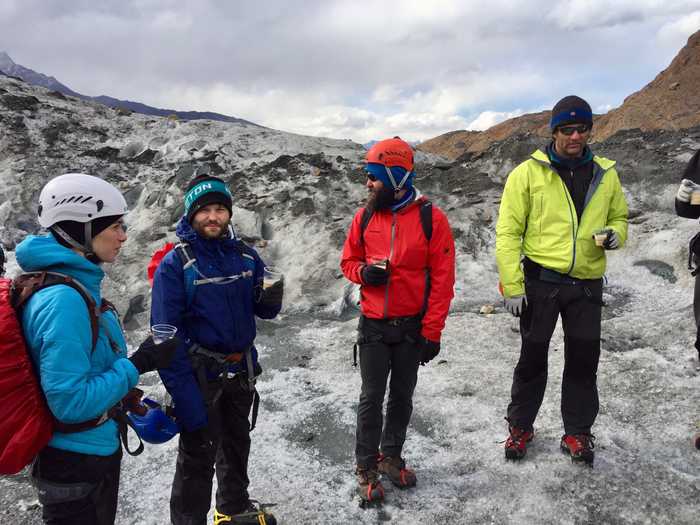 Some of the people on our expedition
Booking a tour
The only way to get on the glacier is by joining an organized tour. Going solo would be dangerous, as glaciers are constantly moving. Glacier Viedma moves at a rate of 1 meter per year and pieces larger than semi trucks fall off on a daily basis. Using a guide familiar with the terrain is for your safety. Getting to the glacier involves an hour-long boat tour that can only be arranged through a company.
There are hiking tours available if you are not interested in climbing.
We booked our tour through Viva Patagonia (also known as Patagonia Adventures) and met our group in El Chalten. If you are staying in El Calafate, they can arrange a transportation service to get you to El Chalten. It is a 3-hour drive be prepared for a long day if you choose this route.
The tour price does not include the transportation cost, but they can set it up for you no problem. Everyone on our tour was staying in El Calafate except for us. We had been camping and driving through Patagonia on our own, and had camped at El Relincho the night before.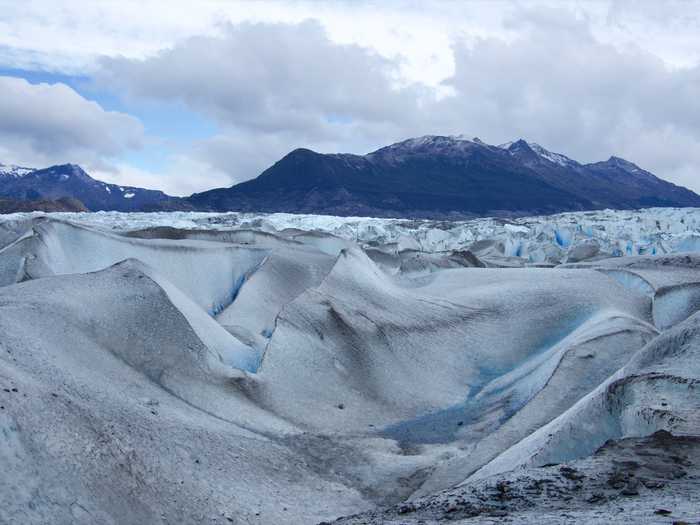 View from a top of the glacier
The glacier
At 8:30 am we met our group at the dock on Lake Viedma. As we boarded the boat, the bad weather from the night before was still lingering. Freddy, our main tour guide, assured us that the weather would clear up in the hour it would take to reach our destination, and he was right.
I enjoyed looking out of the window as our boat took us towards the glacier. As glaciers move they grind the rock underneath into a fine powder which makes the lake a milky turquoise color. Glacial lakes are colors unlike any other lake in the world.
When we got off of the boat, we hiked up a rocky hill towards what would be our base camp for the day. We got fitted for our harness, helmets, and crampons.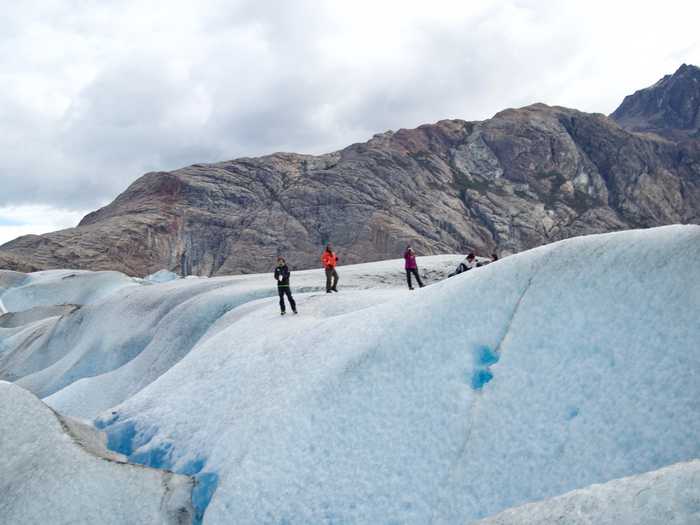 Some of our mates hiking up steep hills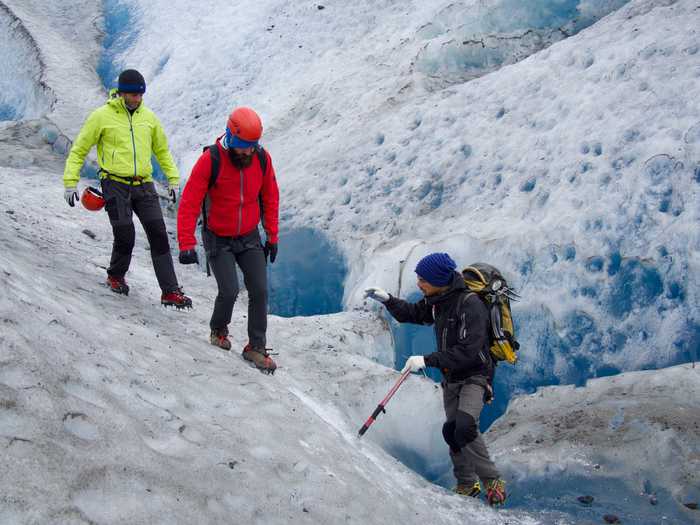 Hiking carefully around deep holes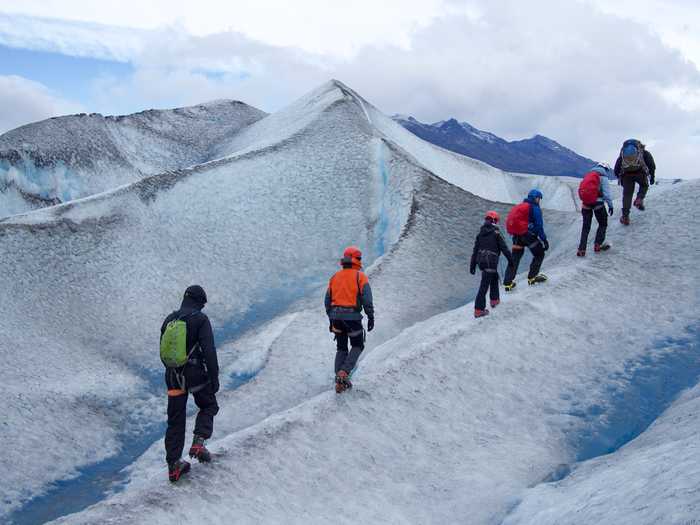 Our hiking mates hiking along a small spine
After we acquired all of our gear, we began our journey on the glacier. Hiking on this giant was incredible, and we saw all different shades of blue that we didn't know were natural. Our guides; Freddy, Esteban, and Austin carefully led us around the glacier. They were excellent and pointed out unique formations or offered interesting facts about the glacier.
We hiked 30-minutes towards our first wall of the day, side-stepping crevasses and working our way up steep hills. Some parts of the hike were incredibly steep and narrow, so I was grateful for the added traction the crampons gave me.
When we got to the first wall our guides showed us proper techniques for climbing, handling the picks, and how to find our rhythm on the wall. The eleven of us took turns climbing and practicing our form. We stayed at this wall for 2-hours, and everyone picked it up fairly quickly.
If you go on this trip to climb you need to bring a pair of boots that have a stiff sole.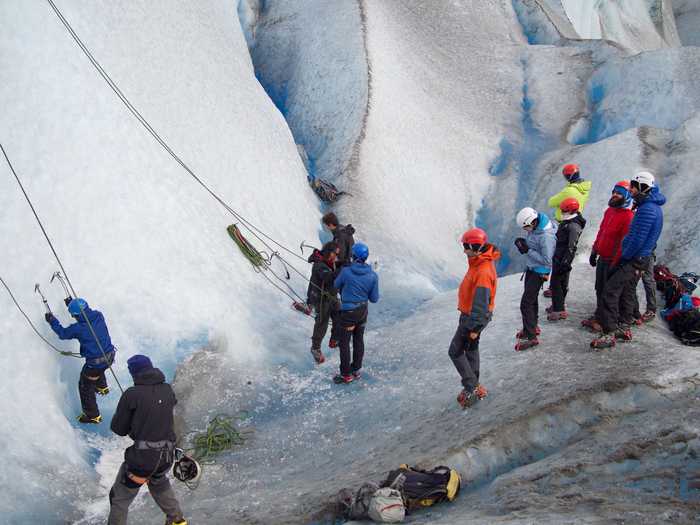 The warm up wall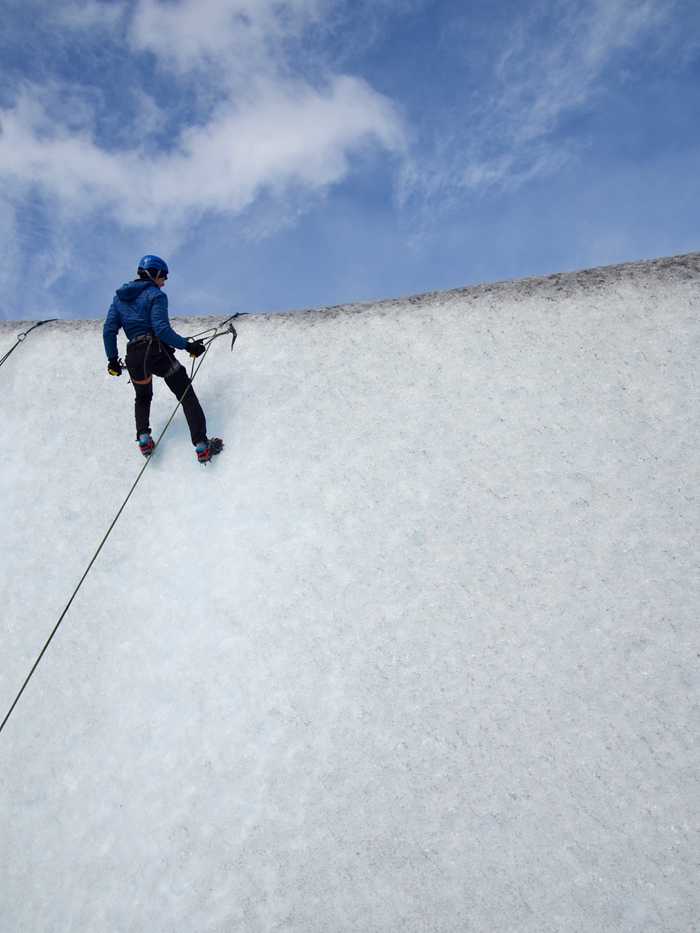 Gabe topping out on the warm up wall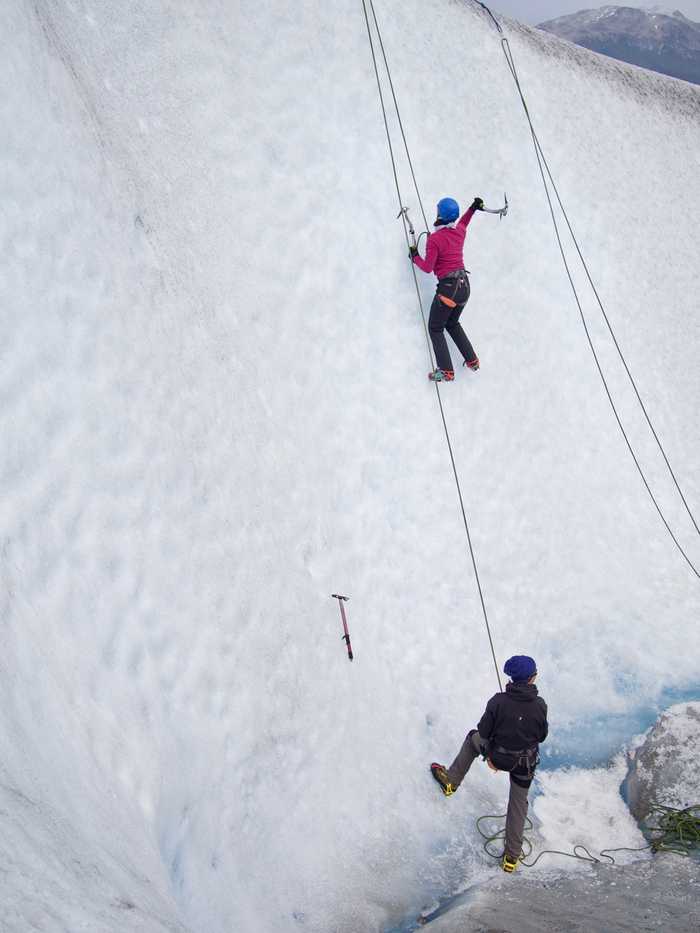 Sydney warming up on the wall
The other guests on this excursion were incredibly friendly. Some people had experience with climbing while others wanted to get out of their comfort zone and try something new. One man had signed up for this tour to conquer his fear of heights. He was terrified, and everyone in the group was supportive of him. He did wonderfully, and it was inspiring to see a bunch of strangers support one-another.
There were eleven people in our group, and everyone got plenty of action time. We had three guides in our group, so there was plenty of hands-on help.
After everyone felt comfortable with their newly found skills, we headed back to base camp to enjoy lunch and rest before we started our ascent to a more challenging wall.
It was relaxing to sit on rocks that had been warmed by the sun while eating my smashed sandwich and looking out on the lake. Some people socialized with other group members, some took naps on the rocks, and other enjoyed their lunch with the view.
The hike back we took a different route that led us to a bottomless crevasse. I would guess that it was 70-100 meters deep, but I could not see the bottom from any angle, so I am unsure of how deep it was.
We set up two ropes and took turns going up this incredibly vertical wall. It was much more difficult than the first wall because the ice was densely packed, so I had to put my whole weight into getting my pick in the wall. I had to kick with all my might to get my crampons to hold. It was a full body workout and exhausting, and I consider myself to be fairly in shape.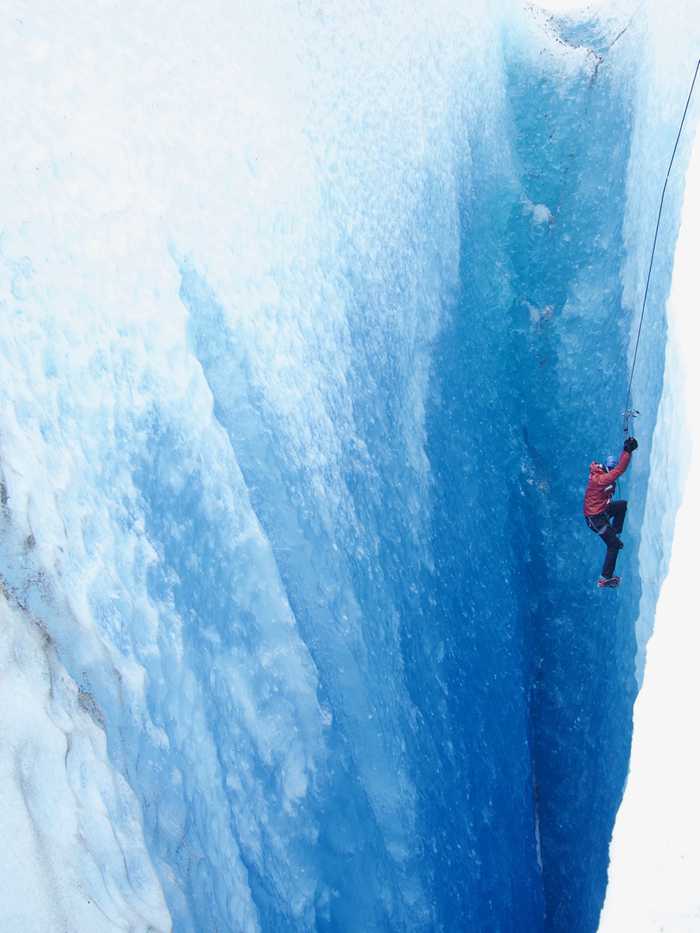 Gabe climbing in the crevasse.
The experience is one that I will never forget. All of my senses were on edge. I could hear the rivers moving through the glacier; the sound was so pure and gentle. I have never smelled air as fresh as this glacial air. Something about it was so crisp and youthful despite the fact that the ice had been here for a couple of decades or longer.
My face could feel the coldness coming out of the glacier, and it kept me alert. As I swung my pick over and over into the wall small chips of ice fell into my mouth, and it tasted sweet. I couldn't get enough of it.
A few times in my life I have felt completely and utterly in sync with Mother Nature, and this was one of those times. As I came out of the crevasse, the sun-kissed my cheeks. By this time the muscles in my hands had cramped up from over-gripping the pick. I have climbed rock walls in the past, but I had never felt so humbled than when I climbed this glacier.
Bring cash to El Chalten, credit cards are rarely accepted. Banks are open when they want to be and ATMs work when they feel like it.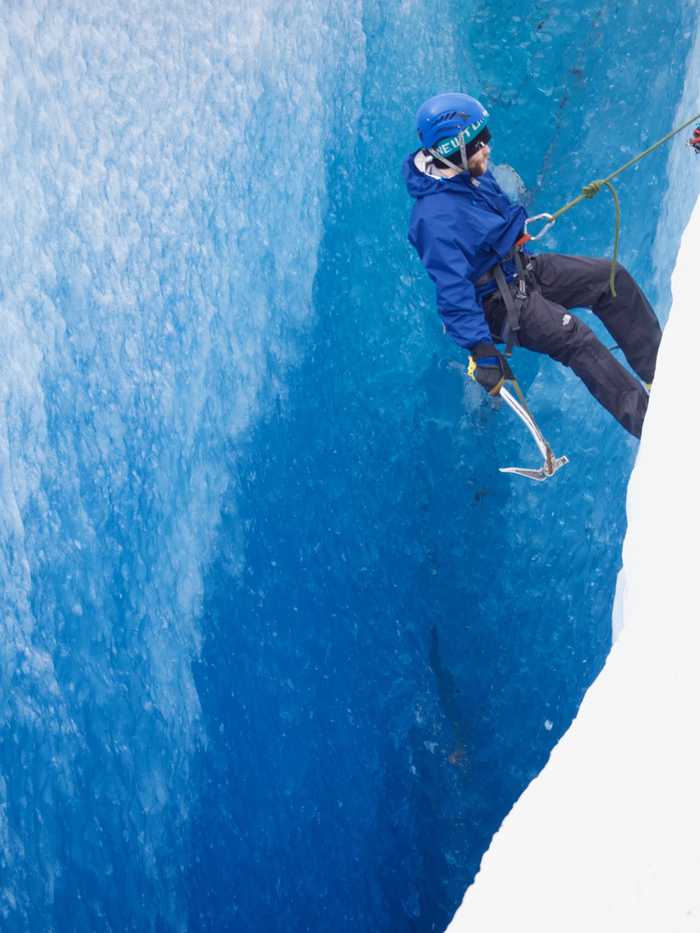 A friend getting ready to descend into the crevasse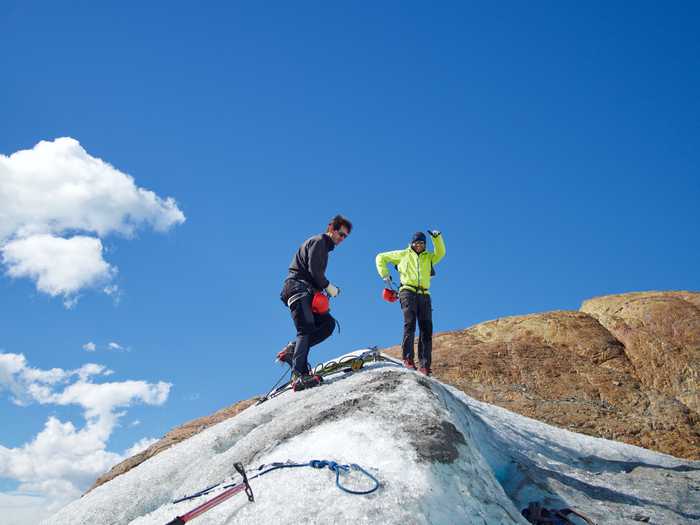 Our guides letting loose
After everyone had a few turns on the glacier, we started our hike back towards base camp. Freddy led us through an underground tunnel/cave. The colors were so brightly blue. These colors that you see in these glaciers seem so unreal that sometimes I felt like I was in a dream. They are unlike anything I have seen before, and it is unlikely that I will see them anywhere else.
When we got out of the tunnel, we entered a clearing. The guides poured us some of Tia Maria's Coffee Liqueur cooled by glacial ice they had chipped off. We toasted to a successful trip. The hike back was light-hearted as everyone was still riding the high from the incredible day.
Everyone was exhausted but very happy with how our day turned out. The boat ride was calmer this time around, and everyone seemed at ease.
As we arrived at the dock, everyone got onto their bus to head back towards El Calafate. We hopped in our Suzuki Jimny and headed back towards the village in search of something to eat.
Waterproof pants and jacket are a must!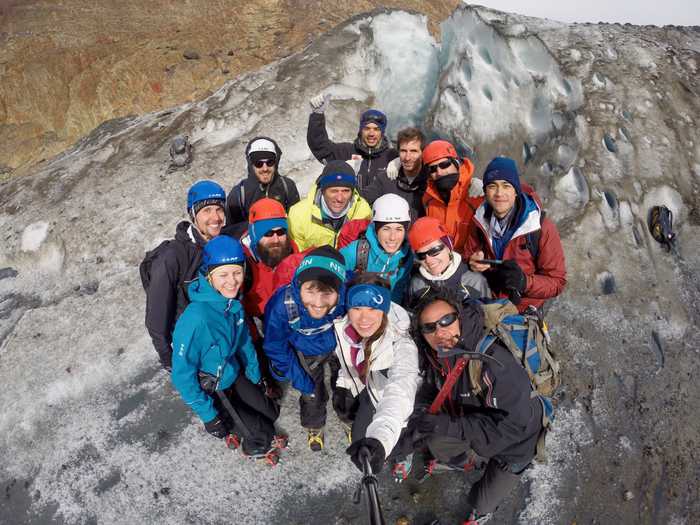 Our whole group
We recommend this to anyone who wants to try something new or challenge themselves. We are avid rock climbers, and this trip was right up our alley. We liked that the group size was small and that everyone had a turn. The tour never felt rushed, and our guides were excited to share the wealth of knowledge with us.
There were varying levels of athletic ability in our group, and everyone did well. I would not recommend it to people who are completely out of shape or elderly. I do not think it is a good activity for children, maybe the youngest I would recommend would be 12 or 13 years old. The hiking excursion might be a better option, but I wouldn't recommend anyone younger than 8 or 10 years old. We met an elderly couple (the late 60s, early 70s) the had hired a private guide to take them on an easy trail. They were able to go at their own pace without feeling rushed or slowing anyone down.
Patagonia Adventures Tour - Check it Out Here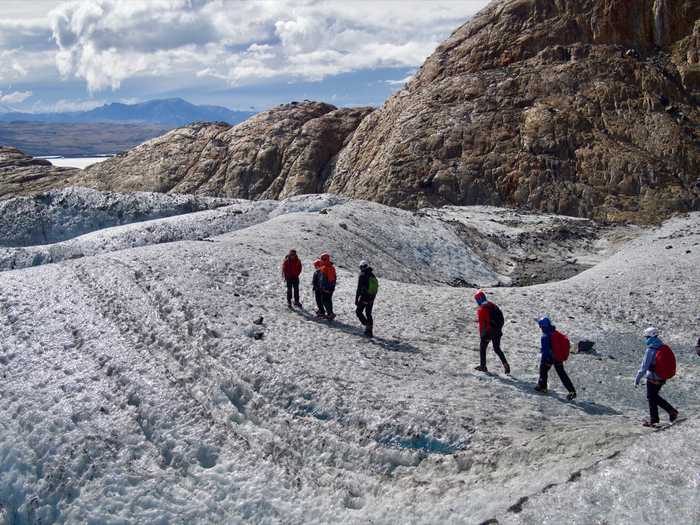 Our hike back to the boat for the end of the day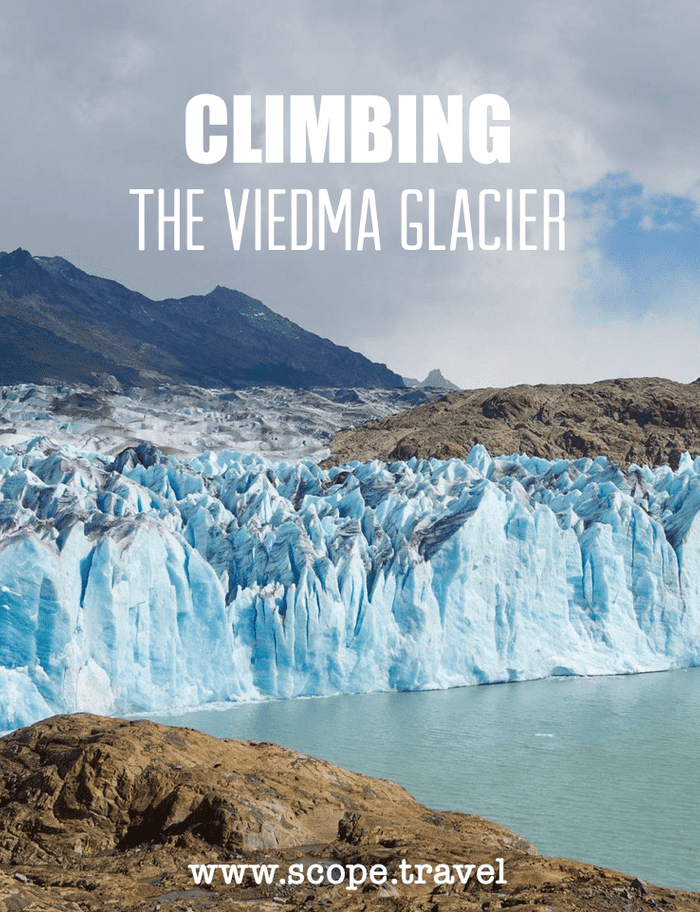 If you like it, Pin it!
Join our weekly adventures
Gain access to our exclusive travel tips and more!
Expect exotic destinations, big adventures, flavorful food and unforgettable stories from our travels.