Machu Picchu on a Budget
By Sydney Tong on May 09, 2017. Read time: 6 mins.
The Incas built the sacred city of Machu Picchu on the eastern slopes of the Peruvian Andes. This fortress mystifies historians and archaeologists as the exact purpose of these ruins are unknown. The mystery hidden in this secluded city attracts people from every corner of the globe.
With patience and thorough planning, you can voyage through time to experience these ancient ruins on your own. Many of you have been asking us how much it costs to travel to Machu Picchu. The beauty about going to Peru is that it can match any budget and I will guide you through how to get to get to Machu Picchu for a week on US$1,600.
This budget includes the minimum needed to for a week including flight, transportation, accommodations, food and everything else to enjoy your time in Peru. Hopefully, with these guidelines, you can take the liberty to beef up or trim down the budget to fit your style.
To read answers to frequently asked questions about Machu Picchu read the link below! Read FAQs about Machu Picchu here
Plane tickets
The plane ticket to Peru will be the biggest expense for a one-week trip. If you live near an international airport then finding an inexpensive fare to Cusco should not be difficult. Begin searching for flights 3-8 months before your anticipated trip. In my experience, I typically find the best deals on airfare 3-4 months in advance. For most people, I would anticipate spending around US$600 for a roundtrip flight.
Google Flights is my first stop when I begin to gauge how much a plane ticket should cost. From this site, I can easily research which airlines fly to where I need to go and how many layovers I need to anticipate. I sign up for alerts on Google Flights so that I can follow the latest prices and trends. At first glance, I can expect a roundtrip ticket from SLC to CUZ to cost anywhere between US$900-$1,400 with two layovers. This price is a good baseline, but I know I can do better than this.
Scott's Cheap Flights has been my piggybank's savior. It is an email service that sends out alerts when airlines have made a mistake or are having a promotion. Through these email alerts, I have purchased international flights for under US$600. He has sent out deals to Cusco for as low as US$377 in business class. Sign up for his free service to try it out and see if you like it. I recommend signing up for his premium service if you are looking for a particular flight. It is $40 for a yearly subscription and has already paid for itself with all the deals I have scored. Sign up for Scott's Cheap Flights here
Search for tickets to Alejandro Velasco Astete International Airport, airport code CUZ.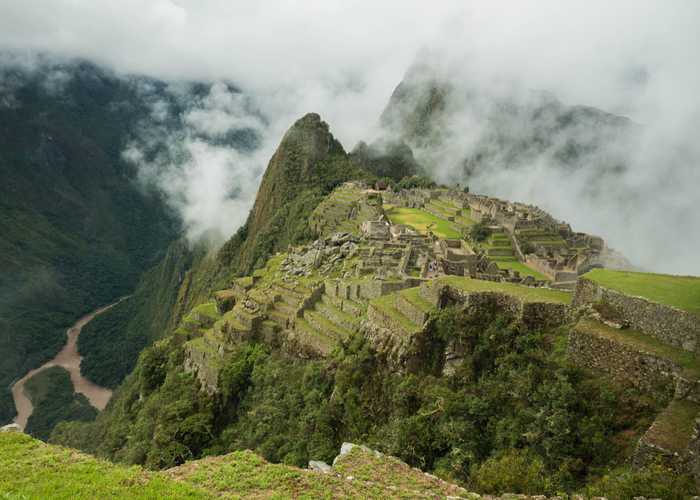 Overview of Machu Picchu
Use third party websites to search for good deals but always book directly from the airline.
Don't forget to look for deals at other nearby airports. My home base is Salt Lake City, and I get a fair amount of deals on international airfare but not always. So I expand my search to fly out of LAX, SFO or DEN which get deals more frequently. I have an airline credit card, and I can fly to these airports on points or for US$100 roundtrip.
Once I have researched how much flights cost, I decide how much I am willing to pay for a ticket. I check daily and sign up to receive emails from airlines, third party services, and Scott's Cheap Flights. When a ticket pops up with the days I want at a price, I am willing to pay then I go for it. Doing research and being prepared pays off in a big way.
Accommodations
Accommodations are another significant expense, but luckily there are many inexpensive places to stay in Cusco. You will be able to find hostels for US$8/night or swanky 5-star hotels for US$400/night. To stay under budget, you will want to look for places that are US$20 or less per night. Book your rooms in advance for the largest selection of rooms at the price you want. Traveling with friends makes it even easier to find a great place on a budget.
We like to stay in guesthouses or bed and breakfasts for the charm and personable experiences we have there. We use Hostel World and Airbnb to find the most comfortable rooms for the best value. A lot of Airbnb listings in Peru are guesthouses or hotels. If you stick to US$20/day, then you will pay only US$120 for six nights! Get $40 towards your first Airbnb here
Transportation
The train ride from Cusco to Aguas Calientes will be the last big expense, and you should book this as soon as you book your flights. The train is the only way to reach Aguas Calientes, and seats fill up quickly. The prices are consistent so don't expect to find an incredible deal on a ticket. Expect to pay around S/.405 (US$124) for a minibus ride and a train ticket.
If you visit during the off or shoulder season you might find a 30% discount on tickets.
Taking a minibus from Cusco to Ollantaytambo (S/.10, US$3, 2 hours) then catching the train to Aguas Calientes (S/.192, US$59, 2 hours) is the cheapest way to get to the city at the base of Machu Picchu. Catch the minibus on Pavitos Street in Cusco to Ollantaytambo.
Don't worry about reserving a minibus ride in advance; they leave as soon as the bus is full. You are in for a fun ride; you will be on a bus with ten other locals and tourists looking out the windows at beautiful landscapes.
Once in Ollantaytambo take either PeruRail or IncaRail to Aguas Calientes. Book the train ticket online as soon as possible. The cheapest fares are US$59 one-way.
PeruRail takes visitors from Cusco to Aguas Calientes during the busy season.
Ticket to Machu Picchu
You need to purchase your entrance ticket to Machu Picchu ahead of time. Buy it online on the official government website which gives an up-to-date account of available tickets for any given day. There aren't deals or promotions on these tickets so buy them when you know when you want to go. An entrance ticket is US$46, and a ticket with a hike is US$61.
Multiple day passes are not for sale and separate day passes need to be purchased for every day. Check out my post on how to buy a ticket online. How to buy tickets to Machu Picchu here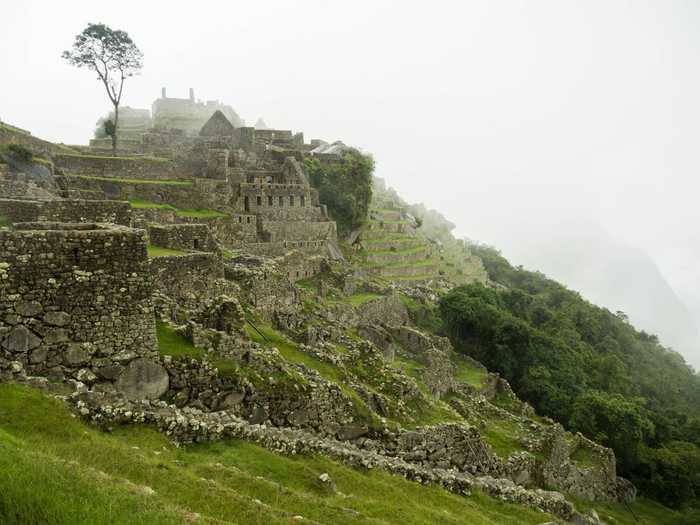 A complicated drainage system is underneath these ruins.
Spending money
The cost of living is cheap and budgeting US$350 or US$50/day for food, tours, taxis and souvenirs is sufficient. A Full Cusco Tourist Ticket costs S/.130 (US$47) and is valid for ten days. This ticket allows entrance to Saqsayhuman, Qenko, Pucapucara, Tambomachay, Museo de Arte Popular, Museo Histórico Regional, Museo Municipal de Arte Contemporáneo, Museo de Sitio de Korikancha, Centro Qosqo de Arte Nativo, Monumento de Pachacutec, Tipon, Pikillacta, Pisac, Ollantaytambo, Chinchero Moray.
There are partial tickets available so research the sites that you are interested in visiting to see which ticket is best for you. Purchase this ticket at any of the attractions or the Official Tourist Information Center, DIRCETUR, off the main plaza in Cusco.
Peruvian food is rich in flavor but light on the budget. A large bottle of water costs S/.3 (US$1), a hearty meal at a nice restaurant will set you back S/.25 (US$8), and a local beer S/.6 (US$2). Street foods, fruits, and veggies are cheap, and most hotels include a light breakfast.
Coffee prices range depending on the type of cafe, expect to pay S/.3-S/.18 (US$1-$6) for a coffee. There is a lot of competition between restaurants so expect promotions on free drinks, 30% discount on meals, or free appetizers.
Taxis, buses, and colllectivos are all inexpensive. Get a quote and negotiate a fair price with the driver before getting in the cab. A 1.5hour taxi from Cusco to Ollantaytambo is S/.75 (US$23). A taxi from the airport to downtown is S/.20 (US$6), but the city to the airport is S/.10 (US$3). Cusco will likely be the only city you need a taxi; the other towns are small and easily walkable.
Bring an empty suitcase or leave room in yours to bring back all the souvenirs. Peru is known for their brightly woven alpaca handicrafts. Peruse the markets and barter for the perfect memento to bring home with you.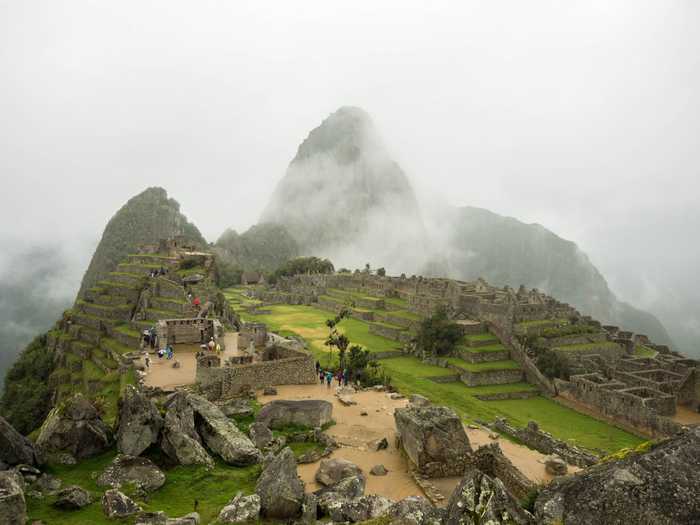 An overview shot of Machu Picchu
Emergency cash
I always recommend having emergency cash available for when and if something goes wrong. I normally have US$200 stashed and ready to use.
Travel insurance
Whether or not you choose to purchase travel insurance is entirely up to you. Some people will not travel without it, and others could care less. A seven-day trip would cost around US$70 for travel insurance.
There you go! A week of adventure travel to Machu Picchu for US$1,600!!! Booomshakalaka.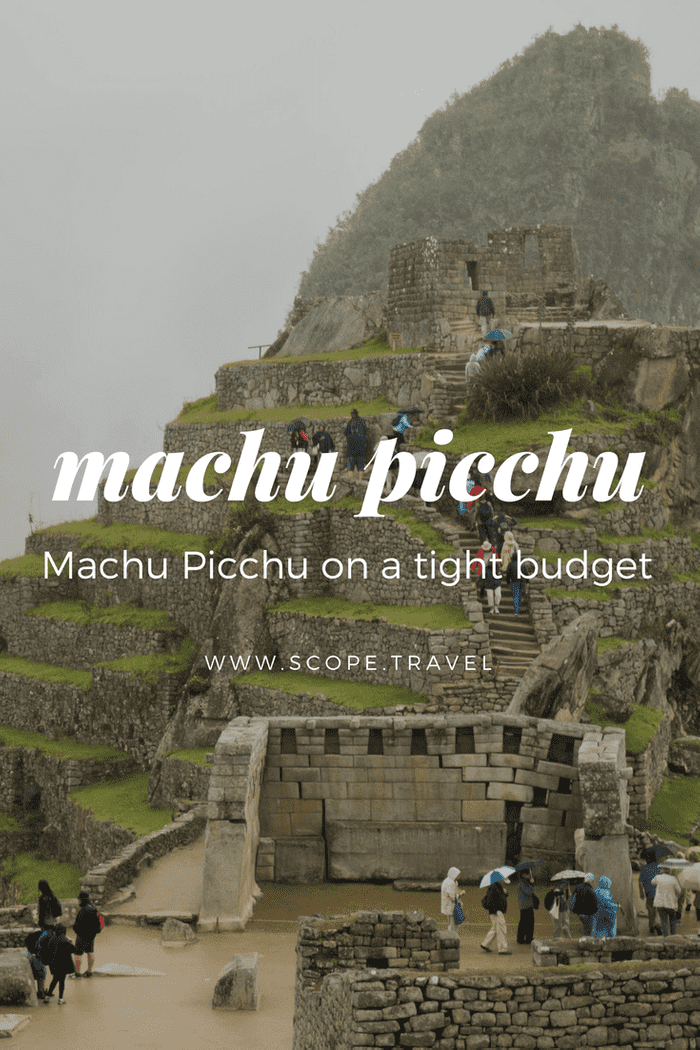 If you like it, Pin it!
Join our weekly adventures
Gain access to our exclusive travel tips and more!
Expect exotic destinations, big adventures, flavorful food and unforgettable stories from our travels.