Overnight Layover in Tokyo
By Sydney Tong on September 23, 2016. Read time: 5 mins.
The number of things to do and foods to eat makes Tokyo one of the best places to be on a long layover. We found ourselves on a 12-hour overnight layover in Tokyo with an airport change.
We did not want to pay for a whole day at a hotel and only use it for a few hours, so we decided to see what there was to do late at night Tokyo.
We only brought carry-on bags with us, so we did not have to wait for bags at baggage claim or lug around huge bags with us. ANA Airlines would not check our bags through to our final destination because we had to switch airports. While Haneda airport is open 24-hours, the Narita airport is only open from 6:00 am- 11:00 pm.
We chose to go to Kabukicho because it is the part of Tokyo that is open very late and there is a lot to see there. The bars and restaurants are open extremely late. We saw some restaurants that advertise being open as late as 8:00 am, so should you find yourself on an overnight layover there will always be a place for you to sit and rest, eat or drink while you wait for the next leg of your trip.
If we were too exhausted, we had plans to go to a spa (Onsen) that caters to late-night guests. You can take a dip in hot springs, get a massage and relax. We ended up not having time for that, but it is always an option for those on a longer layover or who are looking for the Japanese spa experience.
Sign up for Scott's Cheap Flights to get cheap flight alerts. here
Immigration
Immigration in Japan is straightforward and quick. I get the feeling OCD neat freaks designed Japan, and I appreciate their organizational skills so much. If you are a US citizen, you can get a visa upon arrival, and it gives you 90 days of travel within Japan. On the immigration, form check "transit" as the reason for the visit. Otherwise, they could ask your questions regarding your lack of address or reasons for visiting. People frequently go out and explore on long layovers, so this is not a big deal.
Taking the train
Even though Japan is a very techy and modern city they still rely heavily on cash and the train systems do not take credit cards. Make sure you change money before getting to Japan if you are arriving late.
The train system is complex and can take you anywhere you need to go. Don't be afraid to ask the ticket agents for help figuring out what you need to do to buy tickets and where you need to go. We had to ask several agents, and they were all very friendly and helpful. This journey is about an hour, so you will have some time to sit and relax on the train. I use the term "relax" loosely if it is your first time you will be anxious.
When you are at the airport, you will need to get onto the Keikyu line towards the Shinagawa station. When you get to the Shinagawa Station, you will switch to the Yamanote Line towards Shinjuku Station. This trip will cost you 610Y. Train stations/signs are in Japanese, but enough are in English, so it is not a problem to get around.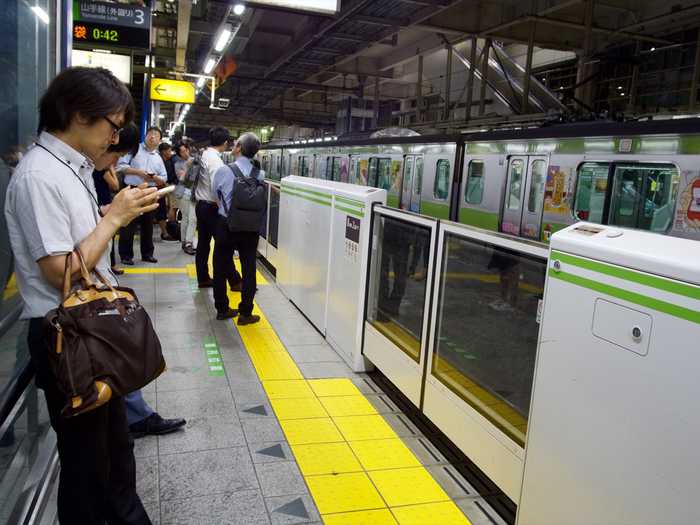 Waiting for the train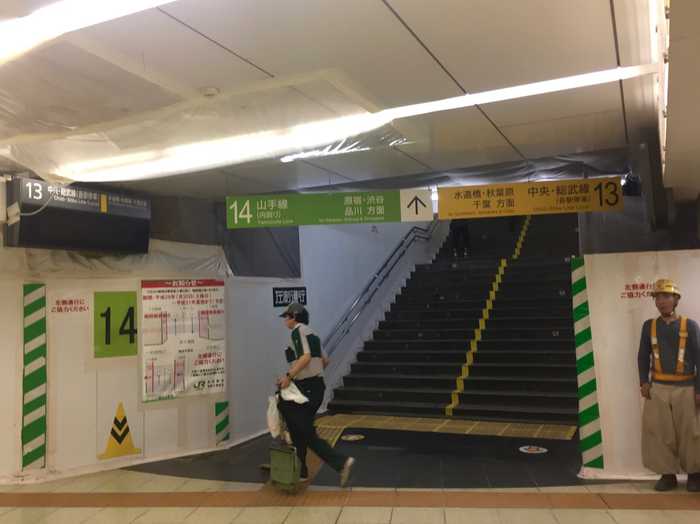 The signs are in Japanese and English
Storing your luggage
When you get to the Shinjuku Station, there will be lockers that you can rent for 600Y to store your things for a few hours. We stored our carry-on luggage because we were too tired to carry it around for hours. I think there might have been a miscommunication, or I may have pressed the wrong button, but it charged me 1,200Y.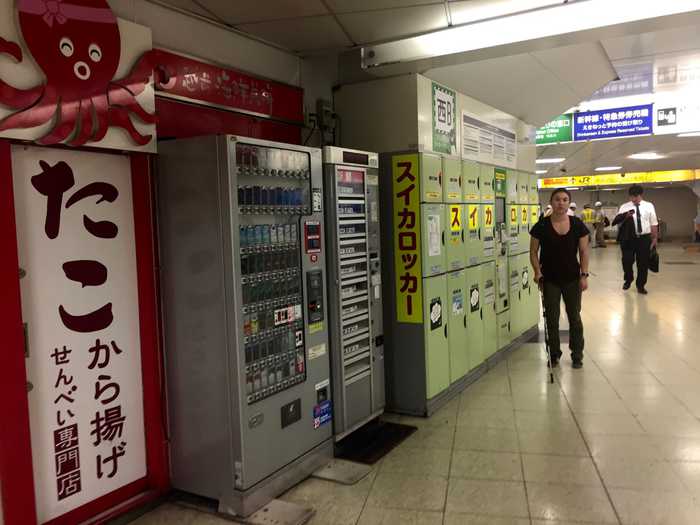 Hanging out in kabukicho
There is so much to do in Kabukicho with bars, massage parlors, and restaurants that are open late. We got delicious for 500Y. The average prices will be between modest tasty 500Y ramen to swanky ramen for 1,200Y. We also stopped at a few bars and grabbed beers averaging out at 350Y per glass.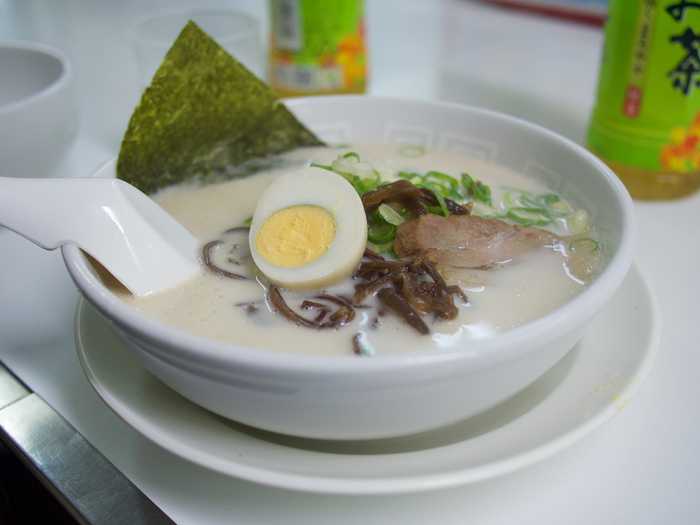 Shio ramen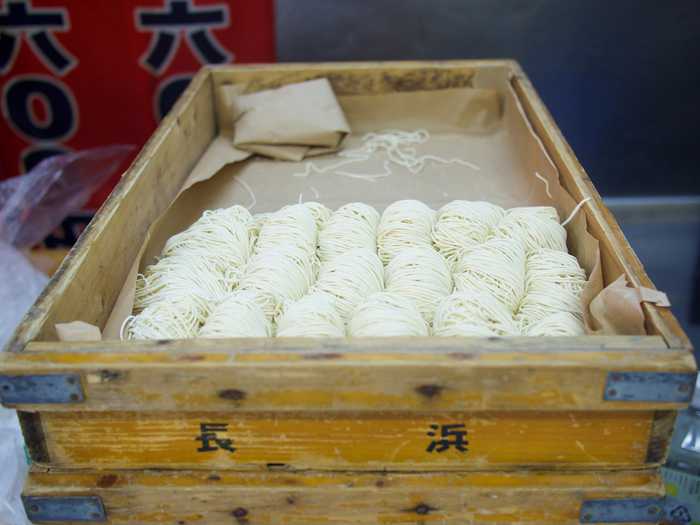 Fresh noodles
There were many karaoke bars open that looked fun. If you are traveling with friends, it would be an entertaining place to unwind.
Walking around the city and people watching is a great way to become familiar with the city. You can learn a lot about a city, and it is people by observing. I recommend having a beer and something to snack on at every bar. Japan has delicious food so you should stuff yourself silly.
While Kabukicho is known as a red-light district of Tokyo, I would feel safe traveling here as a solo traveler. There were a ton of bikes on the streets that were unlocked, and everyone was super respectful. Prostitution was evident, but the girls were not pushy. I never felt threatened or unsafe.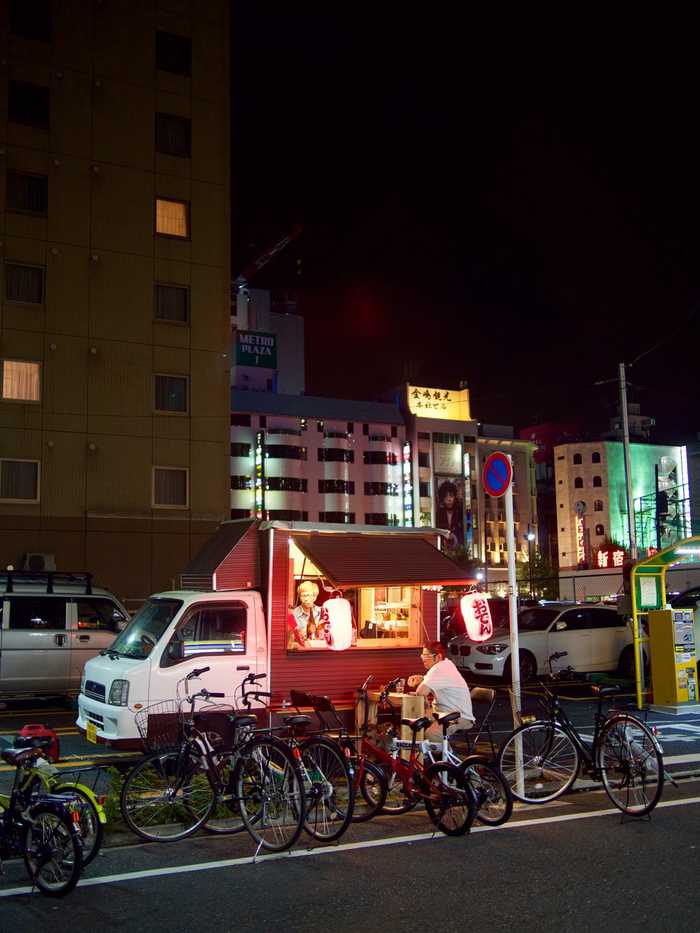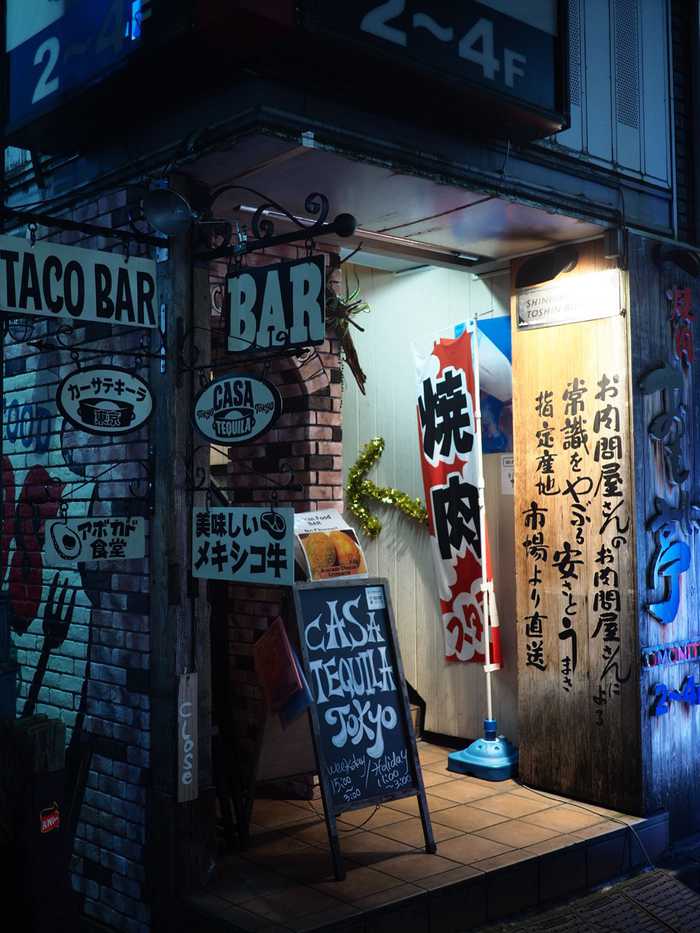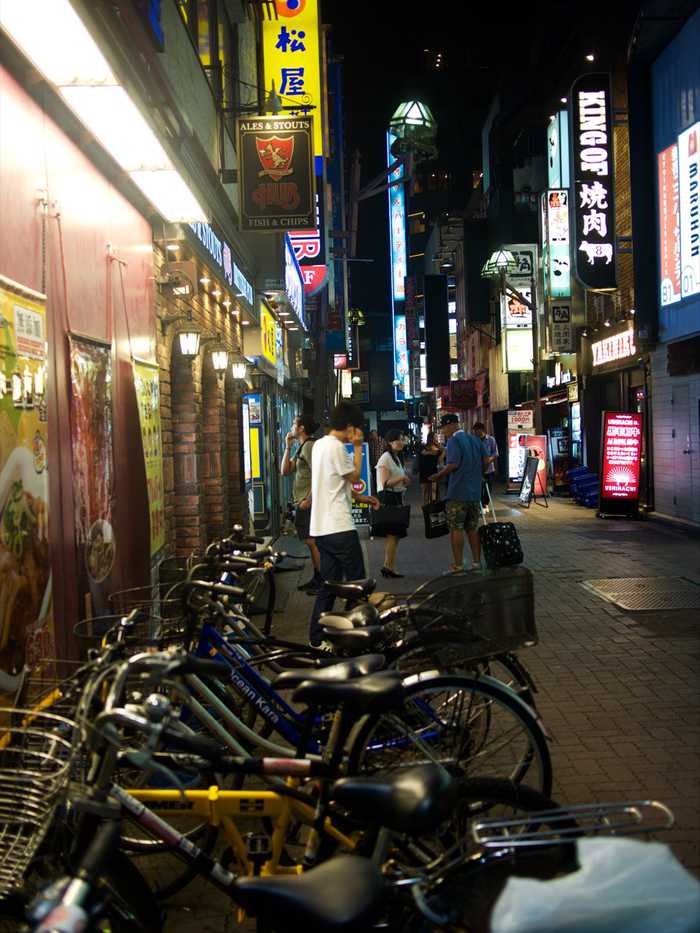 Getting to the Narita airport
The trip to the Narita airport will be more expensive and will take longer. The trains begin operating at 4:30 am. Our route to the Narita Airport took an hour and a half and cost 1,490Y. We took the Chuo Line from Shinjuku Station to Tokyo Station. From Tokyo Station, we took the Narita Express to the Narita Airport.
Security will not start checking bags until 7:30 am so don't get there too early. They do have wicked-fast wifi if you have to do any last minute web surfing. There are some shops you can go to, but those do not open until later as well.
While Haneda airport is open 24-hours the Narita airport is only open from 6:00 am- 11:00 pm.
It was so worth it
We got this long layover because we found cheap tickets from San Francisco to Phnom Penh ($400USD). We spent about $50USD each to get around Tokyo and for some food and beer. It was worth it to us because we got to enjoy a little piece of Tokyo before our trip to Cambodia.
I had an injury that required me to walk with a cane and Gabe was gracious enough to walk slowly with me and rest with me when I needed resting. The injury made the trip harder, and it would have been more enjoyable had I been able bodied.
Sign up to get alerts on cheap flights. It's free to sign up. We don't get anything from this partnership. It works so well and we've purchased about a dozen flights because of these notifications. So check it out here. here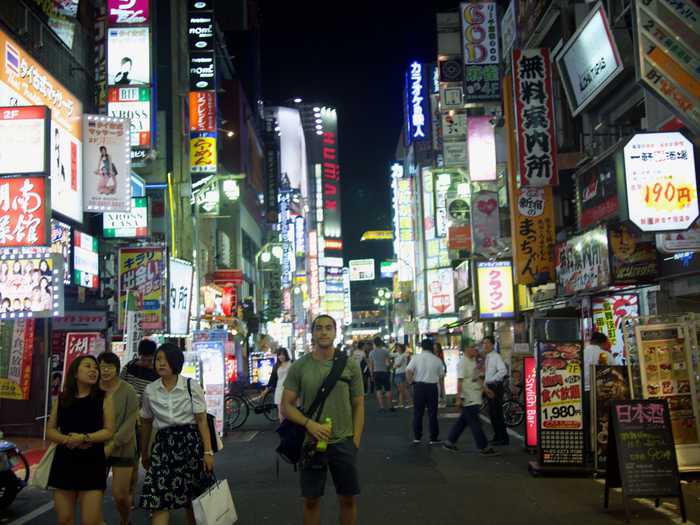 Bright lights in Tokyo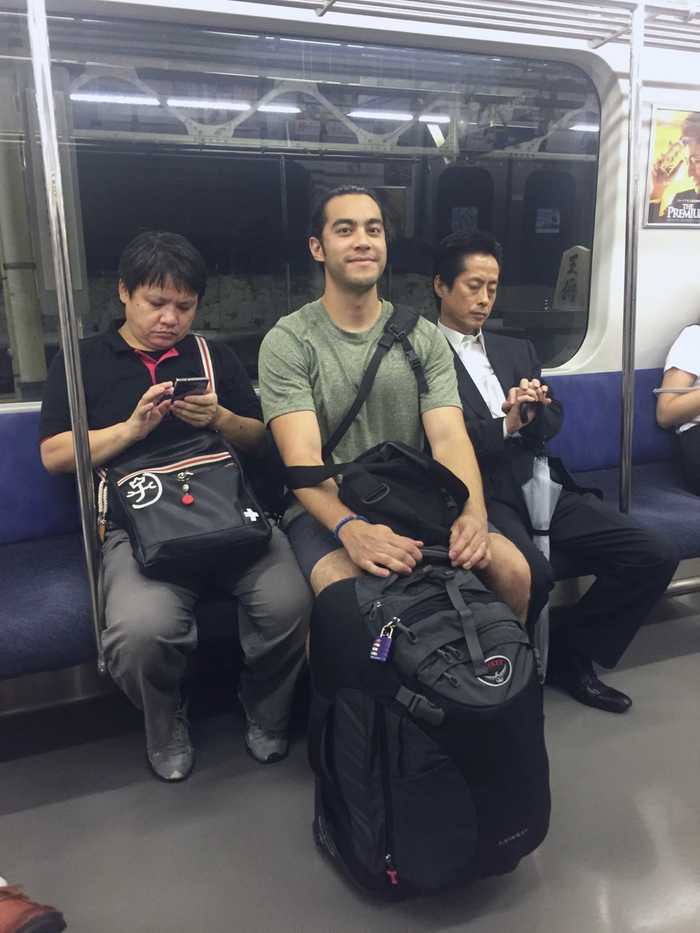 Hanging out on the last train for the night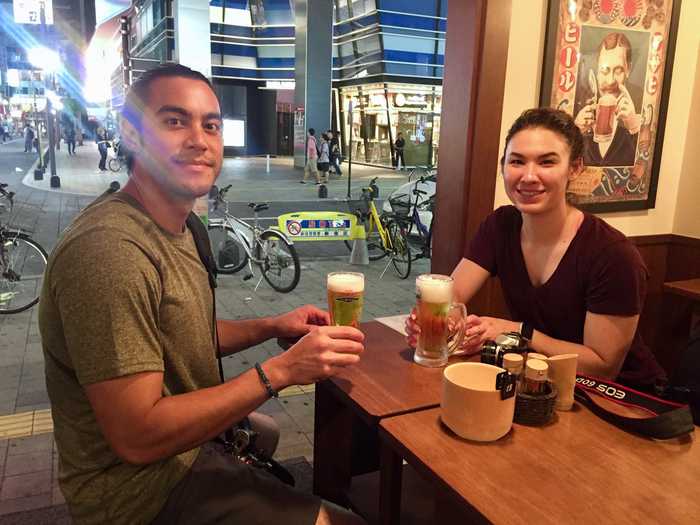 Grabbing a late night beer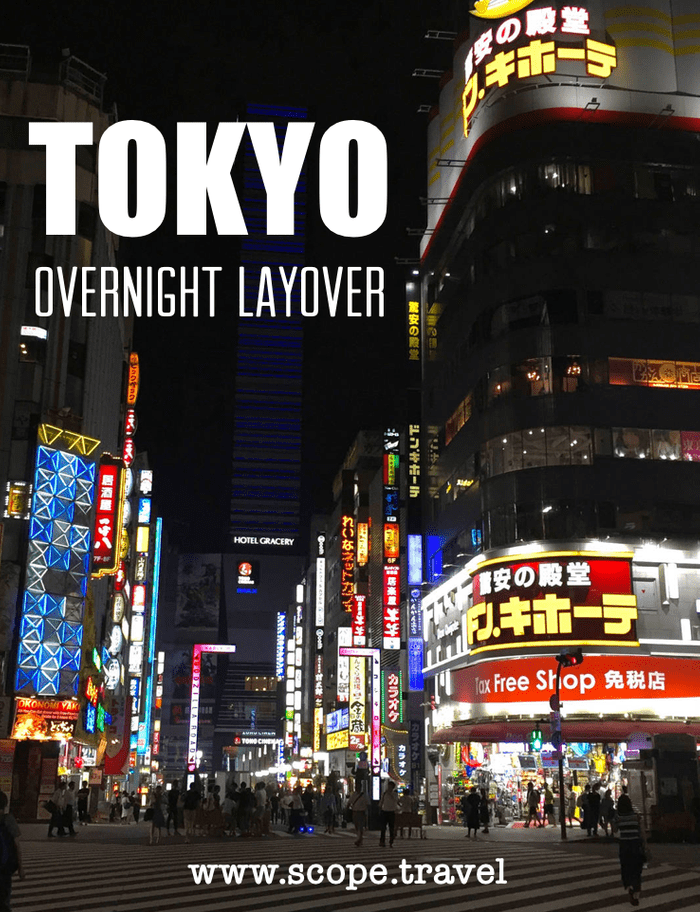 If you like it, Pin it!
Join our weekly adventures
Gain access to our exclusive travel tips and more!
Expect exotic destinations, big adventures, flavorful food and unforgettable stories from our travels.