10 Things to Expect When Visiting the Angkor Wat Temples
By Sydney Tong on September 27, 2016. Read time: 5 mins.
Our excursion through the Temples of Angkor was absolutely incredible. There is definitely a learning curve when exploring these temples and we hope that this article helps to make your trip a little bit easier.
This article offers suggestions when visiting all the temples. We have tips on what to bring, what to wear and what to expect. We have links to other helpful articles regarding the temples at the bottom of the page.
I've written several other resources when it comes to visiting the different temples in Siem Reap. Learn more about the different itineraries to see which one is the best option for you. Read the small loop or the large loop as well as Banteay Srei. Keep in mind that each itinerary is a full day.
Ticket options
There are several different ticket options you can choose from when planning out your Temple Excursions. A one-day ticket will cost you $20. A three-day ticket can be used over the course of a week and will cost$40. A seven-day pass is valid for a month and costs $70. These must be paid in cash and must be with you at all times while touring the temples. Your photo is printed on the ticket and is non-transferable.
There are guards at the temples, and they will ask to see your ticket. If you forget it at the hotel, then you will have to go back to get it, or you will have to buy a new one. You can buy tickets the night before or you can purchase it in the morning before entering the park. We purchased ours at 5:00 am, and it was very quick.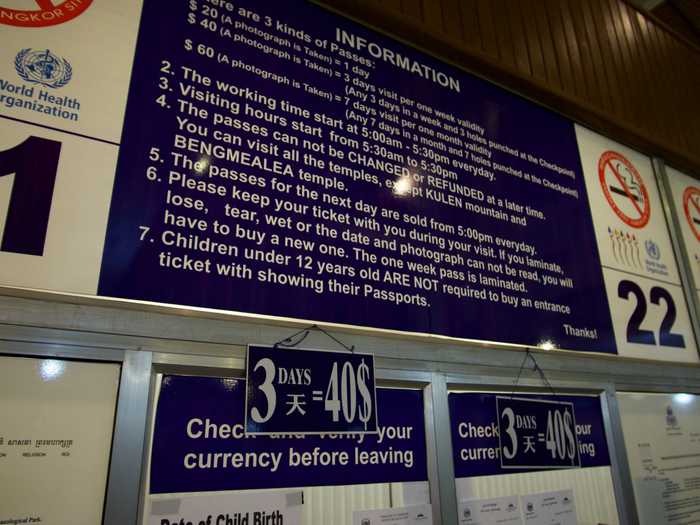 Prices to visit Angkor Wat
Hiring a tuk-tuk driver
Tuk-tuk drivers charge anywhere from $20-$25 a day and can arrange to drive you for all your temple touring days if you so choose. Be upfront with them about the experience that you want, and they will be able to offer suggestions. These guys want your business for the duration of your stay and will do what they can do accommodate you. They do not double as tour guides; you will have to hire guides separately.
Get a couple quotes from drivers before choose your driver for the day/week.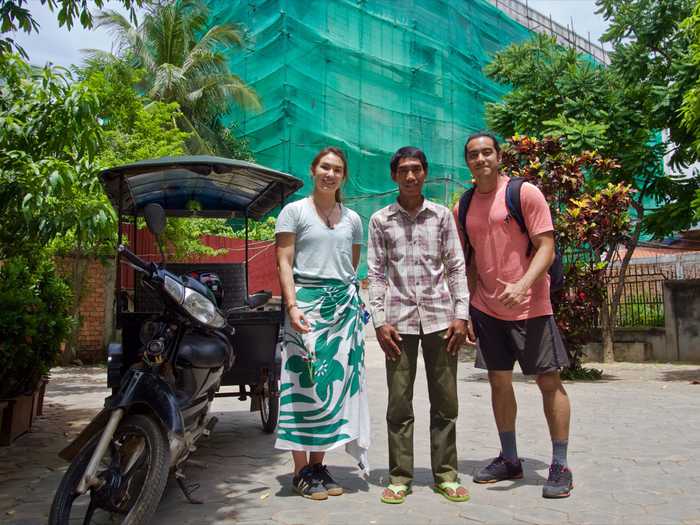 Our friendly and helpful tuktuk driver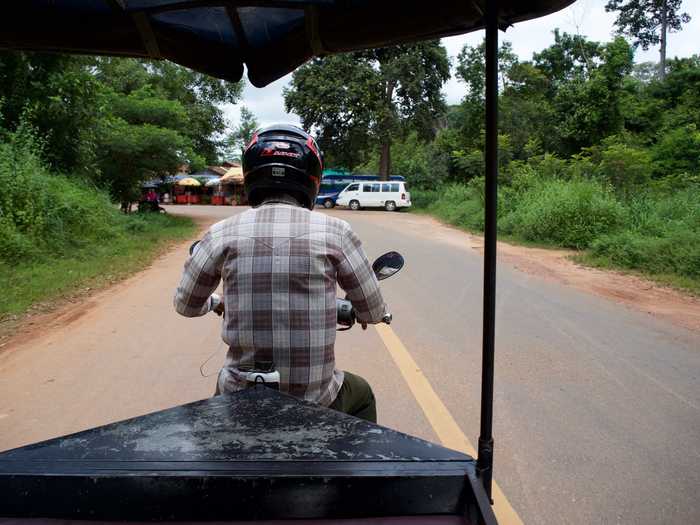 Our ride through the temples.
Tour companies
There are tour companies available and are a viable option. The Temples of Angkor are the main attraction in Siem Reap, and your hotel will likely be able to set a tour up for you. When researching options, see if the cost of entrance is included in your ticket or if that needs to be purchased separately. You will likely be in a bigger group which means you are on some else's clock, but you get a designated tour guide for the whole day. For us, it is worth it to spend a little extra money for the freedom.
Hiring a private guide
Upon arrival at the various temples, guides are available for hire if you want. Barter a good price with them, and they will take you through the temple informing you of history and the stories. Some guides may offer to accompany you to other temples for an additional fee.
They are all wearing designated shirts and will approach you when you arrive at the temple. We heard guides speaking a variety of languages including; Spanish, English, French, Japanese, Chinese, Italian and Korean. I am unsure of how many multilingual guides there are so check with your hotel or local tour agency to ensure you always have one.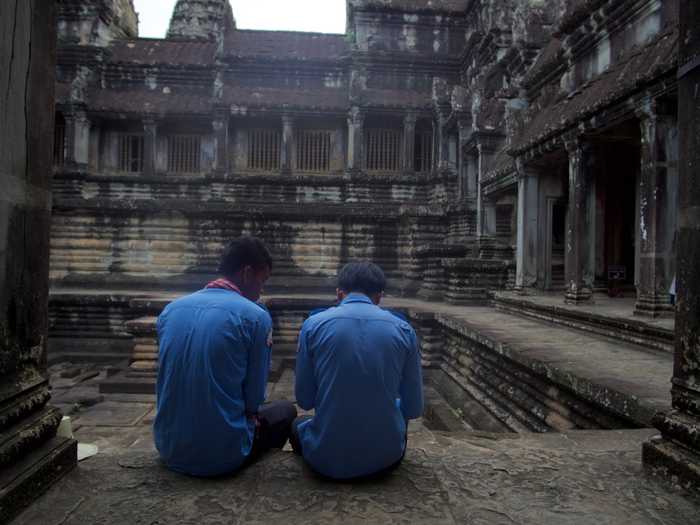 Security guards watching over ancient Angkor Wat pools
Water & snacks
Bring as much water as you think you will need and then double that amount. I cannot stress the importance of bringing an excess amount of water. It gets sweltering at the temples, and there is a lot of walking, moving and climbing required to explore. Our tuk-tuk driver brought a cooler with ice, and we were able to keep our extra water bottles in it. We were grateful for his forethought while sipping cold water after spending several hours under the sun.
Bring some salty snacks to keep your salt levels high as you sweat throughout the day. There are a lot of sandwich stalls located around Siem Reap, pick some of those bad boys up before you head out to the temples.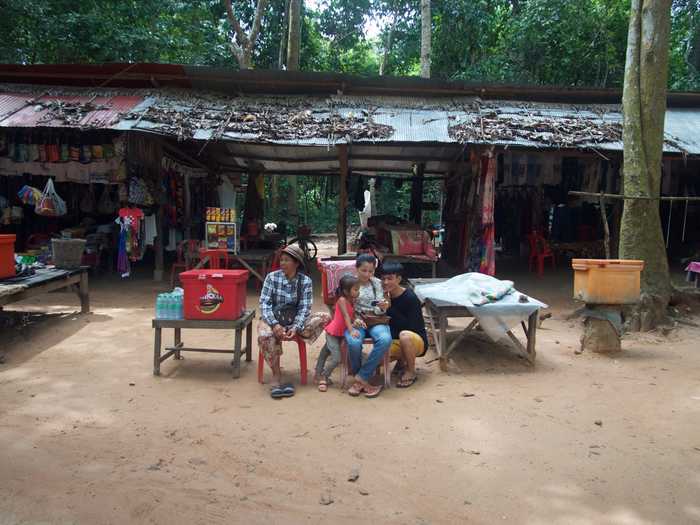 Small restaurants and shops located on the road and near the temples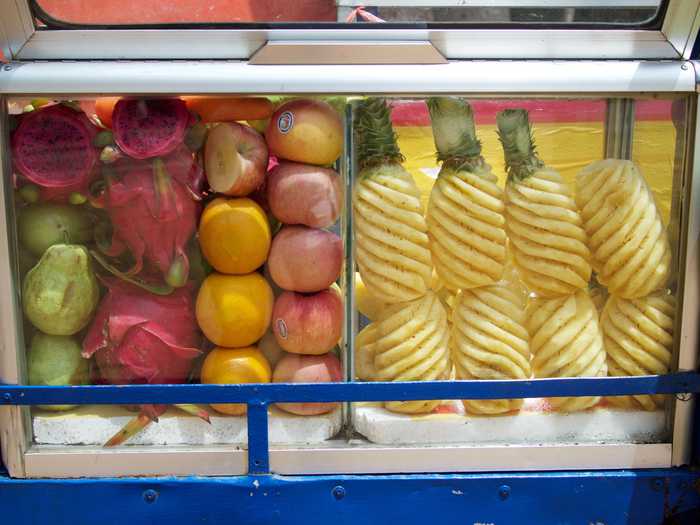 Grab a fresh fruit or smoothie in between temple visits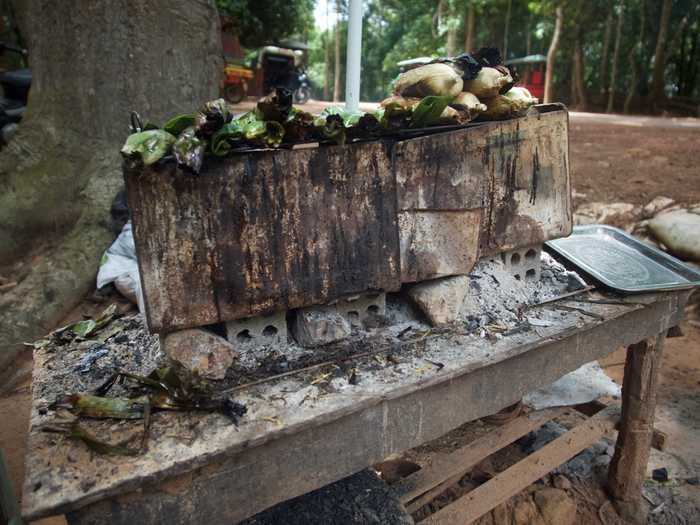 Baked coconut dessert
What to wear
Dress respectfully when attending the temples, shoulders, and knees should be covered. There are guards at the entrance of the temples that will kindly ask you to cover your shoulders or knees upon entering. I also recommend bringing a hat and sunglasses. Hats are not allowed in the temple, but it is nice to have while exploring outside of the temples. I also recommend wearing comfortable shoes with tread. There is a lot of walking on this excursion, and there are lots of stairs that are slippery, steep or in bad shape.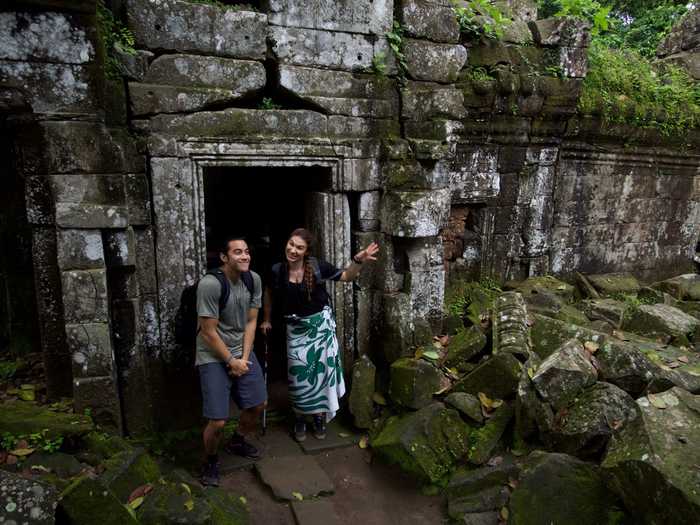 We look awesome
Bug spray & sunscreen
The sun and mosquitoes are ruthless here are love foreign flesh. The Cambodian sun is relentless, and it will burn you skin like you have never felt before. The mosquitoes give zeros cares; we saw one tourist from the UK, and there must have been hundreds of bites on her legs. Lather up kids!
Cash
Bring extra cash in smaller bills to buy fresh smoothies, snacks, souvenirs, meals or trinkets that children try to sell you. Children populate the outside of the temples with their parents selling souvenirs and food. It can be difficult for them to change larger bills especially if it is early in the morning.
There is some controversy on whether you should buy souvenirs from children as they should be in school. Do whatever makes you feel good. If you want ten postcards for $1 USD to go for it.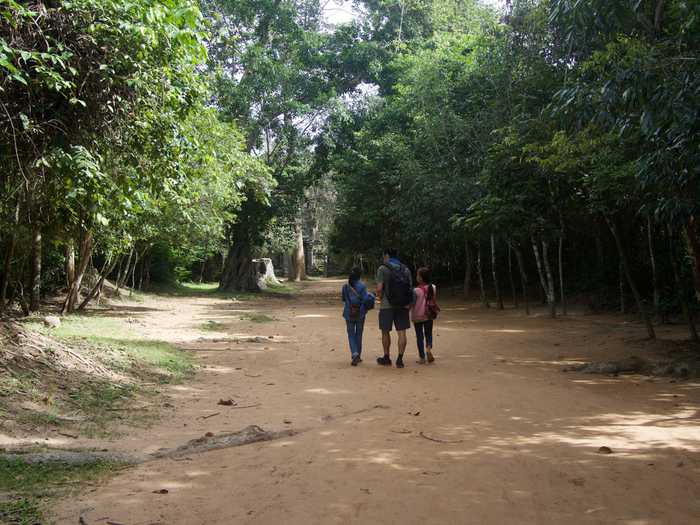 Kids selling souveniers and postcards
Pace yourself
There is so much to see at the temples, and it can be overwhelming and exhausting. Avoid getting prematurely "templed out" and schedule other activities in between temple excursions. Go to the temples at different times of the day to get a new experience. There is a lot to do so the temples do not start to blend into one entity.
There is a lot to see and do in Siem Reap between temple excursions. You can relax by the pool, drink beer, check out some local coffee shops, take a cooking class, visit the markets, eat some amok, drinks fresh smoothies, visit the museums, or take a trip to the floating villages.
Organize
Freedom is one of the best things when visiting these temples. You can see anything that interests you almost any time of day. When you enter the grounds, you have free reign to do what you like and spend as much time in any given area. When deciding which temples, you would like to see the tuk-tuk drivers divide it up. We divvied it up with the large loop, small loop and the Banteay Srei. You can choose this route or you can do the research and hand-pick the temples that you will see on your route.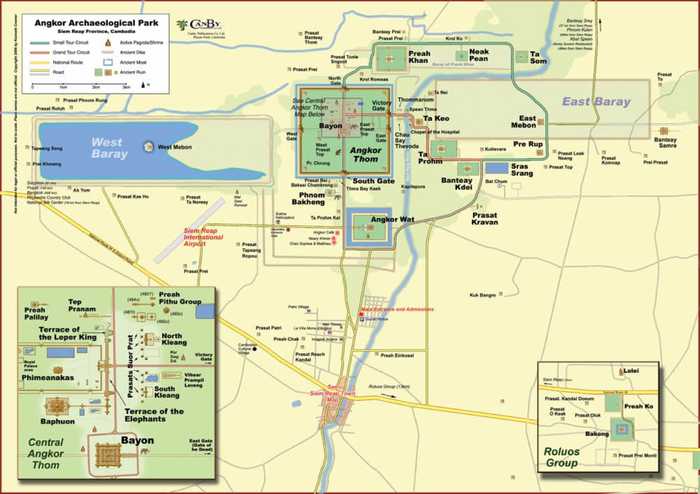 A map of the most popular temples in Siem Reap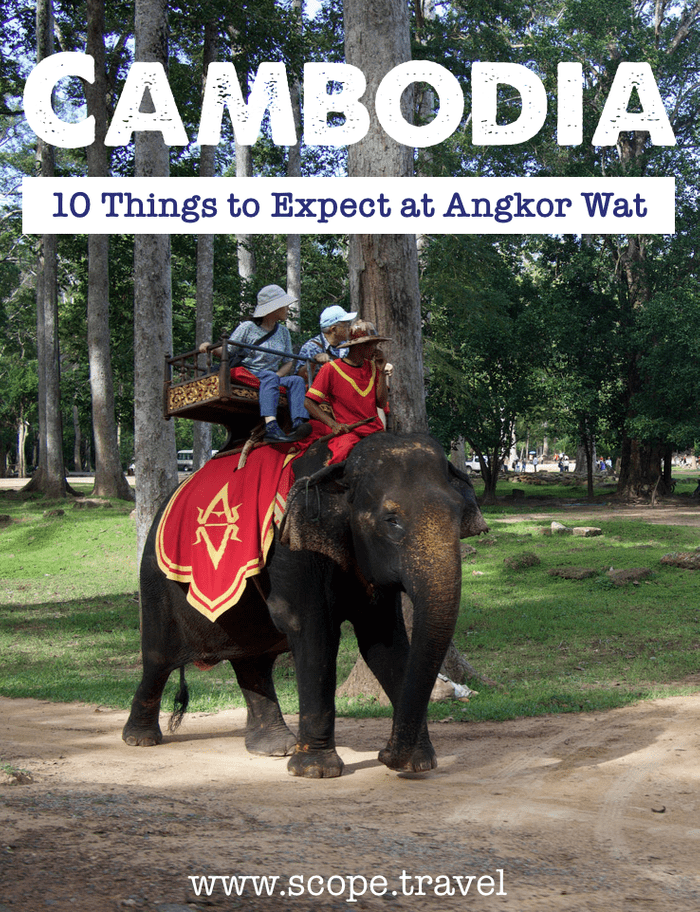 If you like it, Pin it!
Join our weekly adventures
Gain access to our exclusive travel tips and more!
Expect exotic destinations, big adventures, flavorful food and unforgettable stories from our travels.