Angkor Wat Guide: The Large Loop
By Sydney Tong on September 28, 2016. Read time: 5 mins.
These temples are further apart from each other giving it the nickname "The Large Loop" or "The Grand Circuit", it does not mean you are seeing more or grander temples.
If you do plan to bike one or all of the days I suggest starting with the Small Loop and see how you do. It might be better to bike the Small Loop and hire a driver for the Large Loop. That is only my suggestion as I was not able to bike this trip. I do not recommend biking to Banteay Srei unless you bring your own bike and a little crazy with you.
The possibilities are limitless when deciding which temples to visit and at what time would be the best to visit each temple. These are the temples I visited on day two of my temple excursion. Find out what temples you absolutely must see and then fill in the spots with lower priority temples. I also wrote an article about what to expect and preparing for the temples.
If you are going to start your trip with this circuit I suggest getting your ticket the night before as these temples do not open as early as Angkor Wat and the lines to the ticket office might be long. You can buy your ticket the night before starting at 5:00 pm. You just want to beat the tour busses, because a majority of them will start around 7:00 am-8:00 am. Read more about what to expect when visiting the temples. here
If you want to see other temple exploration options check out these other articles Exploring the Small loop at Angkor Wat and Exploring Banteay Srei
Temples in the large loop
Preah Khan
Neak Pean
Ta Som
East Mebon Temple
Preah khan
This temple has been my absolute favorite thus far, and I know I say that about all of them, but I like like like this one. We arrived just a few minutes before it opened (7:30am) and there was hardly anyone around.
I recommend being here early because the ambiance was heavenly. This temple is surrounded by a thick jungle so it feels like time-traveling into a different era. Similar to Ta Prohm there are trees growing from the brick walls.
This temple is built in a cross shape and is only accessible through the corridors as most of the courtyards are in ruins. We went in through the west gate, out of the south gate, around the perimeter of the temple, in through the east gate, and out exited through the north gate. We were able to view every corridor without repeating any of them.
On our way out a security guard stopped us and asked if we would like to see a hidden treasure that most tourists miss. He took over and under some rubble and in between some fallen walls to a hidden shrine. King Jayavarman had married two sisters. He had married the elder sister first and when she died he married the younger sister. When he had this temple built he had figures symbolizing both women engraved into the side of the temple. It was cool to get a story and a short piece of history. After the guard showed us this he asked for a donation. It was worth it, he showed us something cool and gave us a cool story. Just keep in mind most people are not being nice to you to be your friend.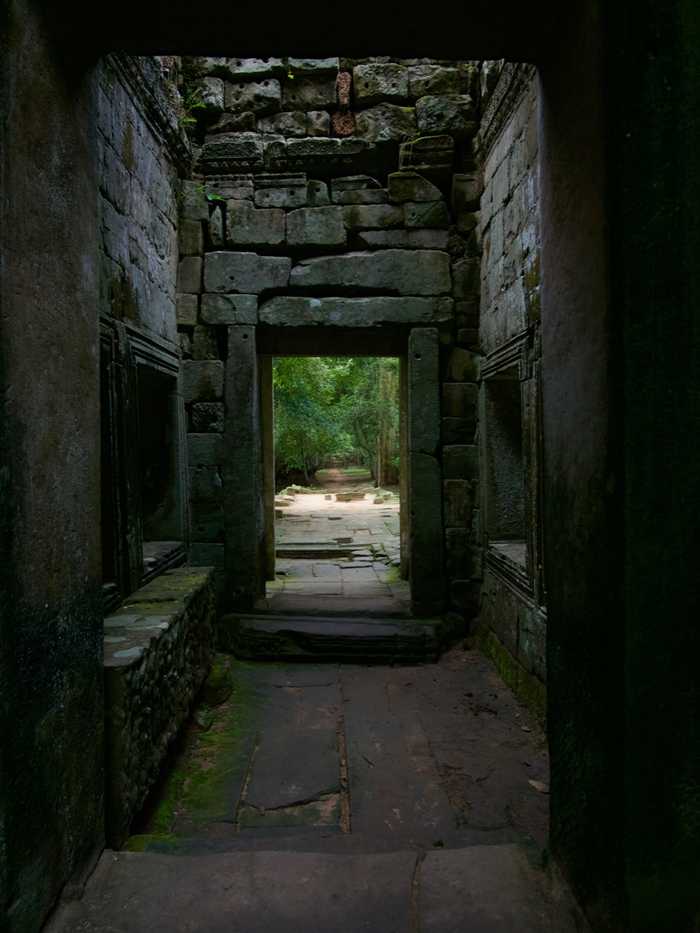 Preah Khan Doorway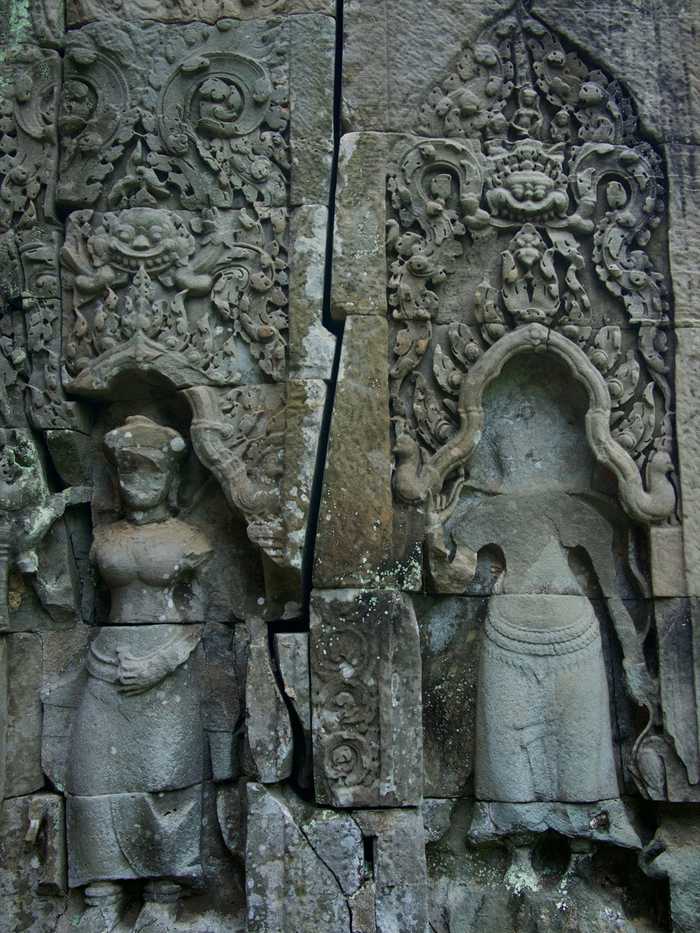 Preah Khan statues engraved in the wall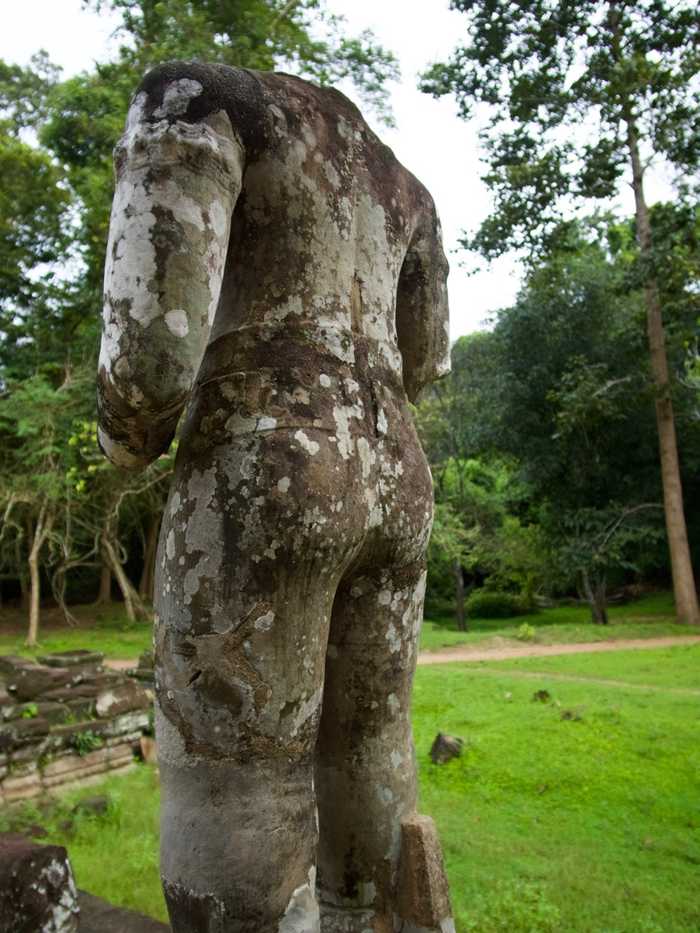 Preah Khan statues in the courtyard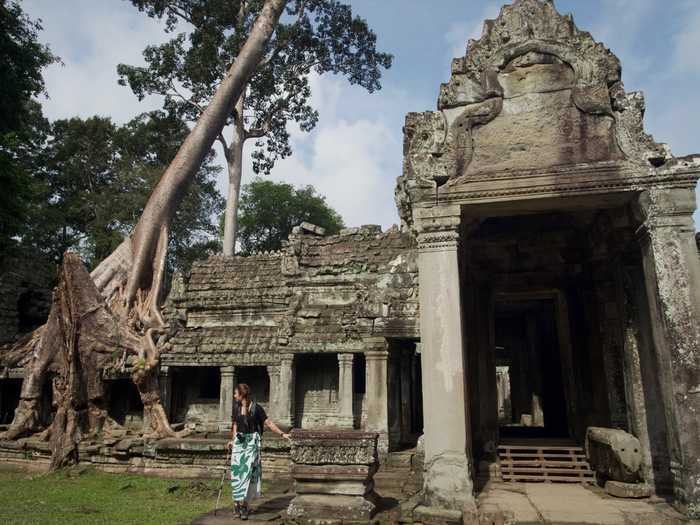 The back of Preah Khan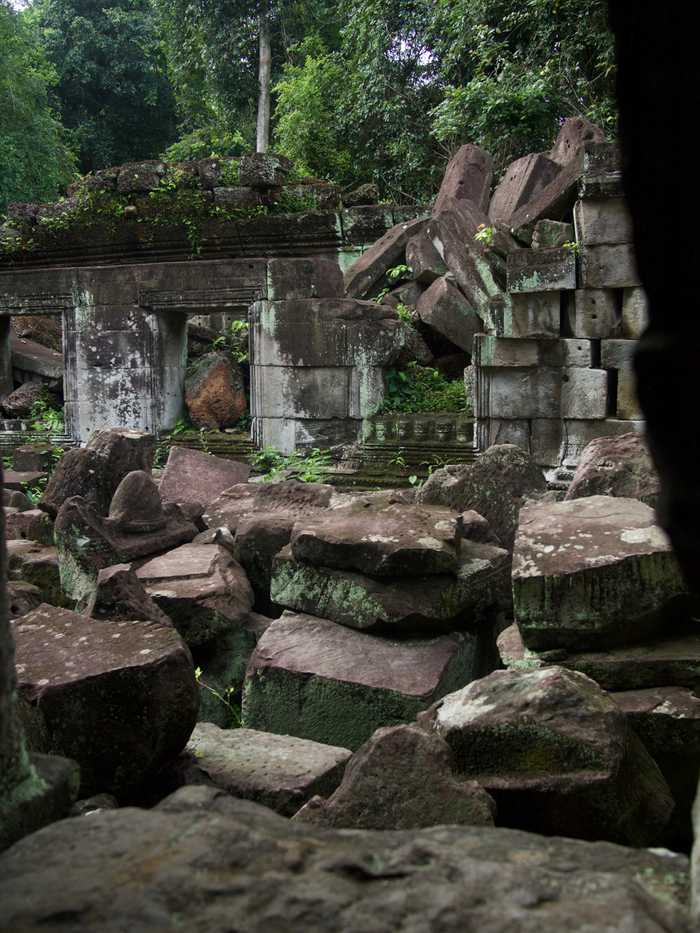 Fallen walls of Preah Khan
Neak pean
This temple is unique because it is on an island completely surrounded by a reservoir that might have been built to supply water to thousands of the king's support workers.
The walk on the bridge to the island temple was my favorite part. The morning light was still soft and the water was reflecting the sky and the clouds so beautifully. There are trees and plants growing out of the water which makes the scenery very dream-like.
There was a band of men playing music for donations. They are disabled and want to earn a living instead of begging. They want to send their kids to school but because of their disabilities work is hard to find so they play music for people entering the temple.
The temple itself consists of one square pond surrounded by four smaller ponds. At the center of the large pond is a tower made out of sandstone. There is also a bridge that connects the walkways between two of the smaller ponds.
There were ladies cleaning out algae from the pond. Most of the areas were fenced off so their temple requires only a short visit, but it is a must see because it is the only temple that incorporates water and is not dried up (as far as I know).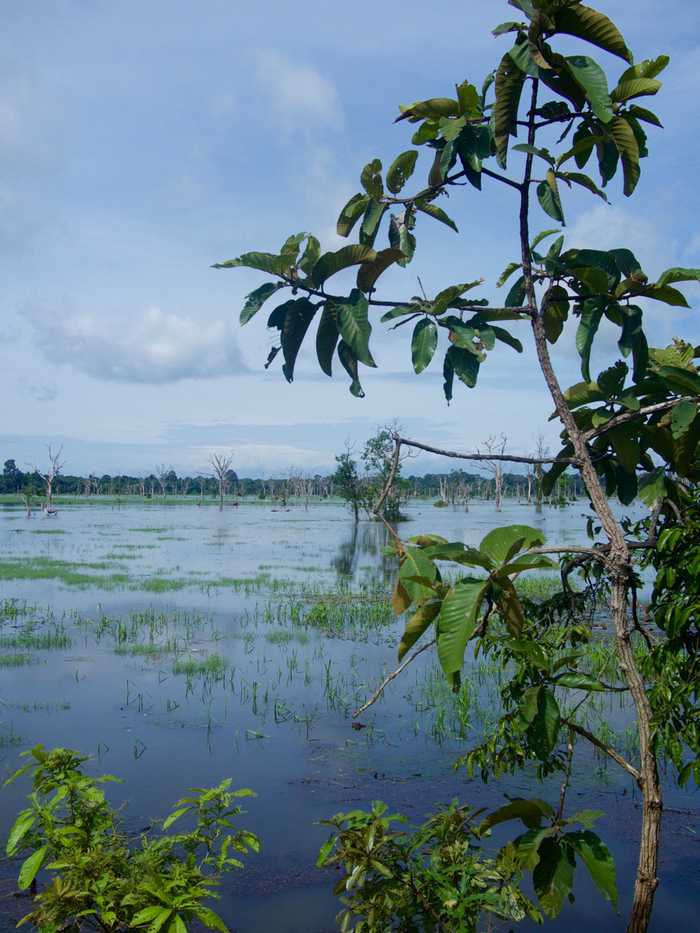 The walk to the temple.
Ta som
Ta Som is smaller temple and its layout it a simplified version of Ta Prohm. There is moss growing everywhere on this temple so the colors are dramatic and vibrant. There are trees growing within the walls and like the Bayon Temple there are faces carved on to the spires.
The ladies selling snacks and smoothies are really nice. We got some amazing pineapple smoothies here. We had to wait for a bit because the man who delivers ice had not shown up yet. We also tried sticky rice that was cooked with coconut milk and bananas and then wrapped in banana leaves. They are inexpensive and delicious, sometimes you can find them in markets.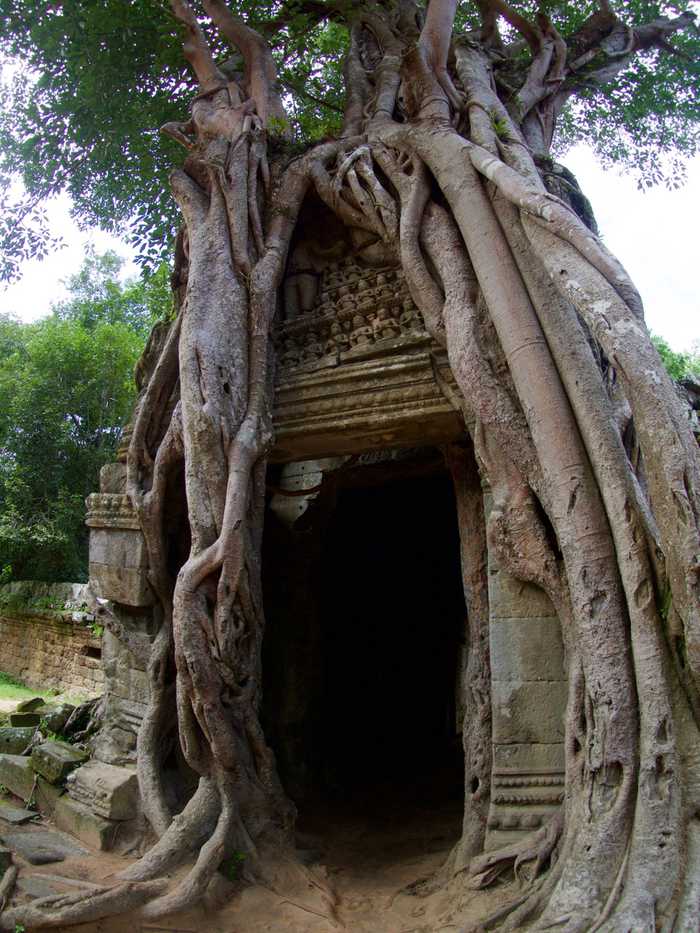 Banyon tree climbing over the doorway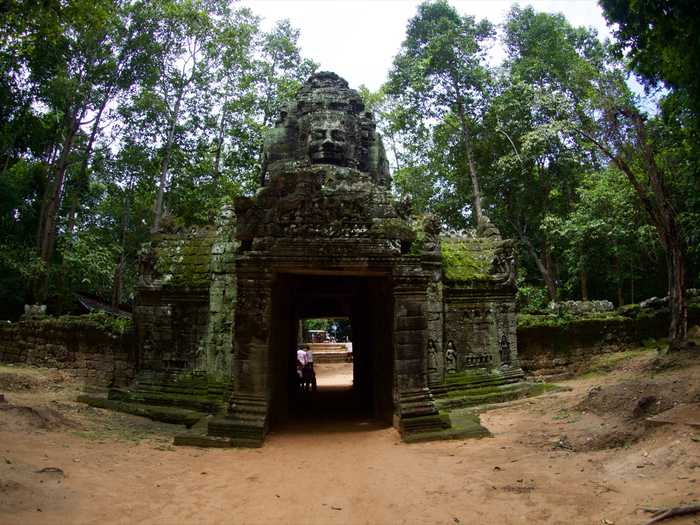 Entry way to the temple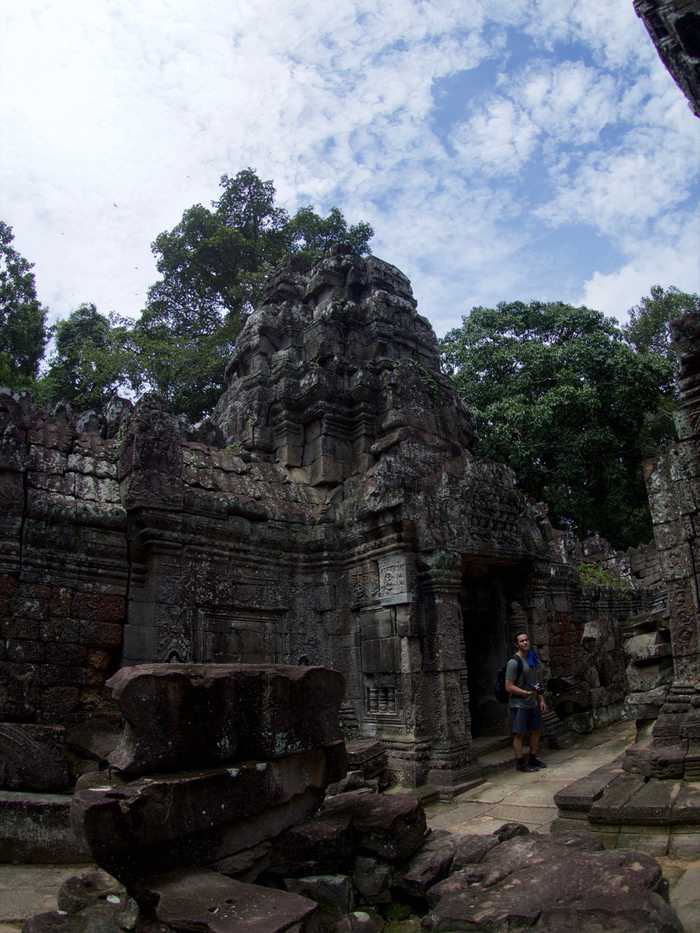 The courtyard of the temple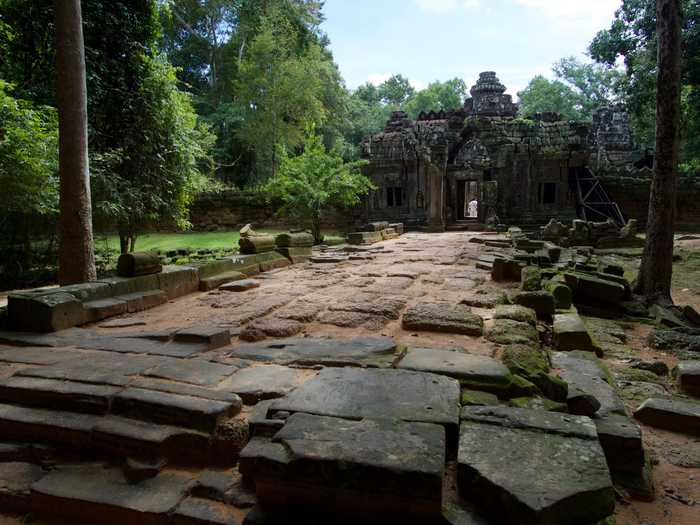 The front entrance to the temple
East mebon temple
This temple along with the Pre Rup temple are completely different colors than any of the other temples. They are built with small red bricks in comparison to the other temples that are built with huge bricks that were carved to fit together like a puzzle piece.
Both were built in the 900s by King Rajendravarman and one of his trusted architects. This temple is still really well preserved which makes it easy to navigate through. These temples are suppose to be fantastic for sunsets but we were there during rainy season and the weather that night was formidable.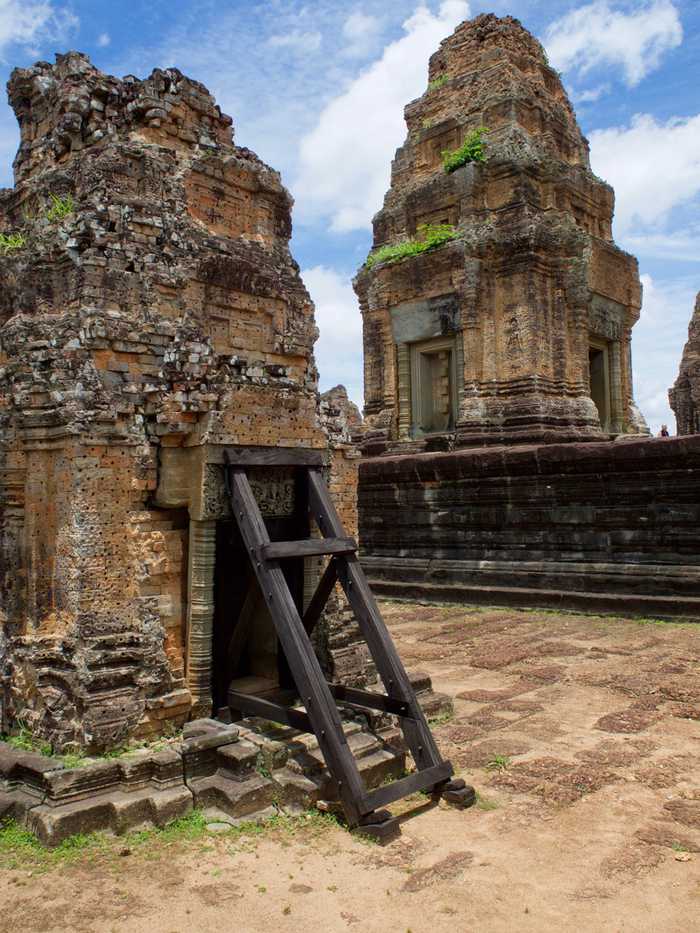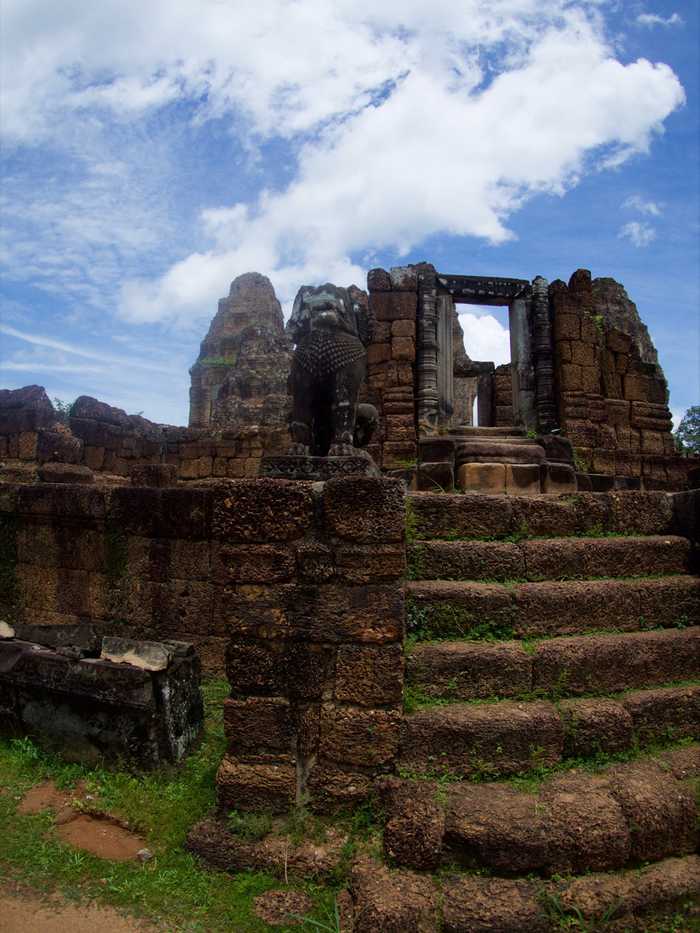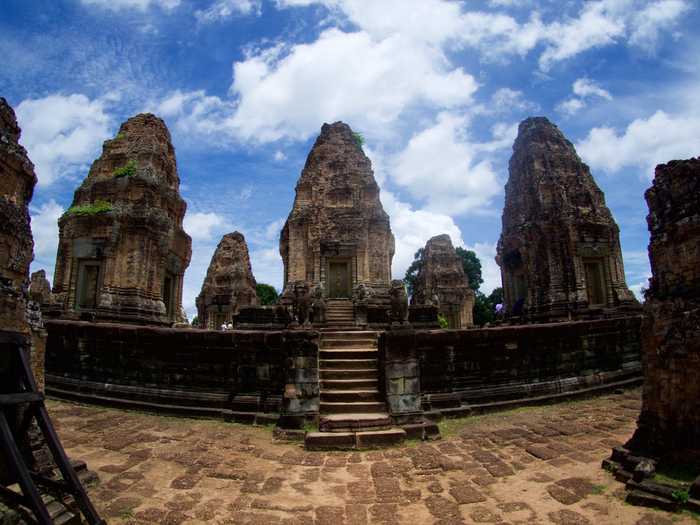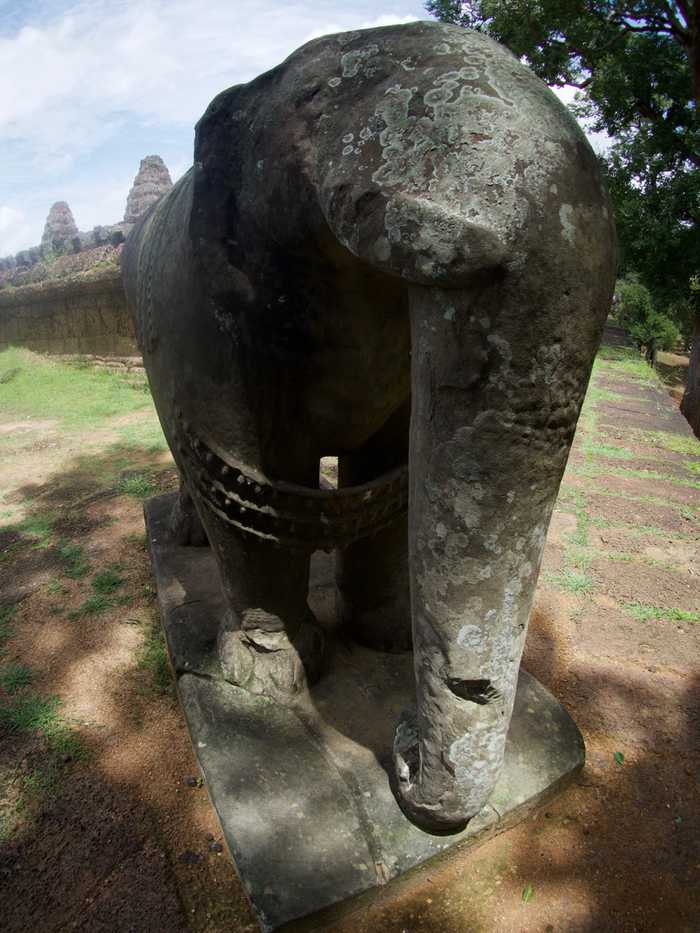 East Mebon elephant statue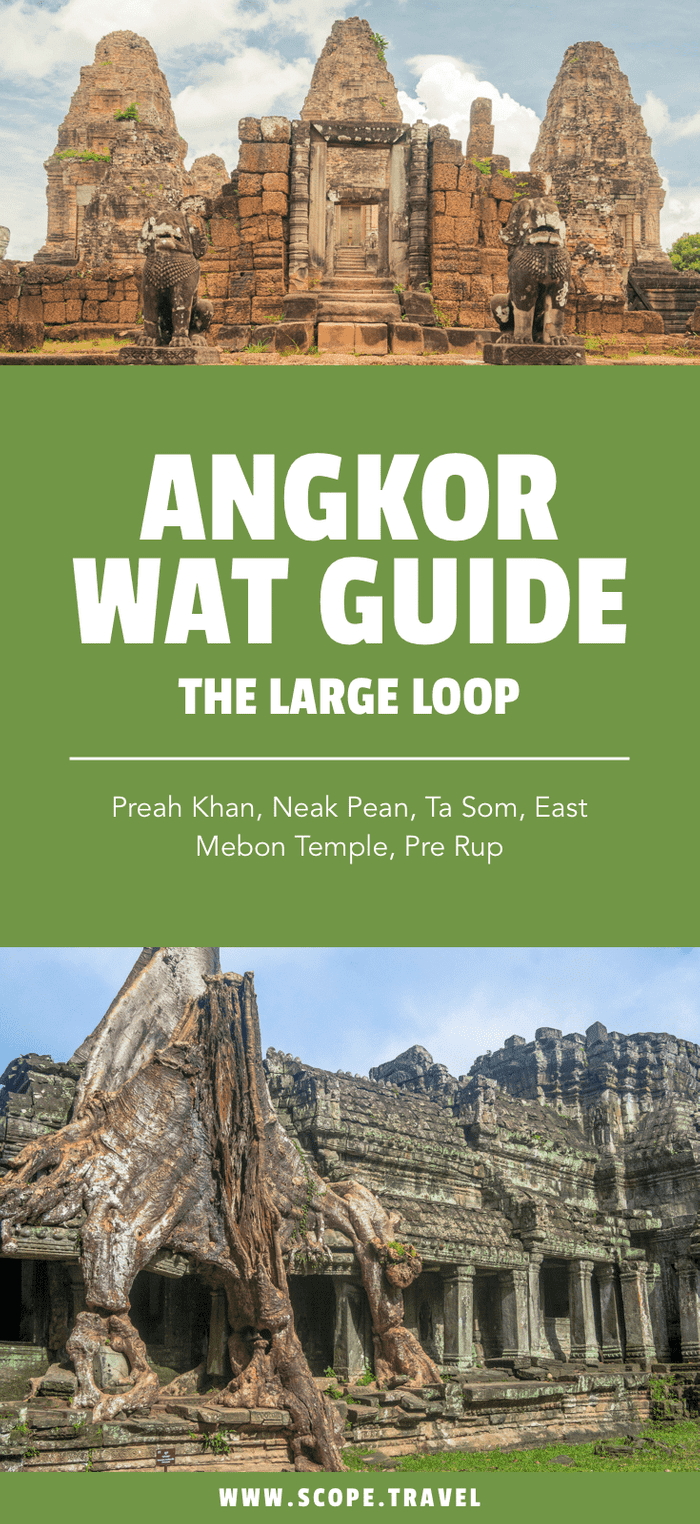 Pin it for later.
Join our weekly adventures
Gain access to our exclusive travel tips and more!
Expect exotic destinations, big adventures, flavorful food and unforgettable stories from our travels.