Angkor Wat Guide: The Small Loop
By Sydney Tong on September 27, 2016. Read time: 6 mins.
The possibilities are endless when visiting these iconic temples. You do not necessarily need to do any planning in advance. However, I strongly recommend doing research beforehand, so you know what to expect and how to tailor your trip to your expectations.
If you want to see the sunrise at Angkor Wat you will want to arrange a ride with a driver beforehand as your trip will begin at 4:30 am, and there aren't many drivers awake at that time. If it is your first day, your driver will take you to buy your tickets so make sure to have enough cash.
Today's journey took nine hours, and we were exhausted by the end. It was our first day exploring the temples, and we did not know what to expect. We did not bring enough water, thankfully our guide Mr. Visal thoughtfully packed a cooler with waters for us.
These temples are so gorgeous and were unlike anything else I have ever seen. My whole day felt like a peaceful dream. If I could do it again, I would hire a guide at every temple because there aren't any signs that label what you are looking at or the history.
These articles all contain different temples that can be visited on different days. Of course, you do not have to see the temples in this order or even see the same temples we did. It is only a suggestion and tuk-tuk drivers are open to modifying the trip based on what you want to see. I wrote an article about What to expect when visiting Angkor Wat. Other temple exploration days include the large loop or Banteay Srei.
Temples on the small loop
Angkor Wat
Angkor Thom
Bayon Temple
Baphuon Temple
Terrace of Elephants
King of Lepers
Phimeanakas
Thommanon Temple
Ta Prohm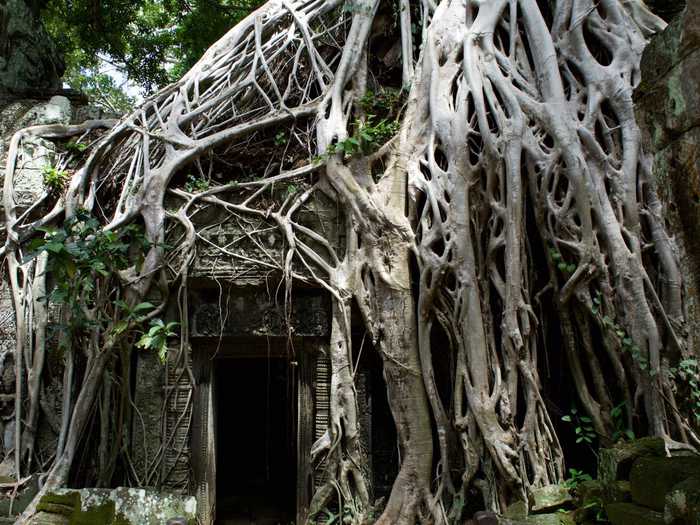 Secret doorway at Ta Prohm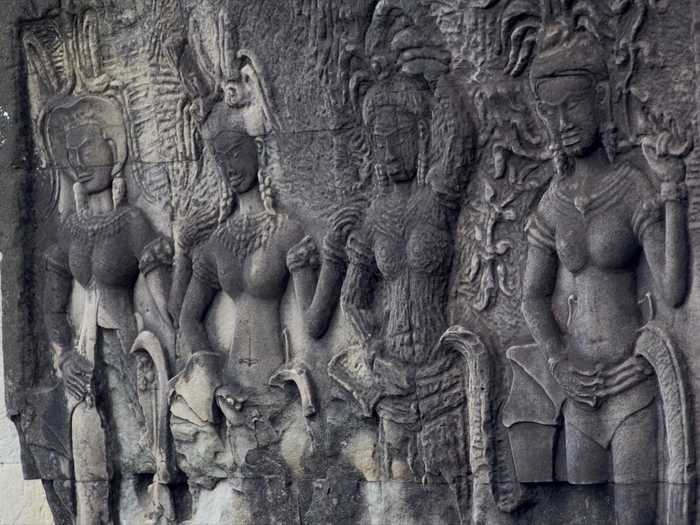 Carvings at Angkor Wat
Angkor Wat
Against popular advice, we went here for sunrise. Angkor Wat faces the west (because of this fact scholars believe it was a funerary temple), so the sun lights up the back of Angkor Wat creating a silhouette.
Despite there being a lot of people here is was soundless as people were finding a spot to watch the sunrise. It was beautiful to me that this many people could be so still and share this moment together. Everything was so serene as it was being lit up by the sky, it was rainy the night before so the ground was wet and the air smelled like rain.
As beautiful as the sunrise was I would have liked to come here at sunset as the lighting would have been better for photos. Sunset will likely be less crowded.
The temple is very popular, and I can understand why due to the impression it leaves on people. The mood here is majestic. The bricks are cut to fit perfectly next to its neighbor.
Once the sun came out the details lit up, and the colors were brighter and more vibrant. The crowds began to dissipate after an hour and a half. We spent about 2.5 hours walking around every single inch of the temple. There is much to be admired and enjoyed.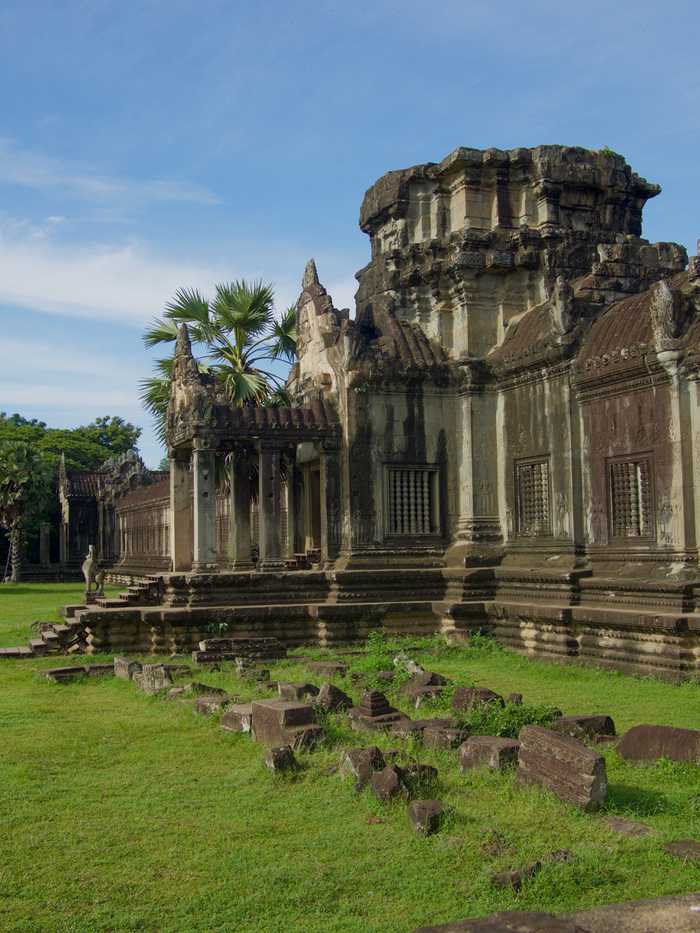 An entrance to Angkor Wat courtyard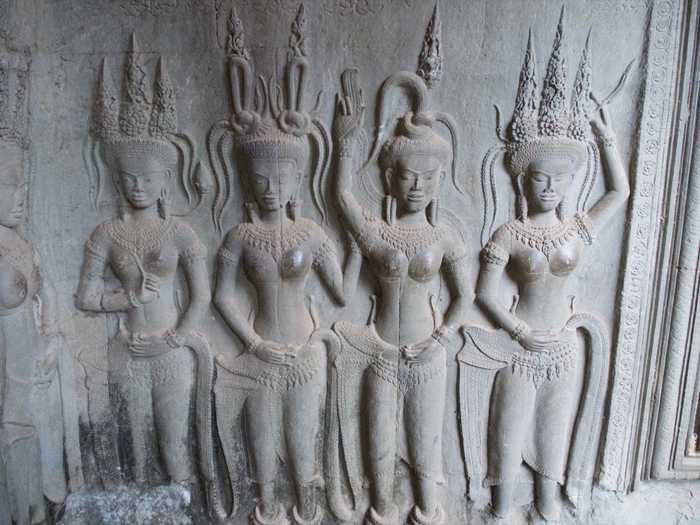 Engraved Hindu goddessess
Angkor Thom
Angkor Thom means "Great City" and consists of several sites; Bayon Temple, Phimeanakas, Baphuon, Terrace of the Elephants, Terrace of the Leper King, Prah Palilay, Tep Pranam and Prasat Suor Prat. Despite being built a hundred years after Angkor Wat, the temples here are more decayed.
Elephants are available from Angkor Wat to Bayon Temple if you're interested.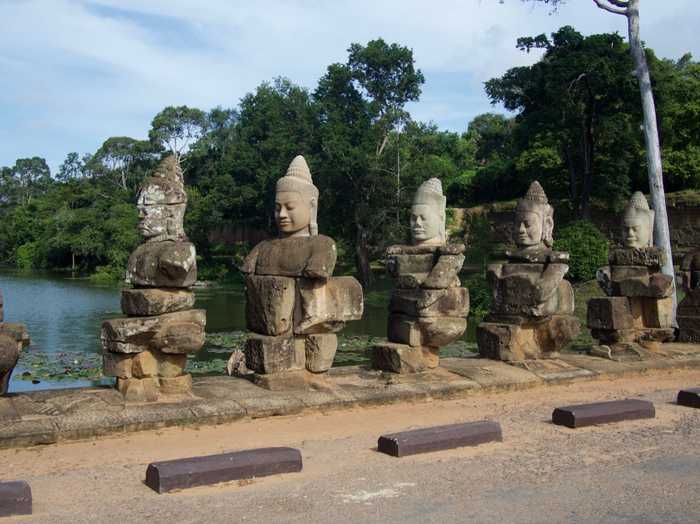 Bridge to the entrance of Angkor Thom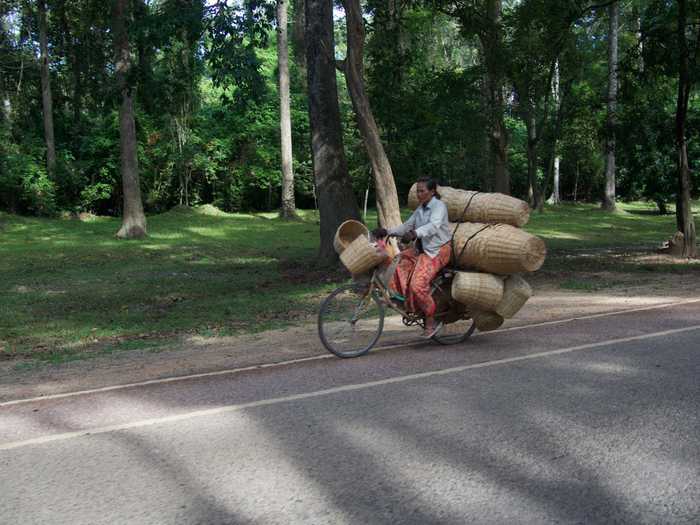 A woman selling baskets to different vendors in the area.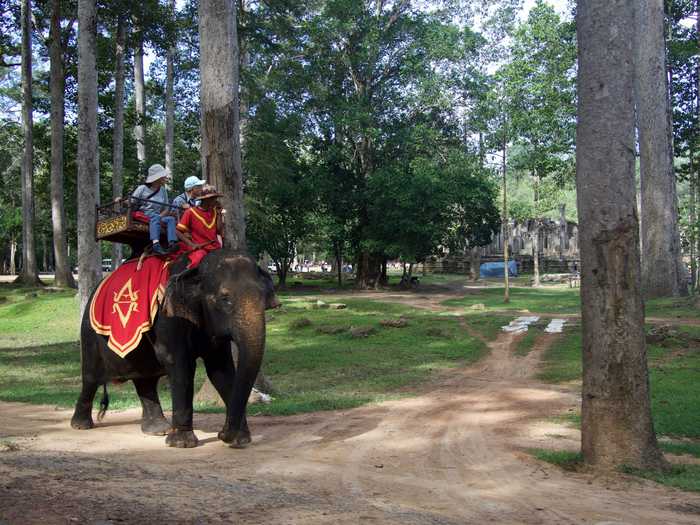 Elephant rides are available to tourists
Bayon Temple
The Bayon Temple is unlike any of the other temples in Angkor Thom and is characterized by the dozens of smiling faces carved into the surviving 37 sandstone spires. It is built with steep staircases the lead to a terrace that overlooks Angkor Thom and gives a closer look at the gorgeously carved faces staring in all directions.
It is incredible that this temple was built almost a thousand years ago and still stands amongst the rubble. It is exciting to walk around these corridors and admire all the walls, roofs, and spires.
This temple is one of my favorites because there is so much detail. Every single inch of this temple is engraved with such precision. This temple is the star of the show in Angkor Thom.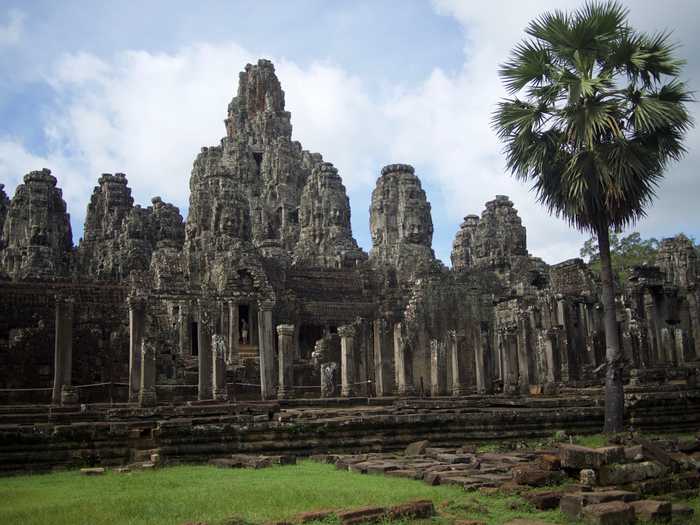 Bayon Temple has faces carved everywhere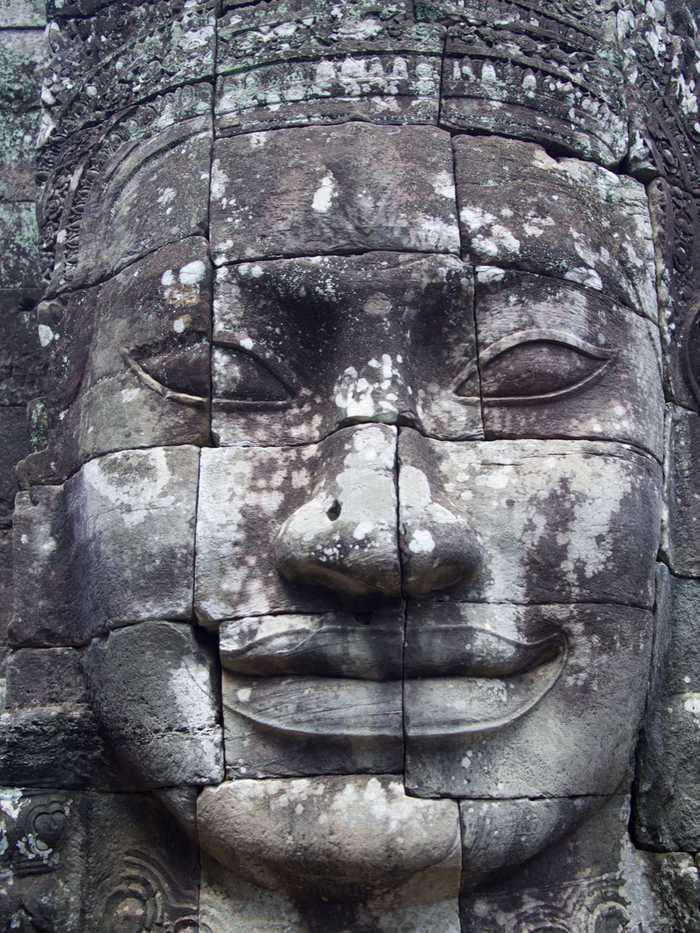 A close up of a face. It was probably 10 feet tall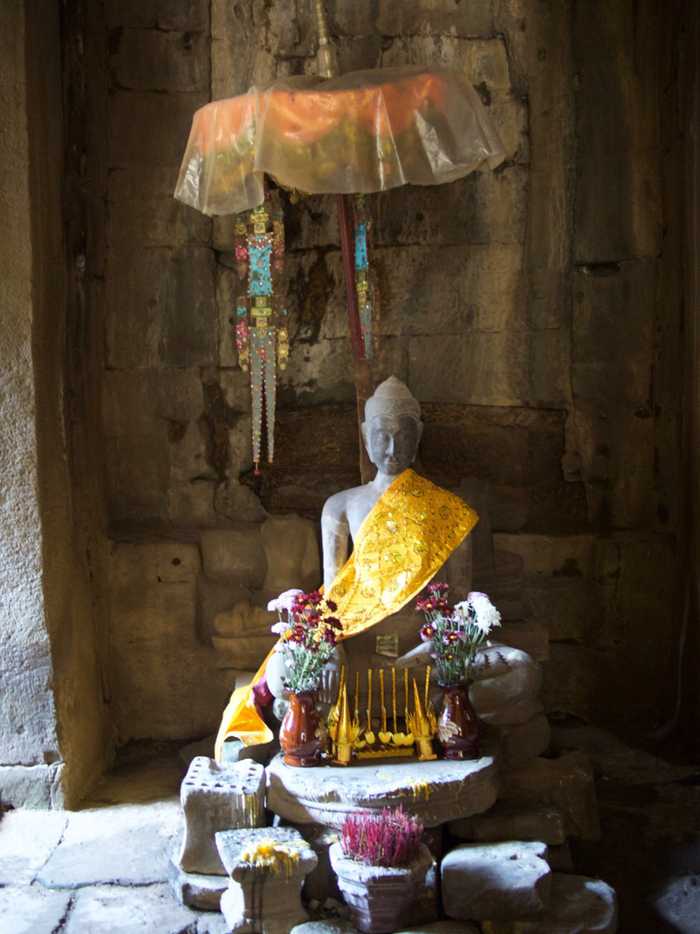 A small shrine inside the temple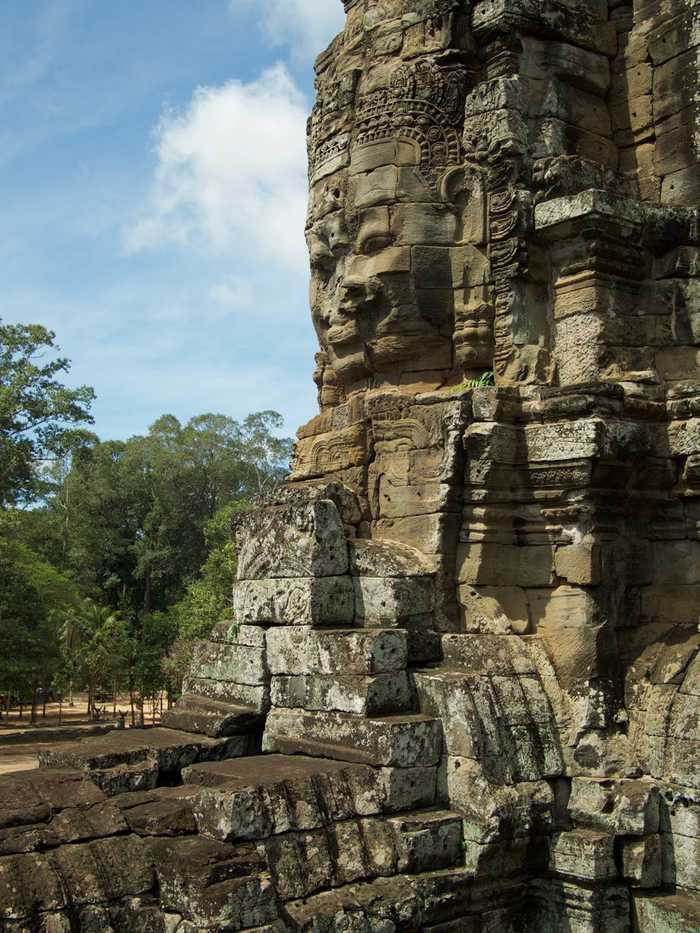 Profile of one of the faces
Baphuon Temple
Surrounded by a stone wall and a thick forest of trees is the Baphuon Temple. This temple is much smaller than its gigantic neighbors, but it does not lack in grandeur. I found it to be more peaceful and temple-like compared to the previous temples.
In the 1960s a French organization began conservation efforts on this temple but had to abandon their efforts when the Khmer Rouge came to power in the 70s. They left the temple partially disassembled, and thousands of stones are in front of the temple.
We walked around in admiration, but due to my injury, we were not able to get to the top of the temple. The stairs to the top are extremely steep and shallow, and I would have had a hard time descending.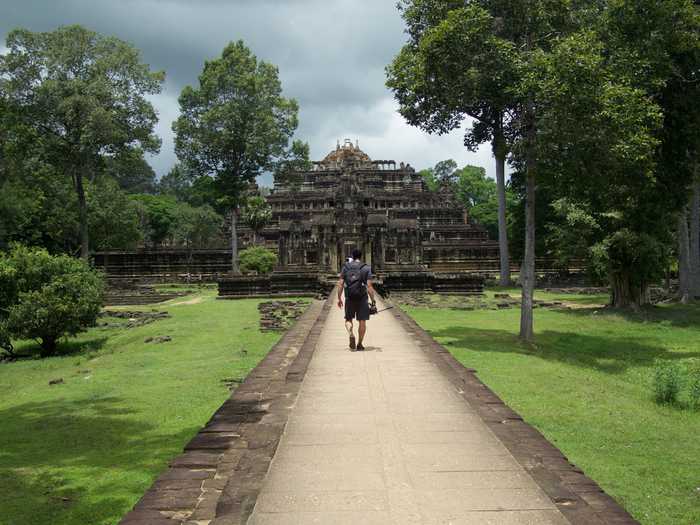 Entrance walkway to Baphuon Temple
Terrace of Elephants
The carvings on this terrace are especially impressive because the elephants were carved to look 3D. Whole bricks are cut individually to make the pieces fit together seamlessly. This terrace may have been used as a staging area for fighting elephants or used for royalty when receiving military reviews, dances or different ceremonies.
Wear study shoes with good tread. A lot of these temples are falling apart and you will be climbing up and over smooth surfaces.
King of Lepers
This site is located to the North of the Terrace of Elephants and has hundreds of men engraved on it. It is said that when it was discovered there was a statue covered in lichen and was missing fingers making it appear as if it were a leper. Upon later examination, it was realized that the statue did not depict any disease it was just old and falling apart.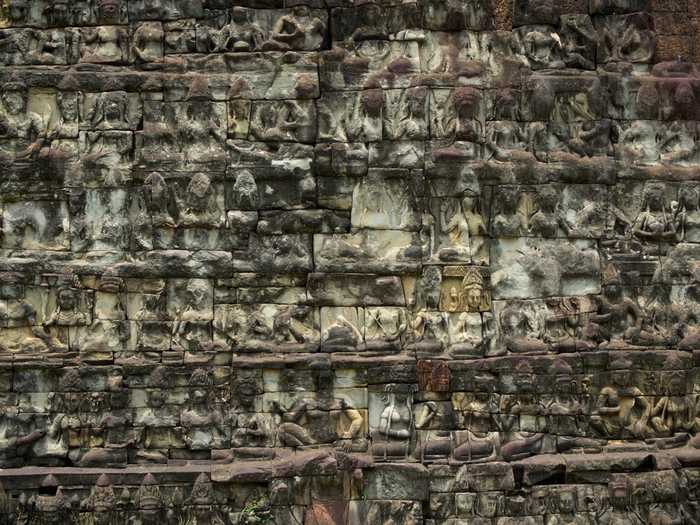 The wall of the king of lepers
Phimeanakas
This temple is the furthest away from the Bayon Temple which makes it less crowded. It was incredibly peaceful walking around the spacious grounds of this temple. Each flight of stairs ascends without any landing which makes it very steep.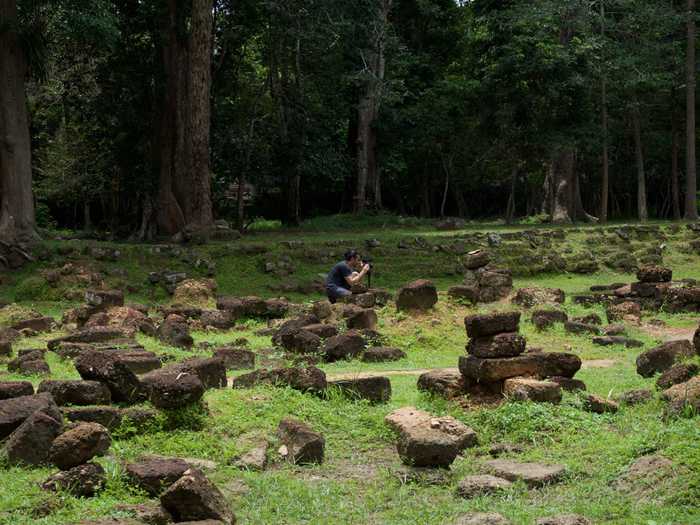 Fallen bricks are strewn all over the lawn.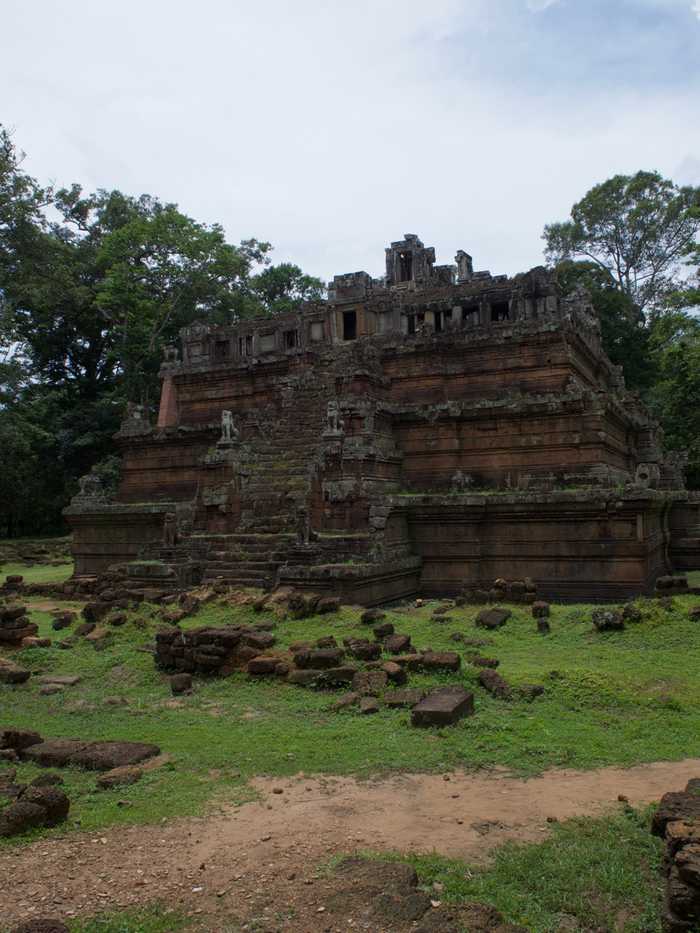 The remnants of the temple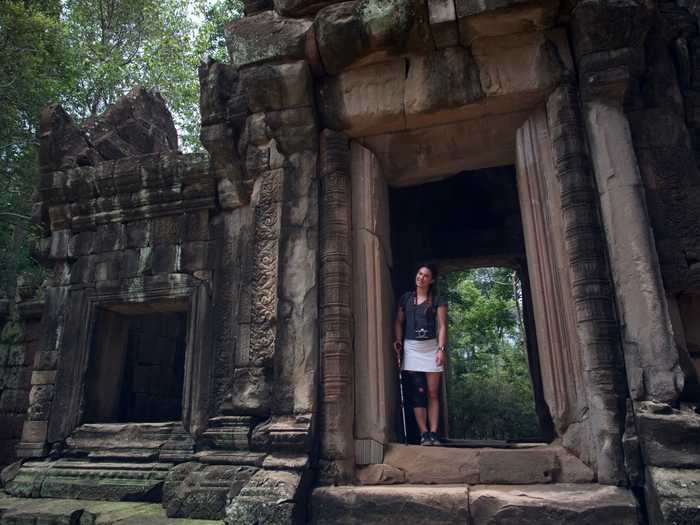 Outside wall that accesses the courtyard.
Thommanon Temple
This temple seemed tiny as the outer wall had decayed many years ago. Though it was small, it was extravagant and well preserved. There weren't many tourists there so we could roam around freely. It is very similar to Chau Say Tevoda but is better preserved, but is in better shape because it is built out of sandstone while Chau Say Tevoda is constructed with wooden beams and then encased in sandstone.
Ta Prohm
Ta Prohm is famous for its appearance in Tomb Raider featuring Angelina Jolie. A lot of areas of this temple are not accessible due to fallen roofs or walls and has undergone a lot of conservation efforts. There are wooden walkways that suggest safe pathways.
This temple was more romantic and mysterious than the other temples and was one of my favorites. The most beautiful part of this temple are the giant trees that are growing in and around the temple. The roots are keeping parts of the temple together but also destroying and weakening the walls. These trees are so massive and over time have been made a part of the temple. It is beautiful here, and we spent an hour and a half walking around and exploring.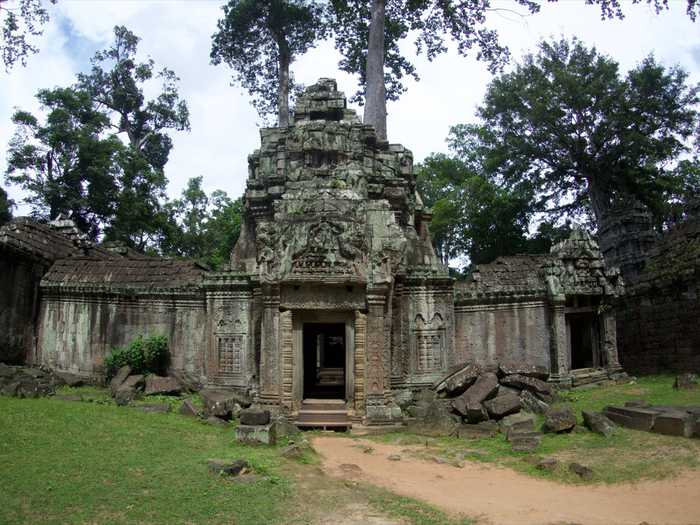 Courtyard wall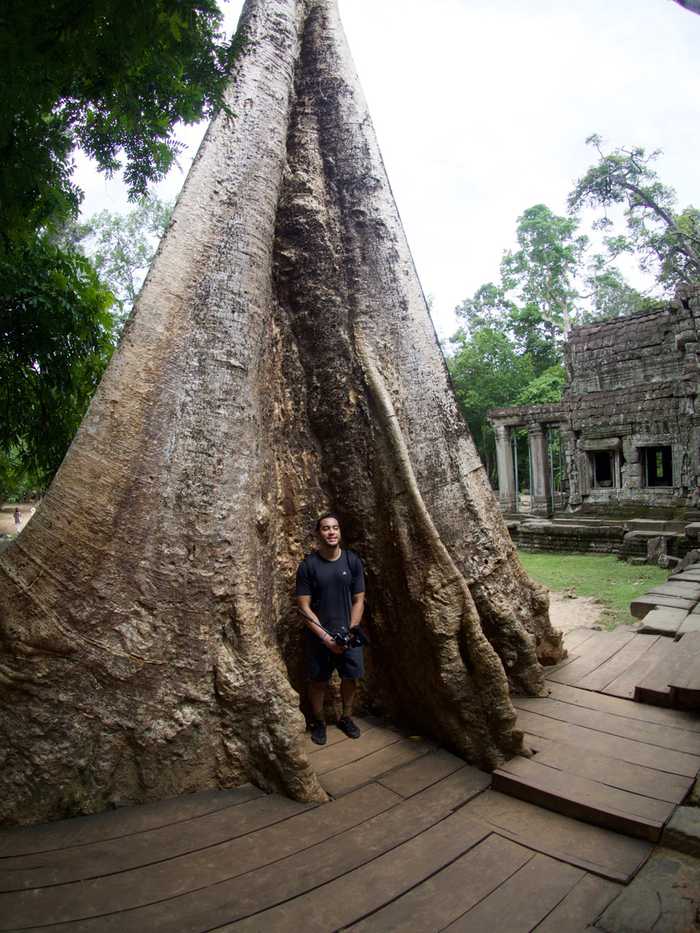 Look how massive these trees are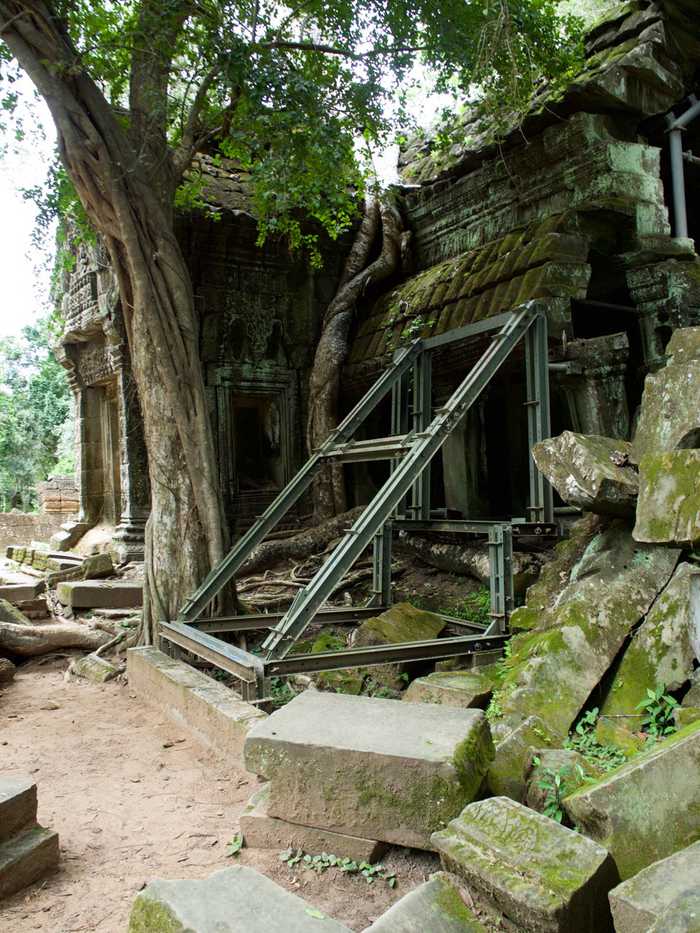 Support beams are used to prevent sections of the temple from falling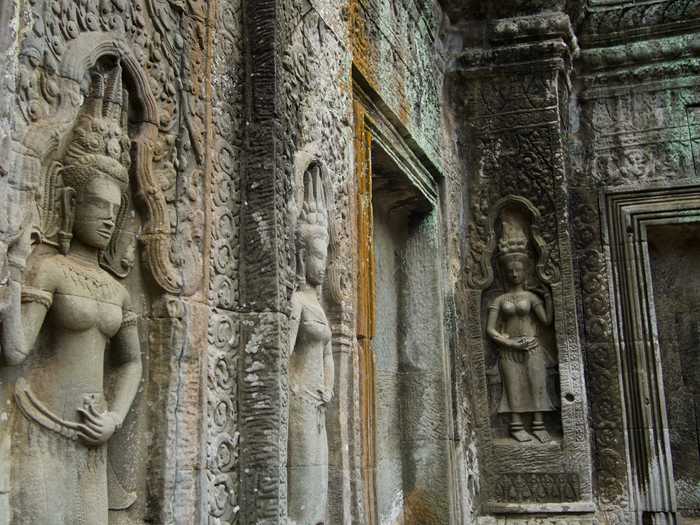 Engravings in the wall are still in great shape after 100s of years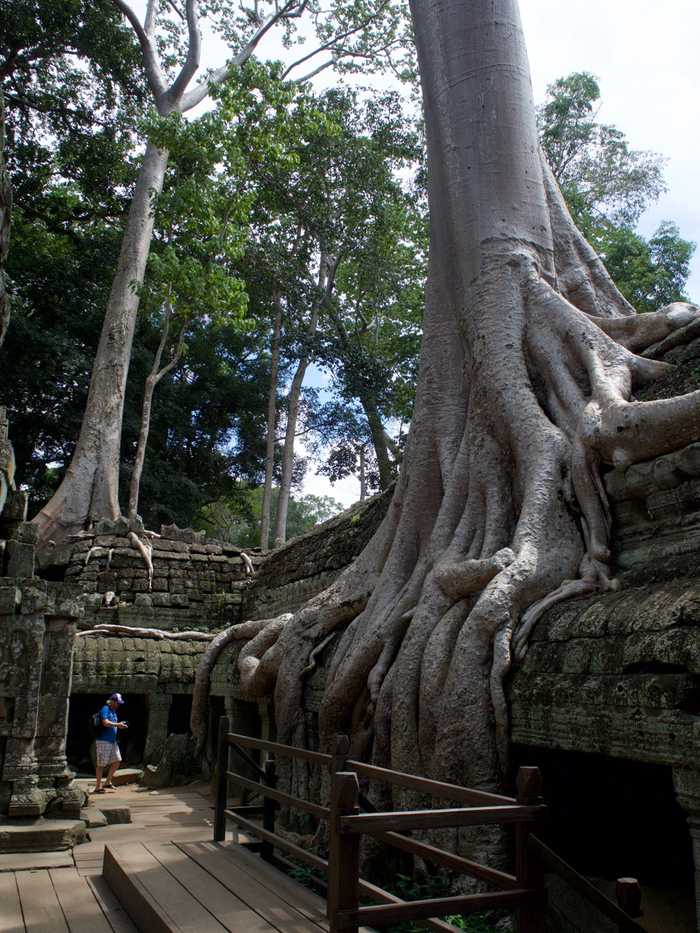 Roots taking over the temple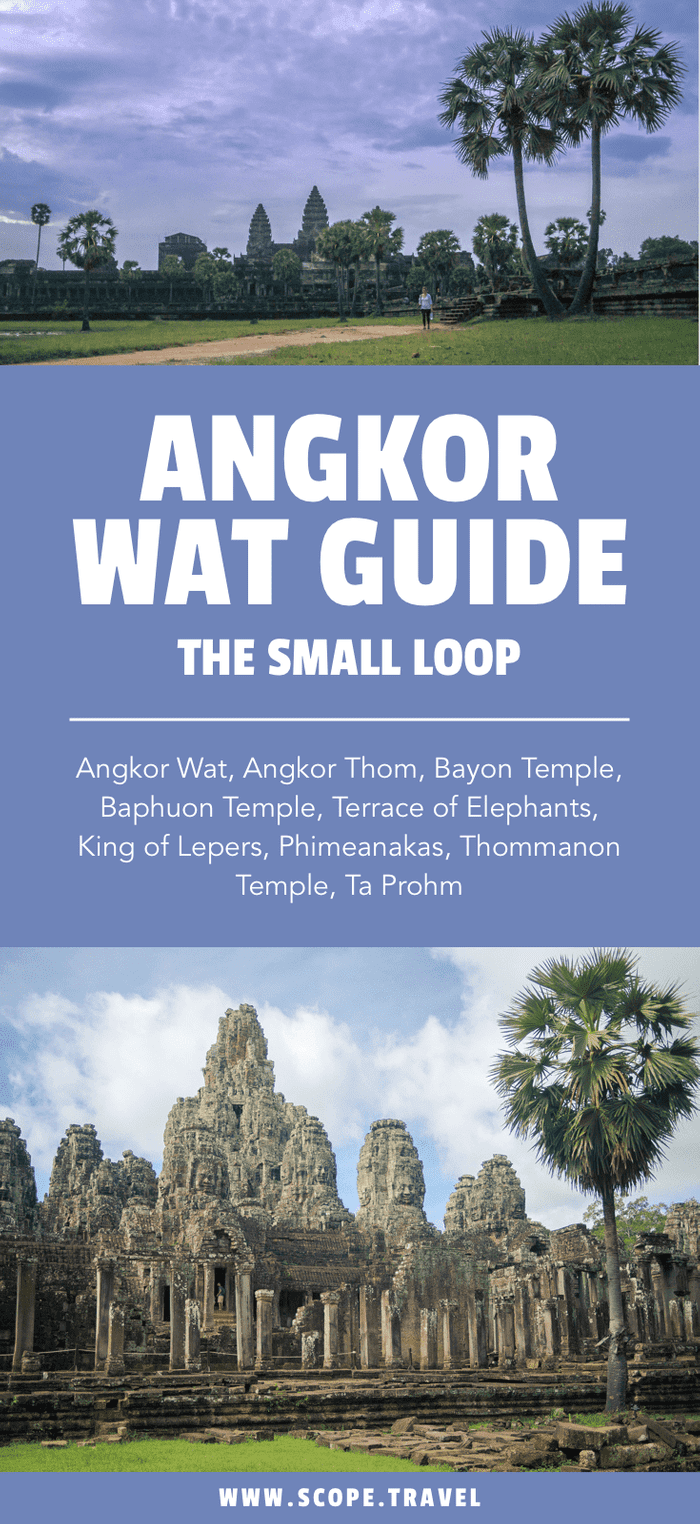 Pin it for later.
Join our weekly adventures
Gain access to our exclusive travel tips and more!
Expect exotic destinations, big adventures, flavorful food and unforgettable stories from our travels.