The Busy Markets in Siem Reap
By Sydney Tong on September 29, 2016. Read time: 3 mins.
In a new city, I automatically gravitate towards the local markets. Markets are the life of a town and provide a glimpse of local living. Also, this is where you can usually get the best food!
Siem Reap is memorable for many reasons including these three markets. Take some time in between your trips to the beautiful temples of Angkor to explore the different markets in Siem Reap.
All of the markets in Siem Reap are magical, different from one another and have all kinds of cool crafts to buy, bites to eat and an atmosphere to relish. We tried a bunch of food that was unfamiliar to us and found a bunch of new foods that we liked and some that we were not fond of. Create a unique memory for yourself as you visit these markets and absorb the local culture.
The Old Market
The Old Market is located to the east of Pub Street and is open early in the morning to around 2 pm. Walking off the street and into the market, you will be greeted by the sight of women bartering, chopping meat, checking out produce and cooking fresh curries. The locals that populate this market have been doing this for a long time and can quickly navigate through the crowds and fish guts on the floor. We ran into a friend purchasing spices and vegetables for a cooking class.
If you have access to a kitchen, this is a great place to purchase exotic fruits and fresh vegetables.
Once you pass the produce and the meat you will find yourself surrounded by booths filled with silk scarves, beautiful clothes, and unique souvenirs. Don't be afraid to barter here, the first price you get will be the highest so work your way to a price you feel comfortable paying. The end goal is a price where everyone wins.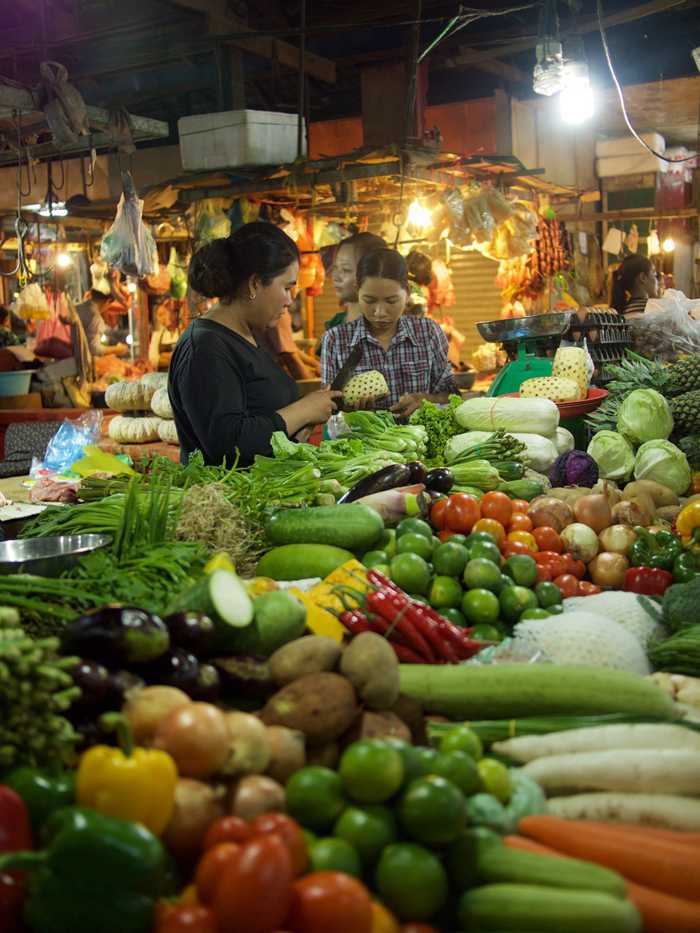 Women picking out fresh veggies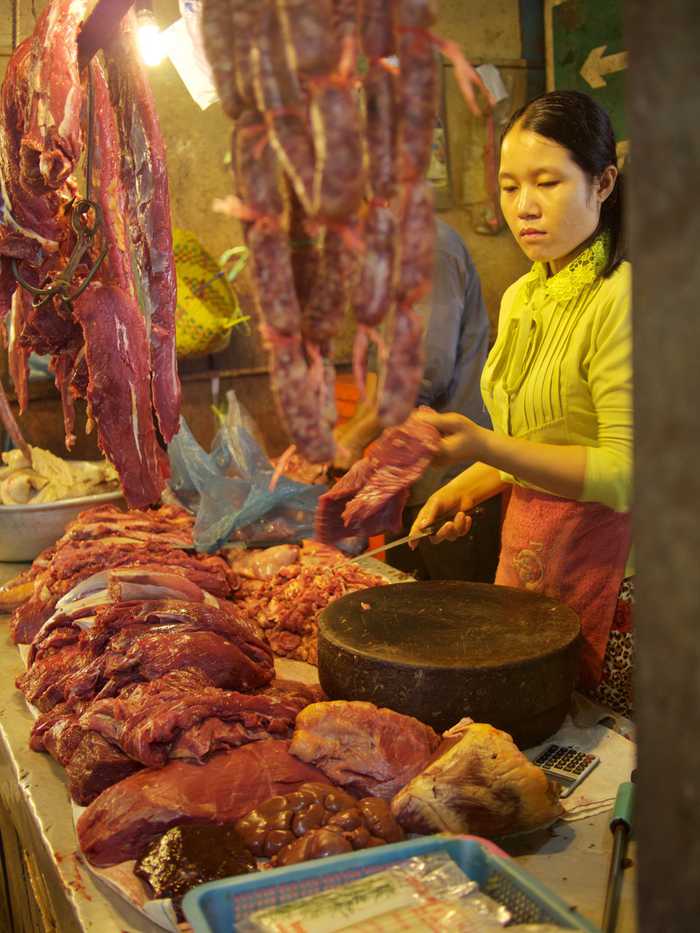 A woman selling freshly butchered meat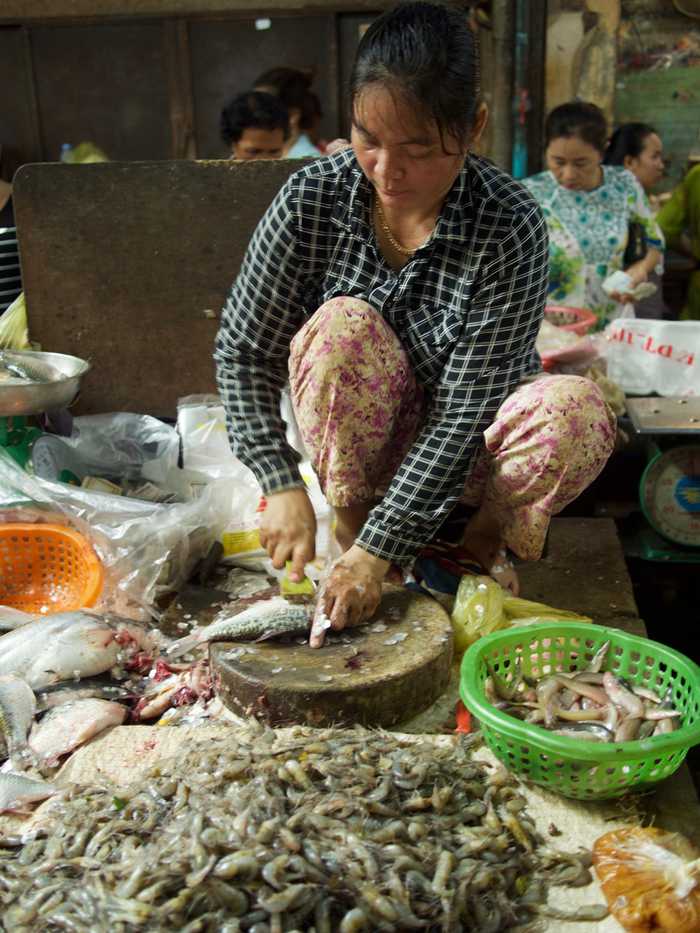 A woman butchering fresh seafood
Angkor Night Market
Cool night breezes and a friendly atmosphere is one of the reasons the Angkor Night Market is so fantastic. The market is open from 4 pm to 11:30 pm and is vibrant and full of good energy. It is close to a lot of restaurant and bars making it fun to shop between beers. There talented artists that sell work you will not be able to find anywhere else in Cambodia. This market caters towards tourists who have finished their daily excursions of the Angkor Temples.
Pass by this market before it opens, and it will be boarded up showing no resemblance to the brightly colored stalls and friendly faces encountered here at night. Grab some drinks, sweets or fried ice cream from the vendors lined up outside on the streets. If you are feeling brave, try a fried spider or a snake on a stick. I tried to work my way up to it all week, but in the end, I could not do it. The spiders are huge, and I did not have enough beers to calm the nerves.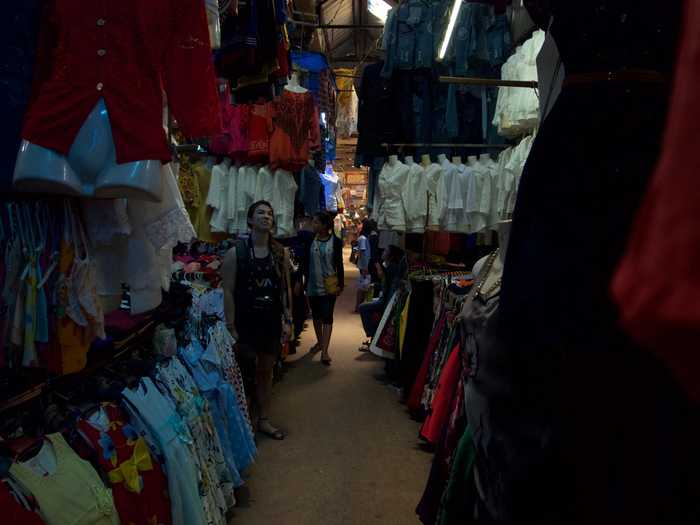 Shopping at the night market
Phsar Leu Market
This market is where the locals go; it is about 2.6km away from Pub Street and the majority of hotels, so wandering tourists never end up here ($2 tuk-tuk ride there). This market is massive, and we roamed around for 3 hours feeling as if we were on another planet. Wake up early and visit the wonder of this market.
When you approach the outside of the market, you will see people enjoying their breakfast of fried pork served with pickled veggies and a light soup ($1). Fresh coffee is a must in Cambodia, and the locals know how to enjoy a fresh cup ($1). The breakfasts that we enjoyed in this market are twice as delicious and only a fraction of the cost of what you would find near Pub Street.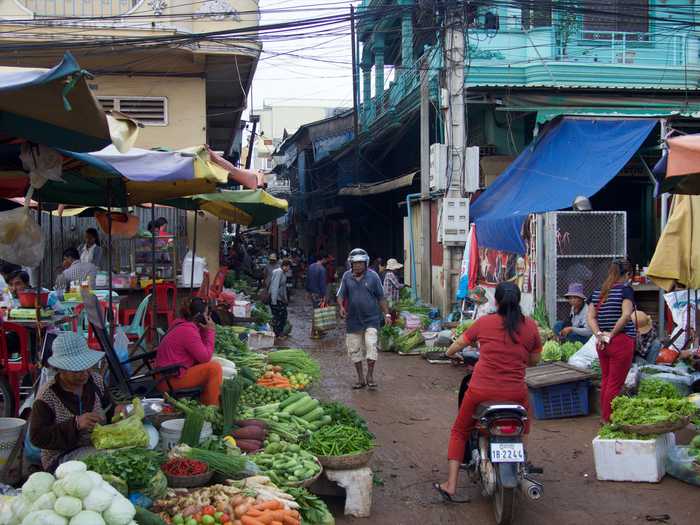 A muddy entrance to the market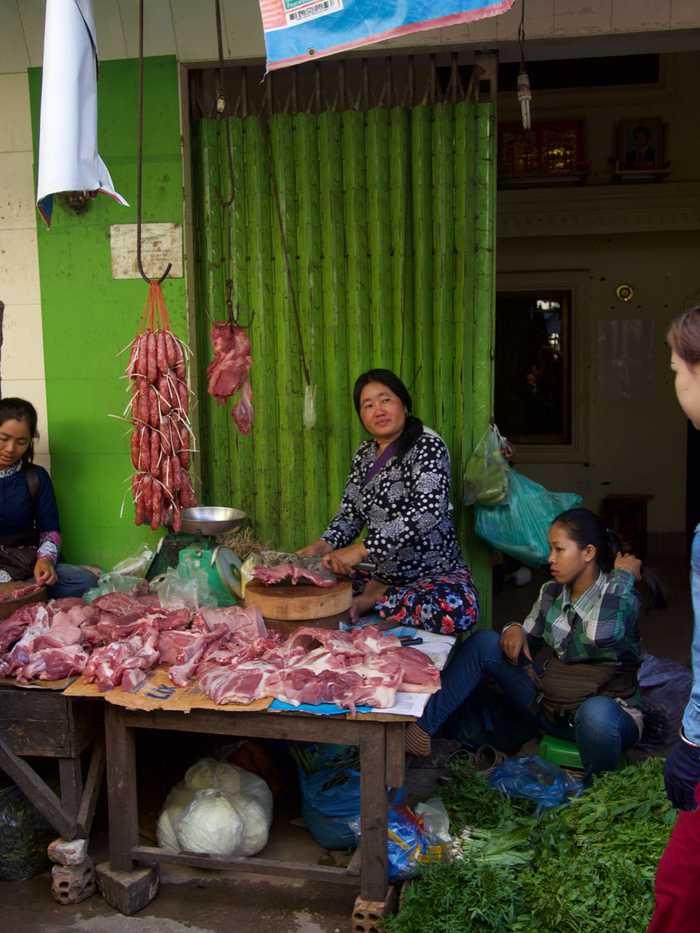 A woman butchering fresh meat on the streets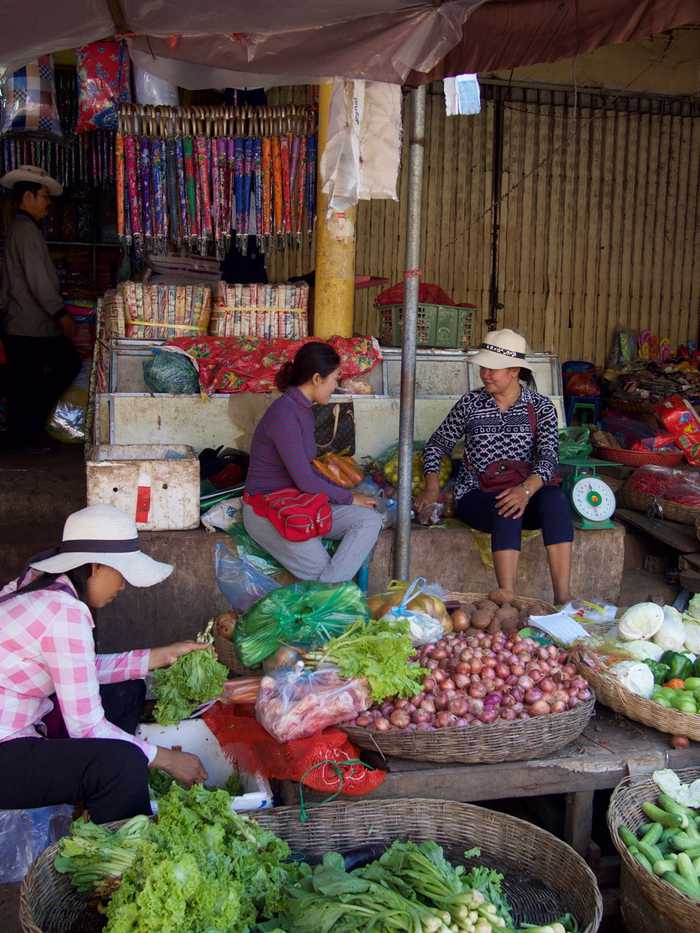 Women hanging out while working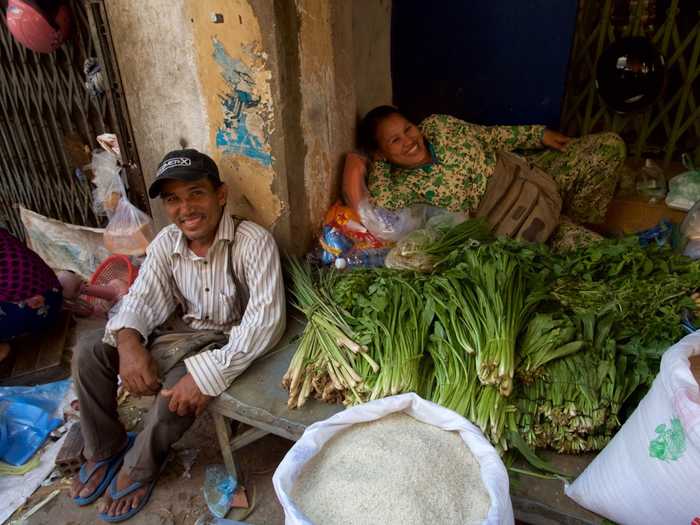 Everyone here is all smiles while they are working
Once you finish breakfast and enter the market, you will see men and women selling veggies, buying meat, preparing food and riding scooters in the alley. We went on a Saturday morning, and the market was buzzing with business. Stepping with precision was important because the ground was muddy, scooters were pushing their way through the crowds, and fresh meat and fish were hanging off of the tables.
The friendly faces of the vendors tore off pieces of their pastries to let us try hoping to coax us into a sale. This method works ten times out of ten. We tried any food that we could and were pleasantly surprised by the unique new flavors baked into the foods. I liked this market so much that I might write a whole post about it in the future.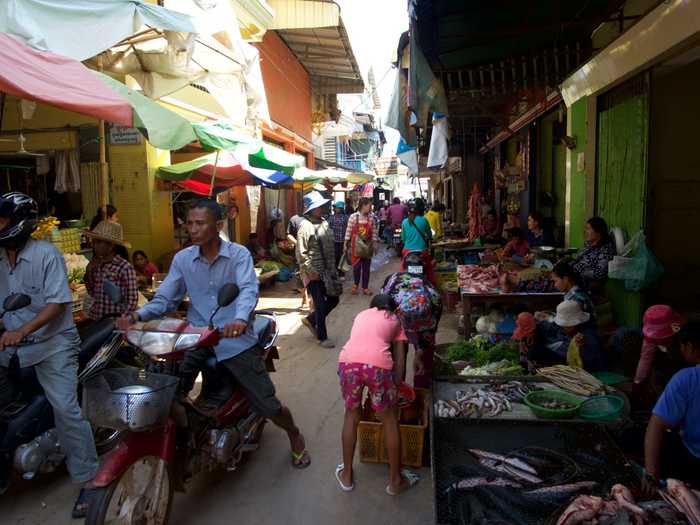 These markets are packed tightly together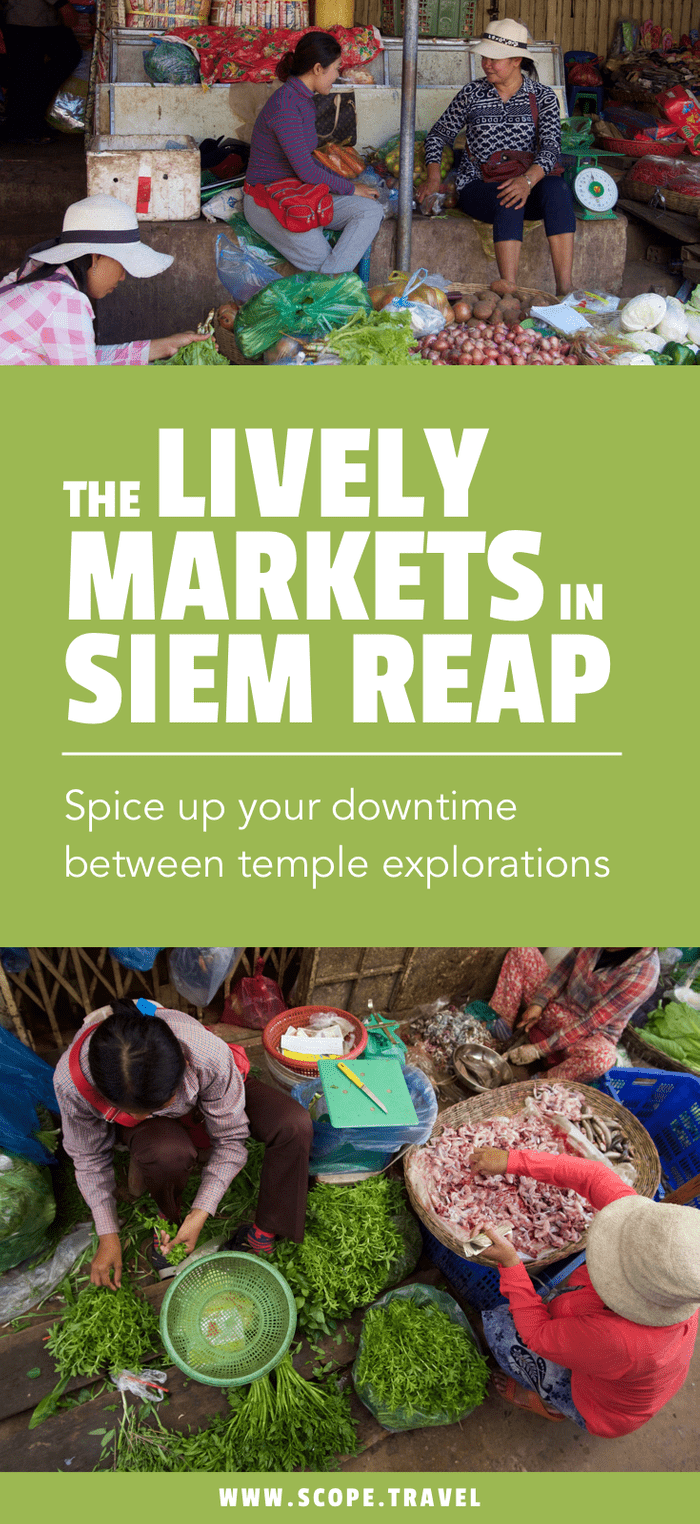 Pin it for later.
Join our weekly adventures
Gain access to our exclusive travel tips and more!
Expect exotic destinations, big adventures, flavorful food and unforgettable stories from our travels.