Things to do in Ollantaytambo
By Sydney Tong on May 09, 2017. Read time: 5 mins.
The charming city of Ollantaytambo lays nestled at the foot of the mountains in the Sacred Valley, between Cusco and Aguas Calientes. Often overshadowed by its larger neighbors, many travelers only visit this town while in transit to and from Machu Picchu.
This village is one of the oldest inhabited ruins in South America. Ancient Incan ruins are the backdrop for this alluring town, and there is much to be explored here. Ollantaytambo is worthy of a few days on your journey in Peru.
The surrounding mountains tower high above, and the clouds lay low guarding the little village. The Urubamba River flows quickly around the south side of the village. Ollantaytambo is an escape from the chaos of Cusco and Lima. It feels like a place of healing and peace.
For 10 Soles and 2 hours of your time you can take a minibus from Cusco to Ollantaytambo.
I stroll in and around the cobbled streets trying to take in the peaceful atmosphere. The sound of rushing water throughout the town comes from a surprising source. The cobbled streets have giant waterfall-like gutters that prevent the city from flooding. Women walk around dressed in their traditional Quechua clothes. They wear brightly colored sweaters and full skirts. Most of the women plait their hair and wear wide-brimmed hats to shade their face from the harsh Peruvian sun. Some of them have babies strapped to their back with colorful fabric and are walking their alpacas.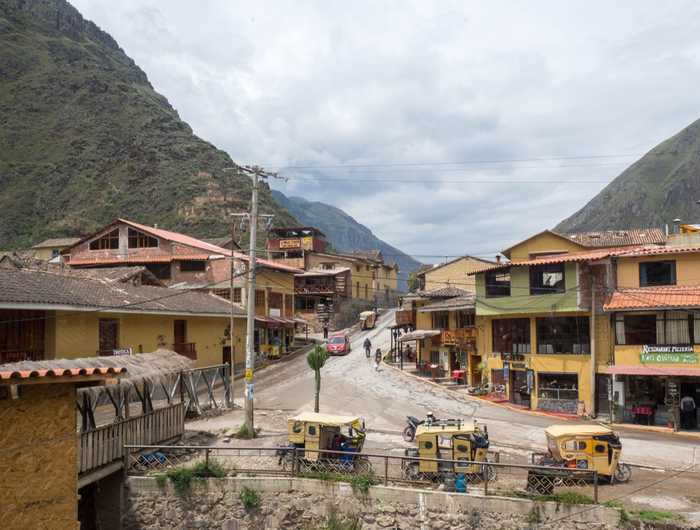 View of Ollantaytambo streets
Some of the neighbors have left their doors open to bring in the cool breeze, and I steal a quick glance inside. To my surprise, I see they six guinea pigs munching on grass in their living room. After seeing this scene, I knew that I was going to like this place.
I've made some unforgettable memories in this 15th-century village, and I want to share with my fellow travelers the incredible things to do here. Find the magic of this place while getting lost among the stone streets. Stay in a guesthouse, talk with the locals, try some Peruvian food, visit the markets and take in all the wonder of this special place.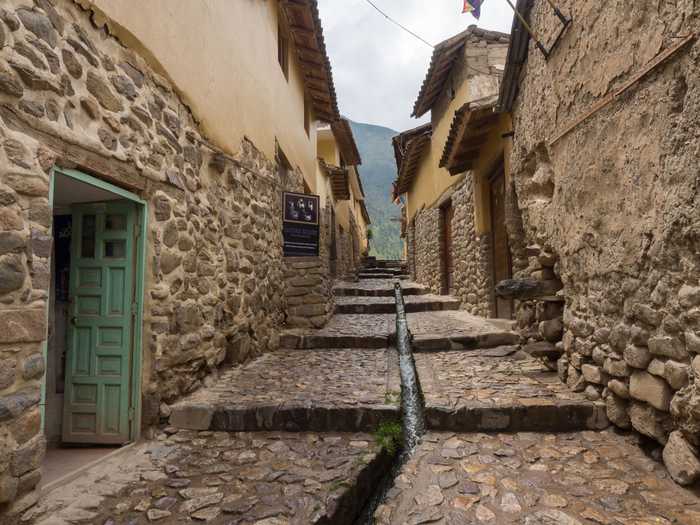 Streets of Ollantaytambo
Ruins of Ollantaytambo
From the window of our room, we had an uninterrupted view of these stunning ruins. Nowadays, these behemoth ruins are the main attraction of the city, but during the Spanish invasion, Ollantaytambo was the last stronghold of Inca resistance. This town was originally built for religious purposes and is the location for one of the few successful battles against the Spanish. From the top of these terraces, the Incas briefly defeated the invaders by flooding the plains below.
The entrance to these ruins is just off of the town's main square. The "Cusco Tourist Ticket," (Boleto Turistica del Cusco) includes these ruins in its list of sixteen available sites. This pass is good for ten days and is available for purchase at the entrance. Partial tickets are available for 70 Soles.
View of sacred ruins from our room
Salineras de Maras
Built into the side of the mountain are hundreds of thousand-year-old salt mines are. Farmers direct water from a nearby salty spring to the ponds via an intricate system of channels. Water flows through the shallow water providing each pool with a new supply of salt. As the water evaporates, they become super saturated, and salt begins to collect on the walls.
After this happens, the farmer will plug up the inlet and allow the pool to go dry. Once the pond goes dry, the farmer can collect the salt. This method of salt mining is thought to have existed since before the Incas.
The salt mines are 30-minutes from Ollantaytambo and are accessible with or without a tour group. The entrance fee is 10 Soles. Going on your own, including entrance fee and transportation, could cost 23 Soles. Tours can cost 216 Soles per person.
We ditched the tour group and hiked to Las Salineras on our own. Read our article here for more detailed information. How to visit Las Salineras Here
Moray
Researchers do not know for certain what Moray's purpose was, but they guess that these ruins were once an agricultural testing ground for the Inca people. The design of these circular terraces is so advanced that each level gives off a different micro-climate. Incas were thought to have used this area to test crops and experiment with them. They are even believed to have used hybridization and modification to adapt crops to make them edible.
Fun Fact: Even during the rainy season this area never floods. Researchers believe that the Incas implemented a drainage system to protect their agricultural experiments.
Even during the rainy season this area never floods.
Moray is in Maras and is a short drive from Ollantaytambo. Entrance to this attraction is available with the "Cusco Tourist Ticket" (Boleto Turistica del Cusco). Partial tickets to Moray cost 70 Soles.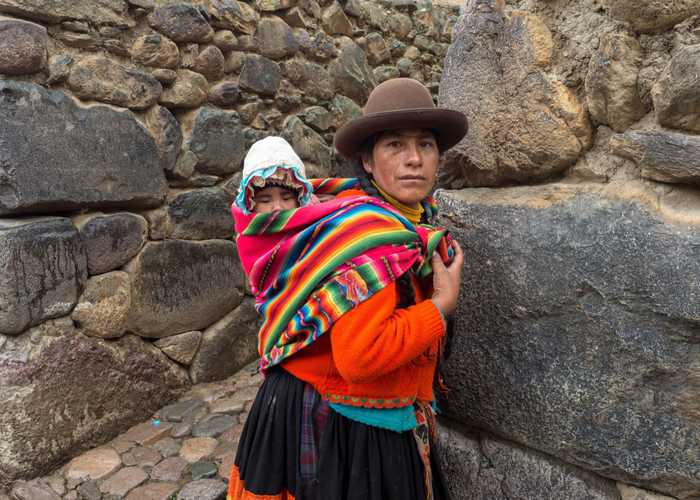 She was kind enough to allow me to take a photo.
Choco museum
Walk over to this chocolate museum to learn about the process of making Peru's favorite sweet. It is free to visit and sample the different varieties of chocolate. Sit in the cafe and enjoy a coffee, brownie with chocolate ice cream, or some chocolate fondue!
If you're interested, there are chocolate making workshops for 35 Soles. Classes are 45-minutes, and participants leave with handmade chocolate just the way they like it.
This museum is conveniently located next to the Ruins of Ollantaytambo and in front of the craft market.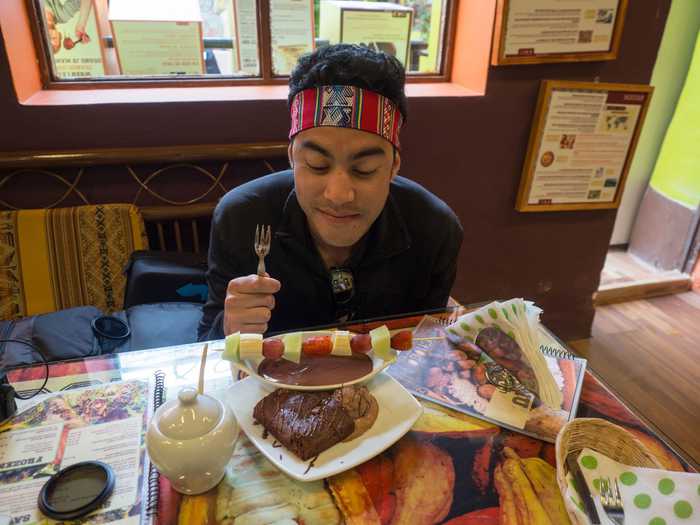 Peruvian chocolate yum!
Craft market
The brightly colored stalls are directly in front of the Ruins of Ollantaytambo and the Choco Museum. Check out locally made handicrafts and pick up some souvenirs while you are there. Barter for a fair price on brightly colored scarves or bags. Gourds with etched out Quechua scenes are another favorite.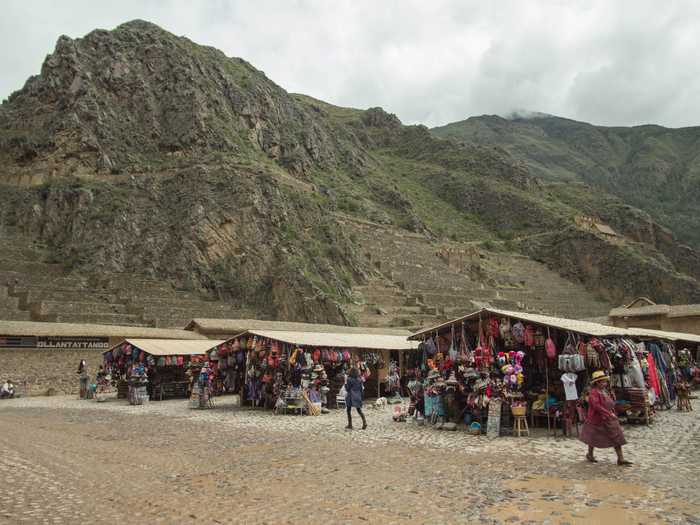 Shopping with a view.
Mercado san pedro
After picking up some souvenirs, head over to Mercado San Pedro for a taste of local living. Check out local oddities and enter this deceivingly large market with a labyrinth of stalls.
If you want a snack, try an anticucho, which is meat marinated in vinegar and other spices and grilled on a stick served with a potato. If you are feeling especially daring, try the beef heart or tripe variety. They are super delicious and tender. I liked them, and I didn't get sick from them, so two thumbs up.
I went here several times during my stay in the village. I bought fruits and veggies here to balance out all the eating out I had been doing. Gabe was getting over some food poisoning, so I bought crackers, cookies, and bread here.
If you are feeling dehydrated from a stomach bug or altitude sickness look for "Electroral". It replenishes all the electrolytes lost when dehydrated. Buy it at drugstores for 10-15 Soles.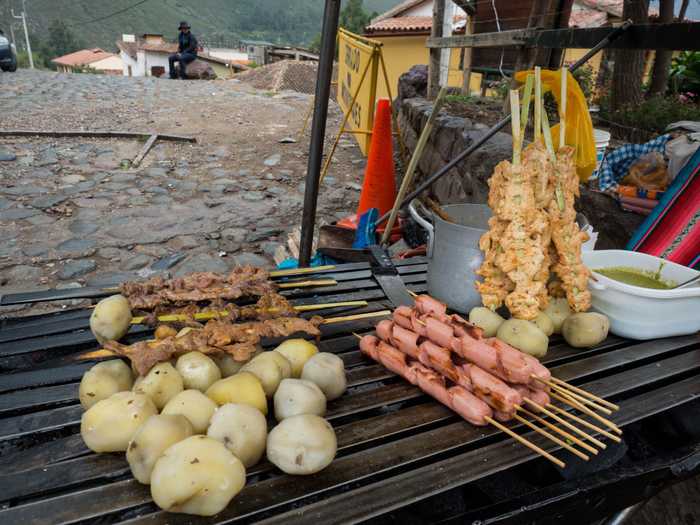 Best snack ever
Pinkulluna granaries
Pachacuti, an emperor in the 15th century, had these granaries built to protect the village's food from heat and animals. These ancient ruins are a steep hike from the town. The ascent is a little over 30-minutes to reach the ruins, and those who finish have a spectacular view of the valley.
Unfortunately, it was raining during the time we had set aside to do this hike. Our host recommended against hiking it in heavy rain because it can be dangerous.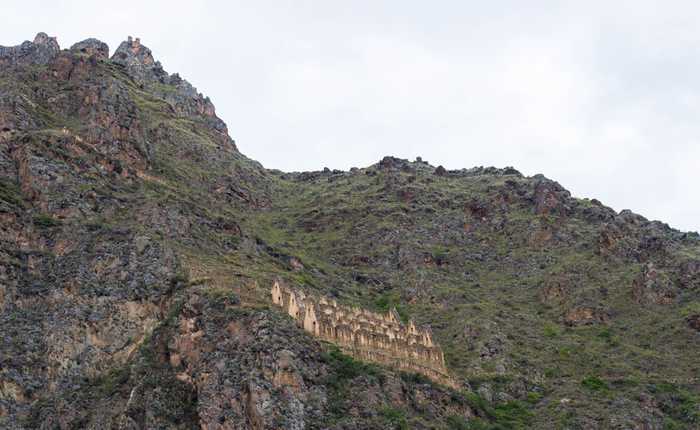 Hike with a view.
Things to do
Ruins of Ollantaytambo
Salineras de Maras
Moray
Choco Museum
Craft Market
Mercado de San Pedro
Pinkulluna granaries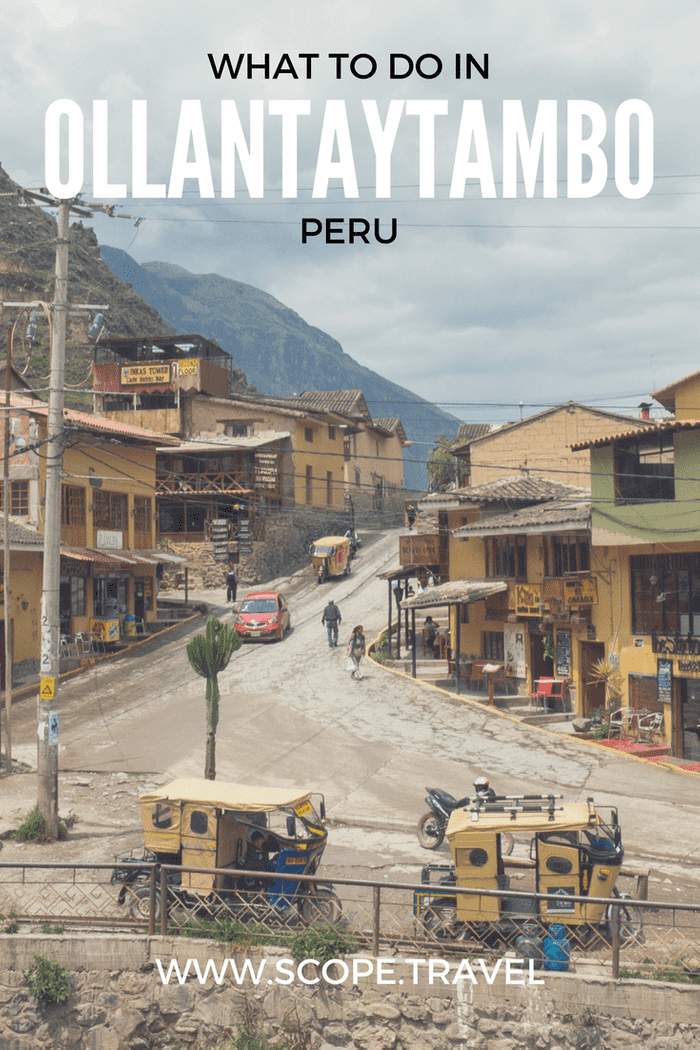 If you like it, Pin it!
Join our weekly adventures
Gain access to our exclusive travel tips and more!
Expect exotic destinations, big adventures, flavorful food and unforgettable stories from our travels.