Three Days in Barcelona
By Sydney Tong on August 22, 2017. Read time: 7 mins.
Barcelona is an enchanting city with an abundance of art, food, wine, sites, museums, and music. This beautiful city is easy to enjoy, and you will leave having made memories you never thought were possible.
It is one of my favorite places to visit because I feel inspired when I wander through the city. There is something for everyone to enjoy which is why it is on so many travel bucket lists. If you plan to go to Barcelona and have limited time, I have some travel tips and suggestions for your itinerary.
Tips
Staying in the city
If you only have a few days to spare in Barcelona then stay near the center of the city or near where you want to spend the majority of your time. You have 72 hours; you probably don't want to use those precious hours stuck in traffic. Popular areas to stay are along the coast, near La Rambla, the Gothic Quarter, or Plaza Catalunya. The city has a large selection of places to stay. As long as you search ahead of time, you should be able to find a place to rest your head. We stayed in an Airbnb several blocks away from La Boqueria and were within walking distance to most attractions and restaurants. Find out what area to stay in here
Organize trips by location
Short trips are better if the days are organized by location. Grab a map and mark all the places you want to go. The visualization helps when deciding how to organize your daily itinerary. The less time spent in transit means there is less of a chance of getting stuck in traffic or getting lost and there is more time to see what you came for.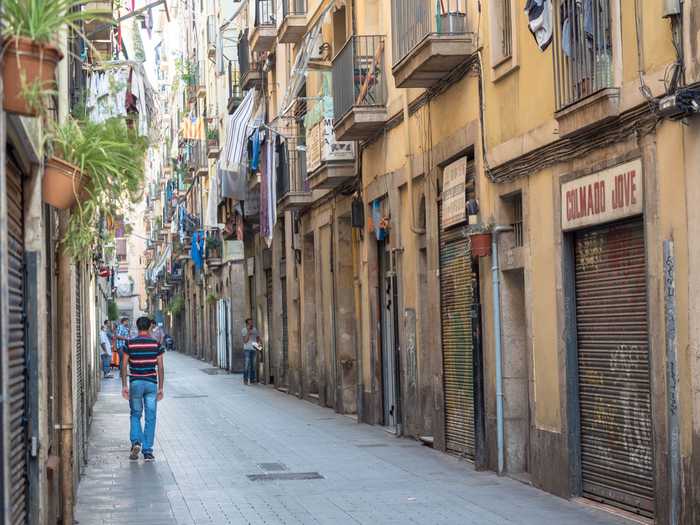 Cozy streets in Barcelona
Public transportation
Barcelona is smaller than you might imagine and you will be able to reach most places with a short trip on public transportation or by walking.Renting a car is unnecessary, and it could be stressful to drive and find parking. The metro, buses, and taxis will be your best option when deciding how to get from one place to another. Mopeds are always an option, but I hardly recommend driving a moped in a busy and unfamiliar city.
To calculate the duration of your metro journey add 2 minutes per stop and 10 minutes for every transfer.
Barcelona Turisme offers different public transportation cards good for 2-5 days. These cards make seeing the city affordable and convenient. If you are staying in the center of the city, it is likely that you won't use public transportation much and it might be more economical to buy single trips. This website gives an honest look at which pass option will be the best for you. More on getting around the city here
Uber is not available in Barcelona.
Barcelona card
The Barcelona Tourist Card offers many benefits like included travel by bus, metro, or airport-train. It also provides entrance to Barcelona's best museums for free, discounts for shopping, tours, and nightlife. Like any tourist pass, they are only worth it if they save you money in the long run.
We purchased the card without doing any of the research, and it ended up not being worth it for us. We also chose to go to the Miro Museum instead of the Picasso Museum, which was not included in the free entrance museum list. Lastly, our flight left early in the morning, and the airport train wasn't open yet.
In our experience, it was a bad buy, so my suggestion to you is to do your research ahead of time to see if the things you want to see are offered in the card benefits. Total up all the costs and see if it actually will save you money. I ended up spending about 45 Euros for one bus ride and a map. Lesson learned.
The Itinerary
There is so much to do, and deciding what to do and when to do it can become quite the chore. Three days isn't much time, but if it is your first time visiting, then it should be enough time to hit the main attractions. I didn't include any restaurants because the number of delicious places to wine and dine is astounding. If you are interested in my favorite places to eat in Barcelona, leave me a comment in the comments section, and I will whip one up for you.
Day 1
Walking tour
Walking tours are the best way to become acquainted with a new city and the first day is the best day to do these. They are a crash course in the history, sites, safety tips, and other important things to know when you touchdown.
I'm attracted to free walking tours that are tip-based because it is an excellent opportunity to meet people from different backgrounds, exchange knowledge about the city and find out what interests them. This particular tour is 2.5 hours and hits all the need-to-see sites like the Roman ruins, the Jewish Quarter, the Gothic Quarter, and many other momentous sites. Sign up for a free walking tour here
Lunch
The Boqueria is a market and a bunch of small places to eat. The Boqueria is the happening spot for lunch, and I recommend heading in that direction to try some delicious Spanish food. The energy is high, and the food is remarkable.
La Boqueria
Museum
There are a ton of museums in Barcelona. We chose to go to the Miro Museum because one of our friends is a big fan of his work. The Miro Museum wasn't too crowded, and they allow photos of the work. Keep in mind the Miro Museum isn't included in the Barcelona City Card, but the Picasso Museum is. Gabe tried to visit this museum on a Monday back in 2012, which is one of the days that the museum is closed.
Gothic quarter
No matter how much time you spend visiting the Gothic Quarter, you will always find something to explore. It is over 2,000 years old, and there is a lot to see. The city tour that you took in the morning will only touch on the main attractions. Set some time to absorb the greatness of this area. You will find fantastic boutiques and smaller restaurants located near beautiful cathedrals and other culturally significant buildings.
There are plenty of places to pick up souvenirs in this area. I like the boutiques in this area because they are unique and decently priced. La Rambla also has an extensive selection of key chains.
This is a great area to pick up souvenirs that aren't so cheesy.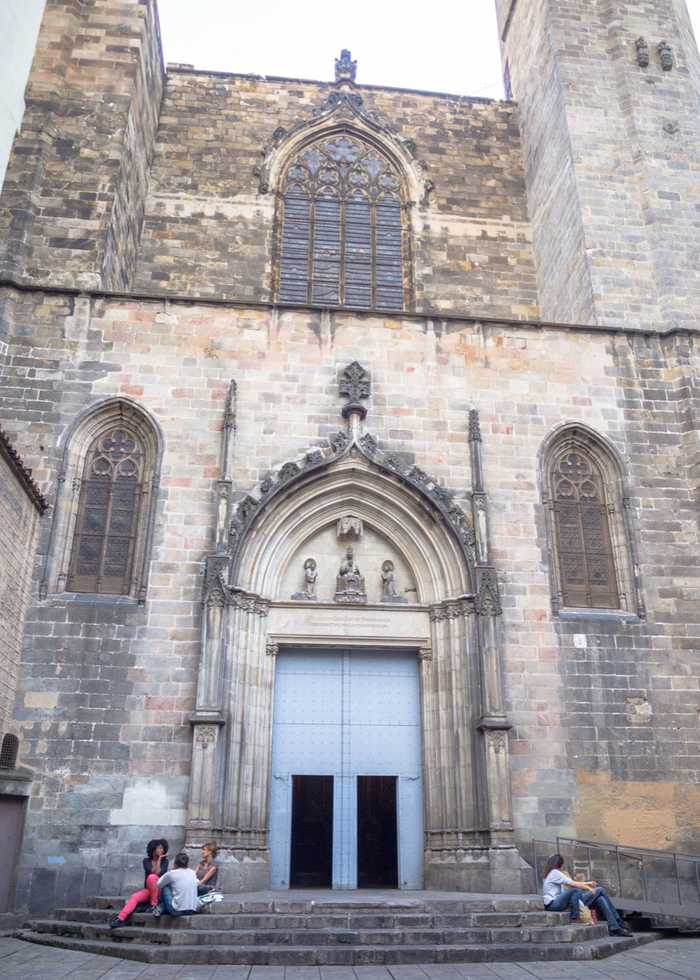 The coolest hangout spots
Day 2
La sagrada familia
Antoni Gaudi is Barcelona's most recognized architect, and La Sagrada Familia is his most well-known work. It is an ongoing project that started 135 years ago and isn't scheduled to finish until 2026-2028. It is a quite popular place to visit so be patient. Not only is the architecture one of a kind, it is fun to experience the atmosphere, filled with people all over the world, street vendors, and park life. Other works from Gaudi include Park Güell, Casa Mila, and Casa Batllo.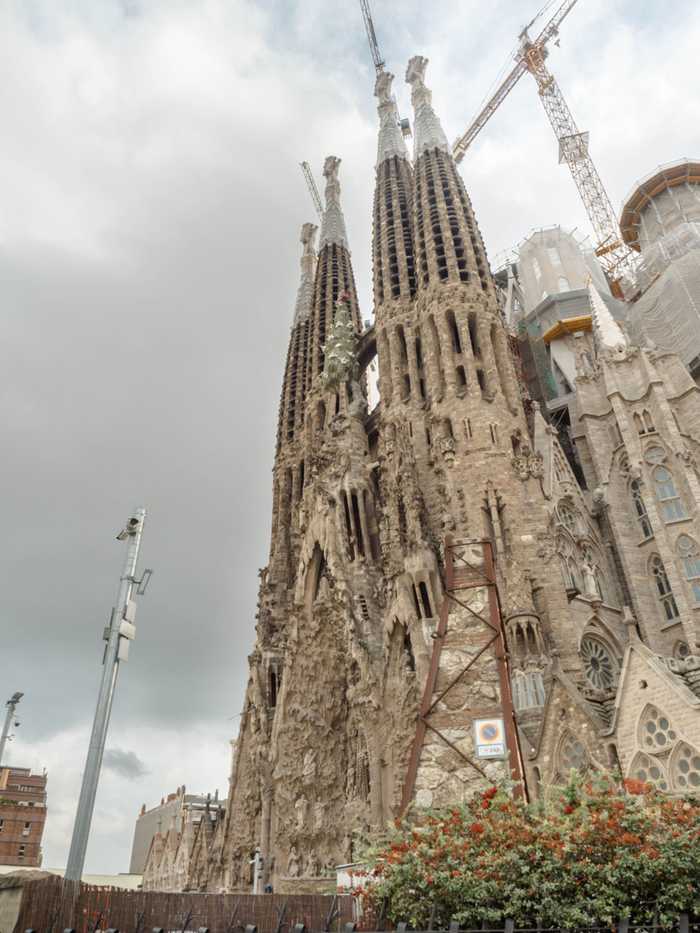 La Sagrada Familia
Parc de la ciutadella
After lunch, relax at Parc de la Ciutadella. Bring a blanket if you want and take a siesta underneath the shady trees. It is a beautiful oasis in the middle of Barcelona, and there are several museums located inside of the park.
Futbal game
Barcelona is home to one of the most popular futbal clubs. Currently, big-name players like Messi, Suarez, and Neymar (just kidding he was recently transferred) play for Barcelona FC. If there are home games, then you absolutely must make it to a game. If you happen to be around for the rival Real Madrid vs Barcelona, you cannot miss that. Unfortunately for us, there weren't any home games available.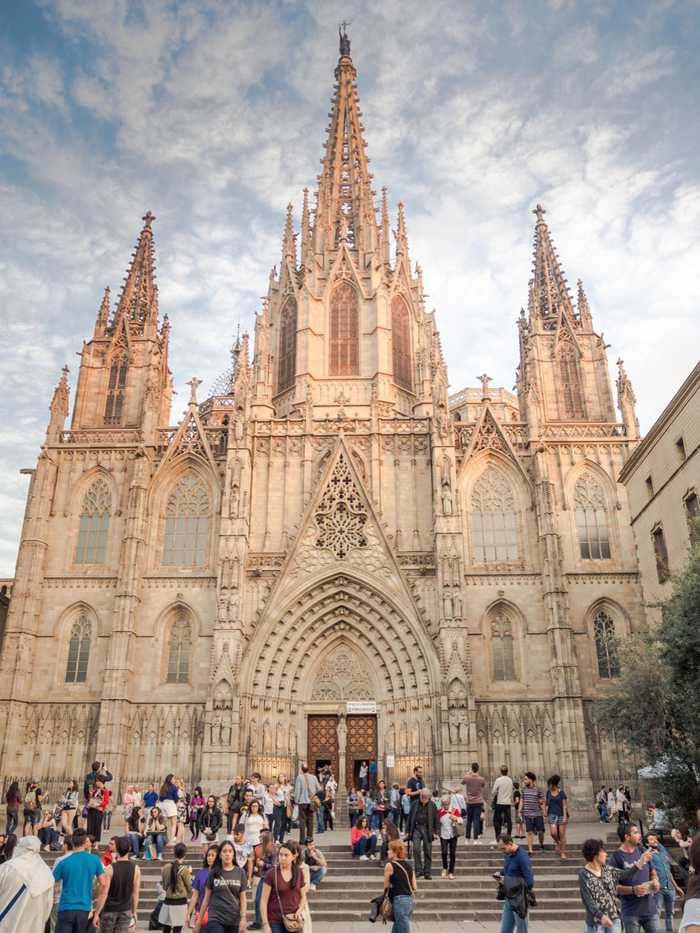 Catedral de Barcelona
Day 3
History museum of barcelona
After breakfast, use the morning to take in culture and history at the History Museum of Barcelona. The best way to appreciate the city is to understand the history and the culture.
Beach time
After the museum head to one of Barcelona's famous beaches for lunch and some sun. Restaurants line the coast and are an exceptional place to enjoy paella and a glass of wine. It is more expensive but the ambiance is fantastic.
Popular beaches include; Barceloneta, Nova Icaria Beach, Ocata Beach, Bogatell Beach, Mar Bella, Sant Sebastia
An alternative to the beach and history museum is to take a trip to Montserrat. From this peak, you will get the most spectacular views of Barcelona. This point can be reached by train or through a tour agency.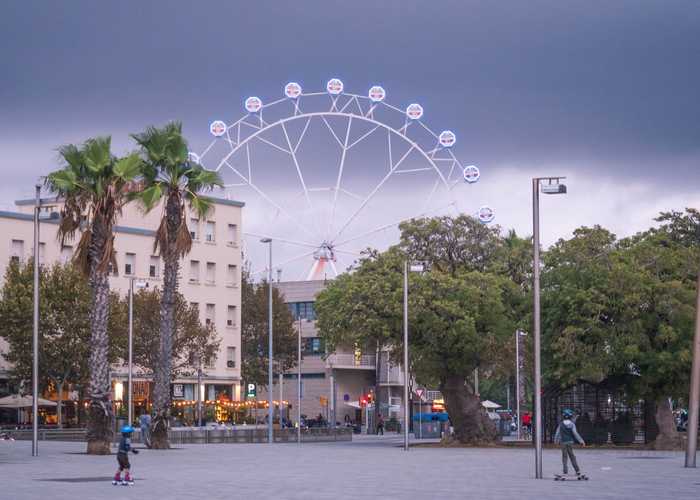 Check out the beach fair, it's great for kids.
At the end of it all
There is so much to see and do in this city so don't get overwhelmed. You are on vacation so take lots of breaks, eat a bunch, drink even more, and enjoy your time. Barcelona is a magical place. Here are a few more helpful hints!
Always follow the music. If you hear good music then follow it, that is where the memories are.
Locals typically have dinner later in the evening, around 9-11pm.
Nightclubs are open all night long. Get to the party before 1 pm, and it likely won't have started.
Always ask the price before you agree to buy it. I didn't do this on the first day and got charged 17 euros for a freaking orange juice.
Avoid chain restaurants, they tend to be overpriced, and the food isn't as good.
If you see street food while you are out and about, grab some for the road.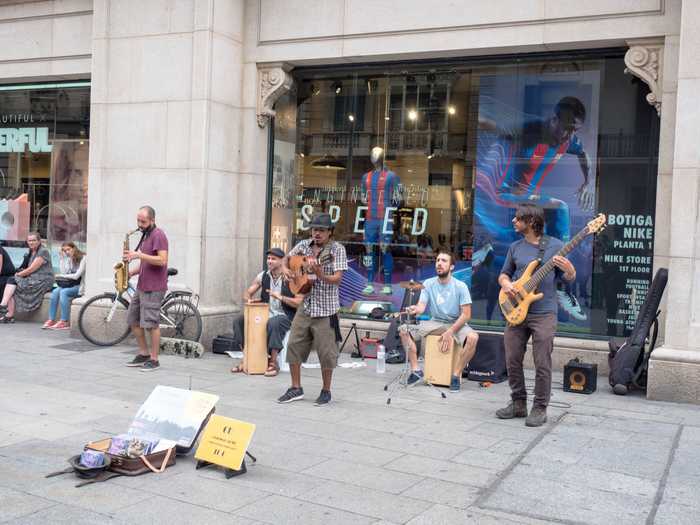 Always follow the music.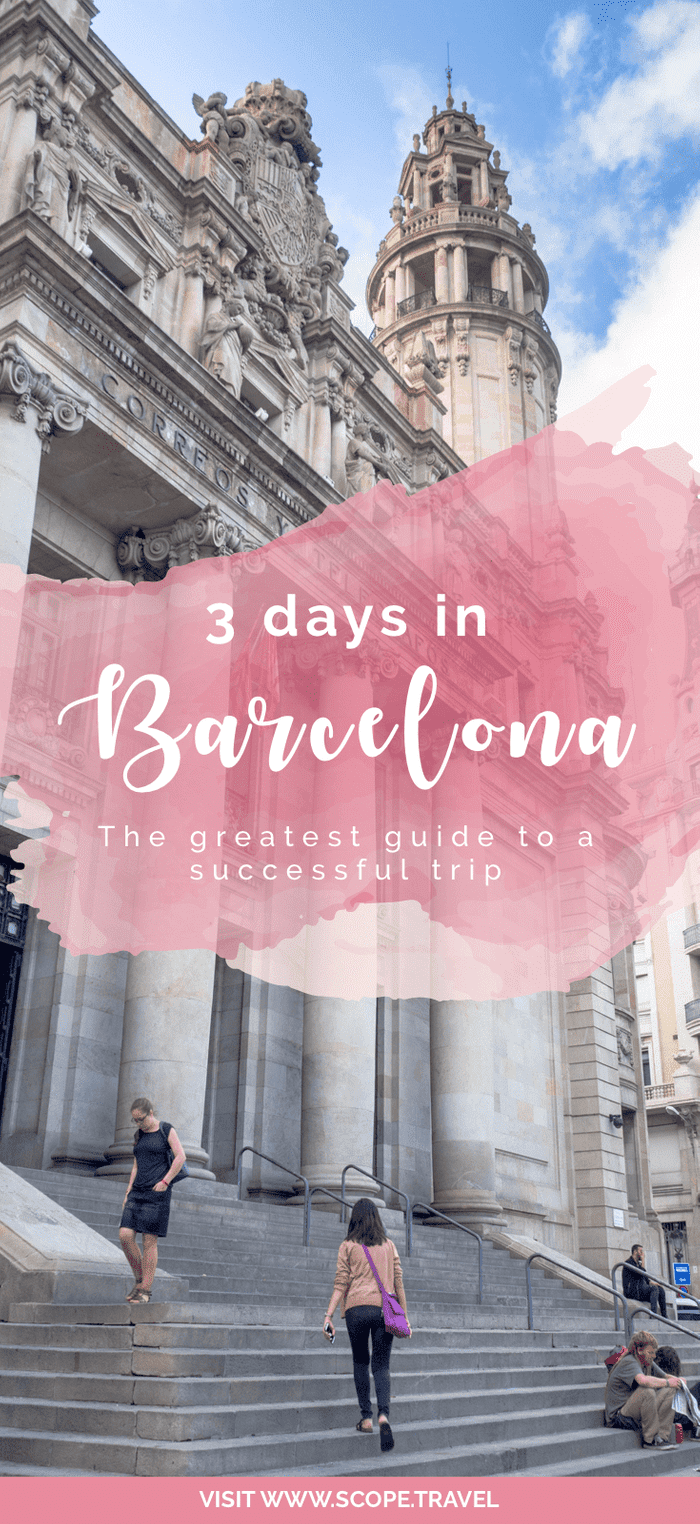 Pin us to save the article on Pinterest.
Join our weekly adventures
Gain access to our exclusive travel tips and more!
Expect exotic destinations, big adventures, flavorful food and unforgettable stories from our travels.