To and From Santiago's Airport
By Sydney Tong on May 05, 2017. Read time: 2 mins.
Touching down in an unfamiliar country to be greeted by a hoard of taxi drivers stresses me out. After long international flights, I am disoriented and tend to make poor decisions.
To avoid being overcharged, I inform myself beforehand of proper methods of transportation and prices. I've found myself in-and-out of Santiago's airport, and I hope that my experiences can help you make an informed decision
Santiago's Arturo Merino Benitez Airport is a 30-minute drive from the center of the city. If there is traffic, and there normally is, then expect it to take up to an hour. Santiago doesn't offer public transportation between the city and the airport, and luckily, there are a variety of options to fit all budgets.
Taxi, shuttle, uber, public transportation
Taking a taxi is the easiest and the most expensive option. After picking up your baggage head over to the street to catch a taxi to the city. Expect to pay around 15,000CLP-18,000CLP per way. If there is traffic, then your ride could be more expensive. In my experience, taxi drivers in Santiago are honest, and there aren't scams that you have to keep an eye out.
Uber is available in Chile but it is still new, and the country is still adapting to the "Uber" culture. Uber drivers are not allowed in the airport parking lot like taxi drivers so catching a ride from the airport can be problematic. Riding in Uber to the airport is much easier, but some drivers may insist on dropping you off in the long-term parking lot. This situation has only happened to us once, the shuttle to the airport is free and takes only a few minutes. Expect to pay around 14,000CLP for a ride.
TransVip is a shuttle service to/from the airport. Solo travelers might find this option to be the better choice for price and comfort. Schedule a ride before or upon arrival at the TransVip kiosk at the airport. Shuttles leave as soon as they are full. Taking TransVip costs about 7,000CLP. When scheduling a pickup to the airport, they like clients to be ready to go up to an hour before pickup time.
For larger groups or families contact TransVip to rent the whole van.
Riding the Red Line to the Pajaritos train station then taking a shuttle to the airport is by far the most economical choice. The metro costs about 700CLP, depending on the time of day. The shuttle to the airport takes 30 minutes and costs 1,7000CLP. Look for TurBus to book your ticket. Booking online ahead of time is also available, but not necessary as buses leave frequently.
Depending on the amount of luggage I have, who I'm traveling with, time of my flight and my budget usually determines which method I use. All these methods are tried and tested by me. I have found them to be safe, affordable and efficient. Enjoy your time in Santiago; it is one of my favorite cities.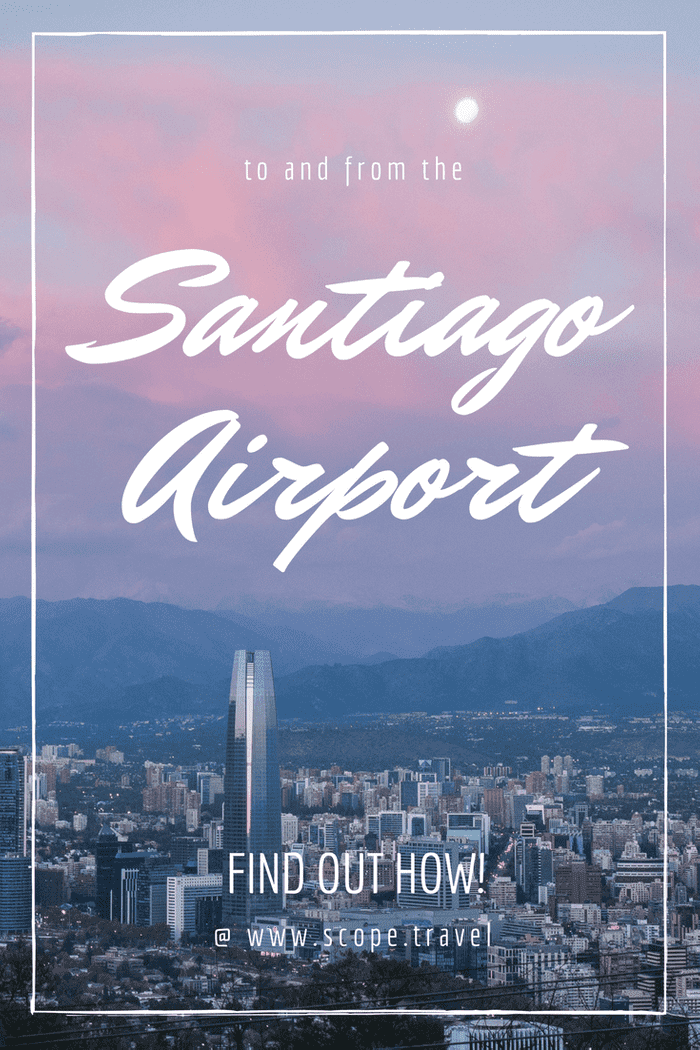 If you like it, Pin it.
Join our weekly adventures
Gain access to our exclusive travel tips and more!
Expect exotic destinations, big adventures, flavorful food and unforgettable stories from our travels.