Tokyo's Biggest Seafood Market - Tsukiji Market
By Sydney Tong on October 25, 2017. Read time: 4 mins.
Tokyo's Tsukiji seafood market is the largest fish and seafood market in the world. Tsukiji market was built in 1935 making it the oldest fish market in the city
We were excited when we heard there was a fresh seafood market in Tokyo. The Tsukiji Market was our first stop on our trip to Japan. Our minds were dreaming of all the delicious sashimi and sushi we were about to consume.
We arrived at the market shortly before 9:00 to avoid the heat and the crowds and hopefully catch a glimpse of the tuna auction clean up. It was neat to see the shops opening up and the store owners setting out the freshly purchased fish from the auction. For being filled with fish, the market didn't smell like a rotting ocean at all.
The streets were lined with restaurants and food stalls offering fresh scallops, squid, shrimp, tuna, salmon, and sea urchin of the finest quality. Some of the shops featured tanks filled with crabs or lobster that were ready for sale.
We anticipated the abundance of food, so we went on an empty stomach ready to try anything, and everything offered to us. One shop was setting up massive oysters the size of my hand for about 400 yen (USD 4) per shell. A corner stall was grilling squid on a stick, which was our first market purchase.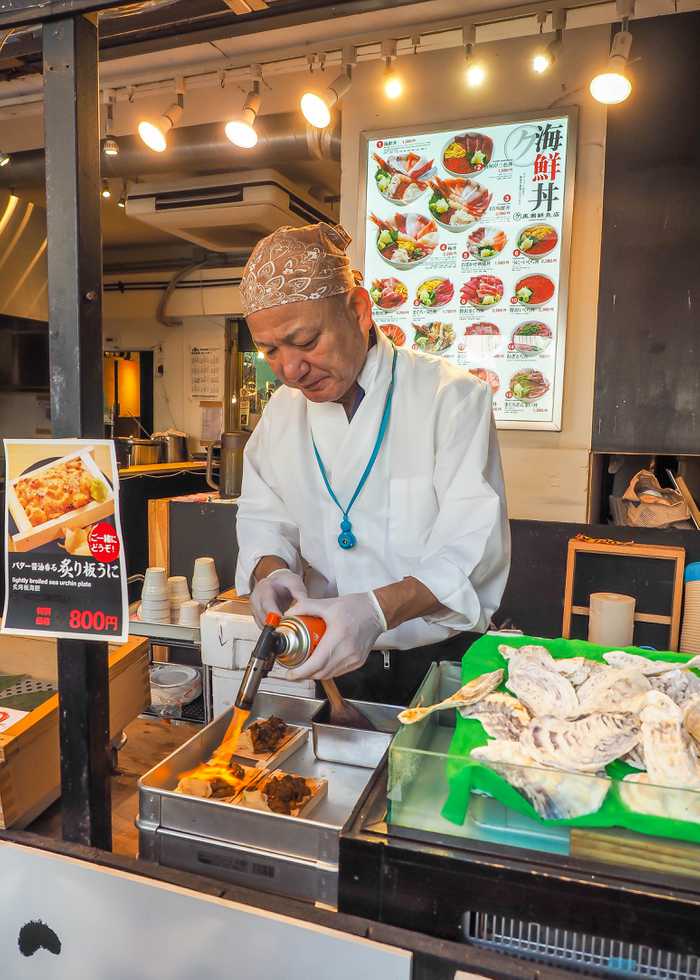 A master creating something yummy
After walking around the market trying various foods, an old man with kind eyes invited us into his sushi restaurant. We've never had sushi for breakfast, but it seemed like the right thing to do in a place like this.
We ordered two bowls of rice with tuna and salmon sashimi. The waiter served it with cold green tea. This particular restaurant wasn't the fanciest sushi joint, but we could taste the quality and the freshness of the fish. The tuna was silky, and the salmon was rich and almost creamy.
After leaving the restaurant with our appetites wholly satiated, we continued to walk around the market and try new foods. Tamagoyaki turned out to be one of Gabe's favorite foods; it is steamed egg on a stick that is slightly sweetened. I enjoyed the ika, which is dried up and shredded cuttlefish.
Eat as much as you can, but don't expect it to save you any money. Even though it is street food, it isn't the cheapest. A grilled scallop with sea urchin costs 1000 yen (USD 9). Our squid on a stick was 500 yen (USD 4.50).
Don't walk and eat in Japan. There are signs everywhere that say you should stand in one spot and eat.
The women working the food stalls were friendly and offered us samples and tried to explain to us what it all was. I enjoyed the dried seafood, but it wasn't ideal for me to buy a kilo of dried shrimp. I also don't think the other guests at the hostel would appreciate the smell.
The Tsukiji market is a great first stop because it pushes you right into Japanese culture. We liked this market so much that we came here to eat twice during our week in Tokyo. The second time we went in the afternoon when the market had closed, and the crowds had left.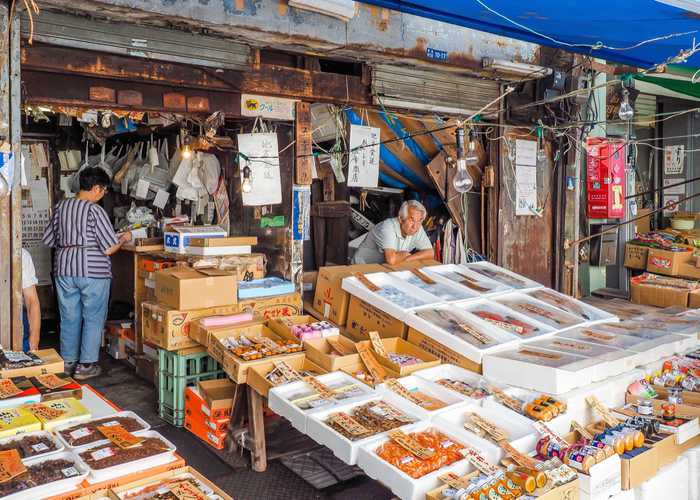 Dried goods for sale.
Morning tuna auction
The market holds an early tuna auction every morning. Only two sets of 60 people are allowed in to see the busy affair. The first tour is allowed to attend the auction between 5:25 and 5:45, and the second tour is allowed to view the auction between 5:50 and 6:10. To get a coveted spot to witness the auction you have to wait in line as early as 1:00 to secure a spot. While I'm sure this is an incredible experience, we had limited time in Tokyo and decided that it wasn't worth the five-hour wait in line.
Important notes
Get off at the Tsukiji train stop, Hibiya Line.
The outer market is open from 5:00-14:00, the inner market opens at 9:00.
They are closed on Sundays, national holidays, and most Wednesdays.
In 2018, the Tsukiji Market will be relocated so visit it while it is still here.
If you happen to encounter a restaurant called Sushi Zanmai, know that is a chain restaurant and can be found throughout Tokyo. This place is convenient because they are open 24/7 but the quality of the food can be less than excellent.
Most of the stalls and restaurants only accept cash.
Both the tuna auction and the market are free of charge.
Wear closed-toe shoes otherwise, you risk getting fish juice on your feet.
If you aren't going to buy it, do not touch it. The stall owners are friendly, but they get angry if you touch what isn't yours.
Do not walk and eat; there are a lot of signs that recommend you stay in one spot and eat. I don't know why but the sign says that's what you do at the Tsukiji Market.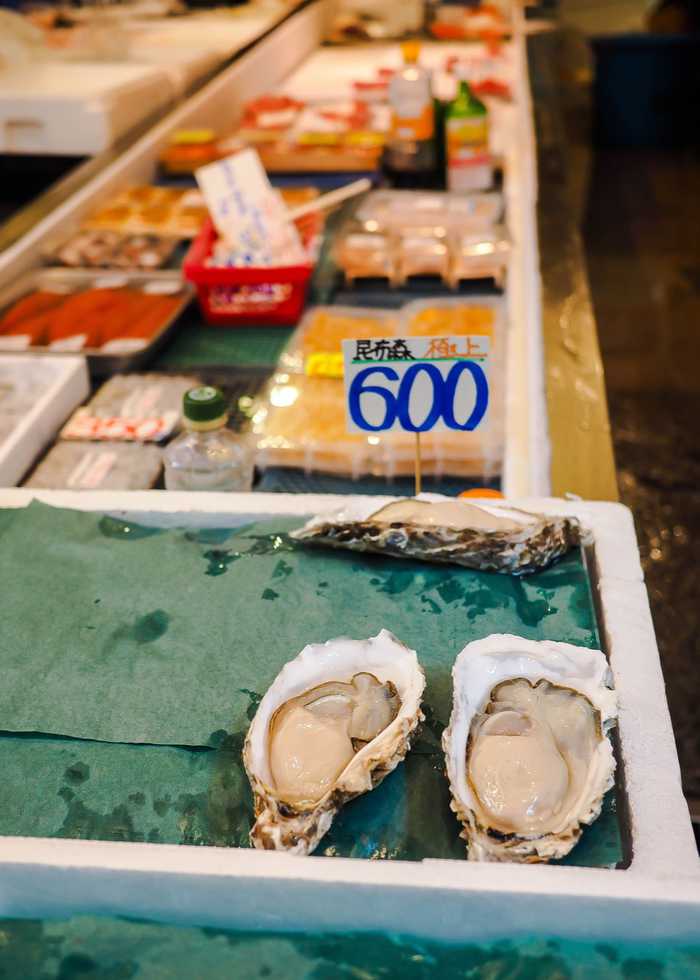 Giant oysters! You can eat them right there with some lemon juice.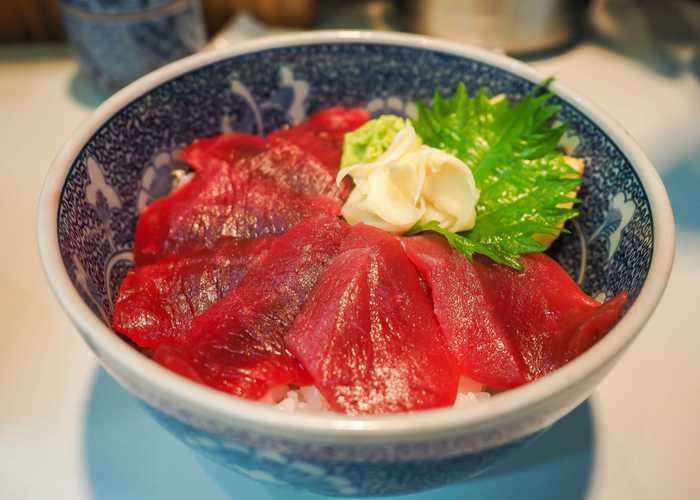 Tsukiji market tuna bowl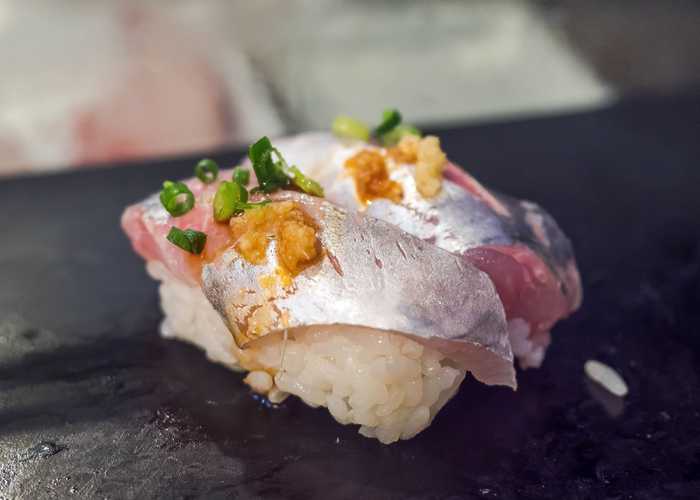 Tsukiji market mackerel sapa with horseradish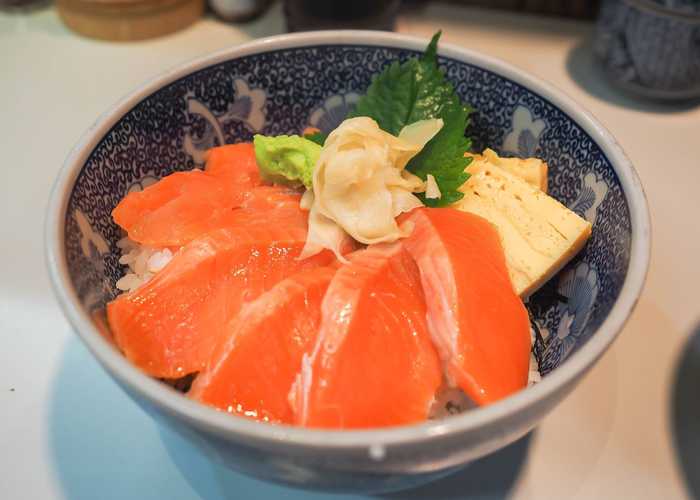 Tsukiji market salmon bowl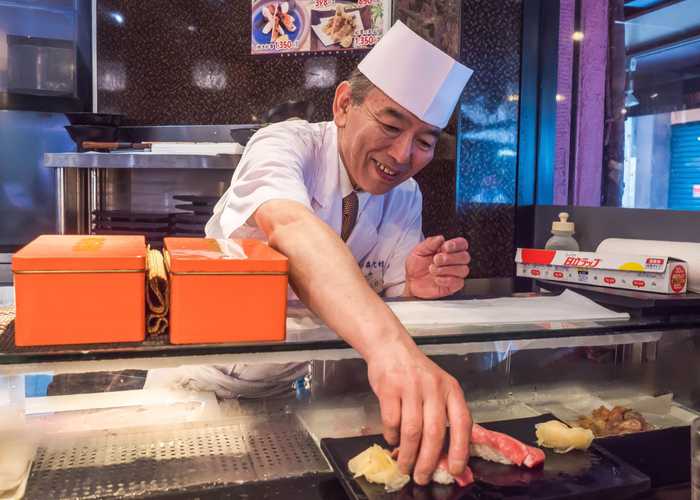 Fresh sushi. The fatty tuna is super delicious.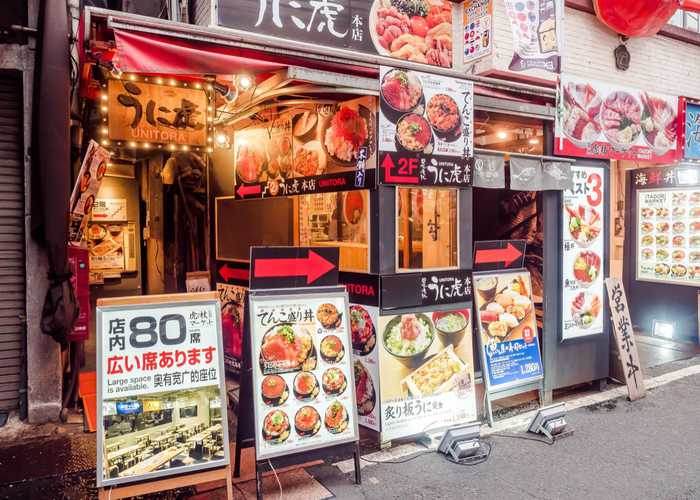 So many signs to different restaurants!! Too many choices!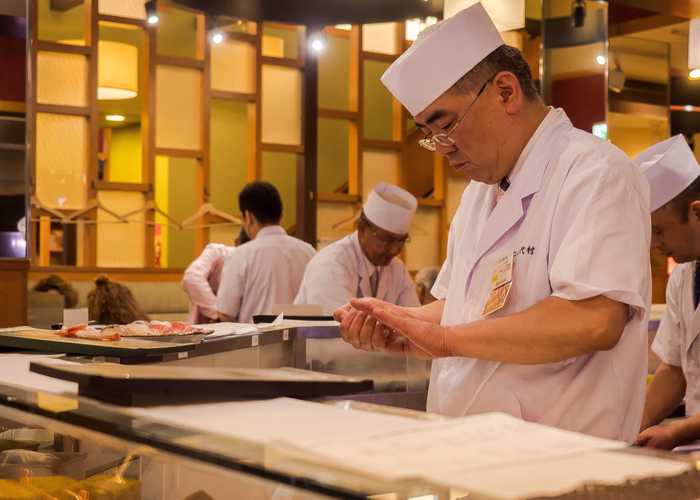 Master sushi chef!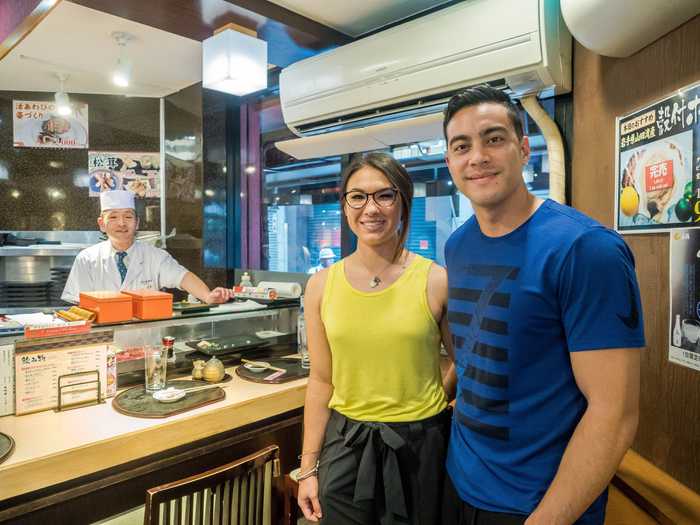 Yummmy!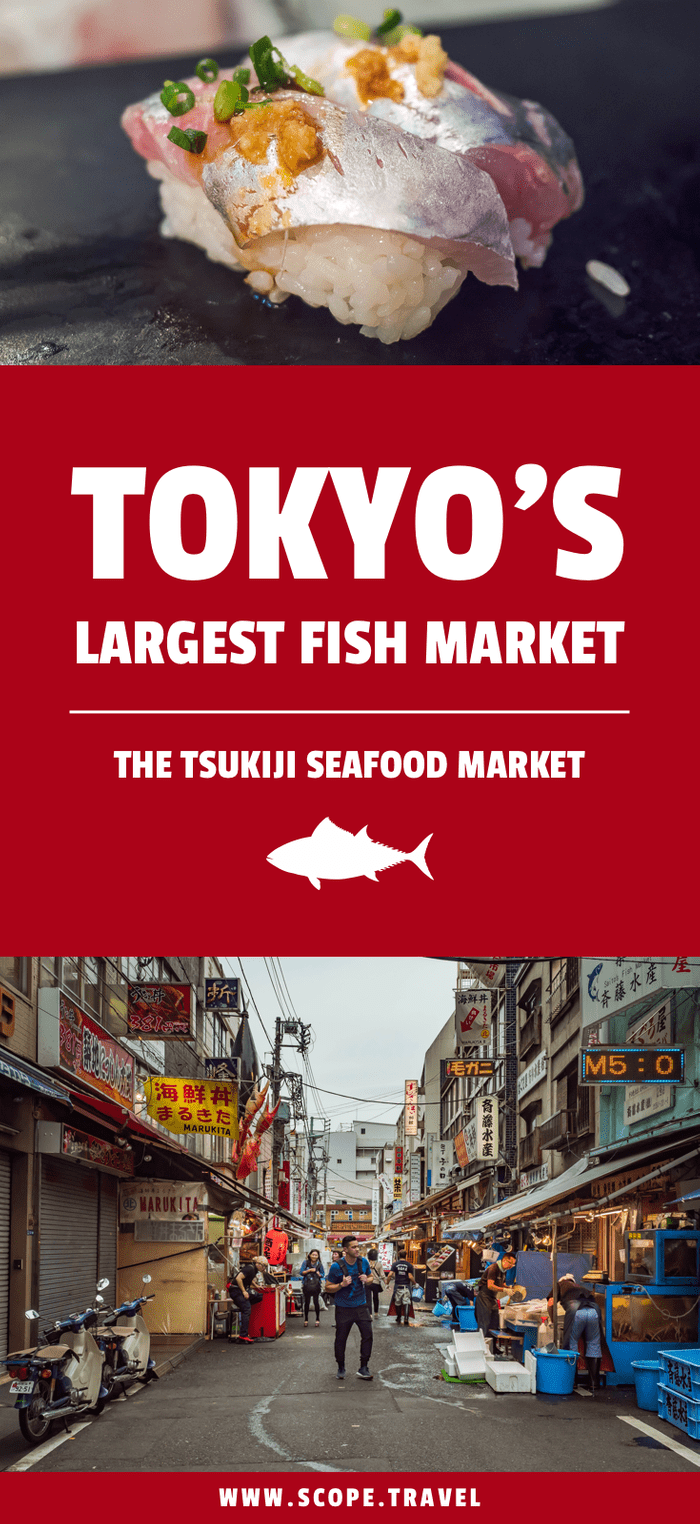 Pin it for later!
Join our weekly adventures
Gain access to our exclusive travel tips and more!
Expect exotic destinations, big adventures, flavorful food and unforgettable stories from our travels.