What essentials you need to pack for Cuba
By Sydney Tong on February 09, 2017. Read time: 3 mins.
Traveling to Cuba is like hopping into a time machine to the 50s. A life without access to the internet, classic American cars on the street and music constantly floating through the air.
Due to being cut off from the United States for more than 5 decades, supplies on the island are limited and we found some items extremely useful on our trip. Cuba is an astonishing destination and I feel optimistic about the future for travelers there.
Pack for Cuba like you would for any other tropical climate. The following is a list of extra items we suggest travelers bring with them before leaving for an adventure.
In January, the nights were chilly enough for a light sweater.
Buy a guidebook
I don't normally suggest travelers buy a guidebook because information can easily be found online in most countries. However, the internet is limited in Cuba and it is hard to quickly look up information which makes a guidebook a valuable source of knowledge. A guidebook can offer recommendations for restaurants and accommodations and other safety tips on the go which can be uber useful in Cuba. Don't rely on looking up information online as cities experience many blackouts. I highly recommend buying one ahead of time because finding one in Cuba could be difficult or expensive.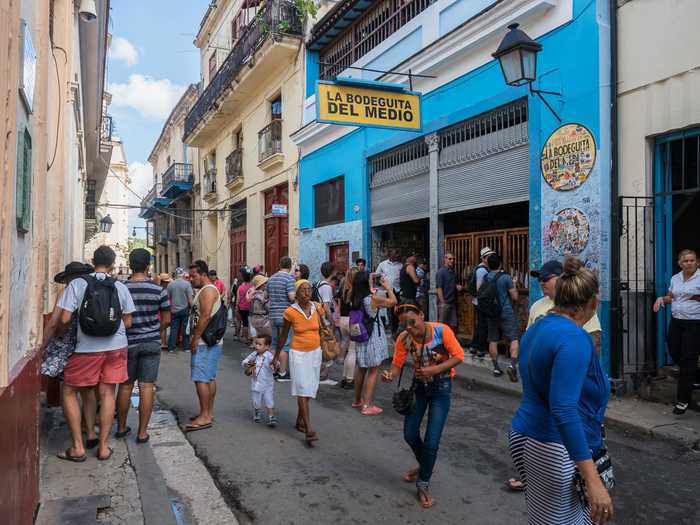 Busiest bar in Havana.
Get a map
Download a map that you can use offline or buy a physical map before you fly out. Mark important locations or places you'd like to visit because you may not be able to look up addresses once there.
We like "Motion X-GPS" because it works offline, has a compass and shows the small Havana streets in great detail. Google offline maps were useful enough for general locations but they did not show the streets and area in great enough detail.
Physical maps aren't impossible to find but they aren't as readily available compared to other countries. Expect to pay 3-5CUC for a tourist map in Cuba. Tourist maps are great because they will most likely show all the attractions that you want to visit.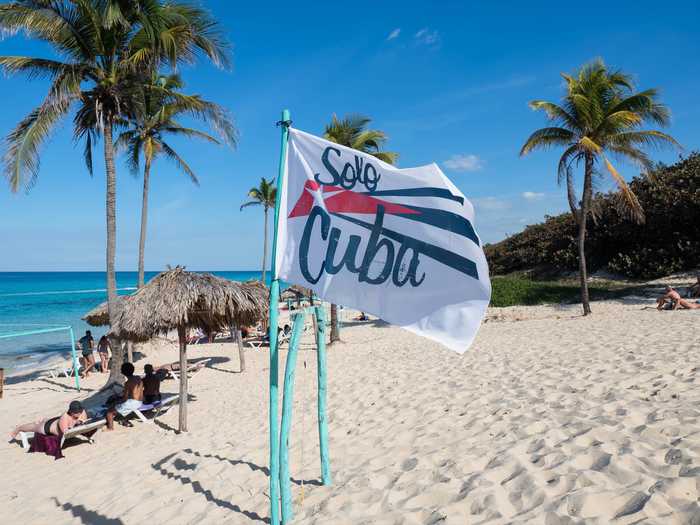 Don Pepe Beach 40 min from Havana
Write down information
I never realized how much I rely on having fast internet access at my fingertips until I didn't have access at all. Write down flight information, accommodation details, potential contact details, museums address/hours, and anything else you think you might need.
You absolutely need to have all your information organized and written down before boarding the plan. There is internet at the Havana airport but you won't have access to buy the necessary internet card once you get off of the plane.
Bring gifts
I've mentioned this in other articles and it is a must if you want to contribute to the community you are visiting. Bring soap, toothbrushes, toothpaste, deodorant, shampoo, conditioner, clothes, candies, gum or baseballs to give out to people you meet.
I promise you this is something you won't want to miss out on. You'll be relieved when you have something to give and you'll feel great when you make a new friend. A lot of women asked for soap and shampoo. I don't know if it is expensive or difficult to find but it seemed to be in high demand.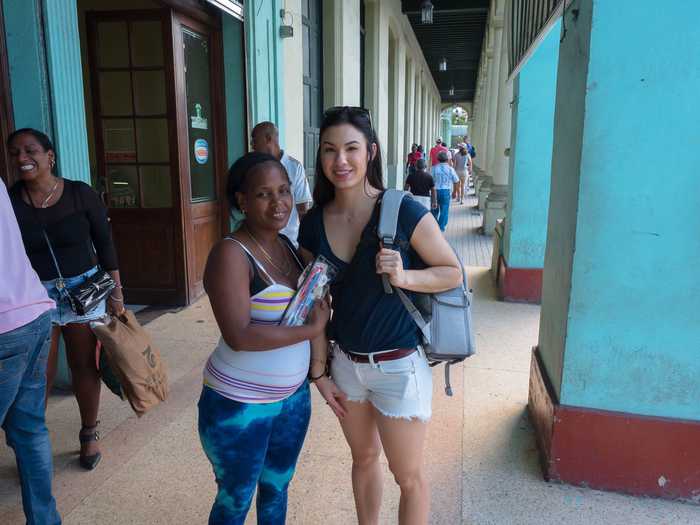 My dentist gave me a dental kit that I was able to give out.
Bring a steripen
We bring a Steripen on most of our trips and we use it to sterilize tap water as an extra precaution. Tap water is safe to drink in Cuba but travelers will experience sensitive stomachs if they drink it. It sucks having diarrhea on a trip and this little guy makes it less of a concern. We didn't get sick our whole two weeks there. Victory!
If you juice or water that hasn't come from a bottle as if they boiled the water first. Most touristy cafeterias, paladars or restaurants are more likely to do this compared to the local joints.
Hygiene necessities
Always have tissues, wet wipes, soap and antibacterial on you when you are out exploring the city. Most restrooms will not provide soap or toilet paper. Also, most toilets won't have a toilet seat (even private homes and hotels) so be prepared to squat. It is really odd and I have no idea where all of Cuba's toilet seats went. If anyone knows, let me know.
Bring medicine
We normally bring a medicine bag with us, because it is no fun being sick in a foreign country without familiar medicines. Once you get out of the larger cities in Cuba pharmacies can be harder to find and may have limited hours or supplies. We can usually cure all of our travel ailments with these medicines. Read our detailed article about what medicine we bring with us on all of our trips in the link below.
I hope that our list was helpful to you and gives you an idea of extra things needed to pack in your bag on the way to Cuba. Happy Travels! See our list of medicines here.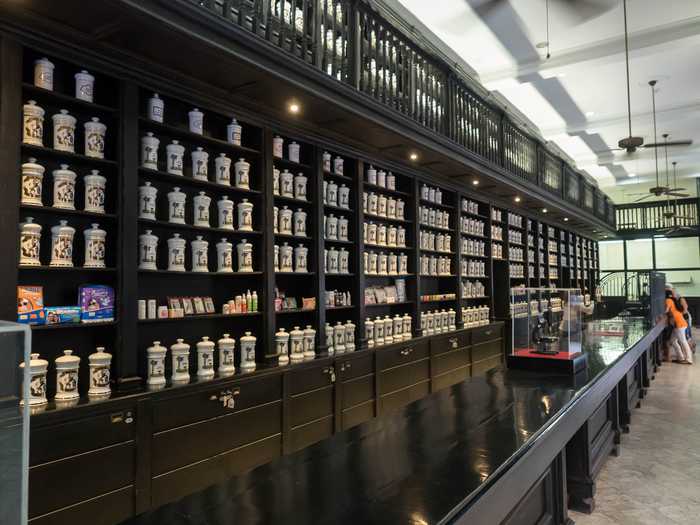 Fancy Pharmacy in Havana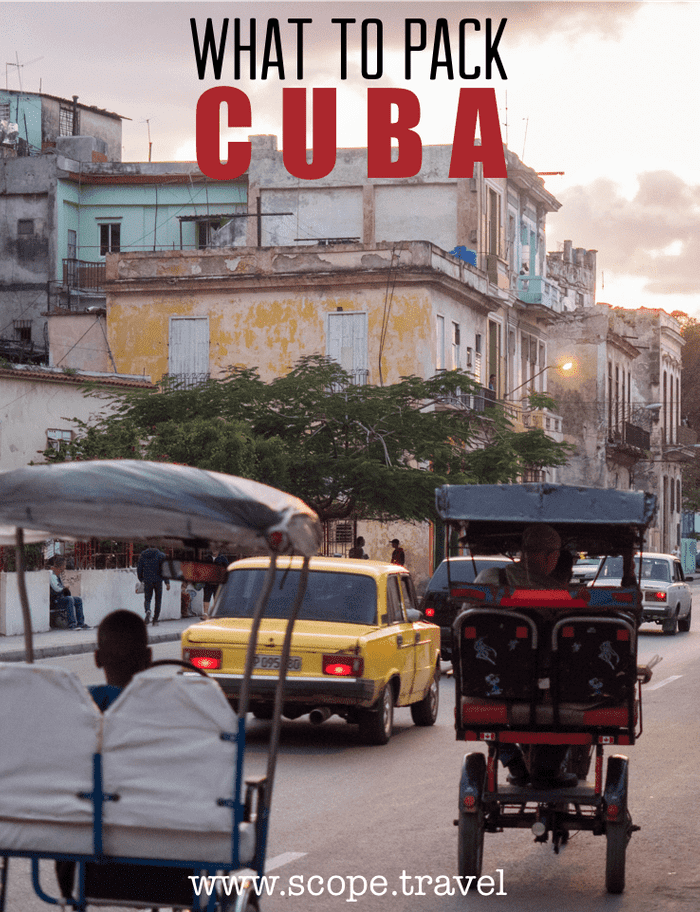 If you like it, Pin it!
Join our weekly adventures
Gain access to our exclusive travel tips and more!
Expect exotic destinations, big adventures, flavorful food and unforgettable stories from our travels.