What You Need to Know About Machu Picchu
By Sydney Tong on May 09, 2017. Read time: 9 mins.
Machu Picchu is one of my dream travel destinations. I wanted everything to go smoothly, and I wanted to be informed before I went.
While I was planning and during the trip, I wrote down all of the questions I had. After visiting Machu Picchu, I have answers to all of these questions. I hope this comes in handy, let me know if you have any questions I did not cover.
When is the best time to visit Machu Picchu?
The weather dictates the best time of year to visit. The dry season in Peru is from May-October and the busiest months are June and July. During high-season prices are inflated as locals take advantage of the amount of tourists coming in.
Visitors who want to travel cheaply should look into visiting during the should months, March/April, September/October. Keep in mind that should months carry the risk of rainy weather.
Does the weather at Machu Picchu affect the experience?
Yes, the weather in this area can change very quickly, and it is smart to prepare for sunny or rainy weather. Machu Picchu is 7,970 feet above sea level; the view is obscured by clouds during the rainy season.
What's the best way to get from Lima to Cusco?
You can fly or take a bus from Lima to Cusco. Flights reach Cusco in an hour, while a bus ride takes 21 hours. I do not know what is best for you, but I did not have 21 hours to spend on a bus.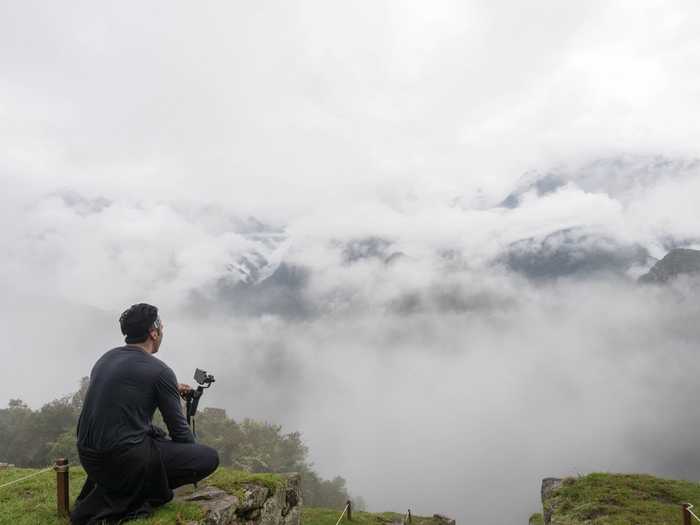 7am fog at the entrance of Machu Picchu
What airport do i fly into to get to Machu Picchu?
To get to Aguas Calientes, you will need to fly into the airport in Cusco. Alejandro Velasco Astete International Airport, CUZ.
How do i buy tickets to the park?
The best way to guarantee a spot at Machu Picchu on your preferred day is to purchase the tickets online. Online agencies sell tickets to Machu Picchu but buying tickets through the park's official website is the most efficient. The site updates in real time and shows the number of tickets available on any given day. Read our article on how to purchase tickets online. Learn How to Book Tickets to Machu Picchu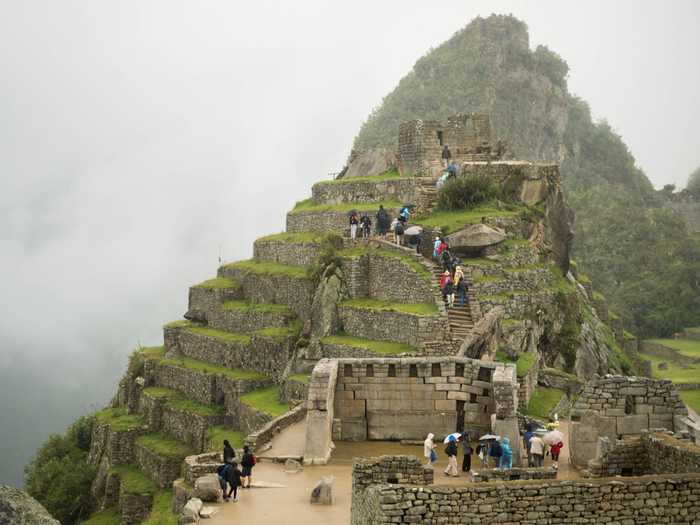 Walking around the the town, rain or shine.
How many tickets are available per day?
Only 2,500 people are allowed to visit the park per day. Huayna Picchu sells out very quickly with only 400 available spots per day. Machu Picchu Mountain allows 800 tickets per day.
How far in advance do i need to purchase tickets?
Purchasing tickets as soon as you decide you want to go is the best way to guarantee tickets. Those visiting during high-season should plan on purchasing tickets six months in advance.
Tickets are not sent via email after purchase so save tickets on your computer and print them out. If you lose your tickets, you can reclaim your tickets with your booking code. Even if you are booking later than suggested, still check if there are available tickets. Maybe you will be lucky and see an open day.
Can i purchase an entrance ticket at the front gate?
No, you can buy tickets in Aguas Calientes at the tourism office in the main square. However, making the journey to purchase tickets that have a possibility of being sold out gives me anxiety. It is best to be prepared to avoid disappointment.
What is the difference between Huayna Picchu and Machu Picchu mountain?
These are the two hikes within Machu Picchu. These cost extra to do and available tickets per day are limited. Huayna Picchu is a shorter hike that takes 45-minutes one-way. You get a beautiful view of the ruins and gets pretty crowded.
Machu Picchu Mountain (also known as Cerro Machu Picchu) takes 1.5 hours to ascend. You can see views of the river, the Inca Trail, and the ruins. The view is spectacular because you are higher compared to Huayna Picchu, but it takes quite a bit longer to hike. The hike up is beautiful, and we were in the clouds most of the time.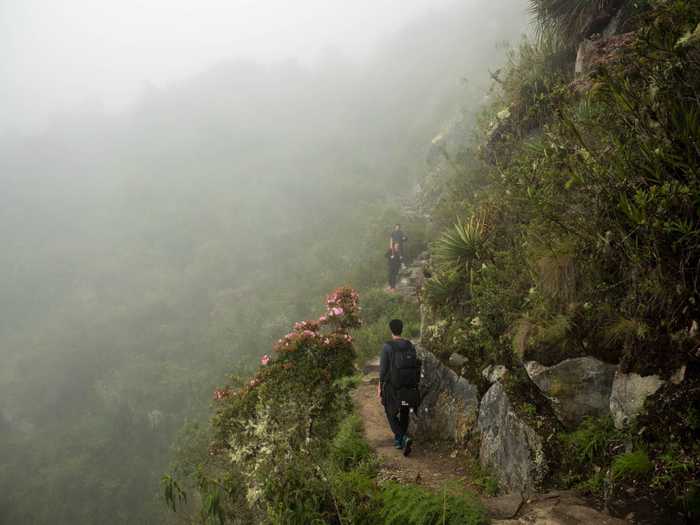 Hiking up Machu Picchu Mountain.
Are children free?
Children 7 years old and younger are free. Children 8 and older need tickets.
How many days should i plan to spend at Machu Picchu?
Your itinerary depends on what your plans and expectations are. One day is sufficient for exploring the town and doing one hike. Two days is recommended for exploring the town, doing a tour and doing a longer hike like Machu Picchu Mountain.
We hiked up to the park, Hiked Machu Picchu Mountain and explored the city and we were very rushed and exhausted. I would have like two days to do all of this. I feel like we missed a lot. We were there when the park opened until it closed.
Where do i stay to visit Machu Picchu?
Aguas Calientes is the nearest town to Machu Picchu. There are hotels, hostels, guesthouses and Airbnbs that fit all budgets and all levels of comfort. The town is small, so everything is easily walkable. I recommend staying in Aguas Calientes at least one night.
Is there camping near the park?
Yes, there is camping available on the Urubamba River near the base of the mountain. It is near the trailhead for the 1.5-hour hike up to the park. Look up Camping Municipal Machu Picchu to book a spot.
Is Aguas Calientes only accessible by train?
The short answer is yes. PeruRail and IncaRail are the two train companies that take visitors from Ollantaytambo to Aguas Calientes. There aren't any roads into Aguas Calientes so driving in is not an option.
The alternative option involves taking buses and a 2-hour hike for a total of 8 hours. I like backpacking, but in this case, the convenience of it all makes the price of taking the train a little easier to swallow
How far in advance do i need to book train tickets?
Tickets on both PeruRail and IncaRail sell out very quickly. Book these tickets as soon as you have confirmed your entrance tickets to Machu Picchu.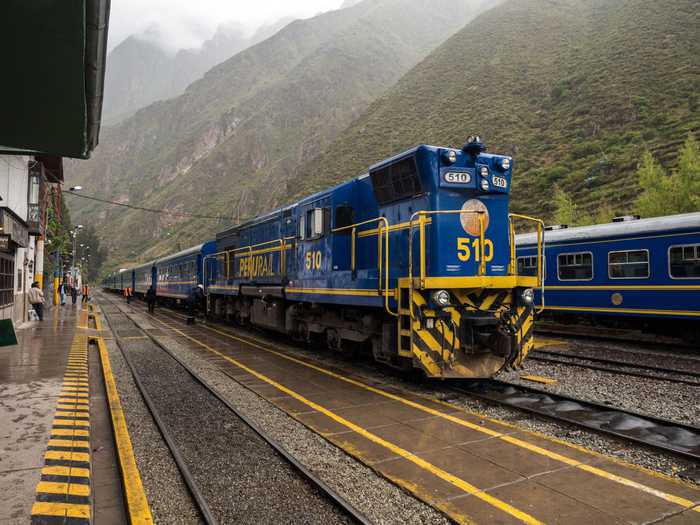 Ollantaytambo train station
How much luggage can i bring on the train?
Luggage allowances for both train companies are restrictive. PeruRail allows 5kgs (11lbs), and IncaRail allows 8kgs (17lbs). The allowance is enough for a backpack or a small overnight bag.
Where do i put my luggage while i am at Machu Picchu?
Due to the restrictive luggage requirements allowed aboard the trains, there are some safe options for storing larger bags while away. Most hotels in Cusco or Ollantaytambo will store your luggage at no extra cost. Leave your luggage in the hotels and bring a small overnight bag with you to Aguas Calientes. There is luggage storage at the Ollantaytambo train station. PeruRail offers luggage storage as a complimentary service for train ticket holders. In the front of Machu Picchu park, there is a luggage check available for a small fee.
What does it cost to get to Machu Picchu?
Peru is an inexpensive travel destination but visiting Machu Picchu is pricey. Prices vary depending on the type of traveler, but the primary costs associated with getting to Machu Picchu are train rides, entrance tickets, and bus tickets.
Entrance tickets to Machu Picchu S/.152 (about $46 USD, depending on conversion.
Entrance ticket + Huayna Picchu/ Machu Picchu Mountain S/.200 (around $61 USD)
Bus to Ollantaytambo from Cusco S/.10 - S/.69 ($3 USD -$23 USD)
Train tickets $118-300 USD round trip
Accommodations for one night $15 USD-$400 USD
Bus to from A.C. to Machu Picchu $12 USD for one-way
Train prices begin to increase in April as busy season approaches. Hotel prices vary season to season. We booked a hotel room on Airbnb for $25 USD a night. To read a more in-depth outline of minimum costs to Machu Picchu, read the this link Read Machu Picchu on a Budget here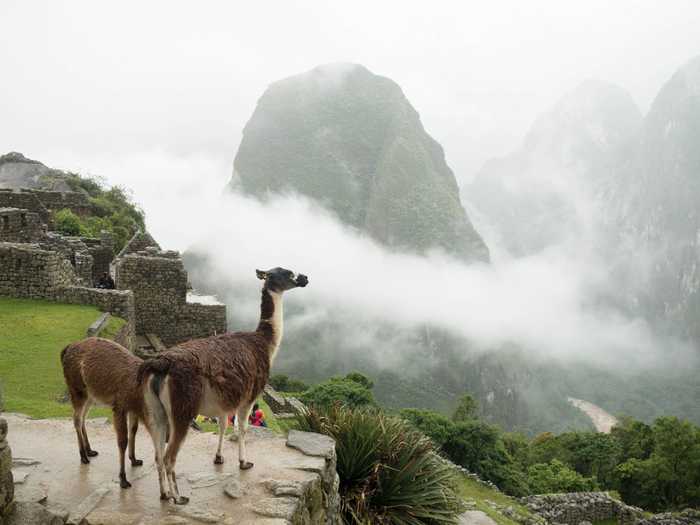 Alpacas hanging out everywhere
What does the bus cost to get from aguas calientes to Machu Picchu?
The 30-minute bus ride is $24 USD for a roundtrip ticket. One-way tickets are available for purchase if you want to hike up or down. Buy these tickets in Aguas Calientes or the front of the Machu Picchu park. If you want to be an overachiever you can purchase these tickets online ahead of time but it is not necessary, and the website is difficult to use.
Is there a cheaper alternative to riding the bus from Aguas Calientes to Machu Picchu?
Yes, the hike from Aguas Calientes to Machu Picchu is 1.5 hours. Read our article here for more tips on how to get there. Learn how to Hike to Machu Picchu Here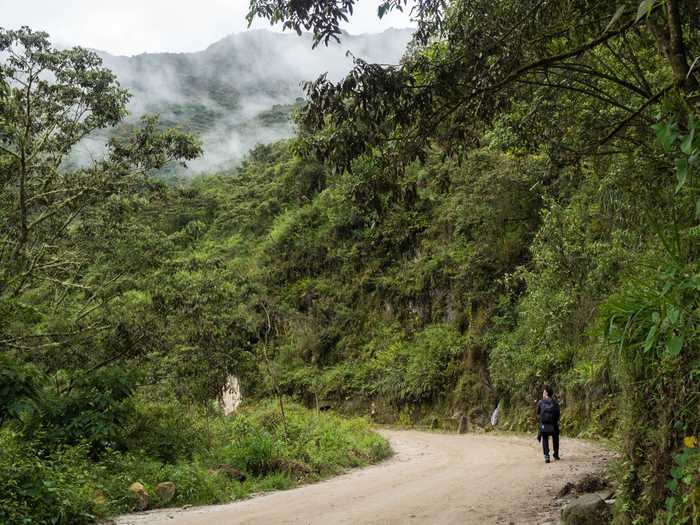 Hiking from Aguas Calientes
Is Machu Picchu wheelchair accessible?
No, it is not. There aren't any paved roads, and there are a lot of uneven surfaces and stairs.
What are the park's hours?
The park is open 6am-5pm.
What is the best time of day to go?
It depends on what you want to see and the time of year. The morning tends to be foggy, which isn't good for pictures but is cool to see.
Do i need a tour guide?
No, you do not need a tour guide to enter Machu Picchu. Whether or not you want one is up to you.
How much does a tour guide cost?
Guides are available for hire at the front of the park. The cost for a 2-4 hour tour is fluid and prices can be negotiated depending on the size of the group and if you want a private tour. Guides offered us quotes at all prices, so pick a guide whom you can communicate with well. If you are a solo traveler, you can ask a guide to join a group tour for a much lower price. Relatively speaking, hiring a guide is a useful option and is relatively inexpensive.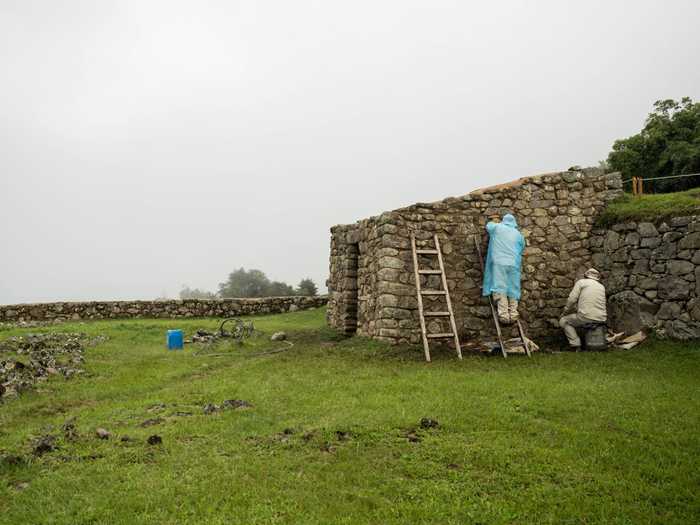 Maintenance crew
Is there a restaurant inside the park?
No, there aren't any restaurants inside the park. There is a cafe outside of the entrance. There are smaller cafe foods available for purchase, and there are bathrooms available for a small fee.
What should i wear?
Dress for the possibility of rain or shine. Wear clothes that dry quickly in case it rains. Wear comfortable shoes with traction and bring a hat and sunglasses.
What should i pack?
It is wise to pack your bag with water, snacks, sunscreen, bug spray, rain jacket, hat, sunglasses, map and a camera. Pack out all of your trash; there aren't any trash cans in the park.
Can i fly a drone there?
Machu Picchu is declared a no-fly zone. Flying a drone here will result in removal from the park, possible confiscation of the drone and a hefty fine. Don't risk it.
Is altitude sickness a real thing?
Yes, it affects many people who visit this area. Take the first few days in the area slowly. Drink lots of water and get lots of rest so you can enjoy Machu Picchu. Machu Picchu is at a lower elevation than Cusco but it is still 7,970 feet above sea level, so take it easy.
Do i need to be in shape to visit Machu Picchu?
Not necessarily. If you plan to hike then I recommend being in decent shape. If you are not in any shape to hike then I recommend taking the bus up to the park.
Is Machu Picchu worth all the hype?
While I was planning the trip, I wondered if the journey would live up to all the hype. It surpassed all my expectations, and it was one of the most exciting experiences. I suggest you make your opinion.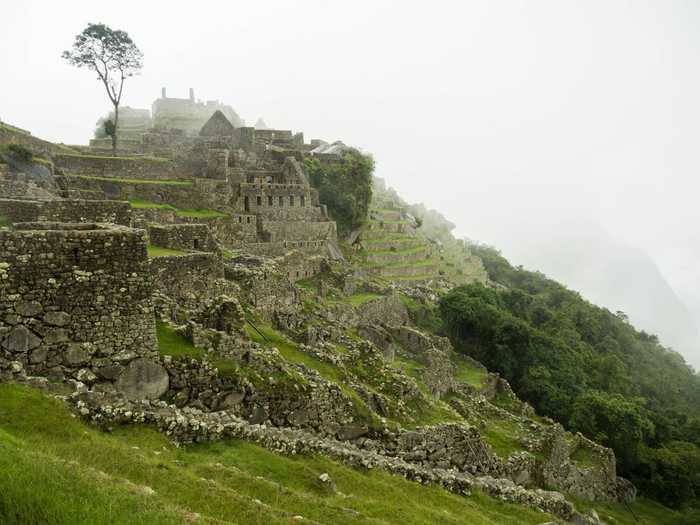 Enjoy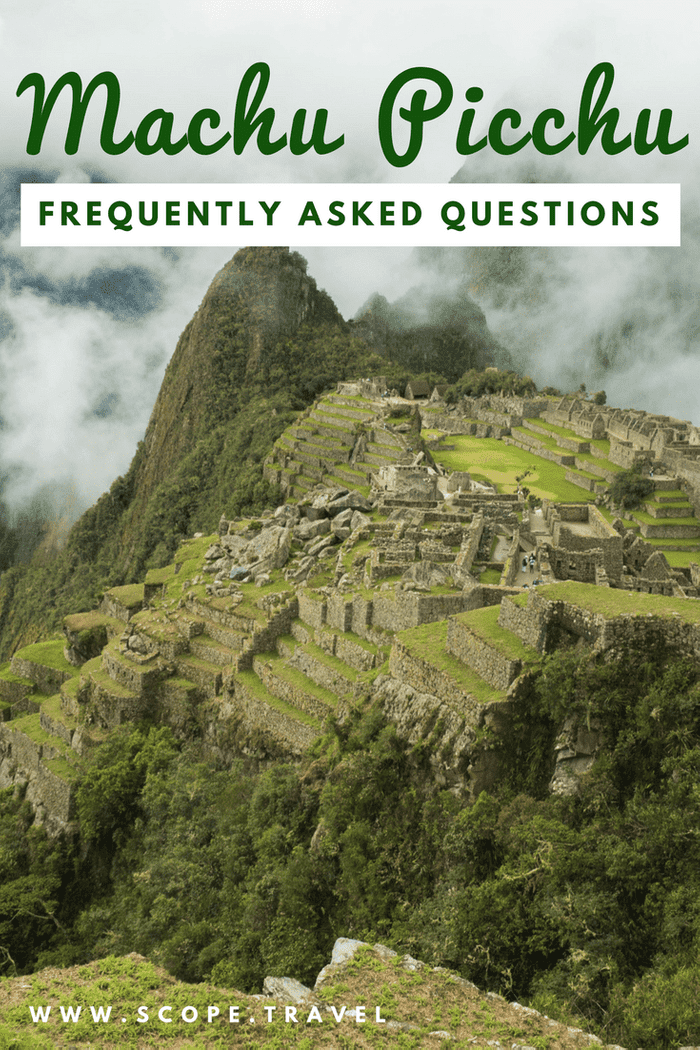 If you like it, Pin it!
Join our weekly adventures
Gain access to our exclusive travel tips and more!
Expect exotic destinations, big adventures, flavorful food and unforgettable stories from our travels.