Where to stay in Tokyo
By Sydney Tong on February 05, 2019. Read time: 7 mins.
Every year millions of tourists travel to Tokyo in search of tasty food, Japanese culture, and world famous fashion. Tokyo's diverse culture attracts a variety of people all in search of their ideal vacation. The most important aspect of planning your trip here is staying in an area that fits your type of travel style.
Tokyo is absolutely massive. To find your ideal home base, it is better to think of the city as a collection of smaller interconnected districts. Over 20 districts make up Tokyo, and as a tourist, you will likely be interested in six of them; Shinjuku, Shibuya, Ginza, Akihabara, Asakusa, and Odaiba. Each district has its personality and is loaded with sights to see, things to do and places to eat.
When choosing where to stay, it is essential to pick an area where you will want to spend the majority of your time and is convenient for everywhere else you want to visit. The west side of Toyko is vibrant and buzzing with activities, while the east side is less crowded and more traditional. We liked to spend our days exploring the east side but enjoyed the west side in the evenings.
Shinjuku and Shibuya are at the top of the list for first-time visitors because they are centrally located and feature popular attractions. They both have main train stations which are connected to outer parts of Tokyo. The nightlife in these areas is also the busiest and most diverse with thousands of activities and restaurants.
The transit system is inexpensive and efficient however the train closes every night at 23:30. Taxis and Uber between districts can get pricey and time-consuming. If you plan on being in a different area every night, then it is worth it to book a place there. Trains begin operating very early, and it is easy to get where you need to be during the day.
The train transit system shuts down around 23:30 every evening.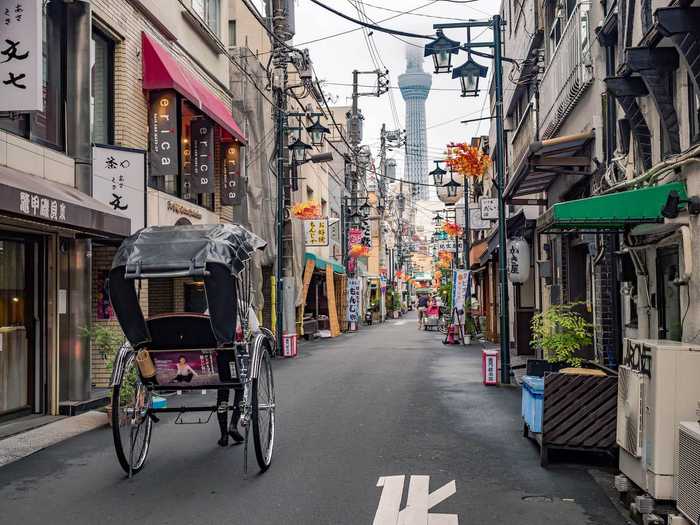 Slower and clean streets in Asakusa
Helpful Hints
Try to stay near the JR Yamanote line if at all possible. If that isn't an option make sure you are near any train station.
Multiple day train passes are available but were not worth it in our case. We typically spent around $5/day per person on train tickets. The desk attendant wanted $200/person for 7 days. Do the math to see if it will be worth it for you. In our past experiences, we find that these tourist-targeted passes are rarely worth it.
Cheaper accommodations perfect for families and budget travelers will be on the east side of Tokyo (Asakusa, Asakusabashi). There are more hostels in this area.
Airbnb is huge in Tokyo; there are so many different places to stay at different budgets. Many Airbnbs come with washer and wifi.
Where to stay
Shinjuku
Shinjuku is an excellent area for first-time visitors because it is centrally located to most Tokyo attractions and arguably has the liveliest nightlife in the city. This part of Tokyo is always moving; it is a vast commercial district with a lot of shopping, restaurants, and entertainment.
Golden Gai and Memory Lane are popular hangout spots in Shinjuku. Memory Lane, infamously known as 'Piss Alley' is tucked away in an alley away from the typical bright lights of Shinjuku. Stepping into this alley is like going back in time with hundreds of bars and restaurants packed and stacked on top of each other. These restaurants are only big enough to cater to a dozen guests at a time. Chef's cook your meal only a few feet away from you. Intimate restaurants like this are perfect for meeting other tourists or salarymen.
The JR Yamanote line runs a circular route around central Tokyo and gives access to the majority of tourist attractions. Shinjuku has a major train station with easy access to outer parts of Tokyo.
The JR Yamanote line runs a circular route around central Tokyo and gives access to the majority of tourist attractions.
Accommodations in Shinjuku are pricey, but the price is worth it because you will be within walking distance of many popular attractions. There is a huge selection of hotels, boutique hotels and Airbnb in this area with few hostels.
Our first time in Tokyo we stayed in Shinjuku and had easy access to the bars that are open until 4:00. Our second time in Tokyo we did not stay in Shinjuku and were concerned with catching the last train every night.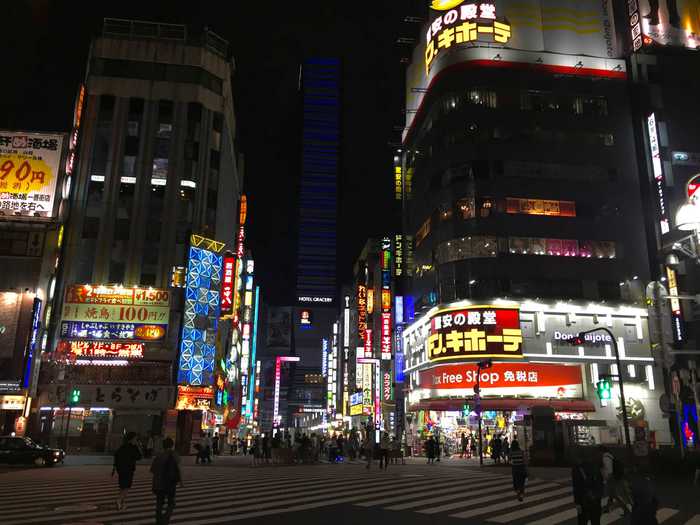 Shinjuku at night
Shibuya
Shibuya has a similar vibe to Shinjuku just slightly more relaxed. It is also conveniently located next to some of Tokyo's attractions which makes it a close contender for the best area to stay. We spent a lot of time in Shibuya because of the diversity of things to do. The city is loaded with significant parks, luxury shopping, boutique shopping, museums and restaurant hot spots.
I like Shibuya because it is fast-paced without being as overwhelming as Shinjuku. I loved the boutique shopping in Harajuku and Omotesando Hills the most. I found a lot of unique pieces of clothing and jewelry at affordable prices. The environment in these shopping areas is great for a relaxing afternoon. Read our article on visiting the cat cafe in Shibuya here.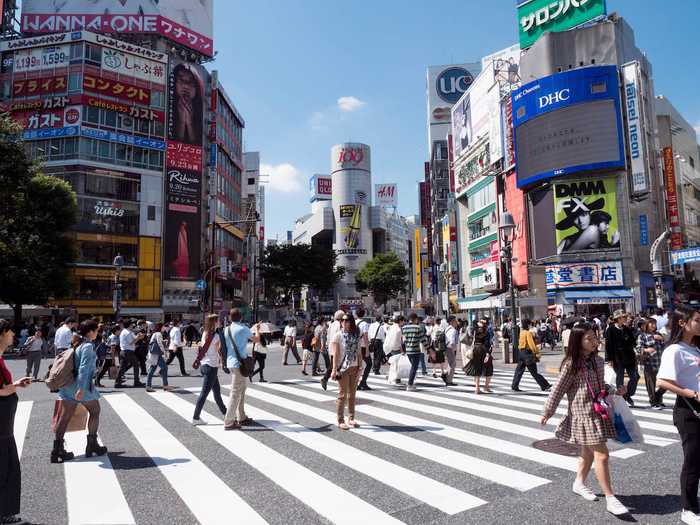 Trying our hand at the busy Shiubuya crossing
Ginza
Shopping is a competitive sport in Tokyo and Ginza is where the Shopping Olympics take place. If you fancy a trip filled with luxury shopping, big name jewelry stores, posh hotels, Michelin starred restaurants, then Ginza is where you will want to spend your time. The weekends are the best time to go shopping because the streets are closed to automobile traffic, letting pedestrians freely roam from store to store.
While the massive luxury branded buildings tower over the streets, this area doesn't only cater to the wealthy. The district also has lots of midrange shopping and restaurants.
Ginza is less crowded than the west side of Tokyo and is still accessible by the JR Yamanote line. This district has a lively nightlife, and many salarymen and women like to hang out here.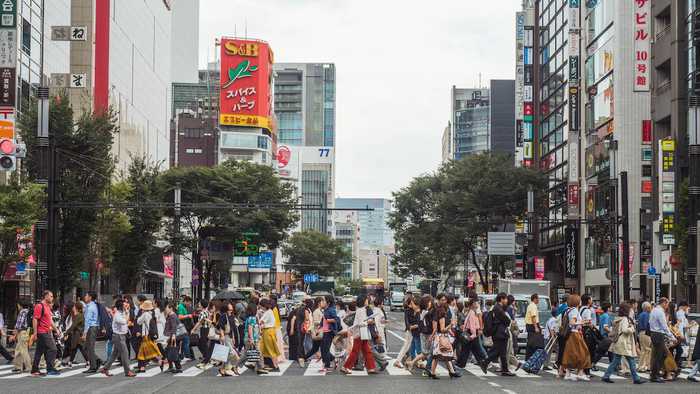 Shopping Street in Ginza
Asakusa
Asakusa is excellent for families and travelers on a budget because there are more affordable guesthouses and hostels in the area. The neighborhoods are quiet, and the stores and restaurants close earlier in this area compared to the west side districts. This area of Tokyo is less congested which makes it the perfect place to escape to after adventuring in the chaotic city.
There are temples, Japanese rickshaws, sumo training camps, small shops and tasty local places to eat. In fact, the majority of our favorite places to eat were in this area. We found plenty of inexpensive bars that sell local microbrewed beer which was quite the treat.
Asakusa is not directly located on the JR Yamanote line, but there are a lot of convenient train stations.
Asakusa is not directly located on the JR Yamanote line, but there are a lot of convenient train stations. If you stay in this part of Tokyo, you will be a metro expert by the end of your trip. Don't be overwhelmed by the train system; there are many attendants available to offer assistance and point you in the right direction. Keep in mind; what you might save by staying in this district you might spend on metro tickets, taxi fares and time.
Staying in Asakusa gives access to early morning activities like the Tsukiji market tuna auction and sumo practice. If you plan on going to the tuna auction, you must go very early (1:00-3:00), before the train is open. Read our article on visiting the Tsukiji market here.
Sumo stables open early for practice, but it depends on the stable and upcoming tournaments. In most cases, you have to call the stable the day before to reserve a spot.
The daytime activities are fantastic in this district, and we enjoyed our time in this area, but the nightlife is lackluster. Due to our jetlag, it took extra effort to get our butts out the door and onto the train to Shinjuku in the evenings. The jet lag was debilitating on this trip; we were waking up at 3:00 and dying for naps around lunchtime.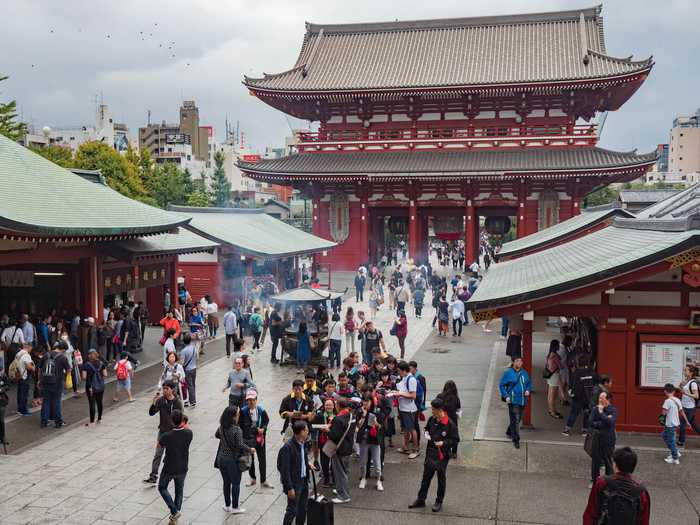 Sensoji temple
Akihabara
Akihabara, also known as 'Electric Town' has everything from skyscraper arcades, huge stores built solely for trading cards and anime figurines. Any anime show or movie you have ever watched or loved is represented here. Thousands of small shops and stalls surround these skyscraper arcades selling anything electronic that you could ever imagine. Akihabara is also infamously known for their maid cafes.
If you are into anime, gaming, comics or anything related to that world, then you might want to pinch yourself because Akihabara is your paradise. This district even has MariCart, where you can dress up like Nintendo Mariocart characters and race on Tokyo's streets just like Nintendo's Rainbow Road. We went early to check out this city and lines to the arcade stretched around the block with young boys waiting to get in.
If anime is life, then you will love staying in this area. If you only 'kinda' like anime or are curious about the area, then you are better off staying in a different area and just coming to Akihabara to check it out.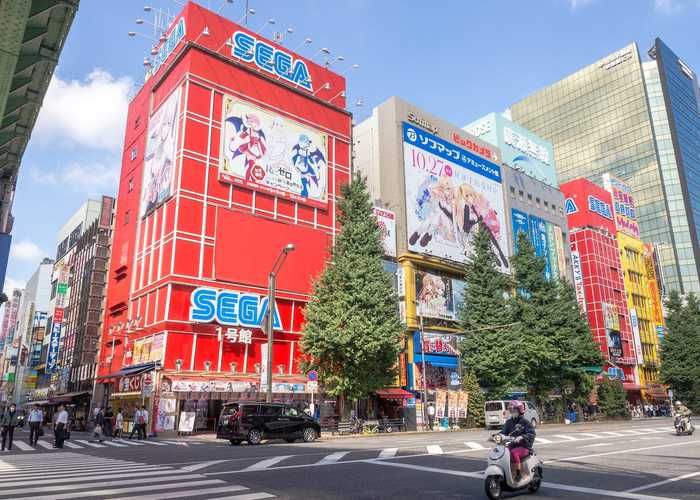 Sega building in Akihabara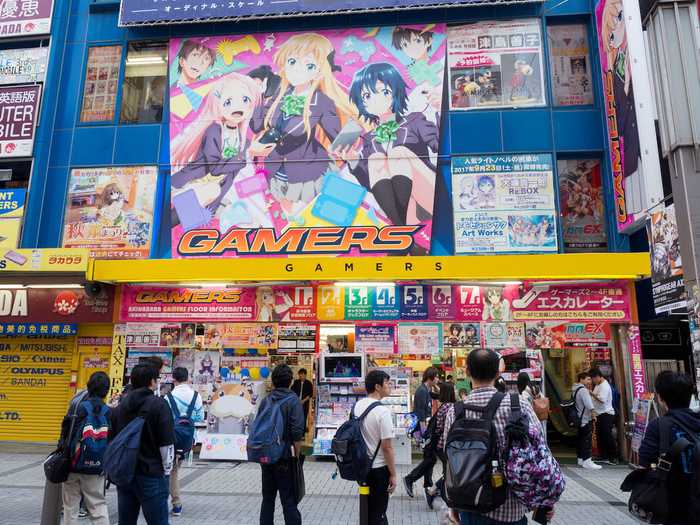 Outside a gaming shop in Akihabara
Odaiba
Odaiba is perfect for travelers in Tokyo for the night that need to get out of the Haneda Airport. There are several hotels in the area that cater to those with a layover in Tokyo. If you are planning to stay for more than a night, then stay closer to central Tokyo as Odaiba is far from most tourist attractions.
Relax in a Japanese onsen, hot spring, to soothe your muscles from the long flight. Onsens are open overnight if you are staying for an overnight layover, skip the hotel and relax here instead. There are areas specifically for people to sleep and relax on a traditional tatami floor.
Odaiba is near to Disney Sea and Tokyo Disneyland if that is your main priority during your trip. Both parks are a 30-minute train ride away from Odaiba. Comparatively, Shinjuku is an hour away from the parks.
Map of things to do in Tokyo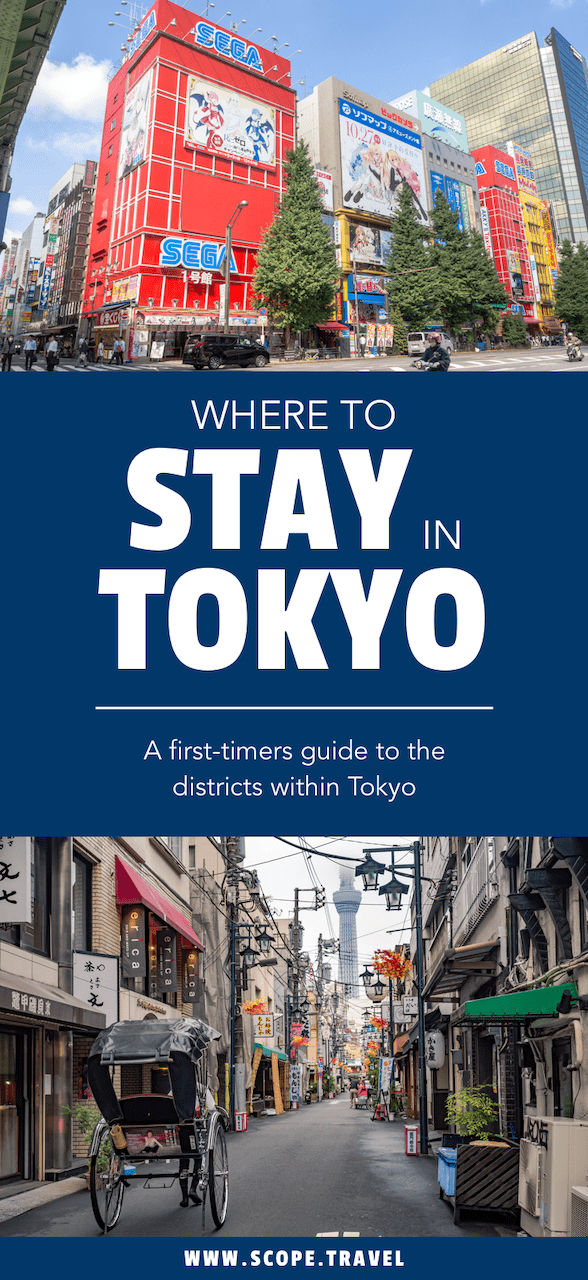 Pin it for later!
Join our weekly adventures
Gain access to our exclusive travel tips and more!
Expect exotic destinations, big adventures, flavorful food and unforgettable stories from our travels.