Yellowstone in the Fall - Pros & Cons
By Sydney Tong on November 08, 2017. Read time: 5 mins.
Powerful geysers shoot streams of water 140 feet into the air. Molten hot magma heats up springs of water that rise through the earth's crust to form pools that steam in the crisp autumn air.
Five-thousand bison in shaggy brown coats roam the golden plains. With its dramatic scenery, energetic geothermal activity and iconic wildlife Yellowstone remains unmatched.
Curious visitors from all over the world journey to Yellowstone National park to discover the colorful panoramic landscapes, mercurial hot geysers, and fascinating wildlife. With a supervolcano lying below the earth's surface, there is a lot of activity that makes this park a national treasure.
The park is beautiful at any time of the year, but autumn proved to be the most luxurious experience out of all the seasons. During this time of the year, the landscapes are painted with hues of yellow and orange that pop among the evergreen trees. The mountains are a striking backdrop to the impressive hot springs; their hot steam is intensified by the cold air.
We packed up our tent, warmest sleeping bags, headlamps, down jackets and camera gear to drive to Yellowstone for the weekend. We were apprehensive to go this late in the season, but it ended up being the best decision we made all month.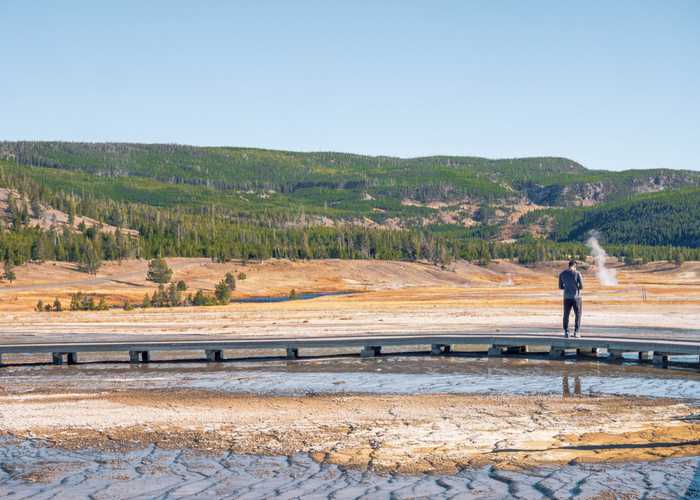 Gabe near the Grand Prismatic Spring.
Pros
Less crowded
We have always been hesitant to go to Yellowstone because the lookout points and main attractions are known to get horrendously busy and crowded. The possibility for big crowds has been the biggest reason we have put off this trip for so long. During the summer, a typical day can have around 30,000 guests in the park which is why we opted to travel during the shoulder season. If we wanted crowds like that, we would go to Disneyland.
We visited the last weekend in October and didn't experience any crowding in the entire park. The parking lots only ever had a half a dozen cars, and we didn't have to worry about bumping elbows with other visitors while trying to get a piece of the view.
On most of our hikes over the weekend we hardly ever saw anyone else on the trails. What a glorious way to spend time with Mother Nature.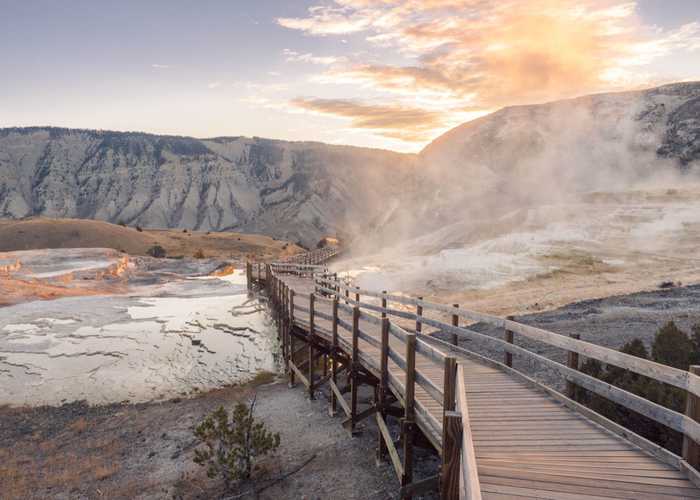 Sunrise at Mammoth Hot Springs.
Campground availability
During the peak of the summer, it is necessary to book a camp spot weeks in advance. Competition for a camping spot it fierce and some campers line up for a chance of a spot as early as 7:00 am. This detail is not advantageous for last minute campers like us.
In the fall the majority of the campgrounds close down in preparation for the winter and a low number of visitors. Only Mammoth Campgrounds and Lewis Lake Campground are open. These campgrounds don't accept reservations and spots are available on a first come first serve basis. The weekend we went they weren't even filled halfway to capacity.
Check out this website to check the status of the campgrounds. To check the capacity of the campground the weekend before call the park - +1 (307) 344-7381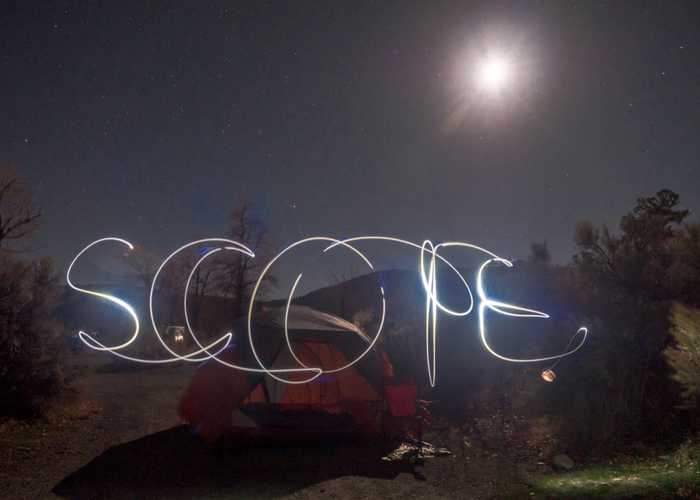 Our campsite at Mammoth Campground
Cooler temperatures
Camping in the cooler temperatures is ideal for a variety of reasons, and in fact, I find it preferable over warmer summer temperatures. Even though summer temperatures in Yellowstone rarely reach the 90s.
The number one reason I prefer camping in colder temperatures is that my flesh attracts mosquitoes in hoards. It doesn't matter how many precautions I take to avoid these annoying minuscule vampires they will find me, and they will kill me.
Lower temperatures mean fewer bugs!
I can wear an overload amount of deet packed bug spray, wear "bug-proof" pants, light citronella candles and the buggers merely laugh at my pathetic attempts to thwart their potential feast on my delicate skin. Northface doesn't make puffer jackets small enough to fit those teeny bastards, and they get too cold to hunt for my sweet, delicious blood.
Be extra vigilant when preparing your wardrobe for this trip. You will most definitely want to layer your clothing. The daytime temperatures were perfect for walking around, and we only needed long sleeve shirts and pants. The evenings dipped to the low 30sF which was alright because it wasn't windy. Plan for the worst and hope for the best.
If you are camping make sure you have the right gear, and your sleeping bags are warm enough.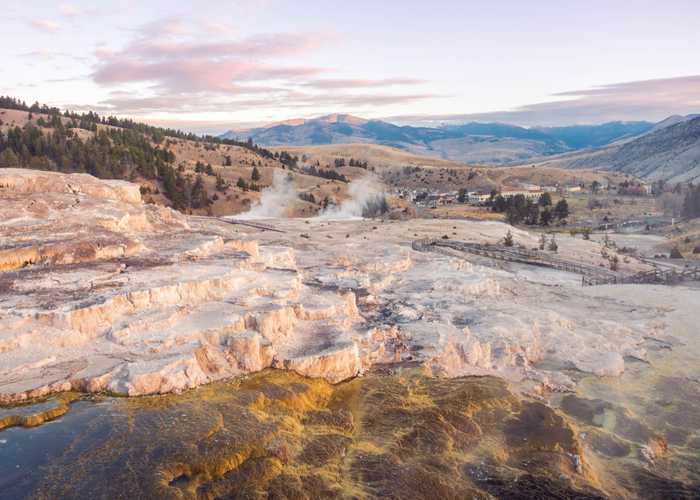 Early mornings in Yellowstone.
Fall colors
I'm a sucker for scenery with colors that pop. Yellowstone is known for its natural beauty, but it is made even more dramatic by the bright yellows and oranges that make their debut during autumn.
The warm oranges and yellows brighten up the thick evergreen trees. If you are a photography junkie, then you will have a lot of fun capturing these colors.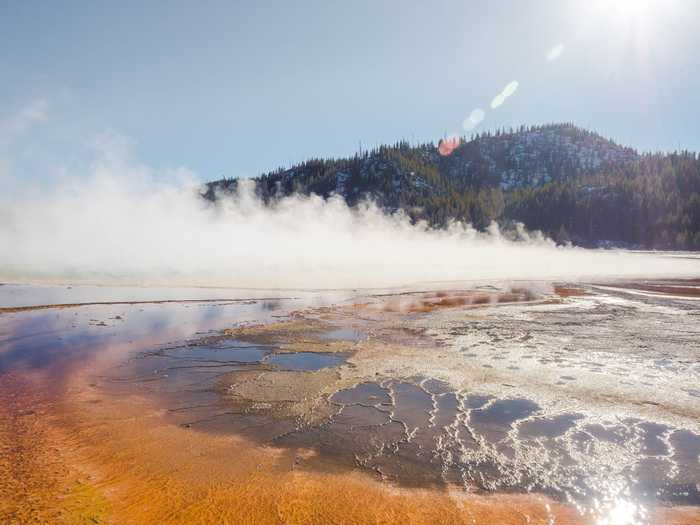 Edges of the Grand Prismatic Spring
Cons
I can't talk about the greatness of Yellowstone in the fall without mentioning some of the drawbacks. While there are only a few worth mentioning they are vital if you are planning to go later in the season.
Closures
Like I mentioned before, the majority of the campgrounds begin closing in September, and there are fewer options when choosing where to pitch your tent for the night. Only Mammoth and Lewis Lake Campgrounds are open late in the season.
We stayed at Mammoth, and they were already beginning the process of closing it down for the season. They had closed down a bathroom which left half of the campsites without a nearby toilet. The campground isn't huge and reaching the bathroom isn't a total inconvenience unless it's 3 am and you are about to explode.
Yellowstone uses the slower months to repair trails and roads which means there is a likelihood that some hikes, views or roads you were planning to use will be closed.
During our visit, they were redoing the west road which caused some delays when we were trying to get from the south end of the park to our campground in the north end. All in all, it wasn't too bad, but it would have been a nightmare in the summer months.
Museums, bookstores, and gift shops close in the slower seasons.
They keep their website up to date on the status of their roads, hikes, and trails so you can plan accordingly. View park conditions here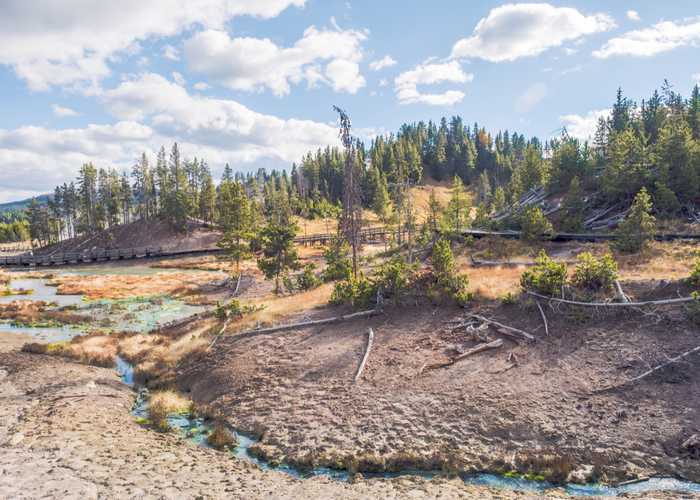 Near Dragon's Mouth Cave.
Unpredictable weather
Yellowstone's weather is unpredictable in the fall, and the forecast can dramatically change throughout the day. Keep up to date with the current weather forecast and prepare accordingly.
It has been known to snow in the fall, and it might be wise to go in a car with all-wheel/4 wheel drive. The park will temporarily close roads if they are experiencing unsafe weather conditions.
If you enjoy spending time in America's National Parks without the stress of overcrowding, then head to Yellowstone in the fall. You will experience great weather and beautiful autumn colors on top of a memorable camping trip.

Pin it for later!
Join our weekly adventures
Gain access to our exclusive travel tips and more!
Expect exotic destinations, big adventures, flavorful food and unforgettable stories from our travels.