Budgeting for Long-term Travel
By Sydney Tong on July 14, 2017. Read time: 8 mins.
Making the decision to go on an extended adventure abroad is an exhilarating time. You imagine life changing experiences and wonder what the future holds in store for you. You begin to dream about the many adventures that wait for you, the new people you will encounter and flavorful cuisine you will try. You picture yourself lounging on white sandy beaches and making friends with locals in neighborhood restaurants. In the midst of your daydream, the waiter delivers the bill.
The high of deciding to go on an extended trip begins to fade as the reality of paying for it starts to set in. Budgeting out the right amount of cash for your trip all comes down to adequate research. Properly investigating your voyage is the key to generating a watertight budget that will carry you throughout the entirety of your journey. It is a numbers game and the more efficient you are with crunching numbers and planning, the better your trip will be. Stay motivated while you plan the groundwork so you can have the trip of a lifetime.
Research-know before you go
Financial planning isn't the most fun part of planning your trip, but it will be what you are most grateful for during your trip. Especially when you encounter an experience you can't miss and have the money to pay for it. Being aware of what you are getting yourself into will leave you less stressed and more prepared. I've met many travelers on the road who were strapped for cash and couldn't pay for the things they wanted to do. Don't be that traveler.
Cost of living
When your thoughts begin to turn to daydreams where do you envision yourself? Do you imagine yourself sampling spicy street food in Southeast Asia? Perhaps you visualize yourself carrying conversations in Spanish with locals in South America. You might even fantasize about exploring centuries-old cities in Eastern Europe. Wherever you envision yourself the first step is to analyze the cost of living in your intended destination and compare it to where you are living now. Figure out how much things cost in local currency and compare it to your currency. How far will your money go once you reach your destination?
My favorite cost of living calculator is the "Numbeo Cost of Living Calculator" because it gives detailed pricing information written by people living in the cities. Numbeo relies on users to input city-specific and up-to-date data which makes it such a valuable resource. It has information for over 6,000 cities and is capable of providing side-by-side comparisons of different cities.
Different cities within the same country might have varying costs of living.
Numbeo gives an accurate representation of how far your money will go and what it can buy you. For example, $1,000 USD in Salt Lake City, Utah, our hometown, has the same local purchasing power as$598 USD in Budapest Hungary, $553 USD in Chiang Mai Thailand or$1,340 in Copenhagen Denmark.
For more insight, I compare the prices of everyday necessities like food, alcohol, transportation, utilities, clothing and apartment prices. Using the comparison of Budapest with Salt Lake City, I see that food and drinks are considerably cheaper in Budapest as well as the public transportation. However, their cars and gasoline are more expensive than Utah's capital. On Numbeo I can also compare rental properties, a one bedroom apartment in downtown SLC is $1,160 while the same would cost$466 in Budapest.
Visit Numbeo's Cost of Living Calculator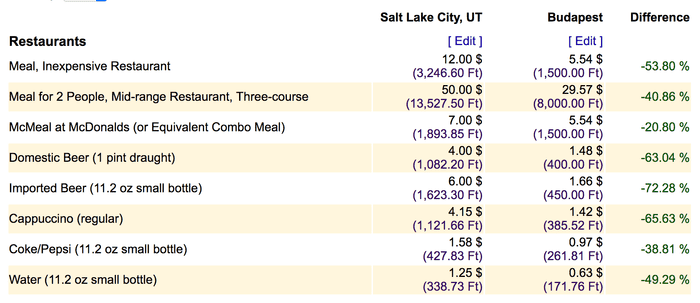 If you're more interested in touring and your plans include moving from city to city, use the C.O.L. (cost of living) calculator to calculate the cost of living in every single city. Consider mixing high-cost and low-cost cities. When I was backpacking in Europe, I mixed high-cost of living cities like Dubrovnik, Vienna, and Amsterdam with lower-cost cities like Sarajevo, Barcelona, and Budapest. By incorporating the different cities, I was able to keep spending under control and got a mix of different cultures.
Accommodations
Accommodations will be one of your largest expenses and will set the tone for your trip. What kind of experience do you want and how much will that cost? Do you prefer a luxury penthouse, hotel room, an apartment, or do you want to try the backpacker lifestyle and stay in a hostel?
Some Airbnb hosts give weekly or monthly discounts.
Using Budapest as an example, staying in 5-star hotels in the city at $300/night will run you about 9k for the month. Renting an entire apartment in the center of Budapest on Airbnb for$21/night will cost $630 for a month. Trendy hostels are everywhere in Budapest and on average are$15/night but can be as low as $9/night putting you between$270-$450 for a month. Personally, the best times I have ever had were in hostels. I have met the coolest people on the planet when I have stepped out of my comfort zone and traveled backpacker style.
Travel related expenses
Costs associated with moving from place to place will likely be a big chunk of your budget. These price tags need to be accounted for in the budget. With diligent research, you can save a lot of cash when buying tickets.
The plane ticket to your destination will probably be expensive. Companies like Scott's Cheap Flights, Momondo, Skyscanner and Google Flights are my favorite resources when I am searching for inexpensive airfare. The best time to purchase tickets is three months before your anticipated departure date. Buy tickets too early, and you will miss the airline's promotional fares.
Do you imagine yourself staying in one area getting to know the culture or do you picture yourself touring the continent staying in each city for only a few days at a time? Generally speaking, traveling from city to city can quickly rack up the hefty price tag. When putting together your budget take into consideration the cost to get to and from airport/bus station, ticket cost, visa fees, and any other tax the country may require.
You may need purchase a roundtrip or outbound ticket to show immigration officers that you have plans to leave the country.
Additionally, immigration officers like to know that you are leaving the country during the allotted time that your visa allows. Having an outbound plan will allow for a more convenient entry experience. Be able to prove you have a plan to exit and to stay within the restriction of your visa.
Curating a daily budget
The last part of figuring out your cost-of-living-budget is to evaluate your spending habits honestly. Calculate how much your typically spend on food, clothes, alcohol, hygiene products, makeup and everything else in a month. I like to use Mint, which is an app that links to your credit cards and bank accounts to track spending. It categorically organizes spending so users can easily see where they are putting their money each month. It is easy to use and a great resource for sorting out budgets. Be honest with yourself when reviewing your expenses. Being in denial about how much money you spend is only going to keep you from curating the best possible budget for yourself.
By tracking your spending, you will be able to gauge the amount of money you will need to save to supplement your spending habits. After reviewing your habits make adjustments to improve them for your trip.
Read our destination articles and guides, Tripadvisor, travel blogs, or other travel guides to evaluate how much attractions, museums and other side trips will cost and create a daily budget. Your daily budget will largely depend on the cost of living in the city. Include meals, coffee, alcohol, transportation and souvenir purchases. I typically plan higher than I think I will need per day and am always grateful for that little extra cash in case any must-do adventures pop up. Depending on the C.O.L. prices I typically budget anywhere between $30-$60 per day. This number is usually more than enough in cities like Bangkok but is stretched tight in pricier cities like Amsterdam or Tokyo.
Prioritize
Putting together your budget is a good method to see where you stand in your long-term travel goals. You may be surprised to learn that your ideal city is more expensive/affordable than you anticipated. After studying the price tag for your adventure and your spending habits, you will be in a good position to prioritize.
After outlining your budget detailing the costs for accommodations, food, tickets, things to do and other living expenses you might need to prioritize. Decide what you are trying to accomplish on this trip and keep that in mind while going through your budget. If the budget that you have created for yourself is more than you can afford then cut back on the factors that are less important to you.
Once you begin to assess, you might see that you don't have enough money in one category and too much in another. Move around the numbers until it looks comfortable to you.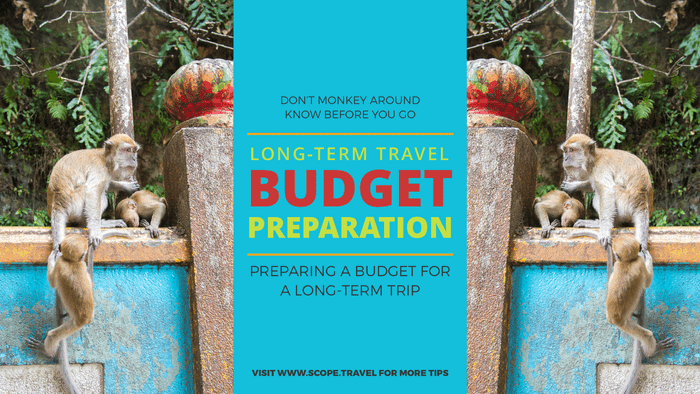 If you like it, Pin it!
Making the money
After determining how much money you will need for your "eat, pray, love" experience your next step is to figure out how you will load your pockets with that green cheddar. If you have an excess of spending money that is eager to be used, well then chao and happy travels. If you are like me, then you will need to develop a strategy to increase the cash flow and save the money you already have.
Trim your current spending
The first strategy is to budget your current cash flow. I mentioned Mint earlier as a method of tracking your spending. You may have to cut down expenditure in some areas to save money for your travel fund. With a newfound focus and travel goals in mind, this will be easier than ever. Keep your destination at the forefront of your mind when debating on whether you should buy that $6 Starbucks coffee. Switch your mindset; you're home brewing coffee now so you can treat yourself to a coffee later, in an Italian coffee shop on the streets of Milan perhaps!
Pick up a side job
Ain't no shame in a side hustle. In fact, it's an admirable quality. It's 2017; everyone has got an extra way or two of making some spare cash. Pick up a bartending or serving gig on the weekends, walk some dogs, mow some lawns, work at your Uncle's business to save a couple of grand. You may have to work hard, but it is temporary, and you're doing it to fatten up that travel piggy bank. The more diligent you are in your hustle, the longer and more comfortable your trip will be.
Work while you travel
Work while you travel. I have stayed at hostels that have allowed foreigners to work for a paycheck and a bed. Some countries have visas for younger people looking to globetrot long-term. For example, Australia has a year-long work visa for people under 30, which is a great program that people can look into for options of making cash while on an extended trip down under. There is always some way to work while on the go as long as you are willing to look for it.
Work remotely
Another option to earning money on a long-term trip is to work remotely. Then you still have the incoming paycheck while you are on your trip. Remote work might be an option for some offices, but is still not a possibility for many. If it is an option for you, then I recommend taking advantage of the opportunity.
Organizing your finances for long-term travel is hard but rewarding work. Educating yourself on the cost of living, and budgeting accordingly will prepare you financially, so you aren't left halfway through your trip wanting for more money. You also won't come home as broke as a joke with a nasty reality slap.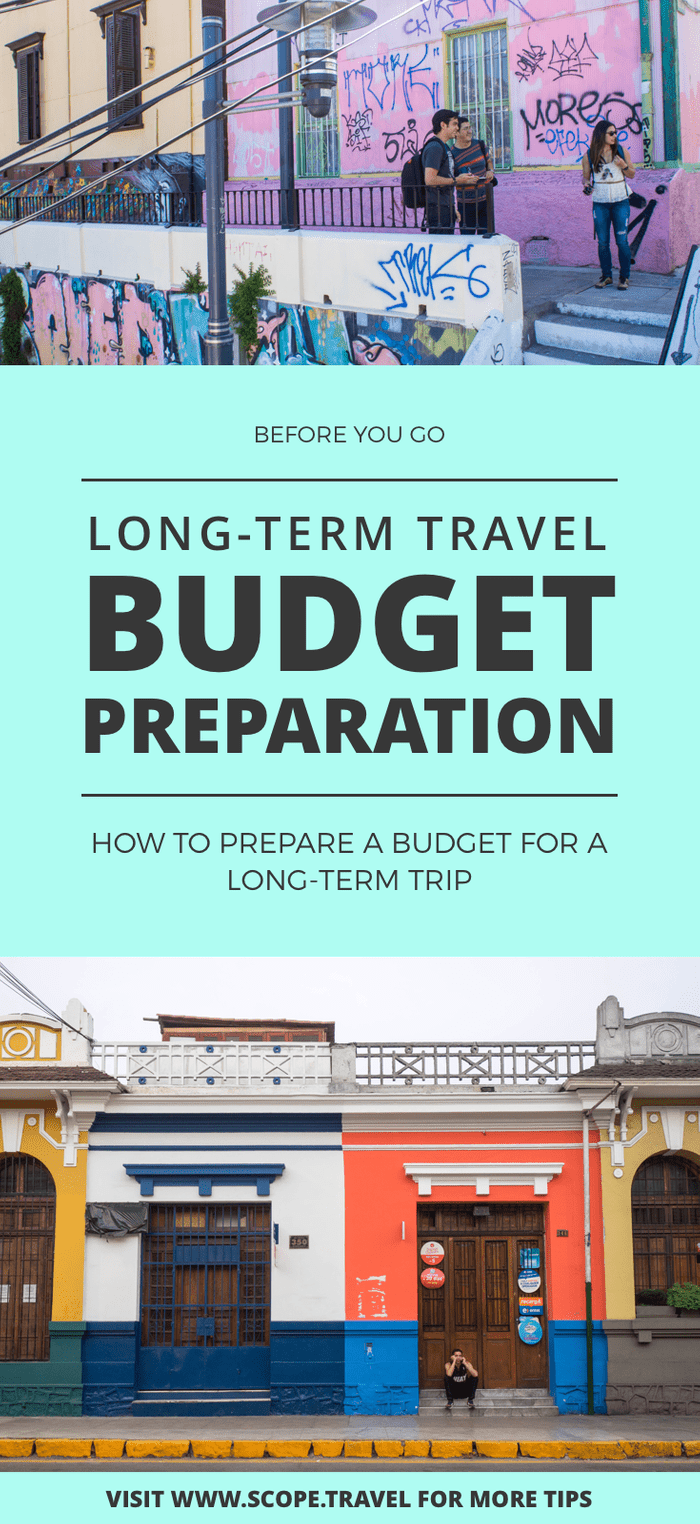 If this article was helpful, Pin It!
Join our weekly adventures
Gain access to our exclusive travel tips and more!
Expect exotic destinations, big adventures, flavorful food and unforgettable stories from our travels.