Using Airbnb Like a Pro
By Sydney Tong on August 07, 2017. Read time: 9 mins.
Airbnb changed the travel game with their easy to use room booking service. The start-up giant connects locals with a spare room with travelers looking for a bed and a taste of local culture.
Travelers get the comforts of a home-like stay and locals rent out their home and make extra cash. Both parties get the experience of getting to know someone they might not have otherwise met.
The increasingly popular San Francisco based company has changed a lot since its launch in 2009 and is now a multi-billion dollar business. It boasts over 160 million users and three million listings in 191 countries and 65,000 cities worldwide.
The modern-day tourist seeks authentic experiences when traveling abroad and Airbnb offers an easy-to-use service that gives travelers a method of connecting with locals. Nowadays users can book a couch, a room in a local's home or have a whole house to themselves.
Airbnb has become my go-to service when I am looking to book accommodations. I have stayed in everything from a mud house in the Atacama Desert, a beautiful loft in Budapest and, even a grass hut in the Philippines. Since no two rooms are alike, it can be easy to overlook certain factors when choosing a place to stay. Over time, Airbnb has streamlined the process, but there are still factors that guests should consider while booking a space.
These are some of the spots that we've stayed at through Airbnb.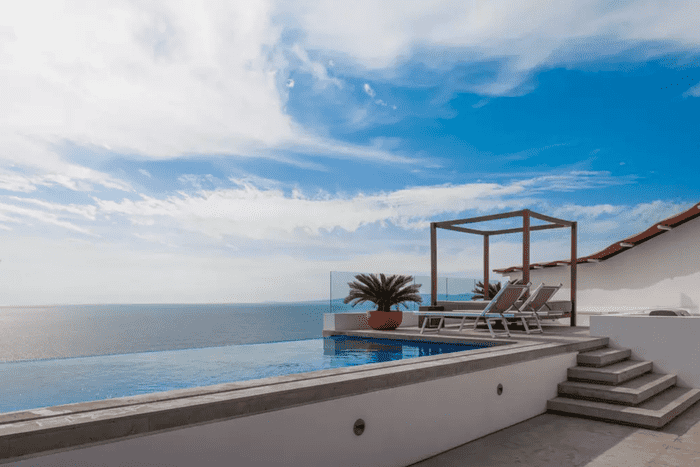 A deck from our place in Puerto Vallarta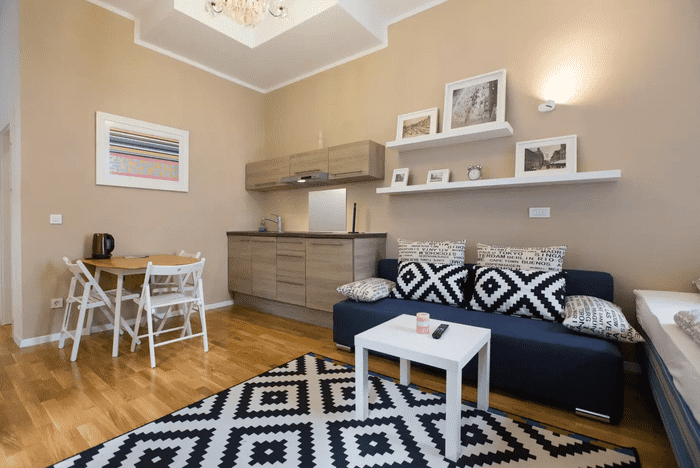 Our cozy studio in Zagreb Croatia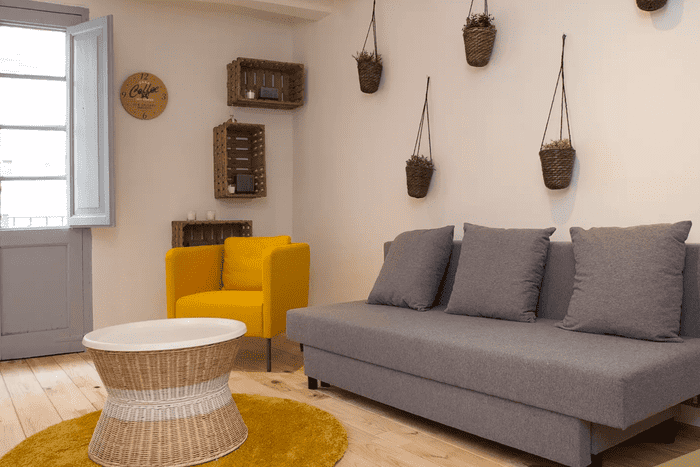 Our 3 bedroom place in Barcelona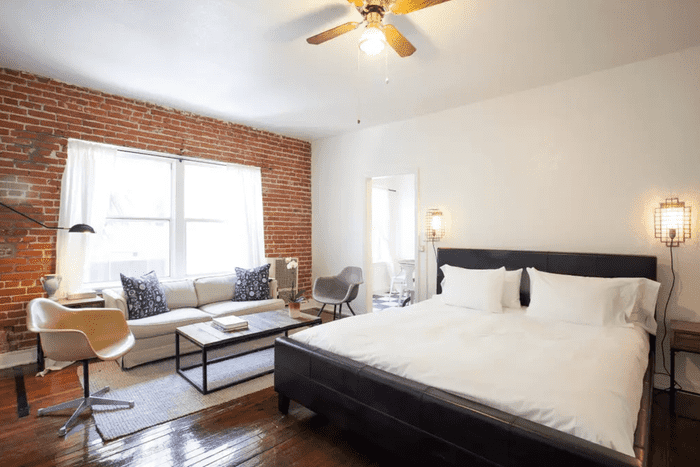 Our small studio in Los Angeles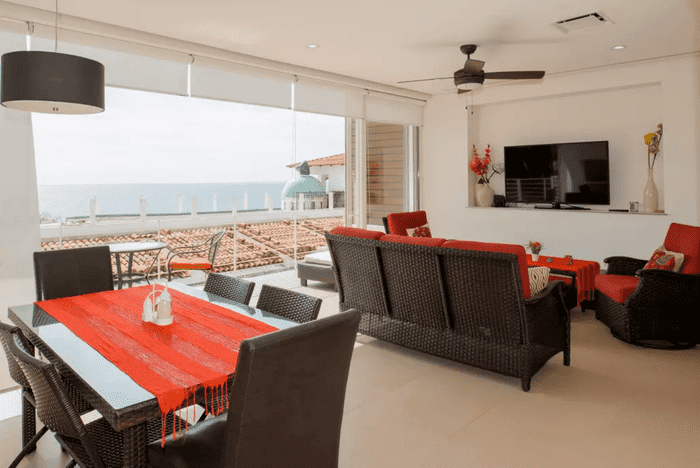 Our view in Puerto Vallarta
Location
Searching for a prime location is the first thing you must do when you begin your Airbnb quest. Finding your perfect area largely depends on your style of travel and what you want to accomplish on the trip. Do you want to stay in a busy area? Are you looking for peace and relaxation? Everyone's version of perfect is different, and luckily there is something for everyone.
You will want to book a place that is near where you want to spend the majority of your time to cut down on travel time and expenses. In most cases, the majority of the spaces for rent will revolve around where tourists are most likely to spend their time. The listings closest to the epicenter are likely to be more expensive and get progressively cheaper the further they are from the tourist hot spots. If you happen to book a place that seems less expensive but is further from your activities, you should research the cost of taxis/public transportation to and from and how much time it takes. It might end up being more expensive or more of a bother to book a cheaper room after all.
Use Google Street View to scope out the neighborhood.
Users are given the general area of the room/house while searching and are given the exact address once the host confirms the booking. I have found Google Street View very helpful when I am deciding if I want to stay in a particular neighborhood. I like being able to see what the houses in the area look like, what stores or restaurants are nearby and it helps me to decide if I feel comfortable staying in the area.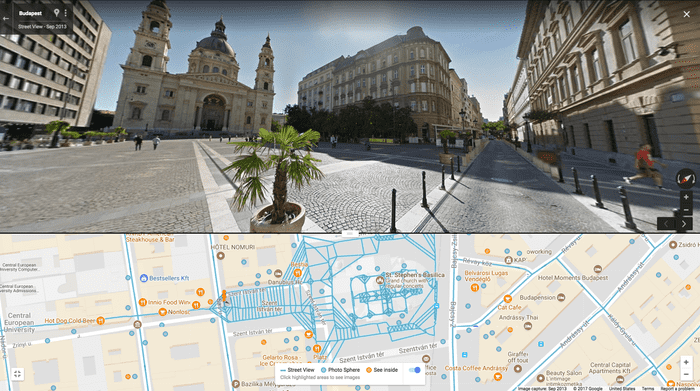 An example of Google Street View.
Type of space
Choosing a room type is a huge factor when deciding what kind of experience you want to have on the trip. Airbnb offers a variety of different room categories which fit all different styles of travel.
Shared rooms are similar to staying in a dorm and common room. Travelers can expect to share a room with other like-minded travelers. These are the least expensive of the Airbnb rooms and are ideal for budget travelers. Sometimes you might be sleeping on a couch.
Private rooms are usually a room inside the host's home. Guests usually have access to the kitchen and other amenities. If having an en-suite bathroom is important to you, you will want to check the listings description. We have stayed with some amazing families with this method. We particularly enjoyed these types of rooms while we were in Cuba.
Travelers can also choose to rent an entire home to themselves. These tend to be the most expensive listings compared to the other style of rooms. I found these to be useful when staying in a city long-term. They are also perfect for couple getaways or families.
In some countries, it is common for smaller hotels to put their rooms on Airbnb under private room or under the entire home category. I have even seen hostels listed under the shared room category. I have noticed that as Airbnb gains popularity, this practice has been more prevalent. In Peru, Airbnb listings were almost exclusively hotels, bed & breakfasts, and hostels. It may be time for Airbnb to crack down on these listings or at least make it a requirement to indicate that they are also a hotel.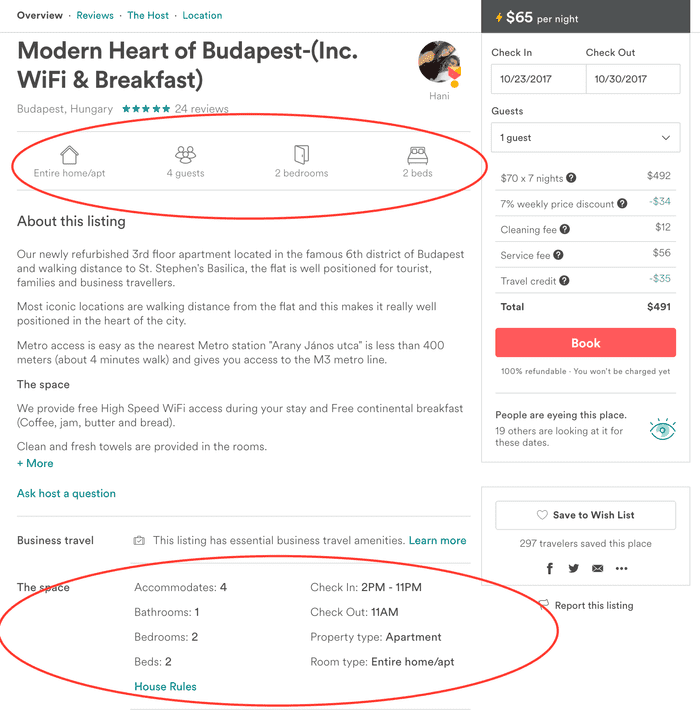 Quick look on top and the details are down below.
Price
Prices on Airbnb can be a little tricky as listings don't all carry the same fees or discounts. Hosts are allowed to add cleaning fees, service charges, or a variety of discounts. They are also capable of changing the price of the room depending on the season, day of the week. The good news is that the price is not always set in stone and is somewhat negotiable. Sometimes hosts are open to changing the rate for visitors before booking.
To get the total cost for a room, you will want to pay attention to the fees as well as the original price per night. Some hosts add a cleaning fee to the total. Airbnb also adds a service fee which helps them run their platform and their round-the-clock customer service.
Hosts may have additional fees or prices which you can find in the prices section underneath the amenities section. Rooms may charge extra for additional people staying in the room. This charge is usually per night.
In the prices section, you can also see if the room offers a weekly or monthly discount. In some cases, it may be cheaper to rent a room for seven days instead of six. The discount can be pretty significant, I've seen up to 25% off offered on weekly/monthly bookings. If you do plan to stay for several months, I recommend talking with the host before booking to hash out details and see if you can work up a better deal. Be polite and respectful because the price is completely up to them.
Some hosts require a security deposit which is refunded after you check out of your room. I have found this situation to be rare, but it is mostly by hosts who rent Airbnb rooms as a full-time gig.
Cities may require an occupancy tax which is enforced for stays under 30 days. In these cities, Airbnb has made agreements with the local governments to collect taxes on behalf of the hots. Not all listings include this, but you should be aware of it when you are booking. So far, San Diego has been the only city I have encountered that required this tax.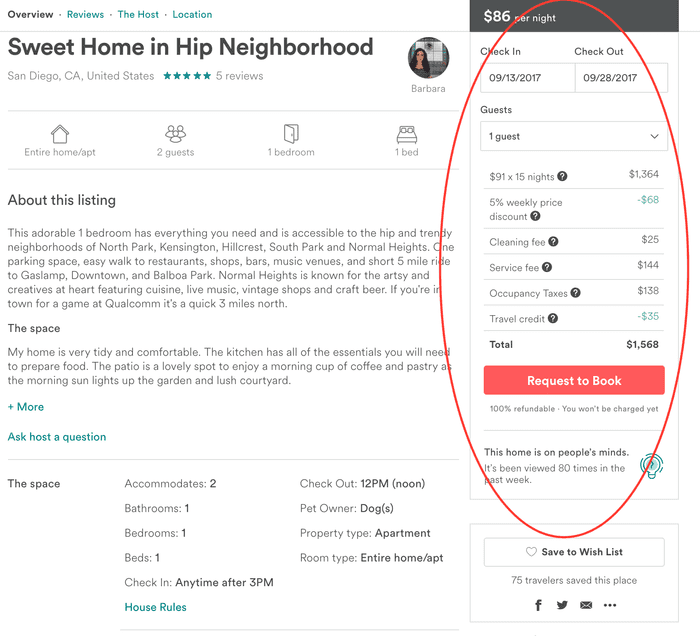 Fees and taxes are here.
Amenities
One of my first times using Airbnb I didn't check the amenities section before I booked a 2-bedroom apartment in Vina del Mar, Chile. This particular apartment was regularly rented out to students attending the nearby university, and they had left for the summer. The landlord posted it on Airbnb to help supplement income while school was out.
When we arrived, we found it was empty except for a two-bedroom apartment with two beds and a couch, and it didn't come cheaply. It didn't include soap, towels, wifi, kitchen supplies, curtains or air conditioning. Airbnb was relatively new, and she was an inexperienced host.
It was an uncomfortable trip, and I learned a valuable lesson. I now check the amenities section religiously when I am booking a spot. Check that your place offers towels, wifi, soap, kitchen necessities, or a washing machine. You can also see if there is a gym available, a doorman, pool, or if pets are allowed.
Hosts want you to have a positive experience and make sure you feel comfortable. If you are traveling with children, check if they have a crib, a changing table or other baby necessities. Even if the host doesn't list them under amenities, they may be able to have some available for you to use if you give them advanced notice.
If you are traveling with children check if they provide a crib, changing table or other things your child might need.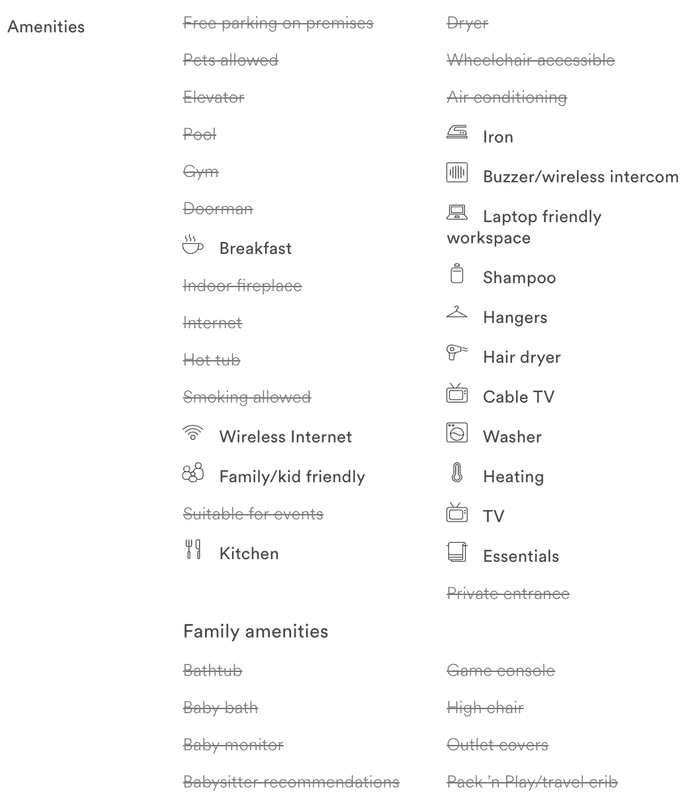 If you still have questions don't be afraid to ask your host.
House rules
House rules vary from host to host. The rules are usually relatively simple and regard being polite and considerate. In this section, you will see information about hosting parties, pets, check-in/out times, smoking, and cancellation policies.
Hosts that have multiple properties and treat Airbnb rentals as a full-time business tend to have stricter rules. These hosts are more likely to charge security deposits, charge higher cleaning fees and have strict check-in/out times. They are also more likely to have a strict cancellation policy.
If you are planning to have a party at your rental, then speak with the host. They may be able to offer suggestions or work something out with you. Breaking a house rule could result in a fine.
Check the cancellation policy before you book your room. Hosts can choose between three different cancellation policies; strict, moderate and flexible. The policies have different procedures, timelines, and refunds. Only book a room with a strict cancellation policy if you are 100% sure you will be staying there. Visit their site for more on their cancellation policies. Read Airbnb's cancellation policies

Most hosts have a variety of these rules, but some can get pretty lengthy.
Reviews
Reviews are a valuable resource when looking at potential rooms. Past guests are likely to give helpful insight on the room, the host, what the check-in/check-out process was like, what is nearby and other useful information. Reviews will let you know if the room lived up to the pictures advertised online. Hosts with bad reviews don't last very long on this website.
The reviews uncover a lot of information that the host might not reveal. They may suggest avoiding a room during the summer due to lack of air conditioning. They could expose the danger levels of the neighborhood. Reviews can also bring to light the positive aspects of the room, like great nearby restaurants or breathtaking views.
If a room is brand new and doesn't have any reviews check if the host has reviews for other listings.
Rooms that are brand new might not have reviews available. In this instance, you will want to check if the host has reviews for other listings. Send the host a message about the room before you book. They will be able to answer any of your questions.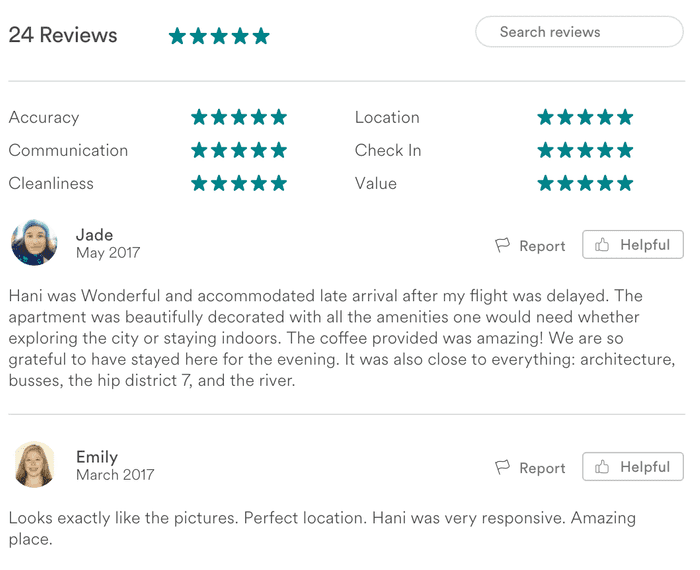 Looks like a great place to stay.
Booking
To book a room travelers need to make arrangements with the host. On a listing, you can enter your check-in/out dates and the number of guests and request to book the room. You can then write a little bit about yourself to your host. Let them know why you are planning this trip and what you plan on doing during your stay. You will need to confirm your credit card and then send in your request to book with them.
Hosts usually send back a reply fairly quickly. Letting you know if you can stay in the room or if they have any questions for you.
Airbnb also has the convenient "lightning book" option which allows users to book a room without confirmation from the host. Most spaces use this option. Once you enter your dates, you can book your room. Let your host know who is coming with you and tell them a little about your trip and the room is yours. Hosts will contact you for more information regarding your arrival and departure times.
Checking-in and out
Under "the space" section, hosts have their check-in/out times and policies. After booking your room, you should let your host know when you plan on arriving so they can accommodate you the best they can. Hosts need to arrange to meet you so they can introduce you to the space, give you a key or organize a ride to and from the airport if needed. Many hosts use Airbnb to make extra cash on the side and need notice to plan their life around your stay.
Good communication helps the process go smoothly. Checking in can be difficult because you are looking for a home instead of a well-marked hotel. Staying in someone's home comes with obstacles like apartment security, unmarked addresses, and taxi drivers have a harder time finding homes.
A good host will let you know the best way to get to their home and how much it should cost. They will let you know who and what to look for and any other quirks to their home.
Airbnb is the first place we go to when we begin searching for a place to stay. We love having access to the comforts of home while traveling. Let us know what you think about Airbnb.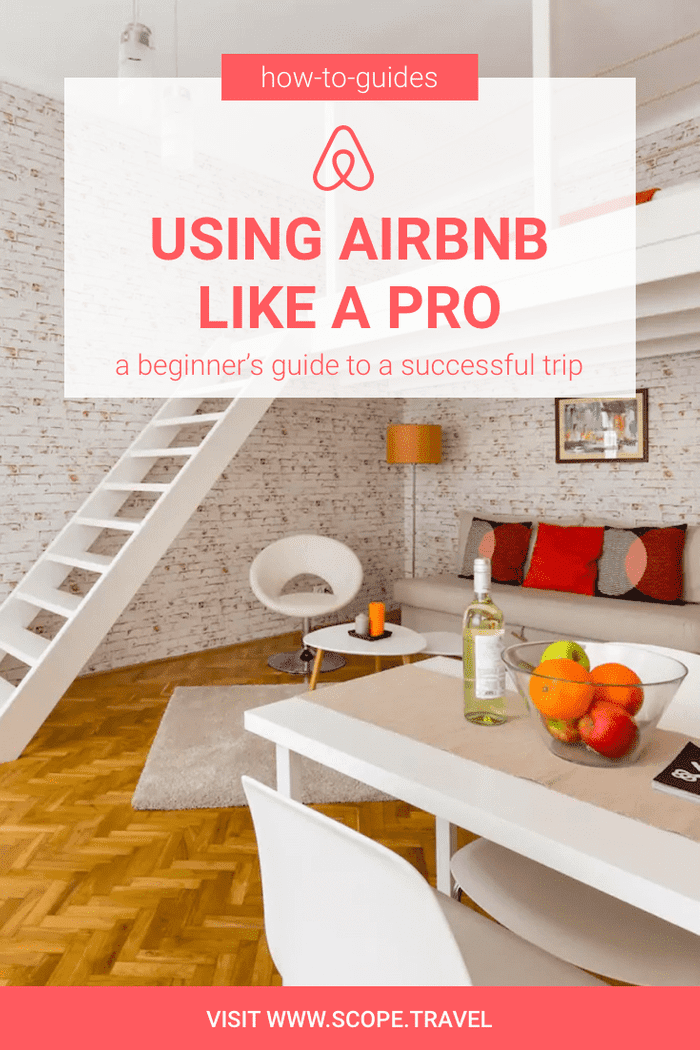 If you like it, Pin it!
Join our weekly adventures
Gain access to our exclusive travel tips and more!
Expect exotic destinations, big adventures, flavorful food and unforgettable stories from our travels.